DJI Mavic Pro Cases and Backpacks
3D Insider is ad supported and earns money from clicks and other ways.
You have travel plans and leaving your DJI Mavic Pro at home is not an option. However, you want to ensure its absolute safety. It is after all an expensive piece of equipment. I have seen people place their quadcopters in the backseats of their cars, very carefully of course, but that is tantamount to negligence. A hard brake will send it flying right into the front seat and onto the floor in pieces.
A case or backpack for your drone is not a luxury. It also is not just for the fussy drone owners. It is an investment that keeps your bird safe and allows you to safely carry all the other accessories that you need for your drone including:
Chargers
Batteries
Cables
Controllers
Tablets
Lenses
Tripods
The Mavic Pro is an offering from Chinese drone manufacturing magnate DJI and it fits the needs of all demographics from seasoned drone pilots or amateur enthusiasts. It was released in October of 2016 and became an instant hit with drone lovers because of its ability to fold up into a smaller portable fit that can be put into a backpack. Weighing only 734 grams you can see why this is such a perfect fit for a case or backpack.
Apart from bags from the parent company (DJI) for carrying the DJI Mavic Pro, there are other backpacks and cases that will fit the DJI Mavic Pro with ease. Here are some of the great packs and cases for this drone from other respected drone companies.
Qualities to Look For in a DJI Mavic Pro Case or Backpack
Sturdy construction
Stable interior
An easily customizable divider structure
Carrying comfort
Lightweight
Impact resistant
You can settle for either the hardcase or the backpack. Each is able to provide excellent protection and ease of carriage.
The Backpacks
1) DJI Mavic Pro Waterproof Backpack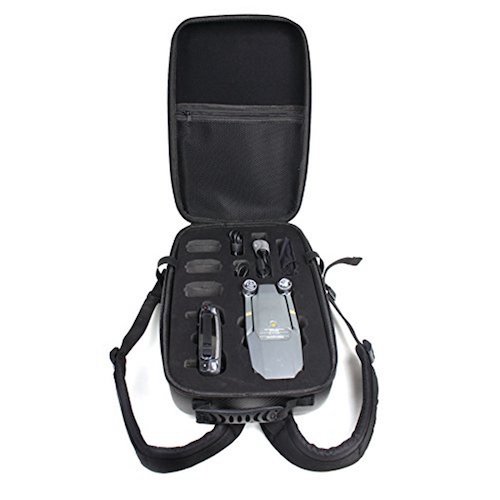 Best Features:
Carbon fiber exterior for maximum protection
Secure foam on the inside
Light weight
Comfortable to carry
The bag has a great construction with very strong zippers and a firm handle. It is compact which provides perfect stability for your drone and all the accessories. It also comes with a center divider to help you nicely arrange everything. The side pockets can fit extra batteries and even the charger creating more room in the interior should you need it.
It is a comfortable bag that you can carry for long distances like when on a hike or on the hunt for the right aerial view. Weighing only 2.2lbs with dimensions of 6.5 x 5.3 x 9 inches, it is lightweight and mirrors the light weight of the DJI Mavic Pro.
Because most drone bags are built for larger quadcopters, Bangcool decided to create a bag that is just right for the DJI Mavic Pro and this explains why it is a perfect fit for the drone.

The Drawback
It is a small bag so you cannot fit too much into it. Having said that, as long as you arrange everything correctly, it still fits all the necessary equipment that you need: batteries, controller, propellers, and USB cable.
The Final Word
This is not the bag for you if you have too many accessories to carry for your drone (tripods, cameras, lenses and gimbals). It is meant for the drone and its basic accessories.
2) The ViewPoint BP 250 from LowePro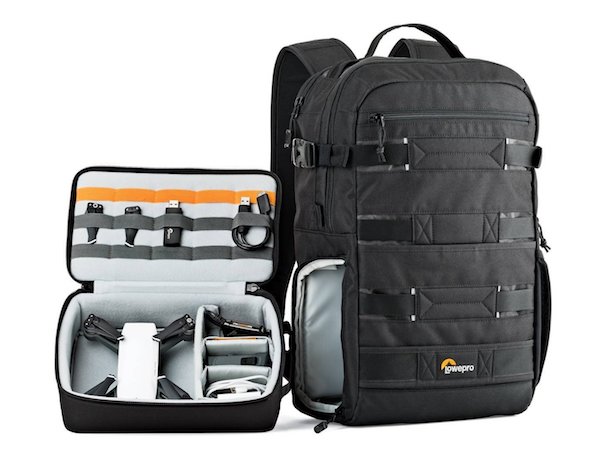 Best Features
Detachable drone case
Adjustable interior dividers for the case
More storage options for separate gear
Gear carriers are incorporated into the backpack
Lowepro is a popular and respected brand of photography and drone bags which are used by many professional photographers. While it may pass for just another regular camera bag, it has a removable section at the bottom of the bag which is dedicated to carrying your drone.
This system layout allows you to be able to carry your DJI Mavic Pro on its own and other accessories like the tripods, GoPro cameras, lenses, tablets, and laptops in a separate compartment. It is slim with dimensions of 17.9 x 12 x 5.7 inches and weighs only 2.75 lb so you can carry it for long distances comfortably and even fit it in overhead luggage compartments.
If you are on the trail and only want to use your drone, you can easily carry the drone gear case with you leaving the rest of the backpack at the campsite.

The Drawback
This is an expensive option owing to all the gear cases that come with it. It is a high end option so you have to budget for a larger spend compared to other offerings.
The Final Word
The flexibility of this backpack is on another level. You can carry all your gear safely without worrying one will interfere with another. If you like to compartmentalize things, this is the bag for you.
3) The Polar Pro Drone Trekker Backpack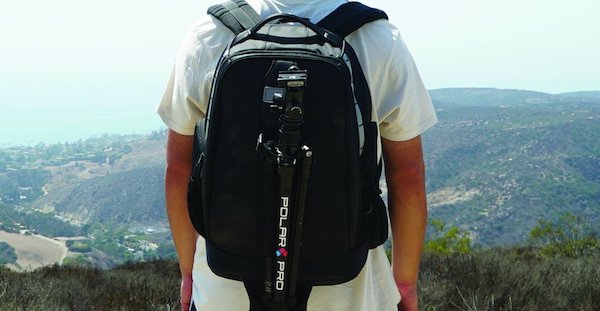 Best Features
It is a versatile all in one backpack for drones
Adjustable interior owing to dividers
Dedicated tripod holder on the back of pack
Dedicated padded laptop/tablet sleeve
Lightweight
This offering from drone specialists Polar Pro is widely considered one of the best backpacks for the DJI Mavic Pro. It was created with the DJI Phantom 4 in mind, so its ability to fit the Mavic Pro is no surprise. Fully padded on the inside, your DJI Mavic Pro has a soft landing and will stay snugly in place because of the adjustability of the dividers.
The adjustable dividers allow you to make room for all your equipment as you see fit so everything fits into the pack perfectly. It has a laptop sleeve and other gear storage sections in the interior as well. It also has a specific holder for your tripod.
It is built with comfort in mind considering you will be hauling a lot of equipment in it. From the adjustable shoulder, sternum, and hip straps to the way it sits on your back, the construction has been built for long distance travel, much like a hiking backpack. At 14 x 10 x 16 inches and weighing only 3lbs you do not have to worry about it being too heavy. It also comes with rain cover to keep it protected from rain while you are on the trail.

The Drawback
The Polar Pro Drone Trekker backpack is a dedicated drone backpack. So you do not have the luxury of using it to carry any other items. It is also pricier than other offerings.
The Final Word
This backpack is ideal for all serious drone enthusiasts who also happen to be avid photographers. You will have ample room for everything you need from cameras, tripods and lenses and you do not have to worry about the safety of your bird.
The Cases
1) The Philonext DJI Mavic Pro & Controller Hardcases
Best Features
Sturdy exterior that can withstand impact
Minimalist design
Snug fit for the drone to protect and stabilize it during travel
2 separate cases: one for the drone and the other for the controller
Lightweight
Water resistant
With these Philonext cases you can rest assured that the drone is safe and protected within. The interior is made with soft padding that cossets the DJI Mavic Pro and the controller. The cases are built to help you travel with your drone so you can carry them on their own or place them inside your backpack.
The fit inside the cases is snug which reinforces the safety of your drone. The exterior is water resistant so even if the case comes into contact with water your DJI Mavic Pro is protected. Both cases are lightweight with the Mavic body case weighing only 6oz and the Mavic controller case weighing only 3oz. The dimensions of 8.5 x 4.5 x 3.5 inches for the body case and 6.5 x 4 x 2.5 inches for the controller case allow you to insert the cases into any of your other travel bags or placing them in overhead luggage compartments.

The Drawback
The cases are only meant to carry the DJI Mavic Pro and its controller. There is no more room for any other accessories that you may want to include meaning you have to find space in your other bags for additional accessories.
Final Word
The Philonext cases are perfect for protecting your DJI Mavi Pro and controller. Considering that this is their sole purpose, they are effective and a steal for anyone who wants to keep their bird safe during travel. This is one of the cheapest and smallest ways to keep your drone safe.
2) The Nanuk 920 Case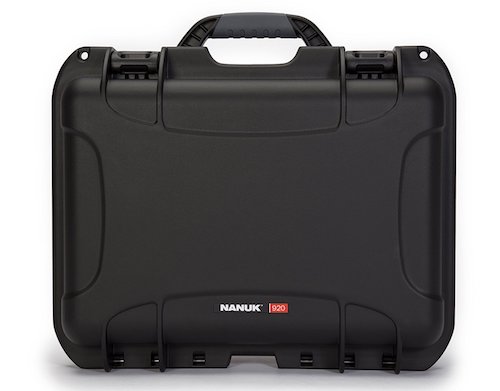 Best Features
Foam interior
Ideal for air travel
Water resistant
Color variety
The Nanuk 920 case is a perfect sturdy case for the DJI Mavic Pro. The case is watertight so even when your travels take you to an area prone to rain or a crossing with water, you can be assured your bird will remain dry and intact within the case. In fact, the water tight rating for the Nanuk 920 case is under IP67.
It is favored by photographers, camera crews, and students because it can withstand the rigors of constant travel. It is not too big to overwhelm you during travel so you can easily move around with it. The interior is made of foam which is pre cut to snugly fit your DJI Mavic Pro and other basic accessories like the radio controller, charging hub, and 4 batteries.
It is perfect for air travel because of its altitude release valve. Pressure differences due to altitude can cause a case to get stuck so having the release valve ensures the case will open. You also have color options to choose from.

The Drawbacks
It doesn't provide space for other accessories like tripods and cameras. These you have to carry separately which means you have to invest in another bag for them or make room for them.
The Final Word
The Nanuk 920 case will keep your drone safe and protected even if it does not provide you with space to fit anything else. Keeping your drone safe is its first priority and it does that very well.
3) Go Professional Case DJI Mavic Pro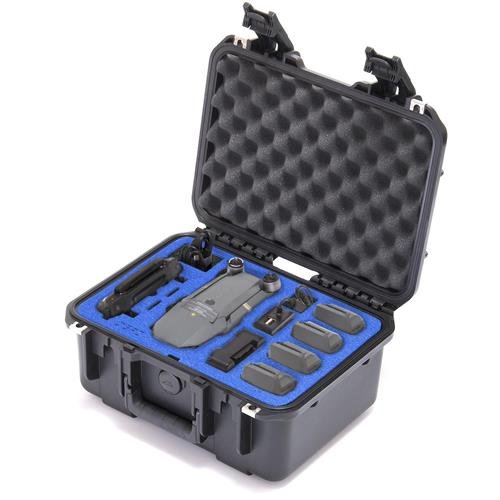 Best Features
Military grade case
Water resistant
Compact design
Custom foam interior
Resistance to UV, corrosion, solvents, and even fungus
Impact resistant
As cases go, the Go Professional Case DJI Mavic Pro has to be one of the most popular options appreciated by drone enthusiasts for its functionality and compact design. The case is made from hardy and durable SKB military grade material. It also features a trigger release latch system which has been molded into the hinges for additional protection.
The case is well organized and can fit the Mavic Pro, 5 batteries, 2 filters, a charger, cables, a charging hub, spare propellers, controller, and the charging adapter.
Weighing 7lb, it is heavier than most of the other offerings. The dimensions of 14.73 x 11.94 x 7.31 inches make it compact making it ideal for travel from location to location. If you and your bird are constantly on the move with different terrains to cover this is your best bet for a drone case.

The Drawback
It is a heavier owing to the construction and materials used. Apart from the case itself being heavy it will get heavier once loaded up with the DJI Mavic Pro and all its accessories.
The Final Word
This is the case to use when you and your bird have lengthy travel itineraries ahead of you. It will handle all forms of travel while keeping the DJI Mavic Pro stable and protected.
The Shoulder Bags
1) BASSTOP Portable Handhold Storage Carrying Case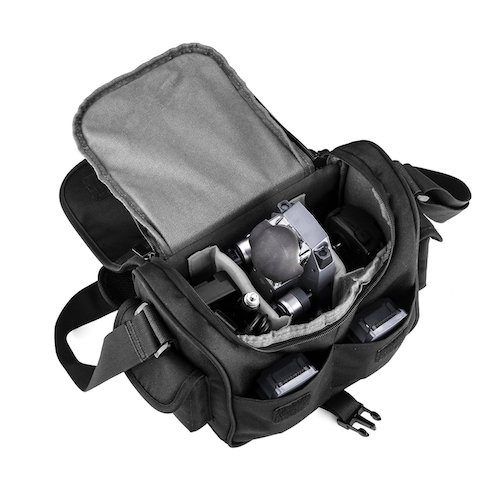 Best Features
Padded interior with adjustable sections
Spacious storage options in the sides pockets
Protected interior for the drone
Affordable
lightweight
The BASSTOP carrying case gives you the option to carry it with a handhold or as a shoulder bag. This bag will not only snugly fit your DJI Mavic Pro, it will also accommodate all the other accessories you may have for your bird. The drone sits vertically inside this bag and you can adjust the interior around it accommodating your accessories.
This bag is very unassuming and discrete so no one will know that you have such a pricey possession in it. A huge plus lies in its ability to carry more on the outside if you should run out of space for everything on the inside.
It is well designed and takes into consideration all your accessories. Weighing 9.6 ounces and with dimensions of 13.6 x 9.1 x 6.1 inches it is lightweight and you can carry it around comfortably.

The Drawback
The BASSTOP portable handhold storage carrying case is not built for rigorous adventures like hiking because it can get burdensome on the trail. In addition, carrying it on the shoulder can get uncomfortable. It is also small so you can only use it for the drone and its accessories and not much else.
The Final Word
This is a lightweight bag that can be used to move your bird around vicinities closer to home or a base camp. Do not expect exceptional durability or sturdiness from this bag but it will work perfectly when not subjected to constant use.
2) Powerextra Shoulder Bag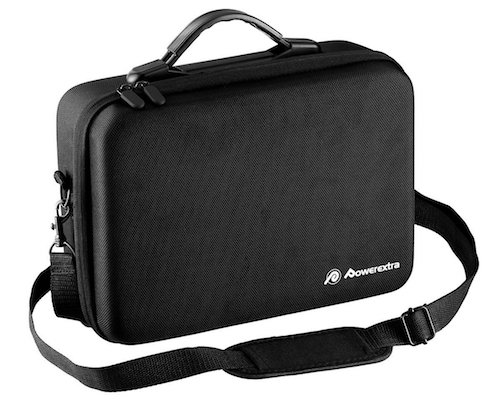 Best Features
Sturdy and durable construction
Compact so you can carry it everywhere
Everything fits snugly within
Dense foam ideal for the safety of you drone
This is a shoulder bag that will carry more than just your DJI Mavic Pro. It is built to fit other accessories in the inner compartment. With a hard outer case and very dense interior foam, it will be completely impossible to harm the drone inside even upon impact.
It is compact so you can place it inside another travel bag for discretion. Owing to the dense foam and compact construction, the Powerextra shoulder bag is much heavier than other shoulder offerings. It weighs 1.3pounds with dimensions of 11.4 x 8.3 x 4.3 inches.

The Drawback
Because the foam is quite dense it takes up a lot of space that could otherwise have been used for more storage.
The Final Word
While some would decry the lack of space, the construction of the Powerextra shoulder bag ensures that your bird is always safe and protected.
Conclusion
Your bird deserves the very best the droning world has to offer in terms of safe travel. Wouldn't it be unfortunate to break your bird just because you did not take the time to invest in a safe case or backpack for it? Investing in one of the above offerings is important from the moment you acquire your DJI Mavic Pro. Your bird will thank you for it and so will your conscience.