The 15 Best Accessories for the DJI Osmo Action
3D Insider is ad supported and earns money from clicks, commissions from sales, and other ways.
The Osmo Action is DJI's very own rugged and weather-proof camera that is obviously meant to take a bite out of the GoPro market. It's about the same size and weight as the GoPro Hero, can similarly withstand getting submerged in water or getting dropped from up to five feet, and offers excellent 4K video recording capabilities.
Much like the GoPro Hero, you really can only make the most out of the Osmo Action with the right set of accessories. With the mounting options, extended battery life and storage, and handling improvements that these accessories provide, you're sure to get the best experience out of one of the veritably best action cameras in the market today.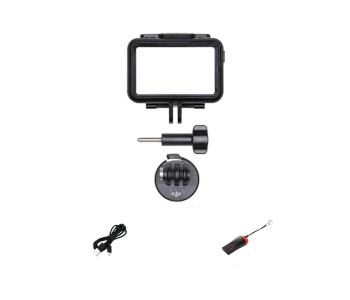 One of the first accessories you should invest in when you get you Osmo Action is this camera frame kit that enhances the camera's durability and opens up a whole world of mounting options for the Osmo Action. Specially designed for the Osmo Action, this camera frame comes with raised buttons to allow for seamless control of the camera, a window for the camera status LED indicator, and even holes for quick drainage. This is an official DJI product so there shouldn't be any concerns about its quality.
The quick-release universal mount and base are what really makes this camera such a valuable accessory. The mount is basically the same on the GoPro uses, which means you can use the entire ecosystem of accessories that have already been designed for the GoPro series of action cameras with the Osmo Action. The quick-release base lets you change up accessories and tripods with just a single hand, which is just perfect for when you are in the midst of a bike ride, a paddleboard trip, or an intense hike.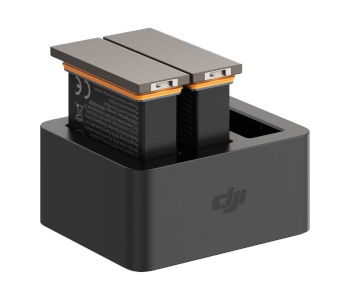 Although a single battery of the Osmo Action will give you more than two hours of recording time, having extra batteries on hand will always be a good idea. What could be worse than running out of battery life with no spares when you're already in the middle of an adventure?
With this Osmo Action official charging kit from DJI, running out of batteries will never be a problem again. The kit comes with two spare 1300 mAh Li-Po batteries and a hub that can charge all three batteries at the same time. With an intelligent charging system, the charging hub efficiently charges all three batteries in just 130 minutes.
How long much recording time can three batteries give, you ask? Up to 7 hours, which should be more than enough, even for day-long trips. The charging kit even comes with a battery case for each of the spare batteries, which also has a handy slot for an SD card.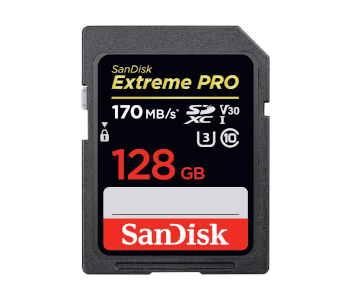 Of course, what's the point of having lots of extra batteries if you don't have spare SD cards to store all your footage? Action cameras have unique requirements for SD cards, as they need to similarly handle rugged conditions well. Moreover, SD cards that have high write and transfer speeds are optimal for shooting 4K videos or for burst photography.
With all these demands in mind, we recommend getting one of the best SD cards that money can buy. We're quite partial to the SanDisk Extreme Pro line as they are specifically built to withstand harsh conditions. Since these SD cards are waterproof, shock-proof, X-ray proof, and temperature-resistant, they should be able to handle just about anything that you can throw on them.
The SanDisk Extreme Pro SD card is also excellent on the technical side with its shot speed of up to 90 MB/s and transfer speed of up to 170 MB/s. We recommend getting a 128 GB capacity SD card which should be enough space for up to 3 hours of 4K video at 60 fps. Get two or three of these, and you should never run out of storage space for your Osmo Action.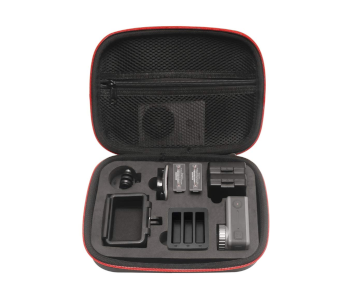 Once your collection of Osmo Action accessories has started to grow, you're going to need a carrying case to keep them protected and organized. We recommend this carrying case from Anbee both for the durability of its build and the thought that has gone into the customized accessory slots.
The carrying case is small enough to fit into a usual backpack and is lined at the exterior with a waterproof polyurethane-leather composite material. The custom-cut interior is made with EVA foam and has pre-cut slots for the Osmo Action camera, the camera frame, two spare batteries, the battery charging hub, and the quick-release mount. The pre-cut slots give a snug fit which will help your camera accessories safe even when the carrying case falls or endures any strong impact. Other loose accessories, like the charging cable and various mount options, can be stored in a zippered mesh pocket.
This carrying case is ridiculously cheap, especially considering its quality. Getting the carrying case is a no-brainer investment that will help you protect your other, much more expensive Osmo Action accessories.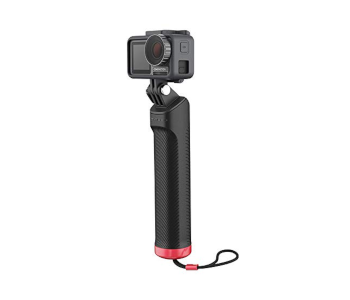 Your adventures with the Osmo Action will very likely bring you some form of water. Whether you're bringing the Osmo Action out surfing, paddling, or even on a boat ride, this floating handle is an accessory you'd almost certainly want to have in hand.
The body of this handgrip floats in water, which could be the difference between you being able to recover your Osmo Action should it get away from your hands or having to dive for it in the bottom of the river or lake. The rear of the handgrip has a distinct red aluminum cover which makes it very easy to spot in any body of water.
More than its buoyant build, this handgrip also has features that make it an excellent handgrip. Although it's very basic – it cannot be extended, twisted, or bent – it still has a very good non-slip surface and an adjustable lanyard. It also uses a universal mount so you can use it with the GoPro cameras or any camera frame with a universal adaptor.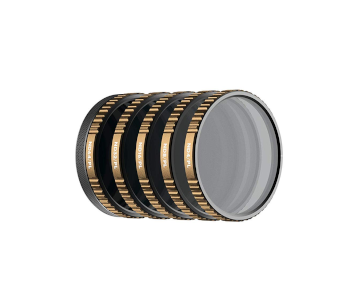 For all the features that the Osmo Action has, one thing that it does not have is an adjustable aperture. This means that capturing shots in harsh lighting conditions can often result in overexposed photos. If you want to make sure that you can capture amazing shots with your Osmo Action no matter the lighting, then a good set of neutral-density (ND) filters is a must-have.
While there are lots of ND filters out there, we'd like to play it safe and pick this 5-pack from the PolarPro, one of the most reliable brands when it comes to photography peripherals. These dual ND and polarizing effectively reduce glare and retain good contrast, even in challenging conditions such as when taking photos during sunset or at the beach. This set contains filters that provide from one up to five spots of glare reduction, which should be enough for most cases.
The PolarPro ND filter set features a magnetic HotSwap system that allows for quick removal and replacement of ND filters for on-the-go shooting. Despite this easy-to-install mechanism, the ND filters are weather-proof, although they are still not recommended for underwater use.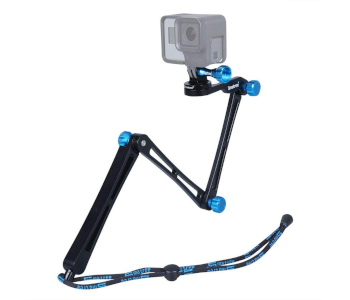 The best thing about using a universal mount with the Osmo Action is that you can use it with any GoPro accessory – and there are several years' worth of accessories for the GoPro in the market today. One of our favorite accessories for the GoPro (and now, for the Osmo Action) is this 3-way folding pole from Smatree. Basically a selfie stick with three points of articulation, this 3-way pole can be reoriented for so many different purposes – a standard camera grip, an extension arms, a stationary camera mount, or a low-angle shot stabilizer.
The Smatree 3-way pole is made with lightweight and durable aluminum. With its foldable build, this extremely versatile extension pole is remarkably portable. When it's folded down, it should fit into most carrying cases and can even fit into the pockets of your trousers.
The 1/4" threaded hole at the bottom of the grip is a touch of genius that allows this 3-way pole to be attached to any standard tripod. There's a whole lot that you can do with this accessory alone – which is a surprise given that it costs less than $30.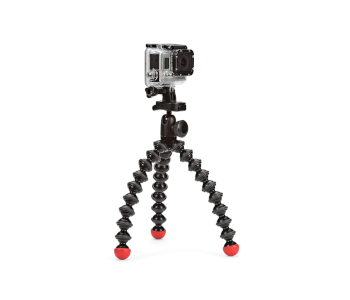 The GorillaPod has pretty much become a standard accessory nowadays for any photographer who would like to have an option to mount their camera to any type of surface. There are lots of GorillaPod knockoffs out there, but we're going to stick with the original from JOBY.
This particular JOBY GorillaPod was designed specifically for action cameras like the GoPro Hero and the Osmo Action. It's appropriately small and lightweight and comes with standard GoPro-compatible mount. It also has the standard 1/4"-20 tripod clip for all other types of action cameras. Of course, it comes with the standard ballhead that has become a signature GorillaPod feature.
If you haven't tried using a GorillaPod before, then you're going to be very pleasantly surprised with everything that this innovative tripod has to offer. It has high-grip rubber feet that will stay put on any type of surface if the stand is used as a standard tripod.
Each leg of the GorillaPod has nine points of articulation that allow it to hang from or wrap around practically any type of support. Whether it's a tree branch, a railing in a skate park, or any random ledge, the GorillaPod can be customized to provide an instantly stable camera mount.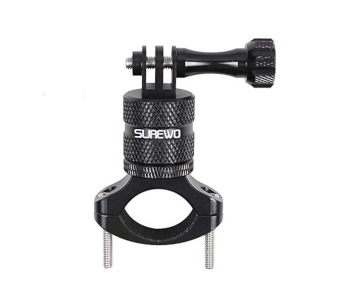 There are about a dozen or so ways to mount the Osmo Action, but we bet that most people will want to mount them on bike handlebars at some point. This cheap bike mount from SUREWO is a high-quality product that does not compromise on durability despite the price tag. It comes with the standard action camera mount attached on a rotating 360-degree range body.
The SUREWO bike mount is a marvel of engineering that combines an aluminum body with an ABS handlebar clamp that keeps the whole design lightweight, yet rugged. The inside surface of the handlebar clamp is lined with an anti-skid material that keeps the bike mount from moving even when the going gets rough, and also protects your handlebars from getting scratched.
This bike mount is compatible with any handlebar that measures 2 to 3.4 centimeters. The rotating body only "clicks" to certain positions, which does limit the options for camera angles but helps keep the camera steadier.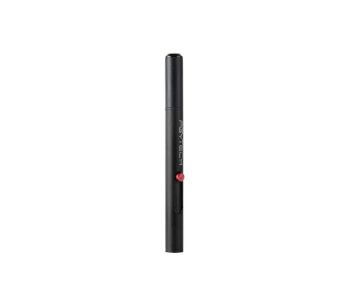 For something as rugged and tough as the Osmo Action, it can be easy to overlook to clean and maintain it every now and then. However, the least you could is to clean its lenses regularly, especially if you take it with you on trips where the lenses could easily catch some dust, sand, or water droplets. Photography enthusiasts know that lens cleaning is a serious matter, so we recommend this specially designed lens cleaning pen from PGYTECH.
This lens cleaning pen is made with an aluminum body and has a retractable soft hair brush that removes dust and other solid particles while eliminating static charge buildup. At the other end of the cleaning pen is a carbon fiber head for removal of fingerprints, grease, and other stains.
This lens cleaning pen was designed specifically for use with action cameras and drones with small cameras, such as the DJI Mavic 2 series. It's a versatile tool, making it a very wise investment.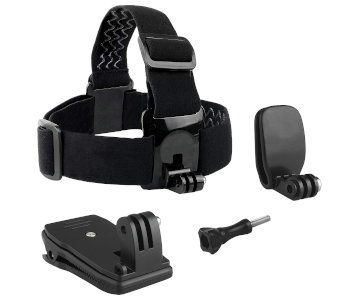 We've already mentioned how there are more than a dozen mounting options for the Osmo Action, so a product that provides more than one of those mounting options is certainly worth a mention in our book. This is the reason why we really like this 3-in-1 Osmo Action Mount from CamKix. It's also really cheap, so you don't even have to give much thought to getting one for your Osmo Action.
The head strap mount has fully adjustable straps an inner lining of anti-slip pads. You can wear it directly over your head or over a mountaineering or biking helmet. If hats or baseball caps are more your style, then this kit also comes with a handy clip that can attach to your cap or any object up to 10 millimeters thick.
Rounding up this collection is a backpack clip with a mount that can be fully rotated, allowing you to get that perfect angle no matter how you clip the camera to your backpack strap.
When it comes to action camera mounts, versatility is key. This 3-in-1 kit has that characteristic in spades and is truly one of the best value-for-money accessories that you can get for the Osmo Action.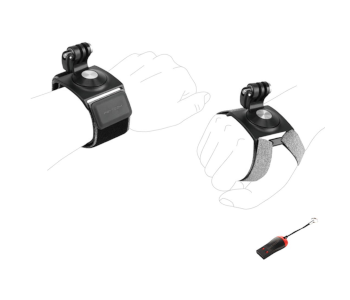 There is nothing quite like the dynamics of a video shot by hand – an art that has seemingly been lost in this era of wearable camera mounts. This innovative hand and wrist strap from PGYTECH is a throwback to those bygone times with a touch of modern flair. Instead of having to hold the camera manually, the strap just attaches the camera to the back of your hand or wrist, allowing you to capture highly dynamic videos without losing any dexterity.
The hand and wrist strap is fully adjustable to any size and has a lining of EPDM sponge that is breathable and absorbs sweat for maximum comfort. It also has an anti-slip surface to ensure that the camera stays in position, no matter how rugged the conditions get. The mount can be fully rotated and is compatible with the standard GoPro mount that allows you to change camera angles on-the-go from some truly run and gun footage.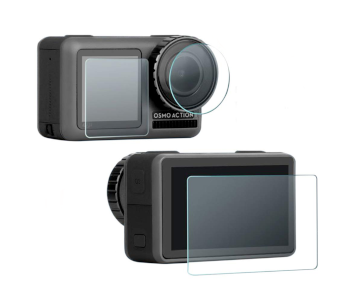 Just because the Osmo Action is weather-proof doesn't mean that you don't need to take care of it. Even though its LCD screen is built shockproof, it is still vulnerable to micro-scratches which can build up over time and compromise its structural integrity. To preserve your Osmo Action's screes and lens, we suggest installing these tempered glass protectors as soon as you can.
This tempered glass kit contains three pieces: one for each of the dual touchscreens, and another for the lens. With a 9H hardness rating and a 0.33-millimeter thickness, these tempered glass sheets provide adequate scratch-protection without reducing responsiveness. We also like how the tempered glass sheets are just thin enough to allow the Osmo Action to still fit in the standard camera frame even with the tempered glass installed.
The kit comes with everything you need to install the tempered glass yourself, including dust removal sheets and cleaning wipes. Each kit comes with three pieces of each type of tempered glass so you have spare ones that you can after a few years. This is one of the best $10 you can spend for your Osmo Action.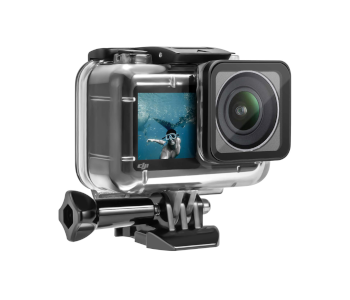 While the Osmo Action has water-resistance rated up to a depth of 5 meters, it was never meant to be a diving camera. If diving with the Osmo Action sounds like your thing, then this waterproof housing from YUANHOT should be in your list of essential accessories. With an IP68 rating, this waterproof housing will allow you to use your Osmo Action up to an impressive depth of 61 meters or 200 feet.
The YUANHOT waterproof case is made with high-quality tempered glass and closes with a tight clamp over a tight rubber lip. The case even comes with aluminum alloy buttons that are strategically located over the essential buttons of the camera, such as the shutter and select mode buttons. It also comes with reusable anti-fog inserts that can be very useful if you want to capture videos in particularly cold or humid environments.
If the 5-meter limitation of the Osmo Action is just not cutting it for you, then this waterproof case from YUANHOT should open up a new horizon of underwater photography for you. Before you push the Osmo Action to its limits, though, we suggest protecting yourself with some insurance – which brings us to the next item.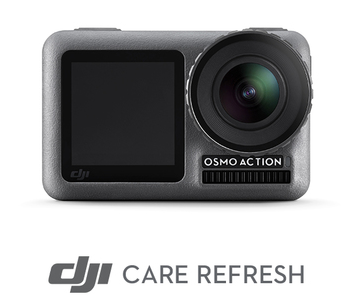 The last entry on this list is certainly not the least. DJI's very own insurance policy, which has been hit for their drone customers, also has a plan that covers the Osmo Action. Under the Osmo Action Care Refresh plan, DJI will offer a new (or equivalent to new) Osmo Action should your unit be damaged. You will still have to pay for the replacement, but the price is a small fraction of what a new Osmo Action costs – $29 for the first replacement, and $39 for the second replacement. That's right: you can get two replacement units within the year of coverage.
The best thing about DJI Care Refresh is that they don't care about the cause of the damage. It doesn't matter if the camera fell from a high ledge accidentally, or it had any water damage because you dived too deep. DJI isn't even going to ask what happened. As long as you can give back the damaged device, then there's no reason for you not to get the replacement unit.
Final thoughts
DJI's first foray into the action camera market has been mostly successful, although toppling GoPro from their position at the top is going to require a bit more work. It's been a great effort, though, and we're sure that DJI isn't quite done with this product line yet.
The good thing about making the switch from the GoPro Hero to the Osmo Action is that you can still use much of the same set of accessories. There are a few exclusives though, such as camera frames and ND filters. No matter which brand of action camera you settle for, you'll need quite a lot of accessories to make the best out of that action camera.