DJI Osmo Backpacks, Bags, and Cases
3D Insider is ad supported and earns money from clicks, commissions from sales, and other ways.
The DJI Osmo is an amazing camcorder in a class of its own. For those who love photography and capturing incredible video footage, there are few camcorders, if any, that can truly much up to this amazing piece of equipment.
The DJI Osmo camcorder allows you to create with more freedom owing to its unparalleled technology and its thoughtful design. What puts this camcorder in a class of its own is advanced technology designed to keep the camera flat irrespective of how it is moved. The design attaches a gimbal to the camera's base.
The DJI Osmo only weighs 201 grams. Controls are fairly straight forward including a record button, a joy stick, and a trigger in the front. It comes equipped with a power slider for turning the camera on and off.
An internal microphone has been fitted into the camera for audio recording while external microphones can be plugged in through 3.5mm jack close to the trigger.
The beauty of this camcorder is further enhanced by the fact that it is compatible with four gimbals.
X3 – which can take 12MP stills and shoot up to 4K video
X3 Zoom – which has an additional 3.5x optical zoom and 2x digital lossless zoom in addition to the existing X3 sensor
X5 – which can take 16MP stills and can shoot 4K at 30fps
X5R – which is ideal for professional use and an upgrade to the X5. This gimbal adds lossless compression and RAW format
The camcorder runs on the "DJI Go" companion app. Such a prized piece of equipment will require proper storage when you are mobile.
Below we have compiled a list of excellent backpacks, cases and shoulder bags that will not only give your DJI Osmo camcorder protection, but also offer you the convenience of neatly arranging and finding various detachable components and accessories with ease when needed.
There are numerous backpacks, cases and shoulder bags to choose from, which means there's one that matches everyone's personal style.
Full day shoots or several day shoots in off grid areas are more bearable now because you are able to carry those extra batteries, microphones and other needed shoot components for the DJI Osmo comfortably in one bag.
Backpacks
Backpacks are a convenient to carry stuff and they can be quite fancy and fashionable. Today backpacks can be constructed to have practical qualities like water proofing and with durable materials that are all weather.
They can also be padded in the necessary places to make sure they give maximum comfort when worn despite the load they may have inside.
It is safe to say that not all backpacks are made equal. When carrying sensitive equipment like a DJI Osmo camcorder, you want a back pack that is reinforced and thoroughly cushioned to ensure that you equipment is protected. The space aspect of the bag will only be ideal if there is room for accessories as well. Below we take a look at the best back packs for carrying the DJI Osmo.
1. DJI MAVIC PRO & OSMO X3 + COMBO BACKPACK – LIMITED EDITION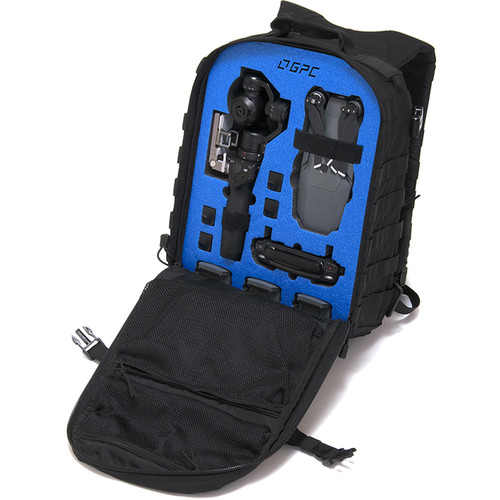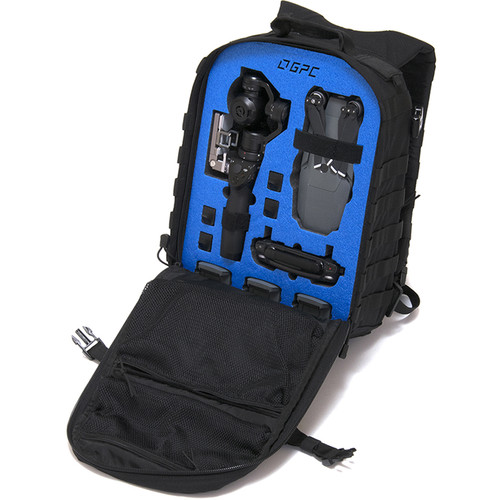 If you posses more than one DJI product like the DJI Osmo and DJI Mavic Pro and you frequently have to transport both to your shoots you can consider yourself very fortunate because now there is a way to carry both pieces of equipment with their many components under one bag. No, it is not using a DJI camera bag for the Mavic and a "mini guitar case" for the Osmo and doing a bit of juggling to get the needed accessories between the two bags.
It is with the semi-professional DJI Mavic Pro & OSMO X3 + combo back pack, where you can fit both in one bag or carry each alone in the same bag depending on your daily needs.
The Pros
Dual compression straps and centered sternum
14 individual compartments
YKK zippers that self repairing
Military style tactical back pack housed in a 5.11 Rush12
Water resistant
All weather
Dust proof interior
Spacious
The exterior has superior strength from made from 1050 D nylon
Ergonomic comfort ensured by adjustable dual density shoulder straps made from closed-cell foam
Protective low abrasion, closed cell foam that resists water and dust infiltration


What we like
This is one of the only bags that designed to carry both the Mavic Pro and the Osmo.
The space is huge for a backpack. If all the 14 compartments are still not enough to accommodate your components, then you have the Modular Lightweight Loading carrying Equipment (MOLLE) system to fall back on. It allows you to attach components using the slick stick web platform.
The comfort level is very good and the toughness of the exterior is all weather. It is this versatility that makes it ideal for use indoors or outdoors, even in bad weather. This is the bag you want if you are working on a project that is off the grid.
2. MC- CASES back pack for DJI Osmo and Osmo + X3 / Inspire X3 and X5 camera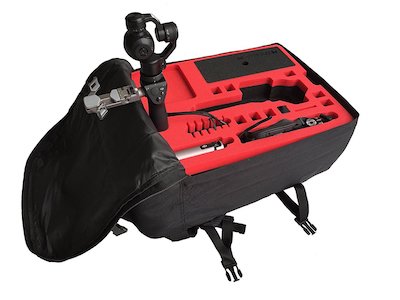 This backpack by MC-Cases is well renowned for the space offered by the two decks. This means you have more space for most of your accessories like microphones, telescopic extension sticks, 10 batteries, 5 filters, power supply cables, memory cards, bike adapter suction cups, and so forth to go with your Osmo.
The Pros
Closeable spacious multi-use compartments
Light weight
2 compartment for the X3 box and X5 transport box ensuring double safety for the cameras
Excellent quality back straps
Plenty of space
The MC-Cases Osmo stand system allows you to securely configure the Osmo without having to place it on the ground.
The Cons
The zippers are not YKK zippers


What we like
The balance between having a lot of space for the DJI Osmo and accessories and the bag still being light weight is phenomenal. With this backpack, you can configure your Osmo without having to place it on the ground. It takes in a lot of gear and keeps everything safely tucked away.
3. Manfrotto Gear Backpack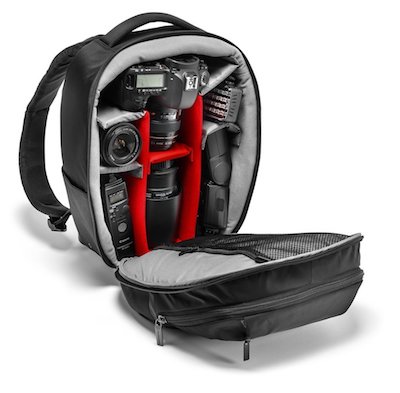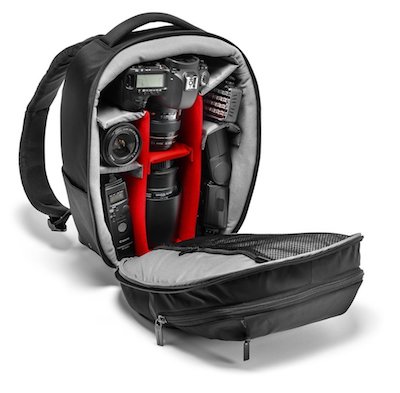 The Manfrotto gear pack medium is another great option for carrying the DJI Osmo and some accessories. Designed with an ergonomic fit, this backpack has a lot going for it. The simplicity and varying sizes is probably where the appeal comes from for many users. You have the option to buy the size that suites your equipments best from small, medium, and large.
Regardless of the Manfrotto gear pack size you choose, the construction quality is the same across all the sizes with features that includes
External tripod connections – this attachment provides you with a proper quality connection to attach your tripod externally.
Water proofing – the fabric of this backpack has been treated to keep it resistant to moisture.
A rain protector – this is handy inclusion that comes with the backpack. When applied, it will effectively keep water out, ensuring the exterior of the bag remains dry with your Osmo and accessories secure.
Cabin luggage – this backpack is designed to be accepted as cabin luggage. However, due to the ever changing airline restriction, it is only prudent to check with your carrier before travel.
Interchangeable dividers – these provide you with great flexibility allowing you to custom fit the inside of your bag based on your gear. You can create compartments that specifically match the size of your gear
All the above features are the same across all sizes of the Manfrotto backpack.
Manfrotto Gear Pack Small
Pack Specific Pros
Can accommodate a DSLR camera system with attached standard lenses
Can hold additional two lenses like the small zoom lens 24-70mm f/2.8 and a standard 50mm f/1.4
Manfrotto Gear Pack Medium and Large
Pack Specific Pros
Can hold the Mavic Pro, Osmo, and their various accessories.
Can also accommodate DSLR cameras with large fast zoom lenses attached. Two additional lenses can be fit including the 16-35mm f/2.8 zoom lens and a 100 mm macro lens
Weight is 1.045 kg
Well padded and easily accessible
The large pack has a lot of space
Cons
Not fully water resistant


What we like
The simplicity and flexibility stands out with these packs because you can use the dividers to custom fit your equipment and the packs have easy access. Once you open the dual zippers, you have access to all the contents.
For convenience, the organizer pockets for personal items on the front lid allow you to store and have easy reach for items like business cards, wallets, cleaning cloths, pens, LED lights, and any handy small item that you may need quick access to without foraging through the whole bag.
Cases
Some people feel better when they know your equipment is protected by a solid case. There are many benefits to be enjoyed by opting to go with a case for mobile storage of your Osmo and accompanying equipment. First it is the sense of style and professional look that it provides, second is that's it is easier to stay organized, and third it is the practical sense of having equipment in a hard protective case.
Here we highlight some of the best carry cases for storing and carrying your Osmo and accessories that go with it.
1. Professional Carry Case for DJI Osmo by MC-Cases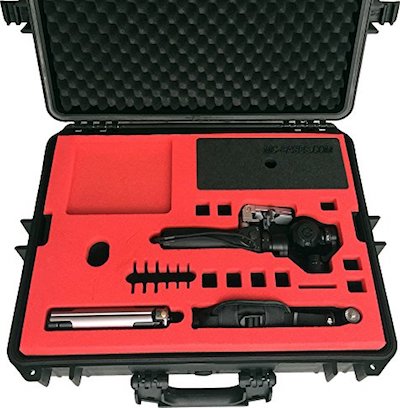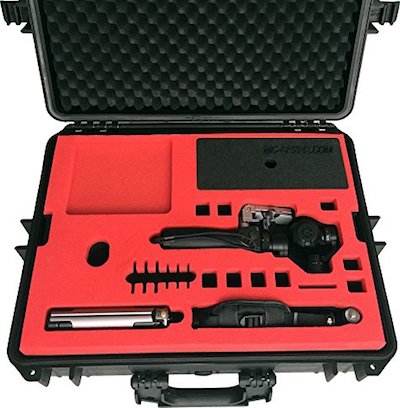 This carry case has a lot of space and offers flexibility in terms of how you want to arrange your equipment. The lower compartments can be re-purposed to custom fit your needs depending on the accessories you have with you and how you like your set up. It has plenty of room accommodating:
Osmo with X3
Extension Rod
Universal Adapter
Extension Bar
DJI mic
DJI Filter pack
360 mic mount
2 chargers w cables
RODE video micro
RODE smartLav
extra mic cables (TTRS)
OSMO base stand
The Pros
Waterproofed case.
Lockable via TSA locks.
2 deck for additional accessories.
Plenty of space for the Osmo X3 camera and X3 inspire camera.
Two compartments to accommodate the X3 box and X5 transport box.
Comes with an Osmo stand system that allows you to configure the Osmo without placing it on the ground.
Plenty of space and the many lower compartments can be re-purposed to suit your needs.
The Cons
To make Osmo+ work for this case, you will need to detach the camera from the handle.


What we like
The case has plenty of room to work with. It is sturdy on the outside so you don't have to worry about protection for the Osmo. The MC-Cases Osmo stand system is a practical innovation that allows you the convenience of fixing and configuring the Osmo standing in the case without having to place it on the ground.
2. Nanuk 910-OSM2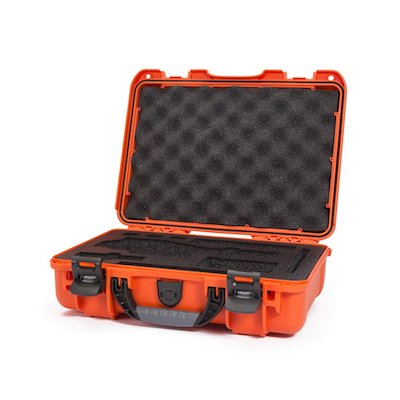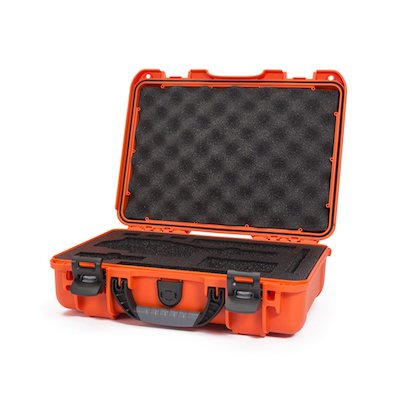 Nanuk cases are the way to go if you value durability and attention to detail. The Nanuk brand is designed to protect sensitive equipment even in the harshest environment like the forested areas and other punishing terrains you can think up. Their cases come in plenty of color configurations, from bold colors to more conservative and neutral tones. It is to be found in a variety of sizes as well. Not only is this case practical but it scores high on aesthetics.
This hard case is specifically engineered for the DJI Osmo camera and is compatible with DJI Osmo, Osmo+, and Osmo Mobile with their accessories. It ensures that your gimbal is safe and secure from movement during transit thanks to the removable gimbal sleeve made of soft polyurethane foam.
Engineered to high standard military specifications, it is bound to exceed the expectations of even the most of demanding users. This hard sided case is refined to provide maximum protection and performance. The high impact NK-7 resin ensures any accidental banging on your case during transportation does not affect your equipment as the shock is absorbed efficiently. For a case of such toughness it is remarkably light and easy to carry around.
The Pros
Water proof IP67 rated
Impact resistant NK-7 Resin
Foam specifically molded to fit DJI Osmo, Osmo+, Osmo Mobile
Power claw latching system which employs compressive force to clamp your case tight. The case cannot be opened during transportation accidentally or otherwise
Built to last making them ideal for rescue missions, marine transportation and even diving
Tough and water resistant
Looks good with a design that has soft corners and chamfered edges that combine well with strong character lines
Durable, hard case molded specifically for the DJI Osmo, Osmo+, Osmo Mobile
The Cons
Some user shave reported that their equipment got sticky after using this case


What we like
When carrying sensitive equipment for a long haul journey through flights and trekking in all types of weather, you want a carrying option that is tough, light and water resistant. The Nankuk 910-OSM2 is tried and tested and it has been found to be capable of delivering on those requirements. It has lots of room allowing you to carry a lot of equipment in a safe way.
Shoulder Bags
1. MASiKEN Shoulder Bag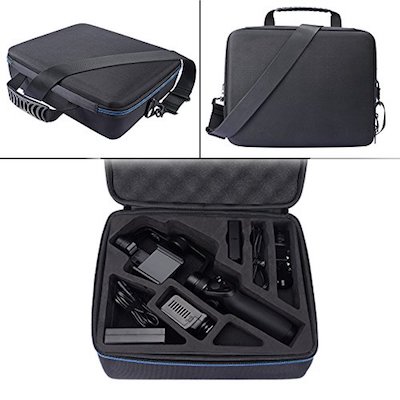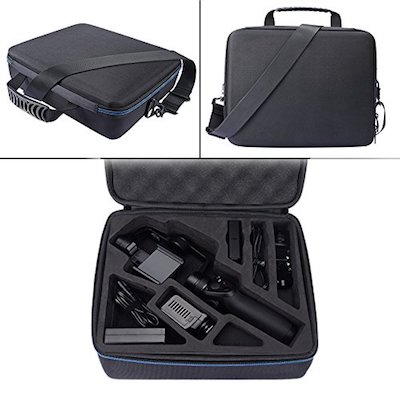 If you are traveling light and taking your Osmo Mobile with you, the MASiKEN EVA travel bag is a great option that will provide easy portability and also protection for the contents.
The Pros
Fits DJI Osmo Mobile, gimbal, universal bracket, flash light associated accessories
Premium EVA case will offer protection from water, shock and scratches for Osmo mobile
Can be carried by hand or on shoulder
Grab-and-go bag that fits the Osmo Mobile snugly
The Cons
Can only accommodate a handful of accessories


What we like
The adjustable strap and rubberized handle provide the user an option to carry by hand or wear it as a shoulder bag. The exterior of the bag is well padded and efficient in absorbing soft impact. It looks like a regular shoulder bag so it does not draw attention to you and its contents.
2. Basstop Shoulder Bag for DJI Osmo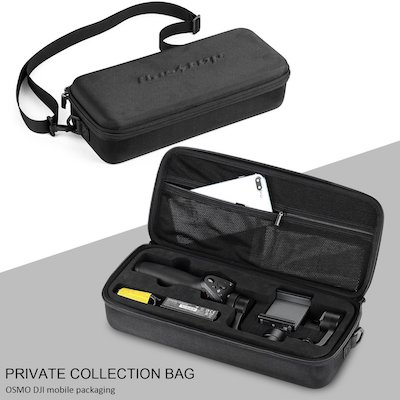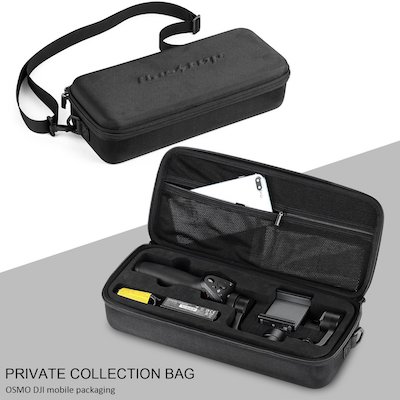 Simplicity reigns supreme in the design of this bag. It's durable, practical and comfortable. It comes built with quality straps and padding to ensure protection for your DJI Osmo mobile 4K and accessories.
The Pros
Made of high quality EVA that ensures your camera is safe from scratches
The pre-cut foam will snugly accommodate your DJI Osmo mobile 4K, camera 3Aixs grip, battery remote, charger, and SD cards
Quality strap makes it easy to carry around your shoulder
It is perfect for traveling light
The Cons
Can only accommodate a limited number of accessories


What we like
This shoulder bag is very simple yet practical in design. The cut out foam is precise and and the Osmo mobile equipment fit in perfectly ensuring the nothing shifts or moves as it gets jostled around while walking or traveling. It is made from strong material that can bear the brunt of everyday use.
3. Smatree Shoulder Bag for DJI Osmo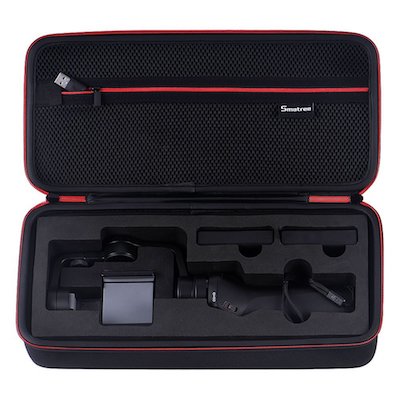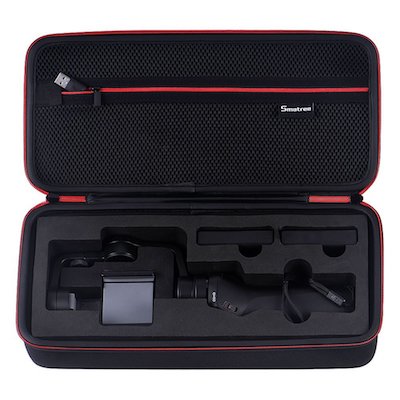 The Smatree has glowing reviews and is amazing for both home storage and travel. It has a built in handle for convenient hand carry or you can switch to the strap for the more comfortable shoulder carry.
The Pros
Zipper on the mesh pocket enlarges the pocket for a perfect fit
Made of high Density EVA material ensuring adequate protection for your DJI Osmo and accessories
EVA material is fairly tough and durable
Can accommodate 2 batteries, cables, and few more additional items
Durable EVA material and snug fit for the equipment
The Cons
Minimal storage capacity for accessories


What we like
This shoulder bag weighs 1.5 pounds, so it is very light and easy to carry around or travel with. Although small, the Smatree has great padding and the equipment fits tight ensuring it is well secure while walking or traveling.
Conclusion
You can now choose from a sea of options when it comes to storing your DJI Osmo and accessories. Understandably, some people need room for a lot of accessories, while others are happy with the basics. One thing is for sure, there is a perfect bag out there that ensures your needs are met, whether traveling light, or your shoot demands that you bring out the entire Osmo arsenal.