Hands-on Review of the Brand New DJI Osmo Pocket
3D Insider is ad supported and earns money from clicks, commissions from sales, and other ways.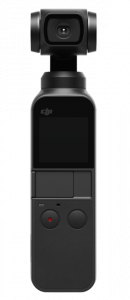 DJI has done it again. The company has just announced a new product that will compete head-to-head with the GoPro Hero7.
We got an early release of it and we can tell you that GoPro should be worried because it solves the biggest problem with their action cameras – and that's blurry video. GoPro has invested millions of dollars to digitally stabilize their video by cropping part of the frame. They call their latest iteration HyperSmooth and despite its fancy name it still sometimes has problems stabilizing video accurately. For instance, it can have trouble deciding which part of the video to focus the stabilization on.
Unfortunately for GoPro, DJI has taken a whole different path. Instead of relying on software stabilization, the company decided to release the world's smallest handheld 3-axis gimbal stabilized camera that can easily fit in your pocket. They have aptly named it the DJI Osmo Pocket. This means that the sensor will automatically rotate to keep stable no matter how you move the device. This is a game changer – and once you see it, you know that it's the future of action cameras.
The DJI Osmo Pocket will cost just $349 compared to $399 for the GoPro Hero7. It will be priced at €359 for Europeans and £329 in the United Kingdom. You can preorder it right now.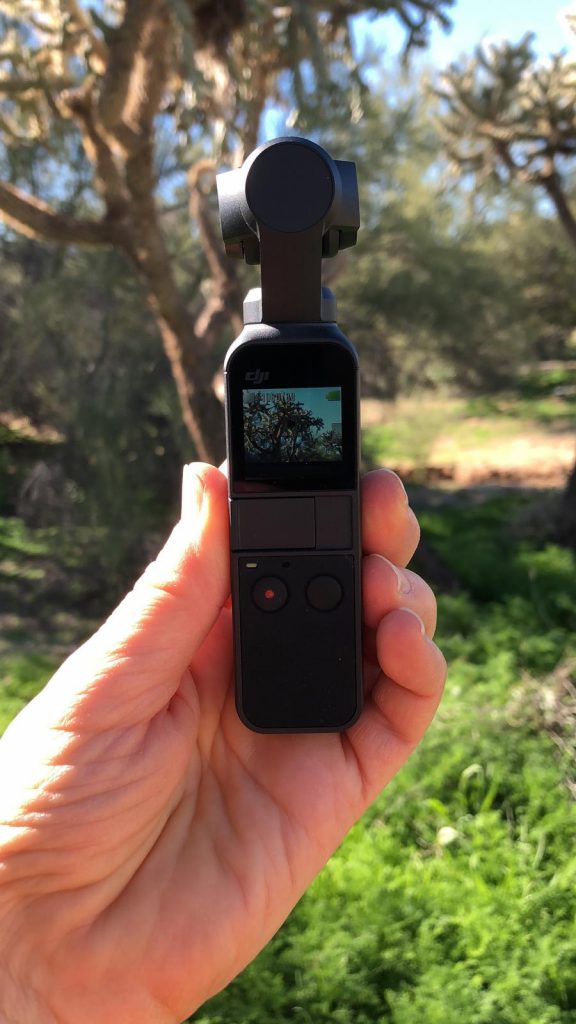 Osmo Pocket Features
• 4K/60fps
• 12 MP / 1.55 μm pixel size
• 1/2.3-inch Sensor
• 80° Wide Angle
• F/2.0 aperture
• Max ISO 3200
• 140 Min of Battery Life
Waterproof Design
The first question on most people's minds is whether the Osmo Pocket is waterproof like the Hero7. After all, this is a huge feature that enables you to focus on the shot rather than being worried a little bit of water will destroy the camera. It allows you to take the camera to places you wouldn't dream of otherwise.
The great news is that DJI will be selling a waterproof case that can provide you with smooth underwater shots and beautiful close-ups at up to 60 meters below the surface. The Hero7 has an accessory that can take you to the same depths. One thing that the Hero7 still has going for it is that it's waterproof up to 10 meters without a case. We haven't been able to test DJI's waterproof case, but we think better stabilization is a fair trade.
Camera Specs
DJI has effectively taken the camera from the Mavic 2 Pro, made it even better, and put it on the Osmo Pocket. The Osmo Pocket can record 4K video at 60 FPS compared to just 30 FPS on the Mavic 2 Pro. The field of view is about the same between the cameras at around 80 degrees. Additionally, they both perform well in low-light conditions, although the Mavic 2 Pro has a bigger aperture of F/2.8 which lets in more light.
4K Ultra HD: 3840 x 2160 24/25/30/48/50/60p
FHD: 1920 x 1080 24/25/30/48/50/60
There's no zoom function on the Osmo Pocket. You can get the Osmo+ for this feature. You can digitally zoom in on video using the Mimo app (more on this below).
Gimbal Performance
The gimbal in the Osmo Pocket builds on the success of previous Osmo products. It features a new algorithm that increases the control accuracy to just ±0.005 degrees and it can move at a fast pace of 120 degrees per second. This means that it can perform a 360 degree rotation in just 3 seconds.
Pan: -230° to +50°
Tilt:-95° to 50°
Roll: ±45°
What's Included
DJI will include the following items when you purchase the Osmo Pocket:
Osmo Pocket x 1
Cover x 1
Smartphone Adapter USB-C x 1
Smartphone Adapter Lightning x 1
Power Cable x 1
There are two smartphone connectors, with one being for iPhone and the other for Android. The cover that comes with is heavy duty and you can still easily fit it in your pocket when you use it. The cover has a rubber latch that holds the camera in securely. When the camera is powered off, the lens rotates downwards to protect itself.
Build
Interestingly enough, the Hero7 and the Osmo Pocket both weigh 116g. This is despite the fact that the Osmo Pocket is a lot taller. The Hero7 is 62.3 x 44.9 x 33 mm compared to 121.9 x 36.9 x 22.75 mm for the Osmo Pocket.
The Osmo Pocket is made from high-quality plastic. It sports a 1.08 inch touchscreen on the back that you can use to focus in on different people or objects.
The Osmo Pocket is a vloggers dream. It has two microphones with one pointed towards you to capture high-quality audio. Ever since the Hero5 became waterproof, the sound quality of GoPros has suffered because the microphone is partially covered by a coating. They've worked a lot on this problem and the sound quality is much better on the Hero7, but the Osmo Pocket takes it up a notch. This is one of the benefits of relying on a case to make it waterproof.
Video Modes
ActiveTrack
ActiveTrack allows the camera to follow a person or an object. It's much better at tracking faces than objects. You can even put it in Selfie Mode to have it follow your face as your record yourself.
FPV
First-Person View mode follows the gimbal's orientation to film thrilling action shots with smooth results.
NightShot
NightShot is specifically designed to light up a low light scene. It can keep the shot steady without a tripod.
3×3 Panorama
The camera can automatically perform panoramas. It will rotate in a matrix to provide you with a crystal clear shot of your surroundings.
Mimo App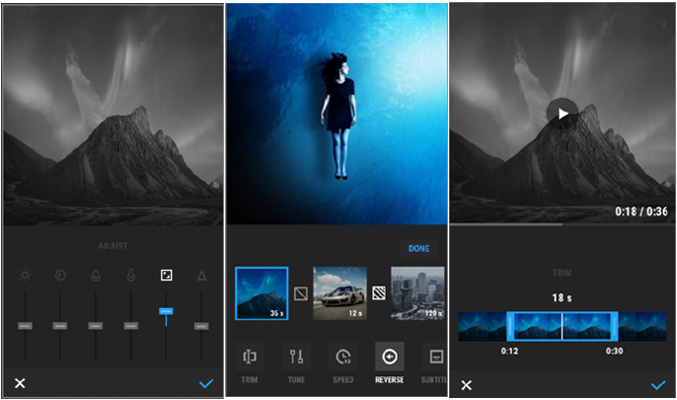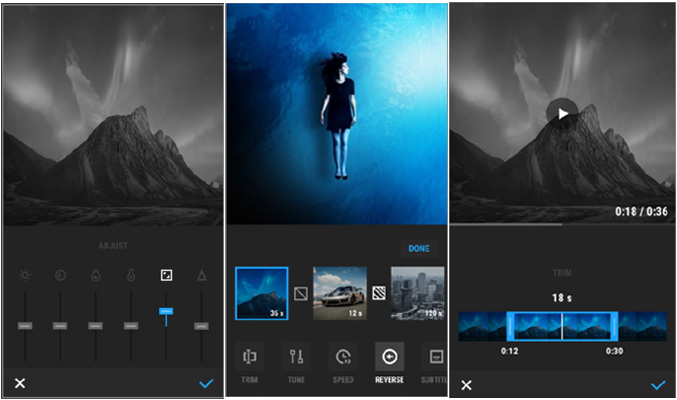 DJI has created a brand-new app to go along with the Osmo Pocket. You won't be able to use the DJI Go 4 app. Instead the company is releasing an app called Mimo. The app is an easy way to edit the videos and share them with the DJI community.
You can edit the clips scene by scene in the app. All it takes to trim a clip is to highlight the section you want and select the apply button. There are numerous color and tone adjustments that you can make in the app as well.
One of the coolest features of the Mimo app is the ability to speed up or slow down the video. You can even play some sections in reverse for a mysterious effect. There are 7 transitions that you can apply between sections. Additionally, DJI has created 16 original filters that you can select with a click.
One of the most thoughtful features of the Mimo app is the ability to add 90 background songs from Artlist. They are sorted by the emotion they invoke, which makes them easy to select. Finally, there are over 35 stickers that you can add to your videos and adding a watermark is easy too.
There is a Pro Mode in the app that allows you to manually adjust the camera parameters. You can change the exposure and also choose to use the RAW or D-Cinelike formats.
DJI is promising us that the app will be continually updated to add more songs, filters, effects, and more. As it stands, the app will be a great way to edit and publish videos while you're on the go so you don't have to spend countless hours doing it on your laptop.
Accessories
DJI will be releasing the following accessories with it. Only a handful of these will be in stock in the beginning.
Charging Case: DJI will be selling a case that can also give you 1 more full charge so that you can capture more on the go. It can also fit two microSD cards, four ND filters, and two smartphone connectors.
Wireless Module: The wireless module is perhaps the best accessory. With it, you don't have to rely on a cable to connect the Osmo Pocket to your phone. Instead this uses Bluetooth and Wifi to establish seamless transmission and remote control between your phone and the camera.
Extension Rod: The extension rod provides you with 80 cm or almost 3 feet of length so that you can get a better shot. It has convenient control buttons at the bottom of the stick that are well-placed.
Waterproof Case: The waterproof case allows you to take the Osmo Pocket anywhere. It will protect the camera to depths of 60 meters.
Accessory Mount: The accessory mount will add powerful features to the Osmo Pocket. It's designed to hold  future accessories for sports and action-based scenarios.
ND Filters Set: ND filters are the easiest way to take your photography and video up a notch. They are basically sunglasses that reduce the amount of light entering the sensor, which gives you control over the lighting.
Controller Wheel: The controller wheel has several dials for precise pan and tilt control, as well as two operation buttons for improved shooting composition.
Cover: You can also get a lightweight and sturdy cover to transport Osmo Pocket with ease.
Verdict
We are still playing around with the Osmo Pocket, but we really like what we see. The best part of the Osmo Pocket is it's extremely small size. It feels much smaller in your pocket than we anticipated.
DJI has a good shot at changing the way we see action cameras with the Osmo Pocket. They've done what many people assumed would be impossible by making such a small gimbal stabilized camera. We've been able to get amazing quality video and photos from it too that we will share shortly.