DJI Phantom 3 Backpacks and Cases
3D Insider is ad supported and earns money from clicks and other ways.
The joy of any quadcopter lies in the option of flying it from anywhere. As long as you have drone enthusiasts who are willing to travel to various terrains and destinations to fly their birds, you will always need a drone bag to meet their travel needs.
A strong case allows you to move around with your DJI Phantom 3 with ease while keeping it safe. Seeing as a drone has some very delicate parts that need to be protected, investing in a case or backpack is no longer option, it is a requirement for every drone owner. Over the years, as drone technology has grown so has the capacity of the cases and backpacks used to carry them.
Because of the different transportation and storage laws that exist in various countries when it comes to drones, finding a backpack or case that is generally compatible with all these laws is advisable.
What to look for in Backpacks
Ease of carrying
Light weight and compact construction
Sturdy yet comfortable straps
Quality material for the pack
Adequate space in the interior
What to look for in cases
A strong durable exterior
Impact resistance
Pressure equalization features
Adequate space in the interior
Wheels for ease of transportation
A retractable handle
Hardshell Backpacks
DJI Phantom 3 Hardshell Backpack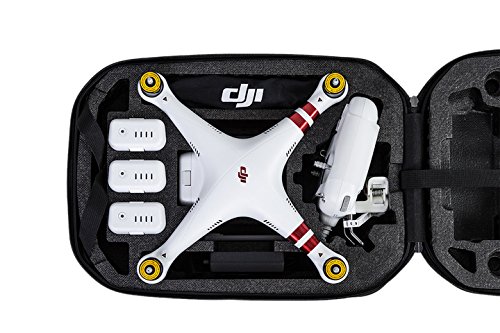 This pack is a popular option because it is created specifically for the Phantom 3. It is a customized to fit all the details of a Phantom 3 and can accommodate all other Phantom 3 series drones. It is important to note that this is a recreational pack, not ideal for rigorous use out on the trail or too much travel.
Performance
The DJI Phantom 3 hardshell backpack has struck a great balance between being lightweight and durable. The strong outer shell is water resistant and it has been tested to ensure that it provides absolute safety to your drone. It is also a well designed backpack which is stylish and striking.
The part sitting on your back is gentle yet adequately padded, making the pack comfortable as it rests on your spine. In fact, it is made to conform to your back so that you do not feel the weight of the drone. A lot of detail has gone into the straps and padding on the pack making it easily the best backpack for everyone no matter what your age demographic.
Size
It weighs only 4 pounds when empty with dimensions of 15 x 20 x 3 inches. It is a small, compact bag that you can travel with while constantly wearing it. Even with it on your back you can maneuver around various terrains without difficulty.
It can easily accommodate:
4 Phantom 3 batteries
The drone
Cables
Controller
Extra propellers
Radio transmitter
It is not a backpack meant to carry a lot of gear just the basics for the DJI Phantom 3.
Attention to Detail
DJI has paid great attention to detail with the pack both inside and outside. In order to ensure absolute safety, the pack is fitted with a high quality zipper on the shell to secure the drone and all the accessories inside. The interior is made to fit the Phantom 3 perfectly eliminating any movement of the drone while it is inside. There is a sturdy strap fitted inside the pack to hold your bird in place and prevent any hard jostles when you are in motion.

The Pros
It is small and compact making it an easy carry
It has precise cut outs designated for the DJI Phantom 3
It is durable and strong
It is comfortable owing to the well padded straps
The Cons
It is a basic phantom 3 bag designed mainly to carry the drone
Our Take
This is the best option for a DJI phantom 3 that is affordable and dedicated to the drone. It is handy and you can pack it in no time at all.
The Power Extra Waterproof Case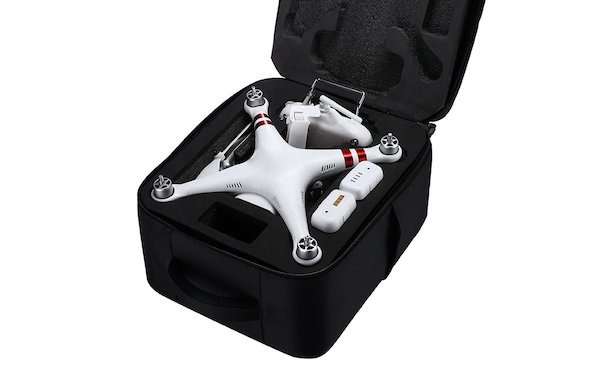 The best way to describe this backpack's case is sturdy, hardy, and created to provide the utmost protection. It will provide you with impeccable service in multiple terrains.
Performance
It works incredibly when you have long distances to cover on foot. It is lightweight and compact so all your items are contained in one place while on the trail. However, it is not a very spacious backpack which means that you cannot carry too much equipment with it.
You can carry more accessories in the side and back pockets providing you with more storage space to work with. Although it will protect your bird from rain should be you be unprotected during a downpour, it is not the pack to use in water logged areas where you foresee crossing water. It will get soaked in such environments. It is also easy to clean which is absolutely necessary to prevent any dust or any other dirt from contaminating the delicate parts of your drone.
The manufacturers of the Powerextra Waterproof Case are so confident in their product that it comes with a 30 day money back guarantee and a 1 year seller's guarantee for all their customers.
Size
It weighs a mere 2.3 pounds making it a lightweight companion during your travels even when carrying your DJI Phantom 3. In fact, it is a perfect fit for all Phantom 3 series drones. It comes in dimensions of 18.9 x 14.6 x 8.3 inches so you can store it in an overhead compartment when traveling.
Being compact and very lightweight it is a comfortable fit for all age groups including children as young as 8 years. It will accommodate
The DJI Phantom 3
Controller
Two batteries
Charger
Propeller
This pack is ideal for users who only want to transport the drone and its basic accessories.
Attention to Detail
The pack has been made with waterproof material to ensure that your drone is protected from the elements. At first glance you will notice that the pack is extremely well padded. This attention to padding ensures impeccable support and protection of your bird while it is in the pack. You are guaranteed adequate protection should any impact occur to the pack with your drone in it.
Unlike other packs that expect you to customize the interior to the DJI Phantom 3, this pack features a precisely cut out EVA foam that conforms to the details of the drone. This ensures a snug fit for your drone eliminating any chances of breakages.
The numerous sleeves and compartments on the outside of the pack come in handy when you have more gear to pack.

The Pros
It is waterproof
It is comfortable to carry
It has a 1 year warranty
It fits the DJI Phantom 3 precisely
It is lightweight and compact
The Cons
It does not provide much space other than that for the drone and a few accessories
Our Take
This is a great starting off backpack for new drone owners since they have not yet advanced to need too much equipment for flying their drone. It is value for money and if you are not happy with it, you have the option of getting a refund back.
The LowePro DroneGuard BP 450 AW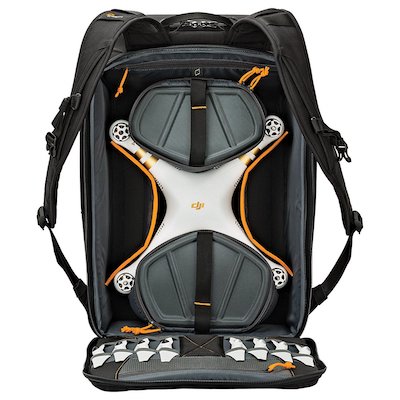 This is a backpack favored by professional photographers and camera crew because of its outstanding quality and functionality. LowePro are industry experts who understand the rigors a camera and drone bag undergoes and they have perfected the art of creating packs to withstand such rigors.
Performance
Since most drone enthusiasts are always seeking that ever elusive epic shot, they understand the need for a functional and practical drone bag that they can trust in whichever terrain they go to. Featuring an armored outer form shell, this pack guarantees absolute safety for your DJI Phantom 3 in the snow, mountains, rain forests, or subway. The pack is very rigid making it impact resistant further protecting your bird during travel.
It is also a very spacious pack providing you with lots of room to carry your bird and accompanying equipment comfortably. Not only is the material water resistant, the pack also comes with a waterproof cover to reinforce its protection when in the rain, snow, or even dusty areas.
It is fitted with the patented Lowepro Active Zone back panel which is breathable allowing your back to be sweat free as you carry the pack for long distances. It also features contoured shoulder, waist and chest straps for added comfort once you have the pack on.
Size
The dimensions of this pack are 1 x 22.1 x 10.2 inches. This is a nice bulky build that will accommodate much more equipment and accessories ensuring that you can pack most of your gear in one place. Weighing 6 pounds, it is ideal for a taller person with some girth. Smaller people tend to look overwhelmed by it.
It can accommodate
The DJI Phantom 3
A DSLR camera
4 batteries
Remote controller
Lenses
Tripod
Chargers
Laptop
It is ideal for professional drone pilots and avid drone enthusiasts who are always on the move, on varied terrains, looking for a great shot.
Attention to Detail
This is a pack that features thoughtful detail in its construction. The interior is customizable so if the DJI Phantom 3 is your second drone, you do not have to buy another backpack for it. You can easily customize the pack to carry the Phantom 3 by placing adjustable dividers. It also has detachable boxes at either end of the pack's interior so you can create more room or carry even more batteries should you need to.
There are additional compartments for more delicate items like FPV goggles as well as sleeves for your tablet/laptop. These, in addition to the attachment loops on the pack's exterior, allow you to carry even more. For hikers who travel long distances to fly their bird this is a very welcome detail.
The strap on the inside is a good touch that keeps your bird stable in its snug compartment. The rigid frame of the pack can be used as a takeoff platform.

The Pros
It is water resistant
It works well on rugged terrain
It provides adequate room for the drone and its accessories
It has a customizable interior
It is comfortable to carry
The Cons
It is bulky and hefty even without the drone inside
Our Take
This is the ideal bag for both amateurs and professional drone pilots. Being customizable it allows you to grow with it as you invest in different drones including the Phantom drones. Once you have this pack you do not need to keep buying different bags for each of your drones.
Heavy Duty Cases
Case Club Waterproof Wheeled Case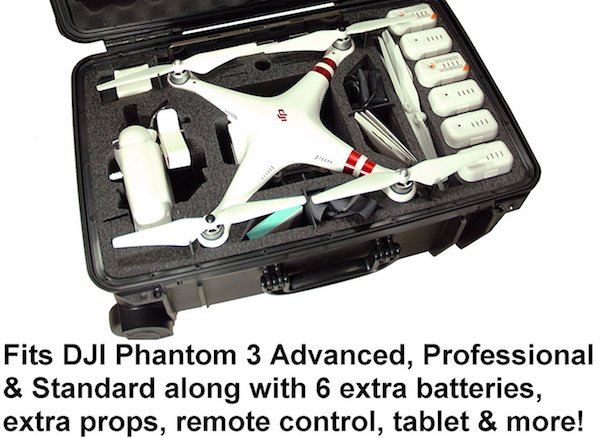 This case has been tested and proven to be reliable for years by professionals and amateurs alike. It is an airline approved case that functions just as effectively for the DJI Phantom 3 as its similar counterpart works for the Phantom 4.
Performance
The case is made from 100% polyethylene, military grade material which is very easy to clean and keeps the interior protected from the elements. It is dustproof and waterproof with the ability to withstand constant use on a commercial level.
It allows you to work efficiently as you can carry all your drone equipment and gear in the case to wherever you are going to. You can even keep the propellers on when you pack your drone. It is solid and has a rugged exterior so you can haul it in whatever terrain you are likely to encounter. It endures impact without flinching ensuring that your drone is safe and sound.
The silicon canisters are effective in combating high humidity and you can dry them in an oven when they have become saturated and reuse them again.
Size
This case is built to carry a lot of equipment and handle heavy lifting well. With dimensions of 27.1 x 16.9 x 10.4 inches, it is spacious enough to accommodate your DJI Phantom 3 and all the necessary accessories that you may need. It is a solid 17.15 pounds so expect a heavy build. Having the wheels, however, helps tremendously with moving this case about.
It can accommodate
DJI Phantom 3
6 batteries
A laptop or large tablet
Chargers
ND filters
Extra propellers
This is a professional case for people travelling constantly with their drones. It is ideal for professional drone pilots who need their DJI Phantom 3 for work or commercial purposes.
Attention to Detail
The case club waterproof case has been tailored to fit the DJI Phantom 3. The interior mirrors the similar case for the Phantom 4 but has been constructed with the details of the Phantom 3 in mind. The cut outs are extremely precise so none of your accessories will be bent, broken, or damaged in any way when placed in their proper slots.
There is a cut out for everything making the packing process easy and quick. From the SD cards to the gimbal and camera, there is nothing that has not been thought of in this case. Seeing as the case is heavy (and will get heavier with the drone and equipment inside), the durable wheels allow you to move it around with complete ease.
The closed cell foam used in the interior ensures that your drone will not get dust or other pathogens that can interfere with its functionality. Such attention means that the manufacturers took into consideration the multiple terrains the case will be used in.

The Pros
It is a durable case with a sturdy exterior
Closed foam cell that prevents dust and other forms of dir form entering the case
It has a lifetime warranty
It is spacious allowing you to pack all your equipment together with the drone
It provides a launching pad for your drone
The Cons
It is a heavy case that once loaded needs an extra set of hands to handle
Our Take
This is the case for any drone enthusiast who likes to carry several pieces of equipment to enjoy flying their drone. It will easily carry a lot of the equipment most drone pilots like to have with them.
Koozam DJI Phantom 3 Hardcase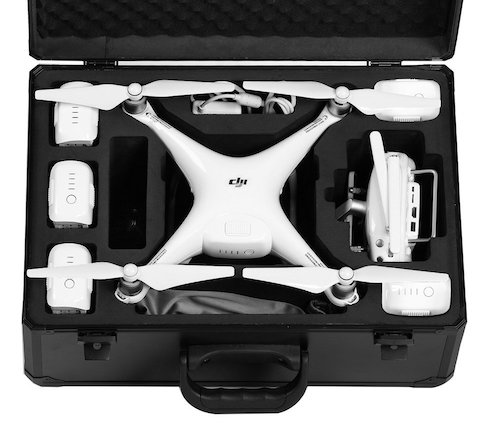 This is the ideal case for a professional drone pilot (and even amateurs going for a professional look). It is a quality case that looks stylish and works impeccably in all terrains.
Performance
The Koozam DJI Phantom 3 Hardcase allows you to easily carry your DJI Phantom 3 with the propeller guards on. This enables you to fly your drone right out of the case eliminating the time you need to set up the propellers. It fits the basic Phantom 3 set up without leaving room for too much gear and equipment.
The exterior is made from durable aluminum providing it with the much needed impact resistant qualities that are usually synonymous with a drone case. The aluminum is lightweight making the case lighter to carry around. It is also water and dust resistant so you can comfortably use it in all terrains.
The interior is well protected with foam all around and precise cut outs for all the equipment and the drone.
Size
Weighing a solid 12.5 pounds, this 24 x 24 x 9.5 inches works well when you use it as a central storage point for your drone and equipment. It can be cumbersome to haul around on the trail as it is a big case. It will safely hold most of your equipment easily
It can accommodate
DJI Phantom 3
Propellers
5 batteries
Chargers
Lightweight
Attention to Detail
The case allows you to carry your bird with the propeller guards on. Reassembling the drone each time you want to fly it is extremely annoying not to mention frustrating and eats into your flying time. By allowing you to pack your drone with propeller guards on, the Koozam hardcase eliminate the hassle of reassembly at the point of flying.
Using aluminum on the exterior turns an otherwise hefty and bulky case into a lightweight carry. This allows it to even fit in the overhead compartment on an airplane.

The Pros
It is lightweight
It is durable with enough room for your drone and accessories
It is stylish
It is water and dust resistant
The Cons
It is not very spacious within the case only taking your drone and a few more accessories
Our Take
It is a great case for beginners who have to use their drones regularly. The option to keep your propeller guards makes this case a favorite for amateurs who do not want to keep reassembling their drones all the time.
Light Weight Cases
Depstech Protective Carrying Case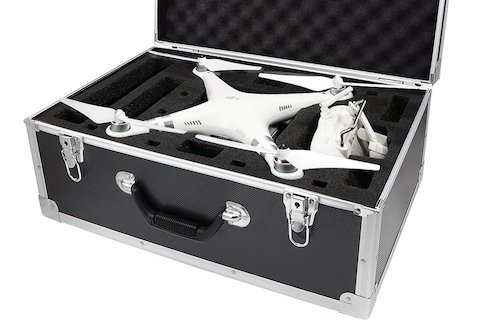 This case is created and designed for the Phantom series of drones. You can enjoy the well thought out nuances of the Depstech protective carrying case and keep your bird safe.
Performance
The case is made from high quality reinforced aluminum making it ideal for any terrain you subject it to. It is small and light which is surprising for most users who expect a bulky case. Despite the tough and strong exterior, it is not advisable to check it in when flying although it can withstand the rigors of the trunk of your car.
The interior is fitted with precise foam which is shock absorbing so even in cases of impact you can be sure that the drone will be protected. There is more foam lining the case to prevent the drone and any other equipment you have packed in it from bumping into the case if they become loose in their slot.
Even when you are not using the drone or travelling with it, you can use it to store the drone and keep it clean at all times. It also works great as launch pad for the drone.
Size
With dimensions of 23 x 10 x 4 inches it provides you with enough room for storing your drone and your serious equipment accompanying the drone. Do not expect the same space a professional drone case will offer you but this is more than enough room for your DJI Phantom 3. It weighs 5 pounds so carrying it around it would not be too much of a hassle.
It can accommodate
The DJI Phantom 3
3 batteries
Charges
Propellers and propeller protectors
Controller
Transmitter
Attention to Detail
The interior is well compartmentalized making packing a breeze. Everything has a designated slot so you just need to place the various components in their correct slot and you are good to go. In fact, you can easily see what is missing in the compartments ensuring you do not forget anything.
It is not a heavy duty case which is makes it ideal for light travel. While most case manufacturers tend to design hefty cases, it is a well thought out option for people with light travel needs.
The shock absorbing foam helps keep the drones safe at all times ensuring that you have no worries when travelling with your bird.

The Pros
It comes with a 1 year warranty
It has a heavily lined foam interior
It can contain a number of accessories and equipment
Affordable price
Lightweight
The Cons
It cannot withstand the rigors of airline travel
Our Take
Drone enthusiasts who enjoy getting away to different terrains over the weekend should find a great companion in this case. You can pack it really quickly and place it in your trunk for a drive. This is not a very demanding use of the case and it will serve you for long if you treat it with care.
The Anbee Hardshell Backpack Carry Case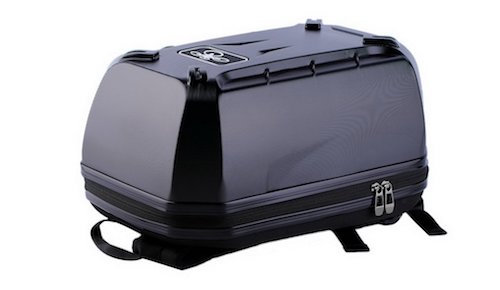 This is a case that has backpack straps. It has incorporated the transportation elements of a backpack to the hard case shell. So, unlike other cases that need wheels to be moved around, you can still carry this on your back and even place it in the overhead compartment when traveling.
Performance
The outer shell of the case is sturdy and durable in construction. It is made with quality tough material that can bear all forms of punishment and impact without caving in. The interior, on the other hand, is well padded, snug and will fit your DJI Phantom 3 perfectly. It comes with a strap that holds the drone in place stabilizing it and the foam is firm so you do not have to worry about your bird detaching from its allocated space.
Expect modest storage space with this case since it only caters to your drone and a few extra accessories. Although it does not have too much space, what it has works perfectly to suit your drone travel needs.
Size
The Anbee Hardshell Backpack carry case is lightweight weighing just 3.44 pounds. The 18.1 x 10.2 x 12.6 inches case is ideal for quick travel with your drone or you can use it when you need to peel away from the campsite and take some quick aerial shots.
It can accommodate
The DJI Phantom 3
Batteries
Controller
Cables
Charger
Attention to Detail
Carrying the Anbee Hardshell Backpack carry case has been made easy and practical. You can either use to backpack straps or the handheld handle at the top of the case. The straps are adequately padded making it very comfortable on your back for long distances.
It works effectively in protecting your drone and accessories. Being a hybrid of a case and backpack, the hard outer shell duly protects the interior of the case and the straps allow you to easily travel with your drone. It is this attention to two very integral parts of a drone carrying bag that make this case a winner for most users.

The Pros
It is durable and offers great protection for your drone
It is small and compact making it easy to carry
Heavy foam that provides adequate room and a snug fit
It retails at a bargain price compared to other offerings
The Cons
It can only take the drone and a few accessories
Our Take
This pack is great for people seeking a bargain and who do not mind carrying their additional equipment separately. If you just want a safe case for your DJI Phantom 3 this is a perfect fit.
Conclusion
The above cases and backpacks are all very well equipped to keep your DJI Phantom safe. It is always important to take the relevant precautions when working with an expensive piece of equipment like a drone. These options make travel or storage of the Phantom 3 easy and effective. Never leave home without one or the other!