DJI Phantom 4 Backpacks and Cases
3D Insider is ad supported and earns money from clicks, commissions from sales, and other ways.
The DJI Phantom 4 is the favored drone for photographers who love to take aerial photographs. These can be for both commercial and personal purposes. Drone pilots describe the DJI Phantom 4 as a cool looking drone with an elegant design. Although considerably flashier than the DJI Mavic Pro with it's magnesium and titanium body, it is still lightweight and the construction gives it the perfect balance of rigidity.
In order to get the best backpack or case for your DJI Phantom 4 you have to consider the following:
Whether you want a rigid frame
The front and back cameras
Delicate advanced features like the sensors
Slightly larger accessories like the propellers, charging hubs, and batteries
By considering all the above you will be able to find the backpack or case that will accommodate the drone with ease and keep it safe at all times. Here are some of our best picks for your DJI phantom 4.
Top 4 Backpacks
Manfrotto D1 Backpack for DJI Phantom 4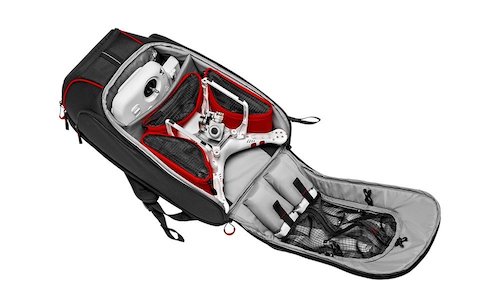 Product dimensions: 22 x 9 x 13.3 inches
Weight: 4.2 pounds
Customer rating: 4.6 out of 5 stars
Manfrotto is a well known brand for carrying high end camera equipment and now they have added to their repertoire a high performing drone bag. The material used on the backpack is damage resistant and can withstand harsh climates. It is compact and lightweight which means you can comfortably carry it with you on a steep trail.
This backpack has been designed with the Phantom drones in mind and so it can fit the DJI Phantom 4 with absolute precision. The interior will give way to accommodate the nuances of the Phantom 4 keeping it snug and stable within.
You can carry all your necessary accessories in dedicated pouches and there is still also a lot of space left for any more accessories you may have. You can even mount more gear like the propellers on the outside of the pack. Side compartments come in handy for your DSLR camera and tablets/laptops (17 inch).
To brave the elements you can use the waterproof cover if you are caught in sudden downpour.

The Pros
It provides plenty of storage options outside the interior of the backpack
It has a customized interior for the DJI Phantom 4 (and other Phantom drones)
It is lightweight so you can carry it as a carry on while traveling
It is able to withstand harsh climate and highly rugged terrains
You can expand the pack by removing the 3 removable zippers
It has optimized battery compartments for the larger batteries
The Cons
It is an expensive option that caters to avid, constant travelers
Most Value Adding Feature
This pack is fitted with protected and dedicated pouches which will hold your accessories snugly in place. Most backpacks tend to focus more on the drone and forget the accessories. The additional storage on the pack is also a very welcome detail.
SSE Phantom Drone Backpack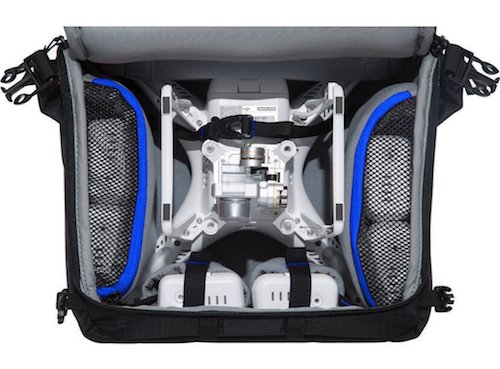 Product dimensions: 16.4 x 12.6 x 7.9 inches
Weight: 3.45 pounds
Customer rating: 4.4 out of 5 stars
SSE has long been synonymous with providing the droning world with functional, practical, and quality drone backpacks. Most of their products are created with the Phantom drones in mind. Even with the camera still on the quadcopter you can pack your DJI Phantom 4 comfortably into the SSE Phantom drone backpack. The plastic brace fitted in the pack will hold the camera in place preventing damage during jostling.
The SSE Phantom drone backpack is very spacious and will hold a lot of gear and any extra equipment you may need as you fly your bird. In addition to the drone, you can also carry your DSLR camera and its accessories with ease. It comes with two tripod and buckle straps for your additional equipment.
The backpack comes with a rain cover upon purchase so that your gear is always protected no matter the weather. It is also made from quality water and damage resistant material. It works well for rugged terrains and still looks good as you travel. The hand handle is durable allowing you to comfortably carry the pack in your hand as well.

The Pros
It is made from water and damage resistant material
It is a perfect fit for DJI Phantom 4 because it has been designed for Phantom drones
It is lightweight so you can place it in overhead compartments when traveling
It has lots of room for your bird as well as the accessories that come with it
It has dedicated slots for tablets and even laptops (15 inch)
The Cons
It cannot take larger batteries because the battery slots are meant for regular batteries
Most Value Adding Feature
The damage resistant material allows you to enjoy a lightweight pack with the advantages of a rugged pack. This enables you to use the pack comfortably in various settings.
Ape Case Drone Bag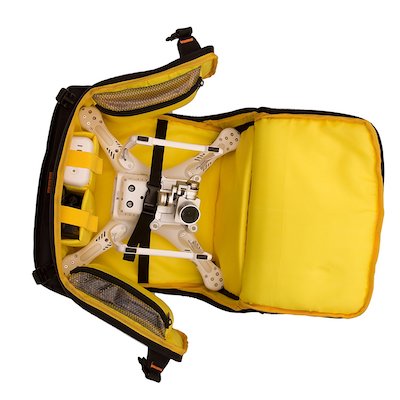 Product dimensions: 9.2 x 12 x 18 inches
Weight: 2.9 pounds
Customer rating: 4.9 out of 5 stars
The Ape Case Drone Bag is the dream backpack for owners of a DJI Phantom 4. It allows you to carry all the accessories you need for your bird and leaves room for your camera, laptops, and tablets. It is popular with avid photographers keen on chasing down perfect shots in different parts of the world. Not only does it allow you to discretely and safely travel with your bird, it is not bulky so it will not weigh you down when carrying it around.
The interior is neatly organized in compartments that enable you to pack your drone and equipment with complete ease. It is durable and sturdy with a clean minimalist construction. The interior is clearly marked out for every piece of accessory that you need to pack.
This pack has been designed to accommodate all Phantom drones and that's why it works so well with the DJI Phantom 4.

The Pros
Compatible with the DJI Phantom 4
It has a five year warranty
It is not too bulky making it easy to carry
It is discrete so you do not draw undue attention to your drone
It will fit most of the accessories needed to fly the DJI Phantom 4
The interior of the pack is well organized for ease of packing
The Cons
This is a high end product so you will pay a lot more for it than other offerings
Most Value Adding Feature
The compartmentalized interior makes packing your drone easy and effective. Every section is created to accommodate specific equipment in your gear so you do not have to worry about customizing it in order to fit everything.
Bangcool Drone Backpack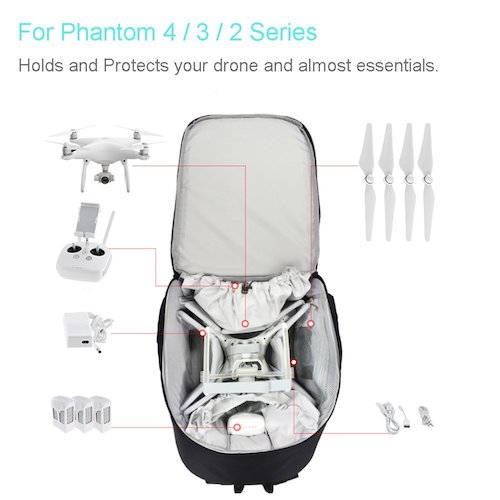 Product dimensions: 20.4 x 14 x 7.6 inches
Weight: 4.2 pounds
Customer rating: 4.4 out of 5 stars
Bangcool backpacks are widely popular and are a recommended product on Amazon. Although this backpack was designed specifically for the DJI Phantom 3, the interior is customizable to the DJI Phantom 4. The dividers can be moved around making room for the DJI Phantom 4 and its accessories without compromising the functionality of the pack.
This pack has great padding allowing you to carry it for long distance treks without getting chaffed and without compromising the safety of your bird. It comes with a slip rain cover for those times when you and your bird are caught in a bit of rain. It provides adequate space for a quadcopter, transmitter, propellers, batteries, antennas, cables, and other accessories or equipment.
The pack has a sturdy sternum strap and the waist belt is nicely widened for more support and comfort. It has waterproof material that always ensures that your bird is safe and dry at all times.

The Pros
30 day money back guarantee
1 year warranty
Sturdy and durable straps
Waterproof material on the bag as well as a rain screen
It has adequate room in the interior to accommodate the drone and its accessories
It is customizable to accommodate your bird effectively
Compact and lightweight enough to carry in various terrains
The Cons
The fit for the DJI Phantom 4 is quite snug which can be uncomfortable for some users
Most Value Adding Feature
The movable dividers make it possible for more drones to enjoy the safety of this bag including the DJI Phantom 4. A customizable interior makes the bag more versatile and more functional.
Top 3 Cases
Case Club Waterproof DJI Phantom Wheeled Case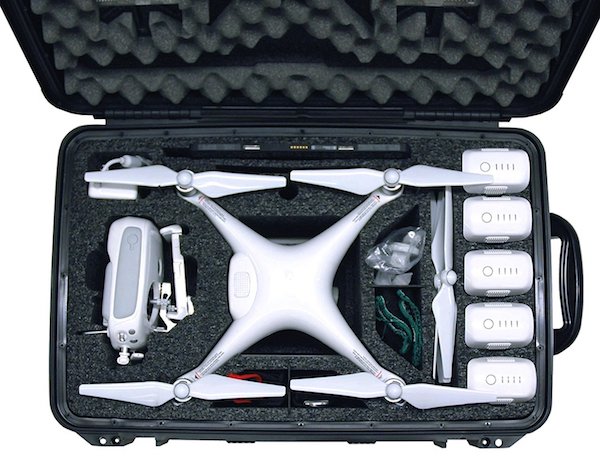 Product dimensions: 11 x 17 x 24.5 inches
Weight: 16.6 pounds
Customer rating: 4.8 out of 5 stars
The Case Club brand offers a wide and very effective assortment of cases for drones. This offering is waterproof and the foam inside is cut to fit the DJI Phantom 4's every detail. It is the ideal choice for DJI Phantom 4 owners who are always on the move in extreme terrains.
It will shield your bird from dust and water seeing as it is completely dust and waterproof and it also keeps the drone protected from very high humidity levels using the two silica gel canisters. When the canisters become saturated you can dry them in the oven and reuse them.
The interior is fitted with closed cell foam which is popular for its ability to keep out dust, pathogens, and parasites as well known to be easy to clean. The exterior is made from military grade polyethylene which guarantees a strong durable shell.

The Pros
It was designed by experienced pilots with engineering backgrounds
It has a lifetime warranty
It is durable, hardy and sturdy
The foam is cell closed
It has a lot of storage options on the shell of the case as well
It has softer egg-crate foam for further support to the accessories
It is a snug fit
It is airline approved
It comes in different sizes and configurations
The Cons
It is quite hefty because of the construction
Most Value Adding Feature
At the top of this case you will find a 9 x1 inch (LxW) loop which you can use to hang more of items for your travel. By providing additional travel storage options to users this case has become dependable to many.
The Hobbytiger Backpack Case for Phantom Drones
Product dimensions: 18.5 x 13. x 9.5 inches
Weight: 4.5 pounds
Customer rating: 4.5 out of 5 stars
This case provides impeccable protection for the DJI Phantom 4. It is incredibly lightweight for such a sturdy case allowing you to carry it with you on any trail. It fits in overhead compartments so you can have it in the plane with you instead of checking it in.
The case is made of quality, solid PC material which is durable and sturdy. The interior is fitted with molded, thick, and soft foam to keep your DJI Phantom 4 stable, snug, and safe. You will also find a sturdy strap and a zipper dedicated to keeping the drone in place to avoid any jostling as you move around.
To ensure maximum comfort on the trail, the case is fitted with an adjustable backpack strap and chest strap providing you with flawless maneuverability whenever you have it on. It is compact enough not to be overwhelming yet spacious enough to accommodate the DJI Phantom 4, remote controller, intelligent flight batteries, tablet, chargers, and propellers.

The Pros
It is water resistant
It has a hard outer shell that provides adequate protection to the bird
It features a soft padded interior with a strap to fasten the drone in place
It is lightweight and compact making it an easy travel companion
It is designed for Phantom drones so it fits the DJI phantom 4 perfectly without needing any customizations
It has a padded back for complete comfort when carrying it around
The Cons
The case will not take too much punishment over time so you still have to be careful with it
Most Value Adding Feature
The case can be carried on your back like a backpack. The hard PC exterior makes it ideal for trekking through rough terrain as you hunt for the perfect aerial shot. The additional strap and zipper in the interior of the case for holding the drone in place are a thoughtful detail aimed towards the safety of your bird.
The Pelican 1650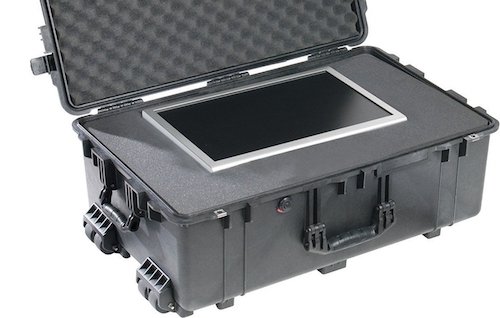 Product dimensions: 31.6 x 12.4 x 20.5 inches
Weight: 30.1 pounds
Customer rating: 4.8 out of 5 stars
Pelican cases have been used to protect sensitive gear for the longest time and are widely considered a reliable and trusted name in the industry. The outer shell is a hard case that can take all kinds of punishments making it ideal for all travel, all terrains, and all seasons. The Pelican 1650 is a non specific model which means you can customize the foam to suit your DJI Phantom 4 and all your accessories. Simply put, you make the rules with this case.
The case features stainless steel hinges and handles. It is watertight and features a groove fit that incorporates a polymer o-ring to seal the case from water. Moving it around is easy because of the stainless steel ball bearing wheels which give it smooth and fluid like movement.
It is very popular with professional photographers and crew who appreciate the roomy interior and the versatility of the case which is par none.

The Pros
It is a hardy, sturdy case that will serve you for years
It has a very spacious interior
It is water resistant, water tight, dust proof, and impact resistant
It comes with plenty of Pick N Pluck foam that you can customize to fit your DJI Phantom 4
You can carry all your technical equipment with ease and safely
It is fitted with very effective, double throw latches
It is fitted with the standard Pelican automatic pressure equalization valve that releases built up air pressure
The Cons
It is heavy weighing 30 pounds when empty
Most Value Adding Feature
The best thing about this case is its ability to adapt to the items being carried within. From you DJI Phantom 4 drone to the lighting equipment, camera equipment, and all their accessories, you are able to haul a lot of equipment in one case. The Pick N Pluck foam is a well thought out detail that allows users to customize the case to their very specific needs.
Bonus Backpacks
If you are still looking for more options, take a look at the well rated backpacks for the DJI Phantom 4 below.
5.11 Rush Military Grade Backpack with Custom Foam inserts for DJI Phantom 4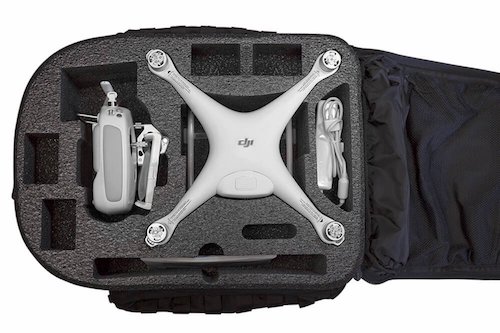 Product dimensions: 23 x 13.5 x 8.5 inches
Weight: 4.2 pounds
Customer rating: 4.8 out of 5 stars
5.11 Rush is a renown and respected brand of tactical backpack manufacturers. Their RUSH line is popular for high octane activities coming in backpacks for 12hrs, 24hrs and 72hrs outdoor adventures. They have customized the 72hr pack to be able to carry your DJI Phantom 4. In fact, this pack has been designed for use with DJI Products, specifically the DJI Phantom 4 and the DJI Phantom 4 Pro.
The interior is fitted with custom made foam that fits the DJI Phantom 4 making it very easy to travel with your bird. It can fit your tablet, filters, batteries, gimbal, spare propellers, and lenses among other accessories.
Interestingly, this backpack does not lose any of its tactical components even though it is also a drone bag. It still has the hydration kit and storage sections for your tools on the trail.

The Pros
The backpack is big enough for tactical gear, your drone, and any accessories you may need
It is durable and can withstand the punishment of harsh trails and constant travel
The interior is spacious with snug fits for the drone and accessories
It has sturdy straps which provide a comfortable carry for long distances
It has a customized foam interior specific for the DJI Phantom 4
It has a well padded grab handle
It has external MOLLE for additional storage of gear like tripods
The Cons
It is a limited edition backpack so you must look out for it and grab it whenever it becomes available
Manfrotto Phantom Pro Light Backpack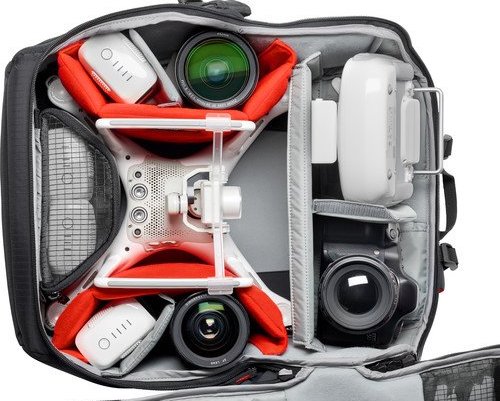 Product dimensions: 20 x 13 x 10.1 inches
Weight: 4.8 Pounds
Customer rating: 4.5 out of 5 stars
This backpack is a great option for the DJI Phantom 4 as it is customizable. It features custom designed dividers that you can manipulate to specifically fit your bird snugly. The dividers are well constructed and padded giving adequate protection to your bird.
The company has put much thought into the details and support system of the pack ensuring that you are always comfortable with the pack on your back. The Manfrotto Phantom Pro Light backpack is firmly padded and you can use the areas segregated for a camera to store your controller. The manufacturer has also invested in the best protection and shock resistance on the pack. This ensures that whenever there is impact on your pack, the drone inside is not affected in any way.
It comes with a fold–out protector that needs to be installed to keep the inside of the pack completely dry even when the exterior gets wet. The pack is more versatile in use and lightweight compared to a case and you can still carry all your equipments on it. You can compartmentalize your equipment during packing keeping all your drone equipment including charging hub, batteries, and propellers in the bottom compartment while your DSLR camera and all camera accessories can be packed into the top compartment.

The Pros
It is made from high quality materials
It has plenty of dedicated storage for the drone and other accessories
It provides great protection to the drone
It has padded, customizable dividers
It is lightweight and comfortable for long hikes
It features quality zippers and TSA locks for securing your compartments when traveling
The Cons
This is a high end option with an expensive price tag
Most Value Adding Feature
The customizable dividers are a gem. The can be manipulated to custom fit your DJI Phantom 4 or to fit your camera or both.
Conclusion
Owning fun equipment like the DJI Phantom 4 makes you want to ensure that you take extra care of it at all times. Invest in one of the above backpacks or cases and you can travel anywhere you want without worrying about the safety and state of your drone. Instead, you can focus on enjoying it every time you fly it and make amazing memories.