DJI Drones are $100 off for Black Friday
3D Insider is ad supported and earns money from clicks, commissions from sales, and other ways.
DJI is selling their popular Mavic Pro and Spark drones for $100 off this Black Friday. The company has announced that their sale will end on November 27th. DJI rarely offers discounts on their products so this is special.
The DJI Mavic Pro normally sells for $999. You can pick it up for $100 cheaper through Monday for $899. The Mavic Pro is a drone that is capable of pro-level aerial imagery.
The Mavic Pro has a 3-axis gimbal with a powerful camera that delivers 4k video and 12mp stills. The drone has a battery life of up to 27 minutes and a flight range of up to 7km (4.3 miles). You can zip through the skies at close to 40 mph with this quadcopter. The specs on the Mavic Pro almost verge on the unbelievable.
The DJI Spark normally sells for $499 and it is available for $399 for a limited time. The DJI Spark is a beginner friendly drone that is a lot of fun to fly.
The Spark has a 2-axis gimbal capable of 1080p video and 12mp photographs. It has a flight time of approximately 16 minutes and a range of about a mile with an optional controller. The Spark has a max speed of 31 mph.
Comparing the Mavic Pro and Spark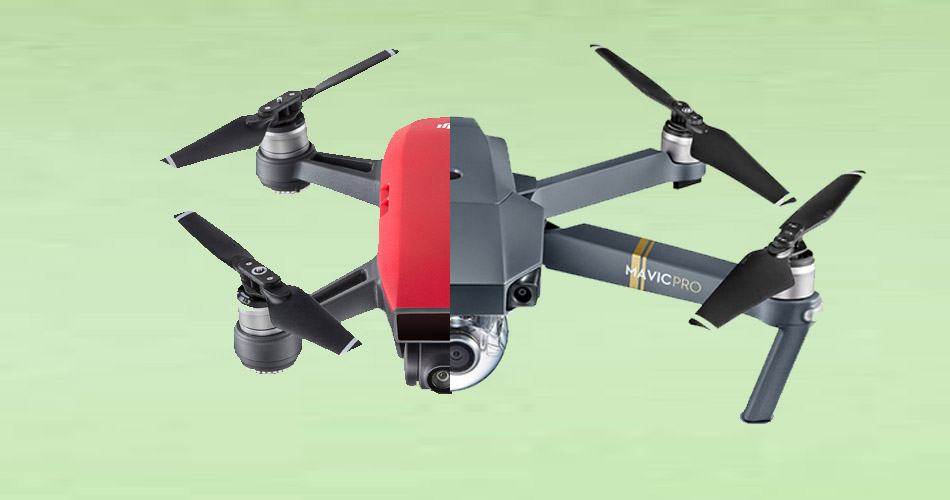 The Mavic Pro and Spark are both industry leading drones that are well above the competition across most features. In fact, it's not easy to even come up with a name for a drone that offers serious competition to these quadcopters.
The Mavic Pro and the Spark are renowned for their portability. The Spark is roughly the size of an iPhone Plus when the blades are folded and the Mavic Pro collapses into the size of a medium-sized water bottle. The Spark is certainly smaller than the Mavic Pro, but this won't make a huge difference to most people.
The Spark is much more beginner friendly than the Mavic Pro. It has built-in gesture controls that allow you to instruct the drone just by giving it hand signals. For instance, you can get the drone to take a picture of you just by holding your fingers in a square. Both drones have follow me mode where they will lock onto you and follow you around while you do cool stuff.
The Mavic Pro is obviously the superior drone, but it is a lot more money. If you can afford it, then the Mavic Pro is the drone to buy this Black Friday. DJI is the Apple of drones. As a high-end retailer, they rarely release special offers. Now's your chance to pick up a DJI drone for less than retail.