DJI Spark Bundles Kits and Combos
3D Insider is ad supported and earns money from clicks and other ways.
So you're considering a DJI Spark quality camera drone and you come across all these Bundles, Kits, and Fly More Combos. Your first thought might be that DJI are simply trying to sell you extras on top of the drone. You'd be right too. But these kits are also for the benefit of customers and that's why the company creates them. I'll explain what these benefits are by using a typical scenario.
Let's say you ordered a DJI Spark drone and nothing else. You then unbox it, charge the battery—if necessary—and take to the sky. You couldn't be happier and then— after 12-15 minutes of flying fun the battery runs out of power. Now you have to wait for 1.5 long hours while the battery recharges before you can continue. How frustrating is that!
Let's also say that you have one of those inevitable crashes. There's no major damage but you break a propeller which grounds you until the replacements arrive. This wouldn't matter if you'd invested in a convenient bundle at the time of purchase.
For example, bundles can include as little as an extra battery or include custom carry cases and crash repair kits. You can see the benefits of buying extras to suit your needs at the time of purchase.
About the DJI Spark Selfie Camera Drone
The DJI Spark is an incredibly popular drone. Its lightweight and foldable design makes it the ideal travel quadcopter too. It's simple and fun to fly and doesn't even need a controller unless you want to explore further. The gesture controls and face recognition technology are key selling features. There's also the gimbal-stabilized 1080p HD camera, dual-band GPS, and obstacle detection technology.
Not all DJI Spark Bundles Are Equal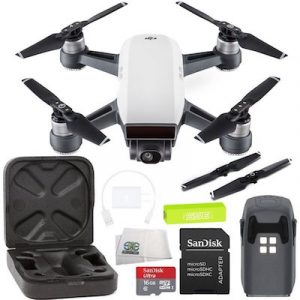 DJI put a lot of thought into their Spark combos, kits, and bundles. They know the types of extra products people typically buy after the drone. They create custom packs specifically to meet these needs. They're not all equal though, and that's a good thing. Some folks only want the drone with one or two extra intelligent batteries. Someone else may want an entire range of accessories.
Types of DJI Spark Bundles will go by names like the following:
STARTERS bundle
Spark ULTIMATE bundle
Fly More ESSENTIALS bundle
Fly More COMBO W/ (name of accessory here)
BUNDLE kit with MUST HAVE accessories
Fly More Virtual Reality bundle
Others
These are just a few examples of the DJI Spark bundles. Some will include extra propellers, extra batteries, custom carry case, cleaning kits, FPV goggles, and all kinds of accessories. In other words, there are bundles from basic, to wide-ranging, to multi-kits, and everything in-between.
Seasonal Spark Bundles
Technology changes and new accessories come into being from time to time. There are also special promotions during certain times of the year like summer/winter sales, Christmas, Black Friday, and so on. Some Spark bundles can save you a considerable amount of money as well as shopping time. There are also the steady favorites and I'll list those most popular bundles in this guide.
A Word to the Wise
Always buy your DJI Spark kits from DJI or a DJI authorized dealer whenever possible. I don't link to unauthorized sellers in this guide but there are plenty of them offering deals online. Buying a new Spark from anyone other than DJI or a DJI approved dealer may result in a void warranty.
OK, let's now look at the most popular DJI Spark packs available right now.
1. DJI Spark Mini Drone Starters Bundle
This Spark bundle is a basic kit that includes everything you need to get started:
DJI Spark Quadcopter, color: alpine white
3 x 4730S quick-release folding props
Intelligent flight battery (12-15 minutes flying time)
Battery charger
SSE power bank
Micro-USB cable
SanDisk ultra 16 GB microSDHC
UHS-I card w/ adapter
Storage box
Microfiber drone cleaning cloth
2. DJI Spark Fly More Combo w/ Must Have Accessories
This Flymore Spark combo with popular extras includes the following items:
DJI Spark Portable Mini Camera Drone
Two intelligent flight batteries (double the flying time)
Battery charger
Battery charging hub
Remote controller (RC)
Set of propellers
Set of propeller guards
64GB MicroSD card
Micro USB cable
Power cable
Drone storage box
Shoulder bag
0 card reader
Micro fiber cleaning cloth
3. DJI SPARK Fly More Drone Combo Essentials Bundle
This ESSENTIALS bundle by DJI includes the following items:
DJI Spark Selfie Drone
Remote Controller (transmitter)
Propeller guard
Spare set of propellers
Three intelligent batteries
Battery charger
Battery charging hub
16 GB flash drive
Power cable
Carry bag
Custom hard case
Microfiber cloth for proper cleaning
1-year limited warranty
1 year warranty extension
4. DJI Spark Mini Selfie Drone Ultimate Travel Bundle
This Spark mini drone ULTIMATE bundle includes the following items:
DJI Spark Quadcopter (alpine white)
Remote controller (RC)
Battery charging hub
Five quick-release folding propellers
Two propeller guards
Three intelligent flight Batteries
Battery charger
Micro-USB cable
SanDisk ultra 16GB microSDHC
UHS-I card w/ adapter
Storage box
Carrying case
Microfiber cleaning cloth
5. DJI Spark Fly More Combo VR Ultimate Bundle
This Spark bundle is ideal for FPV enthusiasts and racers in particular.
This Spark virtual reality bundle includes the following items:
DJI Spark Selfie Drone: Color: sky blue
Remote controller for Spark
Battery charging hub
Three intelligent flight batteries
Five x 4730S quick-release folding Props
Two prop Guards
Battery charger
SanDisk Ultra 16GB microSDHC
UHS-I card w/ adapter
Micro-USB cable
Storage box
3D VR glasses (Virtual Reality headset)
Microfiber Cleaning Cloth
Summing Up
The bundles mentioned in this guide are the most popular kits at the time of writing. Other variations are certain to materialize over time. But the five here should include everything a DJI pilot needs.
Happy flying!