Fun and Cheap: DJI Tello Review
3D Insider is ad supported and earns money from clicks, commissions from sales, and other ways.
DJI is a brand known for top-of-the-line drones that come with all the best features and correspondingly high price tags. Because of their reputation, a lot of people were surprised when they came out with the Tello: an entry-level sub-$100 drone that looks similar to toy drones from Syma and JJRC. However, the Tello is far from being a simple toy drone. If you are considering buying a Tello as your first drone, then read on as we take a realistic look at what it can and cannot do.
Overview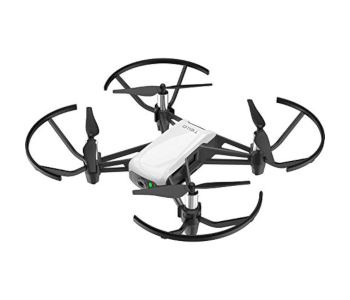 The Tello drone was developed by DJI in collaboration with Ryze, a tech startup based in Shenzen, China. Using a combination of DJI's reliable technology and up and coming talent from Ryze, the Tello manages to a be a starter drone that rises head above shoulders from other drones in the same price range. The Tello is actually the first product from Ryze, marking a good start for the young company.
You can buy the Tello either as a standalone package, or as the Tello Boost Combo that comes with the GameSir T1D remote controller, two extra batteries, and a battery charging hub. Either way, you will get a complete set of propellers and propeller guards.
Design and build quality
The Tello lives up to the DJI brand despite its low price. It looks just as good as any other DJI product with its minimalist and professional design. Most of the drone body is made from nylon plastic, keeping the drone lightweight while giving its individual parts a bit of flex. The use of nylon provides some degree of impact-resistance, allowing propeller arms to bend or flex before breaking.
One thing you'll need to know is that the Tello is small. Weighing only 86 grams including the battery, propellers, and propeller guards, the Tello will fit right into your palm. Ryze has used the Tello's compact size as an advantage by incorporating a Throw and Go feature, which we'll touch on later. Based on its size alone, it's apparent that the Tello might just be the most expensive toy drone available today.
The canopy of the Tello can be detached to remove the battery. More importantly, the canopy cover is interchangeable, in case you want to switch out the color of your Tello. Right now, you have the option of getting white, yellow, and blue canopy covers. While the canopy can be removed using just your fingers, the propellers of this drone require a removal tool, which is included with the drone.
LED light at the front for orientation during flight.
Camera
The Tello is obviously not a camera drone, but you will be pleasantly surprised at the quality of the camera that you get for its price. The camera of the Tello has an 82.6-degree field-of-view, can record 720p videos, and can capture 5 MP photos.
Instead of a gimbal, the Tello's camera is equipped with an Electronic Image Stabilization (EIS) technology that reduces video jittering and shakiness. It won't produce professional-grade videos, and you're not likely to wow anyone with the stability of the videos you can capture, but they are much more usable than the videos you can capture with other toy drones. If you can manage to fly your Tello in a calm, non-windy day, then you might be able to get video quality that can rival the Spark.
The videos shot by the Tello's camera can be viewed real-time using the Tello app on your mobile device. There is a significant bit of latency in the video feed, and this is because the videos are being stored in your device's memory – the Tello does not have its own storage.
Despite the limitations of the camera, Ryze has pre-loaded the drone with a few autonomous camera modes so you can still capture unique footage. These camera modes are similar to those that can be found in higher end DJI drones. You can choose between Dronie and Orbit modes. The drone can even make a 360-degree panoramic video with a few simple button presses.
Even if it seems like we're downplaying the quality of the Tello's camera, the truth is that you will not be able to find a drone with a comparable camera in the sub-$100 price range. Just for that fact, the Tello deserves some recognition.
Performance
Being a starter drone, DJI has succeeded in giving the Tello a very low learning curve. Learning to fly the Tello is such an easy process, even for someone who has never tried flying a drone before. The Tello does hold your hand a bit if you're still learning to fly. Using the Tello mobile app, you can activate slow mode, which limits the Tello's movement to a measly 3.5 m/s. Even when you do activate fast mode, the Tello can only move at 8 m/s – fast, but nothing to write home about.
The Tello does not have any GPS technology, as that would have made the drone much more expensive. Instead, Tello compensates with a Vision Positioning System (VPS) that uses a combination of optical sensors and pressure sensors to give the Tello altitude and positioning stability. Altitude hold is easily achieved by the drone's pressure sensors, which are quite any reliable in any circumstance.
Positioning hold via optical sensors is a bit more problematic. Since the technology relies on optical sensors (basically a low-resolution camera), the drone's positioning hold tends to fail when it can no longer see the surface below, such as when the surface is reflective or transparent, when flying in poor lighting conditions, or if the drone attempts to fly at an altitude above 10 meters. For this reason, the Tello can only fly up to 10 meters high. Overcoming this limit will require the use of a third-party app, which we do not recommend that you do.
Another thing to take note is that the Tello is only equipped with 8 mm. brushed motors, which are much less powerful than the brushless motors you will see in all higher end drones. The combination of low-power motors and the Tello's lightweight build makes it challenging to fly in windy conditions. However, the Tello handles beautifully in calm weather or when flying indoors. The Tello does not have any obstacle avoidance technology, so be careful when flying indoors or near people or objects.
Having no GPS technology also means not having any return-to-home (RTH) functions. If the Tello flies outside of the control range, it simply hovers in place. When this happens, you have no choice but to walk closer to the drone until you can control it again.
DJI has not forgotten that one of the popular features of starter toy drones are their tricks that showcase just how agile they can be. Thus, the Tello also can perform quick flips in eight different directions. The Tello automatic take-off and landing functions are taken a step higher with the extremely entertaining Throw-and-go mode. As its name implies, when Throw-and-go mode is activated, you can simply toss the Trello from above your palm to let it start hovering in place.
Controller
In the standard Tello bundle, the control of the drone is done completely via the Tello app. It's kind of surprising that the Tello does not work with the DJI GO app, but we guess the fact that Tello was a collaborative effort between two companies made its controls unique.
The Tello mobile app simply displays the view of the drone's camera and an array of visual controls. As any drone owner can tell you, using visual controls can be a headache. They are quite inaccurate and difficult to use because of the lack of tactile feedback. The Tello uses a WiFi connection to communicate with your mobile device, limiting its range to only 100 meters.
If you decide to splurge and get the Tello Boost bundle, then you can get the GameSir T1D remote controller. Maneuvering the drone using this dedicated controller is much easier and smoother. It also comes with a built-in clamp for a smartphone so you can still conveniently see the live feed from the drone's camera. With a pair of analog sticks and easy to access buttons, gamers will feel right at home using the T1D remote controller.
Battery
Most of the volume of the Tello's body is taken up by its 3.8V 1100 mAh Li-Po battery. According to DJI, this battery has enough juice for up to 13 minutes of continuous flight under ideal conditions. Realistically, you can expect between 8 to 10 minutes of flight in a single battery cycle. A flight time this short is not surprising for a drone with Tello's size. A couple of spare batteries will come in handy.
The battery of the Tello can be accessed by removing the drone's top canopy cover. There is no battery lock mechanism, which means the drone's battery will likely pop out should it crash. This can be either a good or a bad thing, depending on your perspective.
Customization
The Tello is controlled by an Intel chipset that is fully programmable and compatible with the free Scratch software. This open access elevates the Tello from a mere toy drone to a STEM instructional tool, which instructors can use to teach young kids about basic programming functions. The Scratch platform allows users to create custom commands and sequences. Once you have come up with a series of programming blocks, you can watch the Tello carry them out in a fully automated fashion.
That being said, the programmability of the Tello using Scratch leaves much to be desired in terms of implementation. Programming using Scratch is very basic, not very versatile, and poorly documented. The Tello is great for exercising basic programming tools but is just not meant for more complex autonomous operations.
Price
The Tello remains the only DJI drone that is available for less than $100. For DJI, this is a milestone product that appeals to a completely different market from what they are used to. If you have a little more spending power, then you can get the Tello Boost Combo for an additional $50.
Is the DJI Tello worth it?
Make no mistake: the DJI Tello is a starter-level toy drone. As far as toy drones go, the Tello is probably one of the most expensive models. However, the features of the Tello allow it to transcend beyond the level of typical toy drones. While the cameras of other toy drones can only capture very choppy videos, the camera of the Tello is equipped with EIS which perfectly complements its 720p resolution. The Tello is also equipped with the technology for both positional and altitude stability, something that cannot be found in other cheap toy drones.
From another viewpoint, the Tello is no Spark. The Spark has the advantage of brushless motors, gimbal stabilization, more flight modes, and generally smoother flight performance. However, this comparison is also unfair since the Tello costs only a quarter of the price of a Spark.
Instead, the Tello excels if you look at it as an entry-level drone: the kind of drone that you try for a spin, just to make sure if drone flight is for you. It's easy enough to learn and comes with just the right number of features to give you a preview of what the better, more expensive drones are capable of. If you've been on the fence for a long time on whether or not you want to buy a drone, then the Trello is a low-commitment purchase that might just be what you are looking for – at least for now.