DJI Zenmuse P1 and Zenmuse L1 – Which Mapping Payload Should You Get?
3D Insider is ad supported and earns money from clicks, commissions from sales, and other ways.
Aerial surveying has long been one of the more lucrative fields of application for drones. However, professional-grade surveying technology for drones is still far from common and usually only available through specialized and expensive brands.
With the release of the Zenmuse P1 and Zenmuse L1 custom payloads for aerial surveying, DJI has become one of only a few major brands that provide easily available mapping technology. They are still quite expensive, though, so some careful consideration is due before anyone gets them. Should you consider getting one? What's the difference between the two payload options?
Overview
The Zenmuse P1 and Zenmuse L1 were released just a few weeks ago in a flurry of DJI product launches in late 2020. Both these professional-grade payloads were designed to be used with the DJI M300 RTK drone. From that piece of information alone, it's already apparent that these products aren't made for casual drone pilots. Both payload options, as well as the companion drone, are very expensive.
Comparing the two payload options is basically comparing two wildly different mapping technologies – photogrammetry and LiDAR. Each option has its set of pros and cons and is wildly used in a variety of commercial and industrial operations. In any case, both the P1 and L1 have been designed to work with the RTK module of the DJI M300 drone to improve positional accuracy. This results in massive improvements in data accuracy and quality, even with minimal use of Ground Control Points (GCPs).
According to DJI, the Zenmuse P1 and Zenmuse L1 could be game-changers in the industry. By offering professional mapping technology at more compelling prices, they could push the industry of aerial surveying forward and make it accessible to more people. With more reliable integrated solutions, aerial surveying using drones could come closer to being the norm.
Both the DJI Zenmuse P1 and Zenmuse L1 are available for pre-order via the DJI website and official DJI Enterprise dealers. Units will start shipping out by early 2021
DJI Zenmuse P1 Photogrammetry Solution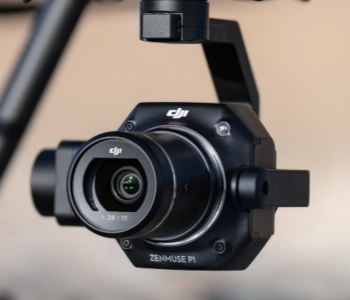 The Zenmuse P1 is a full-frame sensor mounted on a three-axis gimbal that is designed for aerial surveying using photogrammetry technology. Photogrammetry relies on a series of overlapping images to create 2D or 3D models of the survey area. Each image is embedded with geospatial data, allowing them to be located in 3D space during reconstruction.
The low-noise sensor of the Zenmuse P1 can capture 45 MP stills and can be outfitted with different fixed-focus lenses. The global mechanical shutter has a maximum speed of 1/2000 seconds and can capture photos every 0.7 seconds during flight. The Timesync 2.0 technology ensures seamless synchronization at the microsecond level between the camera, GPS receiver, and the various sensors inside the drone. Without GCPs, the Zenmuse P1 is rated to 3-cm. accuracy horizontally and 5-cm. accuracy vertically.
Aside from accuracy, the Zenmuse P1 was also designed for efficiency. When mounted on the DJI M300 RTK drone, the P1 can continuously capture data over a 3 square-kilometer area on a single battery cycle. To lessen the time spent in surveying and post-processing, the P1 takes only the necessary images when approaching the edges of a survey area. Mission files are automatically stored with the relevant mission name, time, and metadata to make data management more intuitive.
Photogrammetry is a fundamentally simpler – and probably less expensive – mapping technology than LiDAR. In fact, it's not unheard of to do a photogrammetry survey using a non-specialized camera drone like the DJI Mavic 2 Pro. What the Zenmuse P1 offers as an alternative is enhanced efficiency and accuracy and a more streamlined workflow in an all-in-one payload device that is more appropriate for professional applications.
Despite the sophistication of the Zenmuse P1, it's probably still subject to the usual limitations of photogrammetry technology. Its reliance on visual data means that it cannot be relied on in circumstances with poor visibility. Some features in the survey area may be obscured by shadows, especially if the area contains large structures like buildings and communications towers. Doing a photogrammetry survey at night or in overcast conditions is also poor practice, as it often leads to severe inaccuracies in the data.
DJI Zenmuse L1 LiDAR Solution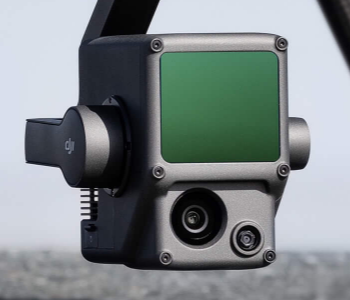 The Zenmuse L1 is DJI's stab on a convenient LiDAR payload, which is also designed for the DJI M300 RTK. Instead of just a LiDAR sensor, the L1 combines a LiVOX LiDAR module with a 20 MP RGB camera with a 1-inch CMOS sensor. This combination is a huge upgrade to standard LiDAR technology, as it means that the point cloud data of LiDAR can be overlaid with the image data from the CMOS sensor.
The LiVOX LiDAR module is highly efficient and can capture 240,000 data points per second. It has a detection range of 450 meters and promises accuracy of up to 5 cm. on the vertical axis and 10 cm. on any horizontal axis. It can cover up to 2 square kilometers on a single flight, which is a slight downgrade from the efficiency of the Zenmuse P1. For better positional accuracy, the Zenmuse L1 has its own high-accuracy IMU sensor.
The Zenmuse L1 was designed to work with the long-established DJI Terra drone mapping software. Not only is DJI Terra useful for mission planning and data processing, but it also allows for real-time viewing of the point cloud as it is being generated. This is a huge advantage when you're out in the field, as it means that you can detect problematic areas right away and make critical decisions when needed.
LiDAR mapping technology is a bit more complex than photogrammetry, mainly because of the volume of point cloud data that is collected through the method. Theoretically, LiDAR delivers better accuracy than photogrammetry but that does not seem to be the case with the Zenmuse L1 compared to the Zenmuse P1.
The biggest advantage of using LiDAR for mapping is that it does not rely on visibility to collect data. This means that a LiDAR survey can proceed in conditions that photogrammetry would find challenging – at night, with heavily obscured objects, or even while raining. To withstand these conditions, the Zenmuse L1 has been constructed with IP44 ingress protection.
Based on the prices of currently existing LiDAR and photogrammetry modules, we can expect the Zenmuse L1 to be significantly more expensive than the Zenmuse P1. However, we can't know for sure until DJI releases pricing info on these new devices.
Which one to get?
If you're interested in either the Zenmuse P1 or Zenmuse L1, we assume that you're already in the professional aerial surveying industry or currently striving to get into it. While both options are excellent, they also require considerable skill to use optimally. These payload options are quite far from being entry-level.
The choice of which mapping solution to buy depends on whether you prefer photogrammetry or LiDAR. Photogrammetry is based on simpler concepts but has a major limitation of relying on visual data. LiDAR works even in areas of poor visibility but has a slightly more complicated workflow which reduces efficiency. If you're surveying an area with foliage, then LiDAR can more effectively penetrate through the spaces between leaves and trees, although there is still some limitation to this capability.
Conventional wisdom says that LiDAR is more accurate than photogrammetry. However, the evolution of camera technology seems to have closed that gap and the distinction no longer seems to be as relevant. The use of an RTK positioning system also helps level the playing field when it comes to the accuracy comparison between the Zenmuse P1 and Zenmuse L1.
The question of which one to use depends more on the setting of your future drone aerial surveys. Will you be doing them in a heavily vegetated area, a barren plain, or in a bustling city? Is your survey area large enough that a boost in efficiency will be beneficial? Do you expect your aerial survey having to extend into the night or is it so crucial that you'll have to continue surveying in overcast or rainy weather? These are just some of the questions you'll need to ask before deciding.
Either way, getting the Zenmuse P1 or the Zenmuse L1 alongside the DJI M300 RTK drone is going to be a significant investment.
Final thoughts
Aerial surveying is a field that seems perfectly suited for drones. However, it's also a highly specialized field which requires considerable skill and sophisticated equipment. For so long, drone payloads for aerial surveys have been tough to find as no major brands sell them.
With the release of Zenmuse P1 and L1, DJI may very well revolutionize the industry for aerial surveys. The market reach of DJI could help provide sophisticated mapping technology to areas in the world where such technology has been hard to access. Hopefully, it will also help make the technology more affordable. We're looking forward to the launch of these new payload devices by 2021.