6 Best Door Locks of 2019
3D Insider is ad supported and earns money from clicks and other ways.
When was the last time you changed your door locks?
We upgrade our smartphones and TVs every couple of years yet neglect the hardware that keeps both them and us secure. Today's crooks are crafty and can bypass most ordinary locks with ease. On the other hand, we're living in an age where going keyless is not only a convenience but an important safety upgrade.
Today's best door locks are a far cry from the pin tumbler models you're used to. Many manufacturers have ditched keys altogether in favor of more convenient and secure entry methods like passcodes and fingerprints. Locks which still use keys now come with sophisticated tumbler patterns and keys cut at angles that make the locks themselves hard to pick and their keys impossible to copy. The smartest locks connect to other smart devices in your home and can be used to automatically lower the temperature when you leave home or turn the lights on when you arrive.
This guide features the six best door locks you can buy today. Even though not all of them are smart or keyless, each presents a formidable upgrade to your home's security. Pick your favorite door lock by reading up on their reviews & features, and never worry if you've accidentally left the door unlocked again.
Budget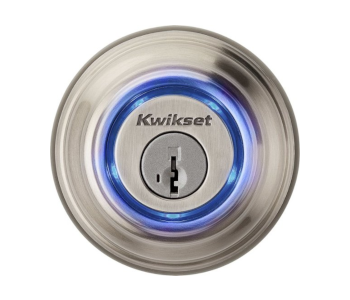 Kwikset Kevo 2nd-Gen Touch-to-Open Smart Door Lock
4.2/5.0
Dimensions: 10.3 x 5.9 x 3.7 in.
Smart: Yes
It connects to other smart devices.
Check BestBuy
Best Value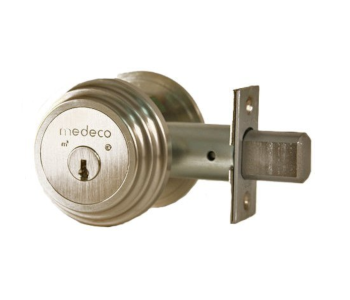 Medeco 11TR50319 Maxum
4.6/5.0
Dimensions: 7.4 x 4.5 x 2.9 in.
Smart: No
Its keys are almost impossible to copy.
Check Amazon
Top Pick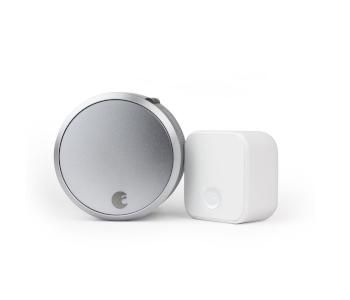 August Smart Lock Pro
4.8/5.0
Dimensions: 3.4 x 2.2 x 3.4 in.
Smart: Yes
Easy installation and has a great companion app.
Check Amazon
Door Locks Comparison Table
1. Best Overall – August Smart Lock Pro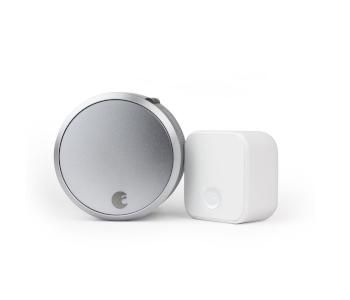 View on Amazon
Editor's Rating: 4.8/5
The newest iteration of August's flagship lock is proof that there are no more excuses not to invest in a smart lock. It features one of the easiest installations we've seen, comes with a simple yet well-designed app, and can connect to hundreds of other smart devices through Z-Wave. Older or tech-averse family members have nothing to complain about either as the Smart Lock Pro still lets them use old-fashioned keys to gain entry.
Overview of Features
August's Smart Lock Pro hasn't changed much appearance-wise. It's still a large silver cylinder with a textured edge for easier turning and an inner ring of LEDs which glow red or green depending on the lock's status. The best thing about the lock is how easy it is to install. Physical installation boils down to replacing your single cylinder deadbolt's thumbturn with the Smart Lock Pro and inserting 4AA batteries into it. You can also install the optional Connect module by merely plugging it into an outlet. The module connects to your Wi-Fi and allows you to control the lock and check its status from anywhere.
The August app is the easiest way of using the lock. There's a giant red button in the middle of the dashboard which you tap to unlock the door. This causes the lock to spin automatically and changes the circle to green. Better yet, you can automate locking functions by setting a schedule or locking the door each time it is shut. There's also a clever proximity-based unlocking option. The lock enters Away mode once you're out of Bluetooth range and unlocks the door when you're close again.
Administering other users is easy too. Anyone with a key can get in, as can people whom you give permission through the app. They get texts notifying them of the permission as well as the steps needed to download the app and make a new account. You can designate new users as owners and guests. Owners have full control over the lock while guests can only lock and unlock it during periods you specify.
Lastly, the smart in the lock's name comes from its ability to connect to other devices. The lock is designed to work flawlessly with August's Doorbell Cam. You get notifications when the camera detects someone and can open the door without having to switch to lock view in the app. August's lock supports voice commands through Amazon Alexa, Google Home, and Apple HomeKit. It also connects to other Z-wave devices through smart hubs like Samsung SmartThings and can become part of an automation routine.
What We Didn't Like
The auto unlock feature is unreliable if you installed the August app on an Android phone. August is aware of the issue, but a definite fix hasn't been released yet. Your home needs to have strong Wi-Fi for the Connect to work as intended. Expect connection issues if the signal strength fluctuates.
Tech Specs
Dimensions: 3.4 x 2.2 x 3.4 in.
Means of entry: keys, electronic passkeys
Smart: Yes
The Pros
Easy installation
Great companion app
Auto locking and unlocking
Supports wide array of 3rd-party smart devices and AI assistants
The Cons
Connection issues in homes with unstable Wi-Fi
Auto unlock is hit & miss with Android phones
2. Best Value – Medeco 11TR50319 Maxum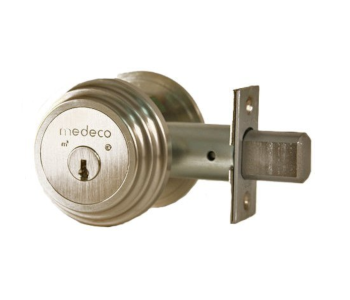 View on Amazon
Editor's Rating: 4.6/5
Smart locks might be the way of the future, but conventional keyed models aren't out of the running yet. Case in point, Medeco's 11TR50319 Maxum. This steel monstrosity is among the most secure locks on the market today. It is bump- and pickproof, has keys that are extremely hard to copy, and is built with so many safeguards in place that it may just be more secure than the door you're installing it on. This is the lock to get if you care more about complete security than convenience.
Overview of Features
The first thing you'll notice about the 11TR50319 Maxum us how heavy and massive it is. However, most of that bulk is concentrated in its internal workings, so the lock isn't too big to comfortably fit your door. The outer part of its housing has a beautiful satin nickel finish that goes well with any door color.
The 11TR50319 Maxum is exceptionally resistant to break-ins and features multiple levels of security. Let's take the keys for example. Ordinary keys have a straight cut and lift up the pins in the lock as they slide into it. The 11TR50319 Maxum's keys feature angled cuts and need to be turned slightly when inserted for the cuts to align with the pins and unlock a door. This not only makes the lock very hard to pick, but it also means that ordinary key shops can't make a copy because of the sophisticated hardware required to do so. You yourself need to actually contact Medeco directly and get their permission before receiving an additional copy.
The lock itself has several safety features that will stop burglars in their tracks. Its screws are secured by ball bearings and will rotate in place if someone tries to remove them with a drill. The bolt that slides into the doorframe is made from heavy-duty steel and resists metal saws with ease. Its dense construction also makes the lock resistant to kick-in attempts. In short, a burglar trying to get past this lock will accomplish nothing and either give up in frustration or get caught.
What's Bad About It?
The 11TR50319 Maxum isn't easy to install. Its large size means you might need to adjust the holes left behind by the previous lock. Its installation instructions aren't suited for novices either, so it's best to pay a professional to do the job correctly. It's hard to get replacement keys, which is both a blessing and a curse as it makes things difficult if you ever lose a key or bend it out of shape.
Tech Specs
Dimensions: 7.4 x 4.5 x 2.9 in.
Means of entry: physical keys
Smart: No
The Pros
Sturdy build
Keys are almost impossible to copy
Saw- and kick-resistant deadbolt
Pick-and bump-proof
The Cons
Keys are hard to replace
Complicated installation
3. Lockly Secure Plus Smart Lock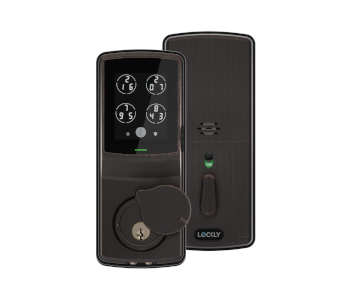 View on Amazon
Editor's Rating: 4.5/5
Keys can be copied and passcodes forgotten, but you'll never be shot out of your home again if you invest in the Lockly Secure Plus Smart Lock. It has multiple ways of entry including a fingerprint reader, can easily be administered through a smartphone app, and has a handy autolocking feature. This is the lock with the most entry options on review, so everyone in your household can use the way that's most convenient for them.
Overview of Features
The Lockly Secure Plus Smart Lock is massive both inside and out, so much so that Lockly recommends you drill a second hole into the door for support. You don't need to do that if you're renting or aren't handy with a drill though since you get adhesive tape that helps keep the lock in place. Four AA batteries are required to power the lock and last for a year! You can jump-start the lock with a 9-volt battery if these run dry but get ample warning from the app before that happens.
This lock uses a brilliantly simple way to confuse anyone who might be trying to remember your passcode. There are four circles on the touchpad with three numbers in each. Entering a number in your passcode sequence causes the numbers on the screen to shift randomly into other circles and makes it impossible to guess the combination based on finger placement. The fingerprint scanner is another secure means of entry – add your fingerprint to the database, press the marked surface to the right of the lock, and you're in! You also get two physical keys just in case.
Lockly's app is a pleasure to use because of its clean layout. It always shows the status of the lock and tracks uses in a comprehensive timeline. You can turn on autolock that will lock the door after a time ranging from 5 seconds to 5 minutes. The app is also used to assign passcodes to other users and add their fingerprints to the database. They'll need to use the lock's own fingerprint scanner for the print to register though.
Are There Drawbacks?
The Lockly Secure Plus Smart Lock isn't cheap and gets even more expensive if you want to add smart functionality besides app control. There's an additional controller you can buy from Lockly's website that enables Wi-Fi connectivity and allows the lock to work with Alexa. The touchpad is made from flimsy plastic and might shatter if you press down on it too hard.
Tech Specs
Dimensions: 3.1 x 1.9 x 7.4 in.
Means of entry: physical keys, fingerprints, electronic passkeys, numeric passcodes
Smart: Yes, requires the purchase of an additional device to unlock feature completely
The Pros
Multiple ways of gaining entry including a responsive fingerprint scanner
Clever passcode concealment method
Well-made companion app
Sturdy build
The Cons
Requires additional gadget to reach full potential
Flimsy touchpad
4. Yale Assure Lock SL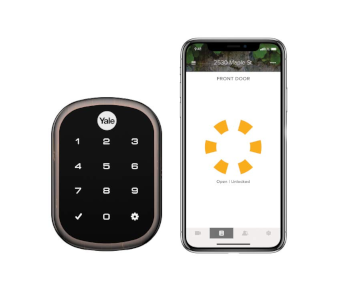 View on Amazon
Editor's Rating: 4.4/5
Do you like the Smart Lock Pro's functionality but want to ditch keys altogether? You're in luck, because August and Yale have teamed up to create the Assure lock, a connected keyless lock that takes advantage of August's excellent app and smart device connectivity. The lock looks chic, features a straightforward installation, and performs well in either standalone mode or as a connected device.
Overview of Features
Yale's Assure lock is the most attractive model on our list. It takes up a lot of space on the inside of a door, but on the outside, it's just a small rounded keypad. The keys glow white against a black background and are easy to spot regardless of how much light there is. The lock is available in three elegant finishes and blends in well with modern home aesthetics. Its installation process goes smoothly and should take less than 30 minutes if you follow along with the in-depth instructions.
The lock is completely keyless, meaning you use numerical codes or the August app to gain access. There's a cheaper version of the same lock which doesn't include August Connect and access to the app. That model can only hold 50 numerical passkeys while the smart version bumps that up to 250. Passkeys can be administered through the app or from the keypad itself. Here the app proves superior once more as it lets you create one-time keys as well as restrict access by time or day.
The assure lock is controlled with the same August app as the Smart Lock Pro. This means you get access to auto locking and unlocking, user administration, and an event timeline. The timeline is particularly useful as it shows each time a door was used. You can name every lock if you own more than one to avoid confusion and get a detailed report on the activity of each. Since this version of the Assure lock comes with August Connect, its smart capabilities are identical to the Smart Lock Pro's.
What We Didn't Like
The Assure Lock's keypad design may leave it vulnerable to unwanted entry. The numbers are large and stay in place while you're entering the code, meaning that an observing burglar could see and remember the combination. The pad is also slow to respond since it defaults to idle mode to save energy. Switching the pad on should require one tap, but you'll often need to tap it more times to get a response.
Tech Specs
Dimensions: 1.8 x 3 x 3in.
Means of entry: numerical passcodes, electronic passkeys
Smart: Yes
The Pros
Keyless and stylish design
Large, easy-to-see numbers
Excellent companion app
Same smart functionality as Smart Lock Pro
The Cons
Sluggish keypad
Easy to see passcode as it is entered
5. Samsung SHS-1321 Digital Door Lock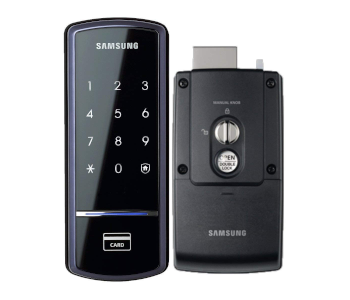 View on Amazon
Editor's Rating: 4.2/5
Samsung is a giant in the world of electronics, but they aren't exactly known for their door locks. We hope that the SHS-1321 Digital Door Lock will change this as it is among the most feature-rich and reliable "dumb" locks out there. It has a multi-purpose alarm, a two-stage locking mechanism, and a way to make it harder to guess your passcode.
Overview of Features
The SHS-1321 is the largest door lock on review. Understandably so since it has to have room for a big bright touchpad and RFID card reader. The reader, in particular, makes entering your home a breeze – just bump your wallet against the lock and you'll be let inside in seconds! This is another battery-powered lock that can be bypassed if the 4AAs run out before you replace them. There's no app to signal battery status, but the SHS-1321 starts playing a melody each time you lock it as an unmistakable reminder when they are low.
Speaking of melodies, the SHS-1321 has a versatile speaker. It can signal that the door is locked or that you've entered an incorrect passcode. The lock is equipped with a thermal sensor and starts beeping to warn you of a fire when the temperature reaches a certain threshold. The speaker also acts as a burglar alarm and will go off even when someone is tampering with the door from the inside if the lock is in vacation mode.
You use the lock either with RFID cards or by entering up to 21 passcodes. The passcodes are hard to guess because you can type in two random numbers before the actual combination which both distributes fingerprints more evenly and throws off potential observers. Auto-polling mode makes it easy to enter using an RFID card since you don't need to wait for the pad to light up first. Conversely, double authentication mode forces you to both enter a passcode and use an RFID card before the lock opens. Feeling uneasy at home? Turn on double locking, and no one will be able to get in even if they have a working passcode.
What's Bad About It?
Samsung's lock can be challenging to install. It isn't suited for thin doorframes, so you need to check beforehand if it will fit. The instruction manual is confusing, and you might not even get it in English depending on where you order the lock from.
Tech Specs
Dimensions: 10.5 x 3.4 x 8.3 in.
Means of entry: Numeric passcodes, RFID cards
Smart: No
The Pros
Works with RFID cards
Has multi-purpose siren
Numerous anti-theft features
Can be locked from inside for extra protection
The Cons
Hard to install poorly-written instruction manual
6. Best Budget Option – Kwikset Kevo 2nd-Gen Touch-to-Open Smart Door Lock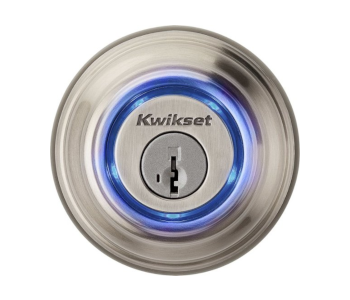 View on BestBuy
Editor's Rating: 4.2/5
Using passcodes or fingerprints is excellent for security, but sometimes you're in a hurry and need your lock to work with the touch of a finger. That's precisely what the 2nd-generation Kwikset Kevo Smart Lock can do! It is an improvement over the first generation in every way, especially when it comes to ease of installation and enhanced security. The lock features an intuitive touch-to-open mode, has a simple app for passkey management, and can be had at a great price.
Overview of Features
Kwikset's Kevo is the most unobtrusive smart lock on our list. There are no touchpads or biometric sensors, so only the outside housing is visible to guests. They'll know that the lock is special since it has a blue LED ring that lights up when the lock is in use. Installing the Kevo is a snap since the app comes with detailed video instructions that guide you through the process.
Touch-to-open is the Kevo's signature feature. Turning it on causes the lock to scan for your phone or a unique key fob and lets you open the door with a single tap once they're in range. The feature can't be exploited to gain entry while you're home since the phone or fob need to be outside of the house for it to work. You can also use electronic passkeys or physical keys. Old keys can be rekeyed to fit the new lock as well, provided they were made by Kwikset.
Kevo has the simplest app we've seen for a smart lock. There's the large lock status indicator, a history tab that updates each time an ekey is sent or someone uses the lock, and a key administration page. The lock supports unlimited electronic keys which you can issue on a permanent or 24-hour basis, making the Kevo an excellent choice for hostels and seaside apartments.
Are There Drawbacks?
The Kevo can be accessed through Wi-Fi and connect to other smart devices. However, you need to buy a $100 hub to do this, which turns it from an affordable to one of the most expensive models. You used to get a key fob with the lock too, but now you need to pay extra for each. Touch-to-open is sometimes slow to respond and may take more than one tap to work.
Tech Specs
Dimensions: 10.3 x 5.9 x 3.7 in.
Means of entry: Physical keys, electronic passkeys, key fobs
Smart: Yes
The Pros
Can be opened with a single push
Minimalistic and unobtrusive
Simple app with history tab and key management
Connects to other smart devices
The Cons
Smart connectivity requires additional gadget
Touch-to-open is slow to respond