6 Best Doorbell Cameras of 2019
3D Insider is ad supported and earns money from clicks and other ways.
Internet shopping has made getting anything you'd like delivered to your doorstep easier than ever before. It has also created a new set of problems, most notably petty thieves who have no qualms about pilfering your packages. Not to mention there's still the threat of burglars looking for easy pickings. If you buy a doorbell camera, you can nip crime in the bud or at least have irrefutable evidence that'll put criminals away for good.
Doorbell cameras replace your old chime and add video surveillance as well as two-way communication to your home's security. Thanks to Wi-Fi, you can talk to the delivery person or warn off would-be thieves without leaving your workplace or the comfort of your bed. The most advanced doorbell cameras can even interact with other smart devices or be controlled with your voice.
There's quite the selection of doorbell cameras out there, which is why we've rounded up the best for this thorough review. Even they have notable differences in terms of video quality, ease of use, and features covered by their monthly subscription plans. Get the model that meshes best with your needs and send the porch pirates packing.
Budget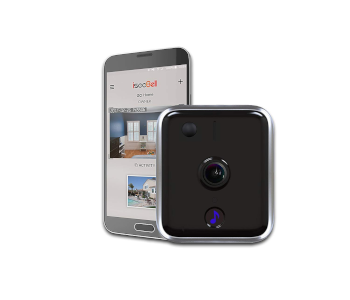 iseeBell Wi-Fi Enabled HD Video Doorbell
4.0/5.0
Dimensions: 3.3 x 3 x 0.9 in.
Field of view: 185°
It can act as standalone security camera.
Check Amazon
Best Value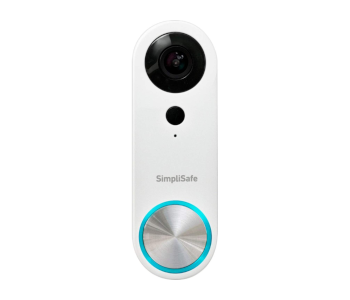 SimpliSafe Video Doorbell Pro
4.7/5.0
Dimensions: 4.3 x 1.5 x 1.2 in.
Field of view: 162°
Works well with SimpliSafe security systems.
Check Amazon
Top Pick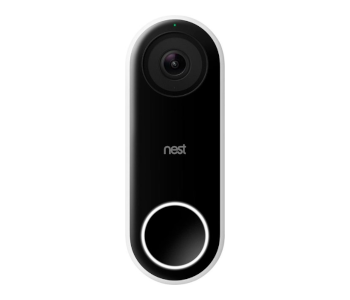 Nest Hello Smart Wi-Fi Video Doorbell
4.8/5.0
Dimensions: 4.6 x 1.7 x 1.0 in.
Field of view: 160°
Outstanding app with a slew of advanced features.
Check Walmart
Doorbell Cameras Comparison Table
1. Best Overall – Nest Hello Smart Wi-Fi Video Doorbell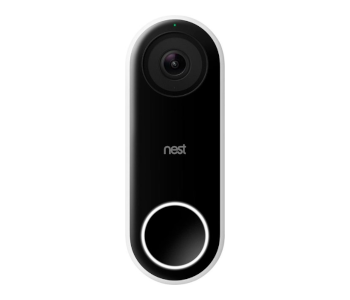 View on Walmart
Editor's Rating: 4.8/5
The problem with most video doorbells is that they spring into action only when someone actually rings. Nest's Hello logs every time someone triggers its sensors, exposing potential thieves that are scoping out your property. You'll find that the Hello is more than a video doorbell though– it features advanced motion sensors and facial detection, integrates into your smart home, and offers 24/7 video surveillance if you opt for a monthly subscription.
Overview of Features
Nest and SimpliSafe share the same design philosophy as both doorbells sport a simple look and contemporary aesthetic. The Hello takes bonus points for elegance because of its black face and white trim combo which work with any front door. Installation requires wiring the doorbell and can be performed by a licensed technician endorsed by Nest if you aren't up to the task. This costs extra but guarantees speedy installation.
The camera's resolution is 1,600 x 1,200 and accompanied by a 160-degree field of view. This gives you an overview of the entire front yard while letting you monitor the feed and answer the intercom and hold your phone normally. Speaking of the intercom, the Hello has the best microphone & speaker combo on review – conversations come through the phone clearly while the Hello's speaker delivers your voice without popping or distortion. Lastly, night vision is top notch – the IR LEDs provide ample light to clearly capture events in the area 20 feet in front of them with minimal quality loss.
The Hello's excellent physical characteristics are backed by an equally impressive app. It offers standard features like answering alerts and managing chime activity, but what really sets it apart are scheduling, the event timeline, and premium features available to Nest Aware subscribers. Scheduling lets you determine when the motion sensors are active. Coupled with the Nest Learning Thermostat's Away mode, this creates a comprehensive daily plan that ensures you won't be disturbed when you're relaxing. The video timeline is a masterclass in app design – you can scroll down it to find every ring event or motion alert and tapping on each shows you footage of the event along with date & time information.
Accessing the live feed and event history is free. More advanced features are locked behind a monthly subscription to Nest Aware which is well worth it. Plans start at $5/month for 5 days of storage. if you need more, there are $10 and $30/month options for as many days of coverage. All paid tiers come with facial recognition and zone control though.
Facial recognition analyzes the people who visit your home and adds their facial features to a database. The next time they're over, you get a notification telling you exactly who's at the door. Zones let you specify parts of the camera's view you want to omit from monitoring. You can choose to stop monitoring people, motion, or both. This is useful when you don't want neighbors' activities or traffic to cause false alarms.
What We Didn't Like
How smooth your Nest Hello experience will be depends on its proximity to your router. A weak signal can lead to frequent connection drops which are especially annoying when you're mid-conversation. Nest Hello isn't suitable for dark porches. If the camera is in a shaded place, the sky's glare may obstruct a visitor's face, rendering facial recognition useless.

Tech Specs
Dimensions: 4.6 x 1.7 x 1 in.
Resolution: 1,600 x 1,200
Field of view: 160°
Power source: Wired
Subscription fees: $5/month
The Pros
Outstanding app with a slew of advanced features
High video and audio quality
Facial recognition
Comprehensive timeline
The Cons
Suffers from connectivity issues if Wi-Fi signal is weak
Not suitable for shaded porches
2. Best Value – SimpliSafe Video Doorbell Pro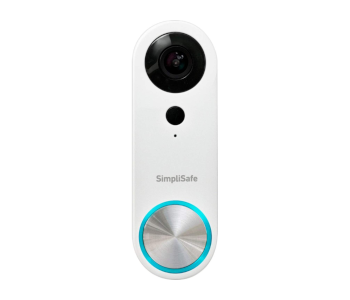 View on Amazon
Editor's Rating: 4.7/5
SimpliSafe are the creators of one of the world's best smart home security systems. The Video Doorbell Pro is a natural extension to that system but also an excellent choice as a standalone option for your door monitoring needs. It features the best-looking footage on the market, a quality two-way communication system, and a versatile app that lets you tweak the doorbell to your specifications.
Overview of Features
SimpliSafe's doorbell is slim and has a modern look. It has rounded edges and a big button surrounded by an LED for easier visibility at night. The lean build expands your installation options and lets you replace any existing doorbell with this one, provided you have some electrical knowledge. If not, an electrician will be able to set it up for you in less than 20 minutes.
The software part of the installation boils down to downloading the SimpliSafe app, filling out basic info on your property name & the doorbell's location, and scanning a code on your phone with the camera. The app is used to control an entire SimpliSafe security system. You can set up multiple triggers for the doorbell if you've already invested in SimpliSafe's security cameras or door & window motion sensors. Doorbell-specific options include setting sensor sensitivity and doorbell notifications, switching night vision from auto to manual, and turning the LED on or off.
The Video Doorbell Pro records footage in 1080p with fantastic quality thanks to HDR. The color balance is perfect, and you get vibrant videos that are nothing like the washed-out footage most other security cameras record regardless of their resolution. Night vision is black & white, but the IR LEDs are strong enough to light up any suspicious characters as far away as 30 feet. The camera's viewing angle is slightly bigger than Ring's at 162 degrees.
What's Bad About It?
This doorbell is smart in the sense that it works with other SimpliSafe products. Its smarts don't extend to 3rd-party devices though since neither IFTTT nor support for AI assistants are included. You don't get access to past events if you don't pay a monthly subscription. While this is unfortunate, paying $5/month for 30 days of storage is reasonable.

Tech Specs
Dimensions: 4.3 x 1.5 x 1.2 in.
Resolution: 1080p
Field of view: 162°
Power source: Wired
Subscription fees: $5/month
The Pros
Excellent value for the money
Fantastic image quality
Works well with SimpliSafe security systems
App is clean and easy to use
The Cons
Doesn't support 3rd-party smart devices
Subscription required to access past events
3. Ring Video Doorbell 2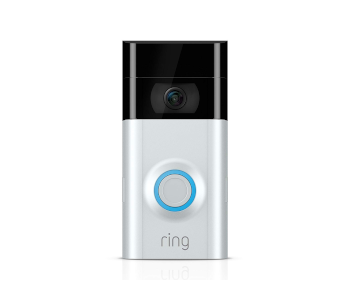 View on Amazon
Editor's Rating: 4.7/5
Having to disassemble the old doorbell and fiddle with electronics to set up a new one is one of the main reasons people hesitate to upgrade. There are no such problems with Ring's superb Video Doorbell 2! It's battery-powered and so requires no wiring. It's also a reasonably-priced option with good video quality, even better night vision, and an app that is as well-designed as it is functions.
Overview of Features
The first thing you'll notice about the Video Doorbell 2 is how bulky it is. This is understandable since its housing has to accommodate the battery. You'll need a wide door frame or space off to the side to install it. Luckily, the installation process is done in minutes since you only need to insert the battery and pair the doorbell with your phone through Wi-Fi. Hardwiring it to your existing doorbell electronics is also an option. Doing so will activate the old chime along with Ring's own when pressed.
The doorbell comes with an outstanding companion app which serves as the command hub for all Ring products. The doorbell dashboard includes a live view button, quick access to sensitivity and alert settings, and the battery level. Speaking of which, The Video Doorbell 2 has a powerful battery that lasts between six months and a year depending on use and recharges in a couple of hours so hooking it up to a power source through MicroUSB isn't a hassle.
There's a lot you can tweak about the doorbell's performance. It has refined motion sensors whose sensitivity can be tweaked so they don't produce false alarms as cars pass by. Alerts can also be shut off entirely or pop up less frequently. Once someone rings the doorbell, they're greeted with a chime while you get a notification and the option to enter live view. Now you can chat with them through a two-way speaker system or record the exchange for later viewing as well as sharing.
The video camera records your porch in crisp 10080p. Its field of view is a wide 160 degrees. This means that everything in front and to the sides will be captured and a wide area is covered. It also makes for visible barrel distortion which is limited to the edges of the view. Ring included excellent night vision too – not only does it have great range, but nighttime footage is shot in color which preserves details and clarity!
What We Didn't Like
Ring requires you to pay a monthly subscription starting at $3/month. This is neither uncommon nor unfair, but it's a shame that you're severely limited if you choose not to subscribe. Users without a subscription plan can only see the live view and have no access to past footage. Your router will need to be close to the doorbell as a poor signal leads to connection issues.

Tech Specs
Dimensions: 5 x 2.5 x 1 in.
Resolution: 1080p
Field of view: 160°
Power source: Wired or battery-powered
Subscription fees: $3/month
The Pros
No wiring required
Excellent night vision
Responsive motion sensors
Comprehensive companion app
The Cons
Severely limited without subscription
Needs strong Wi-Fi to work properly
4. SkyBell Trim Plus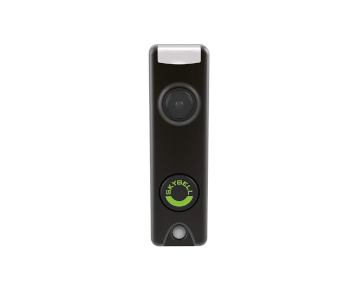 View on Amazon
Editor's Rating: 4.5/5
SkyBell impressed us with the SkyBell HD, a well-rounded doorbell camera with impressive smart features. The only bad thing about the camera was its round shape which makes installation on smaller door frames problematic. The Trim Plus has a streamlined, slim design that eliminates this issue with next to no trade-off. It features support for IFTTT, Alexa, and Google assistant, has color night vision, and can be battery-powered too.
Overview of Features
SkyBell's designers went back to the drawing board and gave the Trim Plus a shape that's more in line with traditional doorbells. That's where adherence with tradition ends though as the Trim Plus is a modern doorbell complete with multicolor LEDs and a minimalistic faceplate available either in silver or Venetian bronze. It wires into your existing chime but also has a battery which makes the installation a snap for people without electrical knowledge.
Video quality is on par with Ring's doorbells – 1080p in rich detail and good contrast. SkyBell was the first to introduce the night vision in color, and the Trim Plus is a culmination of years of development in that area. Its night vision is the best on the market, featuring ample lighting, good contrast, and all the details footage in full color provides.
The SkyBell app offers in-depth control of the Trim Plus along with streamlined operation. The My Devices tab shows all of your cameras. Tapping on one opens up its live view and lets you communicate with someone, take a picture or recording, and view the feed in fullscreen mode if you rotate your phone.
There's also a comprehensive archive of past ring events. It shows stored clips and pictures as well as documented motion alerts and times the doorbell was pressed, each with a timestamp and accompanying screenshot. Best of all, SkyBell offers 7 days of video storage for free!
Smart home integration is another of the SkyBell's selling points. You can connect it to other smart devices through IFTTT. This allows you to use the doorbell as a trigger for indoor security cameras and smart lights, or link it with motion sensors to start recording long before someone rings the bell. AI assistants are supported too! For example, you can tell Alexa to start recording manually or turn off the chime with a voice command.
Are There Drawbacks?
The Trim Plus has some awesome features, so why isn't it higher up? Its shortcomings have to do with the camera. For one thing, the framerate is only 15 fps. This means that a porch pirate could quickly grab a package and not be in the video long enough for the police to get an id. The field of view is 180 degrees which leads to pronounced barrel distortion everywhere except in the center of the image.

Tech Specs
Dimensions: 4.8 x 1.4 x 1.1 in.
Resolution: 1080p
Field of view: 180°
Power source: Wired, battery-powered
Subscription fees: Free
The Pros
Free video storage
Outstanding night vision
Excellent integration with other smart devices
Simple yet powerful app
The Cons
Pronounced barrel distortion
Limited to 15 frames per second
5. August Doorbell Cam Pro 2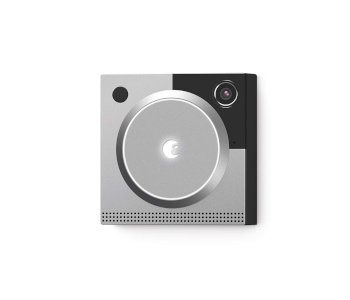 View on Amazon
Editor's Rating: 4.2/5
You might know August as the company behind the Smart Lock Pro, a leading security lock with lots of smart features. Their 2nd-generation Doorbell Cam Pro is the lock's perfect companion. It's straightforward to install, has great picture quality without barrel distortion, and can work with smart home products made by Nest.
Overview of Features
The Doorbell Cam Pro 2's original design is sure to attract the attention of guests while worrying thieves. It is a flat box with a prominent chime button that has a small floodlight in the middle used to augment nighttime recordings. You might worry about installing the doorbell at first since there are no written instructions. However, downloading the app reveals a step-by-step guide that details how to install the doorbell onto various surfaces and makes the process much more straightforward.
The camera's resolution is an unusual 960 x 1,280. Rather than making the footage grainy or murky, this format lets you view it in fullscreen without turning your phone 90 degrees. Another benefit is that there's no barrel distortion thanks to a 120-degree field of view. Daytime footage is clean and clear. The camera is always recording and loops footage backward so that every time the bell is rung events from a few seconds before are captured and stored too!
There's nothing special about the August app, which e mean it is neither hard to navigate nor lacking in features. You can answer door events, view the feed, chat with the person on the other end, and snap pictures. August lets you review any doorbell event and the last 24 hours of footage for free! You can also choose to pay $5/month and get access to 30 days' worth of footage.
You're able to combine the doorbell with August's lock and smart keypad to create a comprehensive home entry system. That way you get to issue temporary access codes or unlock the door remotely while chatting to someone through the doorbell's intercom! Nest's Smart Learning Thermostat is supported too and can be set to turn your HVAC system on when you unlock the door.
What We Didn't Like
There are no infrared LEDs for the camera's night vision. This means that the only light source it has at night is the central floodlight which isn't powerful. The Doorbell Cam Pro 2 can't replace digital chimes. If you have one, you'll need to purchase a traditional one first and wire the Doorbell Cam Pro to it instead.

Tech Specs
Dimensions: 2.9 x 2.9 x 0.9 in.
Resolution: 960 x 1,280
Field of view: 120°
Power source: Wired
Subscription fees: Free – last 24 hours, $5/month – last 30 days
The Pros
In-depth installation instructions
Good overview without barrel distortion
Free video storage
Works with Nest and other August products
The Cons
Night vision dependent on floodlight and external light sources
Doesn't work with digital chimes
6. Best Budget Option – iseeBell Wi-Fi Enabled HD Video Doorbell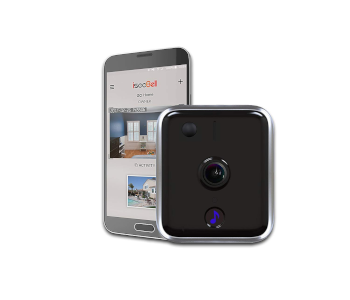 View on Amazon
Editor's Rating: 4/5
Our last and most affordable video doorbell is made by iseeBell. It may not pack as many additional features as more expensive alternatives, but it has hair-trigger motion sensors, decent picture quality, and an affordable monthly subscription. Get the iseeBell if you want to upgrade your home's security at a low price.
Overview of Features
IseeBell's doorbell camera has a square shape similar to August's model, but its chime button is less pronounced and has a subdued light that helps you locate it in the dark. The best thing about it are the many accessories and helpful tools you get to make the installation run smoothly. These include a mounting plate, screws, as well as a screwdriver and drill bit if you need to install the doorbell from scratch. A step-by-step installation guide is included too, so anyone with some electrical knowledge can complete the project.
This model gives you more freedom with placement and positioning. Apart from your doorbell's wiring, it can also run on AC power and act as a standalone security camera! There's also the wedge you insert under it to adjust the viewing angle for the best possible vantage point. Speaking of viewing angles, the iseeBell's is 185 degrees. This is enough to encompass a whole room in standalone mode or give a broad yet distorted overview of your porch.
The iseeBell's motion sensors are worth mentioning separately because of how accurate and sensitive they are. At their highest setting, the sensors pick up the slightest movements. You might need to tone the sensitivity down though as windy conditions or traffic passing by your house can trigger false positives.
The app is as simple as it gets. It has a clean interface with large icons that are easy to understand. There's the summary page with a live view, an activity feed you can split between motion and ring alerts, and a tab that lets you share the feed with other users. Pairing the iseeBell with a smart lock also allows you to give guests remote access by tapping a lock-shaped button.
IseeBell has both a free option and the cheapest monthly subscription fees. You can view snapshots and recordings from past events for free. Paying just $2/month adds 24/7 surveillance and the ability to playback footage from any time in the past 7 days.
Are There Drawbacks?
This is the doorbell camera with comparatively the worst video quality on review. You'll still be able to recognize people, but the 720p resolution and barrel distortion brought on by the broad field of view lead to loss of detail. The two-way intercom isn't better either – its volume is low, and voices are muffled.

Tech Specs
Dimensions: 3.3 x 3 x 0.9 in.
Resolution: 720p
Field of view: 185°
Power source: Wired, AC adapter
Subscription fees: $2/month
The Pros
Affordable price and subscription plan
Can act as standalone security camera
Keen motion sensors
Comes with comprehensive installation guide and lots of accessories
The Cons
Worse video quality than other cameras on review
Low-quality two-way audio