6 Best Drawing Tablet Picks for 2020
3D Insider is ad supported and earns money from clicks, commissions from sales, and other ways.
Drawing tablets are a perfect example of technology in service to fostering one's creativity and expression. An artist who uses one doesn't have to be afraid of making mistakes as the digital canvas is unlimited. There's also no need to use the mouse and keyboard, which are terrible for most digital art forms. Instead, a stylus and textured screen ease the transition into digital expression by simulating the feel of pen & paper.
Using a graphics tablet allows for much more precision than a mouse and keyboard can afford. Its pen can exert thousands of nuanced pressure levels you'd need ten times longer to achieve with a mouse. It's an invaluable time-saver for sketch artists, photography retouchers, 3D sculptors, painters, and architects.
Discover the six best drawing tablets on offer today by reading their reviews. All of our picks high-quality screens that let you draw without having to look at your primary monitor. We also recommend cheaper drawing tablets in another article if that's more to your liking. See which tablet tickles your fancy and experience limitless creative freedom.
Budget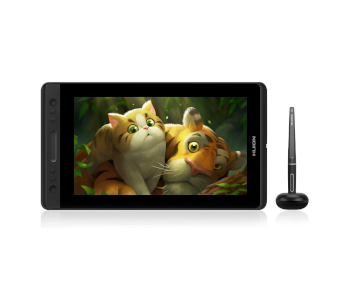 Huion KAMVAS Pro 13
4.4/5.0
Diagonal screen size: 13.3 in.
Resolution: 1,920×1,080
A versatile, high-quality drawing tablet at a great price.
Check Amazon
Best Value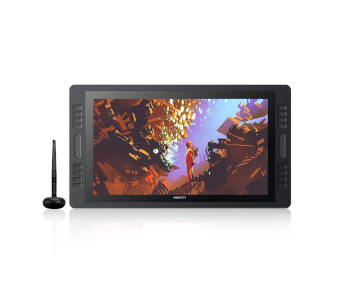 Huion KAMVAS Pro 20
4.5/5.0
Diagonal screen size: 19.5 in.
Resolution: 1,920×1,080
This has a sensitive pen creates fine and lifelike strokes.
Check Amazon
Top Pick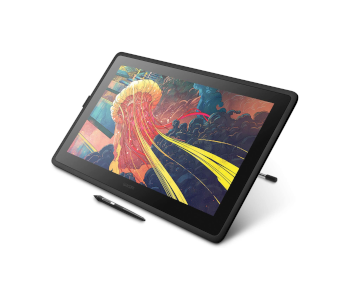 Wacom Cintiq 22
4.7/5.0
Diagonal screen size: 21.5 in.
Resolution: 1,920×1,080
Adjustable stand and faithful sRGB color reproduction.
Check Amazon
Drawing Tablets Comparison Table
1. Best Overall – Wacom Cintiq 22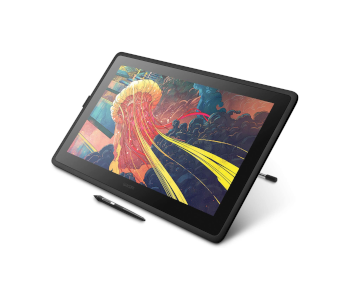 View on Amazon
Editor's Rating: 4.7/5
Wacom's Cintiq 22 is a large drawing tablet that occupies the sweet spot between studio-grade offerings that cost thousands of dollars and cheaper models of questionable quality. It has a large responsive screen, comes with an excellent pen, and offers you a vibrant canvas on which to flex your artistic muscles. The tablet isn't cheap, but you'll struggle to accept anything less once you get used to it.
Overview of Features
The Cintiq 22 is among the most plain-looking tablets on review. However, taking a closer look reveals its superior build quality, especially if you examine the screen. Its drawing surface is laminated for a paper-like feel that offers just enough resistance without feeling rough. The surface is also resistant to glare and reflections. It is flush with the FullHD IPS panel underneath, which means that pen movements are translated to the screen faithfully.
You'll be drawing on the Cintiq 22 with the Pro Pen 2, one of Wacom's best digital drawing instruments. It feels like a slightly thicker traditional pen and has superb ergonomics. No battery is required thanks to an electromagnetic field emitted by the Cintiq 22's screen. It has 8,192 pressure levels, and the tablet recognizes angled movement to reproduce strokes more realistically.
You can adjust the Cintiq 22's tilt angle from 18 to 82 degrees with a built-in stand, easily converting it from a nearly horizontal drawing canvas to a monitor-like display. Colors are rendered accurately and encompass 96-98 percent of the sRGB space, depending on which test you run. That means digital art created on the Cintiq 22 will look consistent and colorful no matter where you view it.
Drawing on the Cintiq 22 is a superb experience. Its pen has no trouble reproducing long straight lines, forceful jots, or anything in-between. Transitions in line thickness are uniform, and slow, deliberate strokes don't exhibit breaks or rough patches.
What We Didn't Like
A lack of shortcut keys is Wacom's major omission from the Cintiq 22. The pen does have a pie menu you activate with its second button, though. You can choose among various tablet and pen settings there, but the menu is too clunky to be used as part of an optimum workflow. Its size, weight, and the fact that you have to hook the Cintiq 22 up to a computer through USB-A and HDMI make it unsuitable for on-the-go creatives.
Tech Specs
Dimensions: 22.4 x 14.1 x 1.6 in.
Weight: 3.3 lbs.
Diagonal screen size: 21.5 in.
Resolution: 1,920×1,080
Color Gamut: 77% NTSC
Pressure levels: 8,192
Buttons: None
The Pros
Excellent drawing surface
Responsive and ergonomic pen
Adjustable stand
Faithful sRGB color reproduction
The Cons
No shortcut keys
Lacks portability
2. Best Value – Huion KAMVAS Pro 20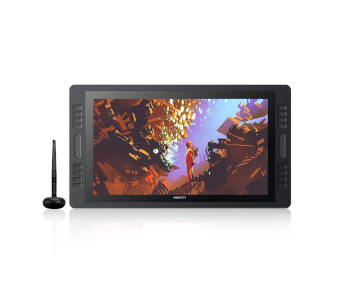 View on Amazon
Editor's Rating: 4.5/5
The lack of shortcut keys on the Cintiq will be off-putting to some artists, who should choose the Kamvas Pro 20 from Huion instead. This tablet performs on par with Wacom's model yet also features 16 customizable buttons and two sliders. It's easy to set up & use, comes with lots of accessories, and has a rich color palette.
Overview of Features
The Kamvas Pro 20 has a smaller drawing area than the Cintiq but is considerably heavier. Its screen is matte to resist glare and allows the pen to glide without obstruction. There are eight buttons in pairs of four on each side, so left-handed users aren't at a disadvantage. The tablet has USB, HDMI, and power connectors on a back right panel, which is great for cable management.
Huion's pen is shorter than Wacom's and has as many pressure levels. It flares towards the tip for better handling and has a textured grip surface that prevents it from slipping if your hands are sweaty. The pen is accompanied by an artist's glove that prevents smudging and a stand that houses ten replacement nibs.
We were impressed with the Kamvas Pro 20's color reproduction. It accurately depicts $100 percent of the sRGB color space, which is especially evident when you're working with gradients. The monitor's white balance is on the cool end but can be easily corrected with a set of buttons on its top.
Huion's tablet performs admirably in real-world scenarios. It reliably distinguishes between mild and hard presses while delivering seamless transitions between different thickness levels or colors. The shortcut keys also drastically speed up your workflow since they replace keyboard keys, shortcuts, and even pen profile settings. You can adjust them along with the pen's pressure curve through a straightforward configuration program.
What's Bad About It?
The Kamvas Pro 20 exhibits an increase in the parallax effect the farther you move away from the center of its screen. That might cause you to select an unwanted icon when working with programs like Photoshop that have dense interfaces. The display registers the pen's movement with a delay that leads to ghosting.
Tech Specs
Dimensions: 21.7 x 12.4 x 0.8 in.
Weight: 7.9 lbs.
Diagonal screen size: 19.5 in.
Resolution: 1,920×1,080
Color Gamut: 85% NTSC
Pressure levels: 8,192
Buttons: 16 + 2 sliders
The Pros
Excellent value for the money
Abundance of customizable keys
Great color fidelity
Sensitive pen creates fine and lifelike strokes
The Cons
Pronounced parallax on the screen's edges
Prone to ghosting
3. Veikk VK1560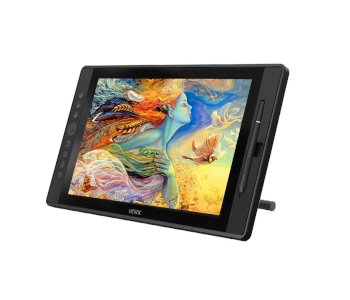 View on Amazon
Editor's Rating: 4.6/5
Veikk's VK1560 is a tablet with a 15-inch drawing surface and useful shortcut keys that included an adjustable dial. It performs well despite being inexpensive and comes with a basic yet powerful config program. Its pen is as fine as it gets, and accurate colors mean your art will always look its best.
Overview of Features
The first thing you'll notice about the VK1560 is its large bezel. While it does increase the tablet's horizontal size, it also houses the shortcut keys on one side and a pen holder on the other. Building the holder into the tablet itself was a smart move since it helps you always have the pen at the ready. The screen has a matte protective layer and isn't prone to smudging.
Veikk's pen is among the best we've tested and comes with two kinds of nibs. Gray ones are harder and let the pen glide across the drawing surface more smoothly. White ones are softer and let you exercise more control. The pen is long, comfortable to hold, and covered in a matte-black material that ensures a good grip.
The VK1560's 15-inch screen has the same resolution as larger rivals, meaning it's sharper and more detailed. It registers pen presses instantly and has no trouble telling different pressure sensitivities apart. Its color accuracy is similar to the Kamvas Pro 20.
The tablet performs admirably, provided your software of choice supports pressure sensitivity. Drawing straight lines slowly doesn't feel jittery, and switching pressure mid-stroke leads to satisfying tapers without abrupt transitions. Line wobble isn't an issue, either.
The VK1560 comes with plain-looking but potent driver software. It lets you set up the pen's buttons and sensitivity curve along with customizing the buttons. There are seven of them, plus a wheel with a button in the middle. The wheel is particularly useful for zooming in and out while pressing the button changes it to brush size selection by default. You can map the buttons to any keys or shortcuts and create program-specific profiles as well.
Are There Drawbacks?
The VK1560's drivers and features are inconsistent across multiple platforms. For example, switching the cursor between screens with a button press isn't possible on PC while Mac users can use the wheel only for scrolling. You'll want to look for replacement nibs soon after purchasing the VK1560 as the originals wear out quickly, especially the white ones.
Tech Specs
Dimensions: 17.4 x 9.5 x 0.9 in.
Weight: 4 lbs.
Diagonal screen size: 15.6 in.
Resolution: 1,920×1,080
Color Gamut: 75% NTSC
Pressure levels: 8,192
Buttons: 7 + scroll wheel
The Pros
Excellent customization options
Two-function wheel makes scrolling more intuitive
Comfortable and accurate pen
Sharp screen with good color fidelity
The Cons
Inconsistent performance and features for different platforms
Low-quality nibs
4. Wacom One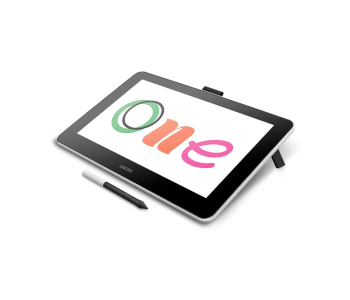 View on Amazon
Editor's Rating: 4.4/5
The tablets we've talked about so far can easily double as second monitors, but what if you have limited space to work with yet still need a capable drawing surface? Wacom's smallest drawing tablet is what you should consider. The One is geared at newbies and casual artists who need a dependable tablet for developing their chops. It's portable, has an excellent drawing surface, and installing the tablet is a breeze.
Overview of Features
The One is a small graphics tablet whose rounded edges and silver finish are reminiscent of older Android devices. It has a black bezel and a finely-textured screen the pen glides across with ease. The tablet's uniform shape is broken up by a set of legs you can whip out to position the One at a 16-degree angle. One of the legs even has room for three replacement nibs.
This tablet comes with a simpler stylus developed for its use, the Wacom One Pen. A single button is its most obvious design difference as the pen is otherwise comfortable and responsive. It glides gracefully along the One's surface, committing slight changes in pressure and varying strokes to digital paper with equal fidelity.
Setting the One up boils down to installing its driver package, after which you can use it with PCs, Macs, and select Android phones. Registering your device is a good idea since you get free access to Bamboo Paper, a fun sketching & note-taking program, along with trials for several Wacom and Adobe programs.
Using the One is a simple experience, but that's its strong suit in the hands of the right person. The tablet's no-frills approach and solid performance mean newcomers have a solid foundation to work from without being bogged down with too many options early on or spending a lot of money.
What We Didn't Like
Wacom is moving away from including physical shortcut keys in their talents, and we believe it's a step in the wrong direction. Many artists have shortcut-heavy workflows and forcing them to use the keyboard with one hand while drawing with the other can disrupt their concentration. The One is dimmer than comparable tablets. This won't be a problem if you're working close to it in otherwise dark conditions, but it does make using the tablet harder in daylight.
Tech Specs
Dimensions: 14.1 x 8.5 x 0.6 in.
Weight: 2.2 lbs.
Diagonal screen size: 13.3 in.
Resolution: 1,920×1,080
Color Gamut: 77% NTSC
Pressure levels: 4,092
Buttons: None
The Pros
Great choice as your first graphics tablet
Simple to set up and use
Small form factor makes it portable
Comes with a good pen
The Cons
Lacks shortcut keys
Dim screen isn't suited for use in bright light
5. GAOMON PD1560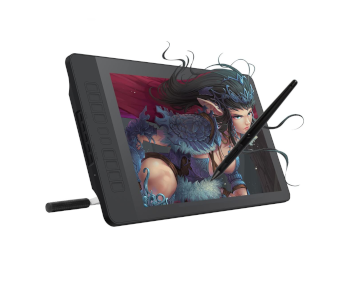 View on Amazon
Editor's Rating: 4.2/5
Gaomon is another manufacturer known for producing quality mid-range drawing tablets, the PD1560 being a solid example. It performs comparably to Veikk's model, delivering 8,192 pressure levels on a 15.6-inch responsive screen. It's ready to go minutes after unboxing, has lots of customizable keys, and a pen that doesn't need calibration.
Overview of Features
The PD1560 is a lightweight drawing tablet with a bezeled screen and a dark plastic area to the left of it housing ten customizable buttons. They feel mushy when pressed, but each responds promptly without danger of pressing adjacent ones accidentally.
You hook the PD1560 up to a computer through a 3-in-1 cable that has USB, HDMI, and power ports for less cable clutter. The PD1560 also comes with an adjustable stand and a travel pouch. You'll have to leave the stand behind when you transport the PD1560 as the pouch doesn't have room for it.
We aren't fans of the pen's feel. It's the lightest on review, has a glossy surface, and its two buttons are easy to lose track of since they're flush with the body. However, the PD1560's pen redeems itself when drawing. Expect beautiful lines with no sudden thickness inconsistencies or jagged edges. You can't adjust the pen's sensitivity curve, but the baked-in one does an excellent job.
The screen's color gamut isn't suitable for professional work as it covers only 72 percent of AdobeRGB. Hobbyists and casual artists shouldn't mind since the PD1560 does well in every other respect. You'll need to adjust the display before using it since colors can appear oversaturated when viewed on other monitors on default settings. Speaking of settings, the drivers let you map the PD1560's shortcut keys, designate its working area, and assign commands to the pen's buttons.
What's Bad About It?
The PD1560 has similar parallax issues to Huion's model. You'll be fine when working in the center, but placing the pen towards the margins leads to inconsistent movement translation. The three-way cable sounds like the right design choice on paper, but it's prone to tangling and plugs directly into the PD1560's left side. This can create a mess if your computer is to the right of the PD1560.
Tech Specs
Dimensions: 17.8 x 9.9 x 0.8 in.
Weight: 3.5 lbs.
Diagonal screen size: 15.6 in.
Resolution: 1,920×1,080
Color Gamut: 72% NTSC
Pressure levels: 8,192
Buttons: 10
The Pros
Pen is light but responds accurately
Useful shortcut keys
Bright and sharp display
Adjustable stand
The Cons
Evident parallax on the screen's edges
Awkwardly-positioned cable prone to tangling
6. Best Budget Option – Huion KAMVAS Pro 13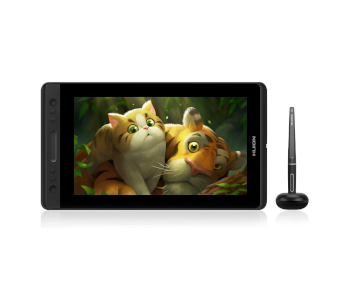 View on Amazon
Editor's Rating: 4.4/5
Our budget pick is another tablet from Huion, the Kamvas 13. It's also one of the easiest to recommend since an excellent screen, a finely-crafted pen, and useful accessories come together to create a wonderful drawing experience. The Kamvas 13 is a steal considering the tablet's quality to price ratio, and there's no reason you shouldn't get one other than its middling screen size.
Overview of Features
The Kamvas 13's appealing price is no indication of build quality. Its bottom is made from aluminum alloy and hard to bend even though the tablet is the thinnest we've tested. The silver color contrasts nicely with its matte-black top and laminated screen. A rougher, more textured surface would have been nice, but the Kamvas 13's screen has excellent glare resistance and leaves minimal space between the cursor and pen nib.
A versatile stand you get with the tablet is also worth mentioning. It's plastic with a metal front and can prop the tablet up at angles from 15 to 45 degrees in six increments. You connect the Kamvas 13 to computers through a multi-headed cable similar to the PD1560's. The design is better this time around since there's a single right-angled USB-C input on one end and three cables for power, USB, and HDMI on the other. They're also longer, so you don't have to rearrange the computer's peripheral connections to make room for the tablet.
Huion went above and beyond when designing the pen. It's slim, has a rubberized grip, and two buttons that are easy to find and press down with a satisfying click. You get a doughnut-shaped pen holder that houses replacement nibs and holds the pen either horizontally or vertically.
The Kamvas 13 passes any artificial or real-world drawing test with flying colors. There's next to no parallax effect, so you won't have trouble drawing accurate lines or clicking on tiny icons. The screen & pen combo respond equally well whether you're making short squiggles, straight lines, or droplets with harsh tapers.
You'll have to calibrate the screen first but can look forward to a wealth of colors once you do. It can reproduce 120% of sRGB colors, so the art you produce on the Kamvas 13 will look consistent on a wide range of monitors.
The software used to configure its shortcut buttons is the same as the Kamvas 20's. Settings are easy to find and change; we just wish that you could set up profiles for different programs. You can create a profile for each program you use but have to switch between them manually.
Are There Drawbacks?
The Kamvas 13 has four shortcut and two additional buttons, one for turning it on or off and another for accessing display settings. The power toggle sits above the first shortcut button and is easy to press inadvertently. The screen's corners suffer from light bleed. You might not notice or care if you work with bright colors, but the effect is pronounced on darker shades.
Tech Specs
Dimensions: 15.3 x 8.6 x 0.4 in.
Weight: 2 lbs.
Diagonal screen size: 13.3 in.
Resolution: 1,920×1,080
Color Gamut: 85% NTSC
Pressure levels: 8,192
Buttons: 4 + touch bar
The Pros
A versatile, high-quality drawing tablet at a great price
Excellent pen and stand
Optimum cable management that makes it a good choice for lefties
Sturdy build
The Cons
Noticeable color bleed in screen's corners
Power button placement makes it easy to press accidentally