Dremel DigiLab LC40 Laser Cutter Review
3D Insider is ad supported and earns money from clicks, commissions from sales, and other ways.
Laser technology is one of the latest forms of technology that has greatly overhauled the large-scale manufacturing industry. Lasers can be used for high-precision cutting, engraving, and marking of a wide range of common materials such as wood, metals, plastic, and glass. Switching over to laser technology has the advantage of speed and precision. It also produces little waste, uses up no consumables, and prevents damage to the product due to its non-contact nature.
As with any new technology, laser cutting and engraving machines can be very expensive. This no longer is the case with the release of the DigiLab LC40 Desktop Laser Cutter from Dremel. What can the DigiLab do and can it compete with the capabilities of industrial-scale laser cutting machines? Is it worth the investment?
Dremel DigiLab LC40 Laser Cutter
Laser: Class 4 40W CO2
Weight: 96 lbs
Engraving Area: 18" x 12"
Maximum Height: 1.25"
File Formats: JPEG, PNG, SVG, or PDF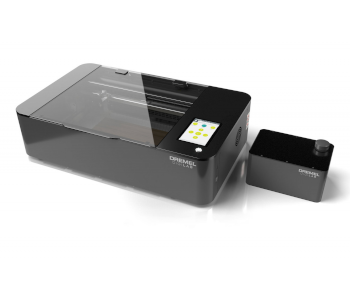 Overview
The Dremel DigiLab is a single-piece, compact laser cutter and laser engraver that is small enough to fit right into any medium-sized desktop space. At 96 lbs., it's not exactly lightweight, so you'll probably need the help of a friend to have it set up and assembled. It comes with all the accessories you will need, but a little assembly may be in order before you can start printing some basic designs.
The DigiLab's main feature is a 40-Watt CO2 laser with adjustable settings for cutting through or marking a variety of the most common hard or soft materials. The printer comes pre-loaded with easy-to-use software that can interface with a computer wirelessly or through a wired connection. A smart camera attachment makes aligning of the medium and the laser conveniently accurate, while a series of sensors continuously work to make sure that all systems are working properly.
The DigiLab also comes with the proprietary Dremel Hex Box with an integrated cooling and air removal system. An aluminum honeycomb design provides good ventilation, allowing for the removal of excess heat and dust from the build platform.
With more than twenty thousand hours of testing, the Dremel DigiLab was designed to be reliable even for continuous operations. In fact, it is the first UL Safety-certified desktop laser cutting and engraving machine in the market.
Dremel has more than 85 years of experience in the product development and engineering field, so you can rest assured that the DigiLab was made with their usual high standard of quality and workmanship. Dremel has also frequently been lauded for having an excellent US-based customer service team that will go the extra mile to provide after-sales support.
Build quality
Out of the box, the Dremel DigiLab looks like an over-sized printer and scanner. It has a semi-transparent top cover and a visually pleasing glossy black finish all over. At 96 lbs., the DigiLab is a little too big and too heavy for one person to lift and assemble. This is hardly surprising considering how much technology Dremel was able to squeeze into the DigiLab's compact build.
The most important component of the DigiLab is the 40-Watt sealed CO2 laser tube that is categorized as a Class 4 laser with the lid open, and a Class 3R laser with the lid closed. While a Class 4 laser is considered highly dangerous, looking directly at a Class 3R is not likely to cause any long-term harm to your eyes. This is indicative of how powerful the laser is, and also emphasizes how important it is to keep the lid closed while the cutting or engraving process is ongoing.
The glass laser tube comes in an industry standard size, which makes replacing it less of a hassle. Removal and installation of the glass tube will require some tools but isn't any more complicated than the process of setting up the printer.
Dremel assures the durability and reliability of the DigiLab by subjecting it to more than twenty thousand hours of operational quality and endurance testing. The testing process focused on ensuring that the DigiLab will continue to function well even when running continuously. This makes the DigiLab an excellent addition to any existing manufacturing process, as you can be sure that this laser engraver will deliver day in and day out.
On the right side of the DigiLab's top surface is a high-definition 7-inch HD touchscreen that provides an interface for you to run jobs directly from the machine. Designs can be uploaded into the machine in several different formats wirelessly or through a LAN connection.
The DigiLabs comes with Hex Box, a proprietary attachment that handles cooling and air removal from the printer's platform. The Hex Box uses a distilled water supply for rapid cooling, while air and dust removal are handled by an exhaust fan. You also have the option of buying a booster fan to attach to the Hex Box for a more powerful venting system, which may be necessary for heavy use of the machine. If you are using the laser engraver indoors and without a vent, you can purchase the Digilab with the BOFA AD 350 Fume Extractor, which has a HEPA filter to reduce air pollutants.
All the parts and components of the DigiLab were custom-made by Dremel to ensure that they were all manufactured according to the highest quality standards. Should you end up damaging any part of the printer, there's no need to worry as Dremel keeps a healthy stock of all spare parts.
Safety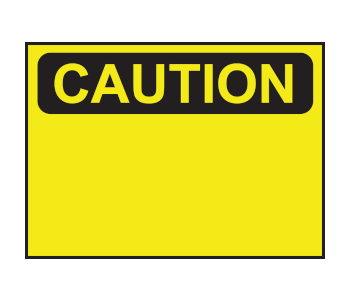 The DigiLab is the first desktop laser cutting and engraving machine that has received a UL Safety certification. This means that it satisfies the safety standards of Underwriters Laboratories, a globally-recognized lead in product safety testing and certification. Whether as an aid in manufacturing or education, there is an inherent hazard in using a machine equipped with a high-powered laser, such as the DigiLab. With the UL certification, you can at least be confident that the safety of the DigiLab has been vetted by an authority in the matter.
The DigiLab is outfitted with five smart sensors distributed all over its body. These provide real-time safety diagnostics so that measures can be made should the machine be under potentially hazardous conditions. These can include an elevated temperature or pressure in the build chamber, or a high concentration of dust. The safety sensors serve to enhance the longevity of the machine, protecting it from damage while ensuring the safety of its users.
Performance
The CO2 laser of the DigiLab is highly versatile, able to cut, score, or engrave a variety of materials. Whether you're working with hard materials such as wood, metal, glass or stone, or more delicate options such as paper, fabric, and leather, the DigiLab machine can provide the perfect solution. The laser is capable of cutting or engraving highly intricate designs and can finish a job of any size in just a few minutes.
Since the whole process can be automated by running a design, the repeatability of laser cutting and engraving is virtually unequaled. This makes the DigiLab an excellent piece of equipment that will fit right into any assembly line. With the DigiLab, finished products will always come out at a consistent level of quality.
The DigiLab does have its limitation when it comes to build size. The engraving area measures 18" x 12" and ig can handle a maximum height of 1.25". On the other hand, the cutting area is slightly bigger at 20" x 12" and it can handle items that are 1/4 of an inch thick. If you are working with thicker and bigger items, you might need to break them down into layers or separate, distinct parts. This build size is sufficient for most applications.
Ease-of-use
Dremel has designed the DigiLab to be compatible with customizers and manufacturers of all skill levels. At startup, the exclusive Dremel DigiLab Suite, which comes with the printer, will be extremely handy. It has a series of out-of-the-box tutorials for quick and painless setup, as well as easy to follow instructions for succeeding with your first project. You can even try your hand with some of the sample projects that come with the software.
A nice feature that makes the DigiLab extremely easy to use is the provision of a built-in smart camera that overlays your design on the medium. This can be very useful when working with irregular work pieces or scrap material you have lying around. The smart camera is accurate to within 0.2 mm., giving you a relatively foolproof way to avoid misprints.
Designs
The DigiLab gives you several options for loading your designs into the machine. The simplest way is to create a design in your preferred design software and export it in any of the most common file formats: JPEG, PNG, SVG, or PDF. The file can then be loaded into the machine.
The printer software is stored in the machine and can be accessed through any standard web browser. This means that you will not need to install any device driver, thereby bypassing any compatibility issues. Connecting your computer to the printer is best done wirelessly over a local network. If the WiFi network isn't working or isn't available, you also have the option of connecting a computer to the printer using a standard LAN connection.
Another quick option is to use the DigiLab's built-in camera to quickly scan drawings or photos and upload them to the laser design software. This allows you to quickly turn your hand sketches or illustrations into laser cut designs. The DigiLab also comes with easy-to-use design software for making your own digital artwork, just in case you prefer drawing on the screen as opposed to on a piece of paper.
The DigiLab comes pre-loaded with a massive material library that will allow you to print on any material with just a quick selection. These software controls adjust the settings of the laser, so it only expels just the right amount of energy for the material that you are working with.
Price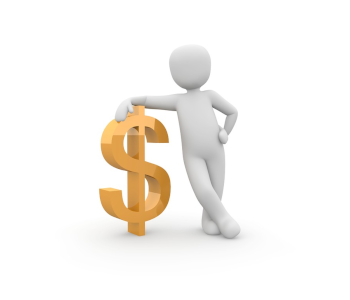 At almost $6000, the Dremel DigiLab is not the cheapest desktop-scale laser cutting machine available in the market today. It's possible to get a laser cutting machine with acceptable quality at about half the price of a DigiLab, with some small models even selling for less than $1000. Of course, few laser engravers have as many features as the Digilab which makes it ideal for prosumers and people who want to upgrade from hobby-grade tools.
On the other hand, other laser printer models are much more expensive than the DigiLab. High-end Epilog desktop laser cutting machines can cost between $10,000 to $25,000. In this context, the DigiLab can be considered as being in the mid-range in terms of price.
Is it worth it?
Regardless of the price, the DigiLab laser printer is an excellent product that has consistently received praise from its owners. It's easy to use, produces great results, and operates with no major issues. From setting up the machine to finishing your first project, the included guides practically hold your hand at every step of the process.
The software that comes with the DigiLab does a very good job in making it accessible for novice laser users. The comprehensive materials library provides presets that will let you start the job in just a few minutes. If you're not happy with the presets, they can also be customized and saved according to your liking. The smart camera is also another very useful feature. By allowing you to align the design to your medium, you can have a rough idea of how the final product will look like.
As an addition to a manufacturing process, the DigiLab has the advantage of being extensively tested for continuous runtime. Thus, even daily use of the DigiLab should not cause any problems. Even if problems do occur, the DigiLab's redundant safety systems should be able to catch it before it causes any serious consequences.
Dremel adds even more value to their products by offering excellent after-sales service. Being a US-based team, you won't have a problem getting in touch with them and communication is usually top-notch. The customer service team knows just about everything there is to know about the printer, and they will be happy to go the extra mile to look up things that they don't know.
All in all, the Dremel DigiLab is worth every single dollar that you spend on it. It's not cheap but it is worth saving up for. Whether you are getting the DigiLab for your DIY hobby or as a commercial tool, it is an excellent product that will pay for itself in reliability, safety, and quality of output.