6 Best Driveway Alarms of 2019
3D Insider is ad supported and earns money from clicks, commissions from sales, and other ways.
Living in the countryside lets you enjoy open spaces and a quiet life, but this isolation can also bring trouble. If your driveway is obscured by trees or curves out of sight, you won't realize that someone's coming until there's nothing you can do to prepare. Purchasing a driveway alarm will solve this problem and give you peace of mind.
Budget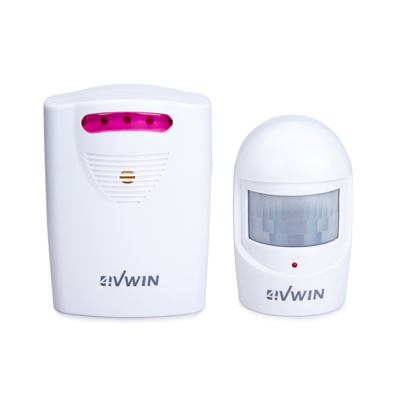 4VWIN Driveway Alarm
3.8/5.0
Sensor range: 25 feet
Transmit range: 300 feet
Affordable, sensors have LED that shines on activation and long battery life.
Check Amazon
Best Value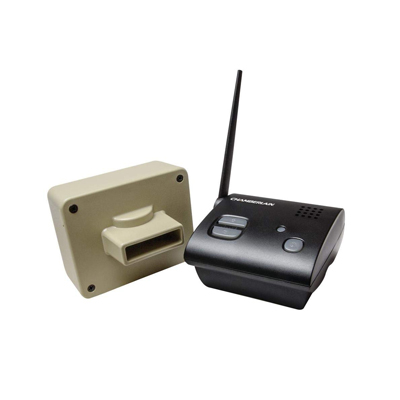 Chamberlain CWA2000
4.5/5.0
Sensor range: 30 feet
Transmit range: 1/2 mile
Separate alarm sound for each sensor and good value for the money.
Check Amazon
Top Pick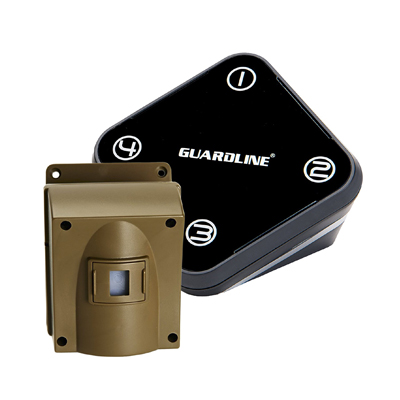 Guardline Driveway Alarm
4.6/5.0
Sensor range: 40 feet
Transmit range: 1/4 mile
Covers large area divisible into zones, in-depth sensor customization.
Check Amazon
Driveway alarms are made up of sensors and receivers. You place the sensors somewhere along your driveway and the receiver will let you know that someone's approaching as soon as an invisible threshold is crossed. Whether you'd like to be better informed on what your kids and pets are doing or have a security measure in place that warns you of intruders well in advance, getting a driveway alarm is the smartest thing you can do.
Which alarm system to choose though? We've done the research for you and present the six best driveway alarms available now in this comprehensive review. Find out more about them below and get all the info you need to make an informed purchase.
What to Look for in a Driveway Alarm
Sensors
Range
False Positives and Detection Accuracy
6 Best Driveway Alarms Comparison Table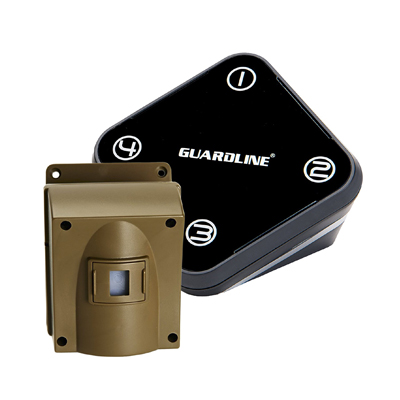 View on Amazon
Editor's Rating: 4.6/5.0
Do you have a large open space to monitor and feel that a single motion sensor won't cut it? Then get the wireless driveway alarm system by Guardline! This versatile security solution supports 16 sensors you can strategically place around your property and form a perimeter that's split up into four zones. There are dozens of chimes to choose from, the sensors have excellent coverage, and installing everything takes just minutes to complete.
Overview of Features
In Guardline's basic package you get a single sensor and transmitter unit. The sensor has a maximum sensitivity range of 40 feet and it is powered by four AAA batteries. Mounting it on a porch or fence is easy if you follow the straightforward instructions. The sensor is encased in waterproof housing whose green color blends in well with surrounding shrubbery.
The receiver is a small black box that plugs into an outlet but can run on four AA batteries in case of an outage. Pairing it with the sensor and choosing what sound to play once something triggers it is easy. The receiver supports 16 sensors split into 4 zones. Each zone has a dedicated LED that lights up so you know exactly where to look for the disturbance. With a range of a -quarter of a mile, the receiver and sensor setup is able to cover a large property. Best of all, the signal strength isn't affected by obstacles, even if the signal has to pass through multiple walls or a wooded area.
Guardline's driveway alarm stands out because of its wide range of customization options. At its default settings, the sensors will easily detect moving vehicles, people, and animals but aren't prone to many false positives. You can adjust their range and how sensitive they are to a detected object's movement speed. They also have a built-in light sensor that allows you to arm the sensors for night-time use only.
What's Bad About It?
The alarm is unreliable in windy weather. Strong gusts are enough to trigger the sensors even though nothing else disturbed them. The sensor you get with the initial package is well made, but ones sold separately feel cheaper and some might not even work properly.

Tech Specs
Sensor range: 40 feet
Transmission range: 1/4 mile
Sensor powered by: Batteries
Receiver powered by: Batteries, adapter
The Pros
Covers large area divisible into zones
In-depth sensor customization
Excellent signal strength
Easy pairing and setup
The Cons
Can report false positives on windy days
Additional sensors are of lesser quality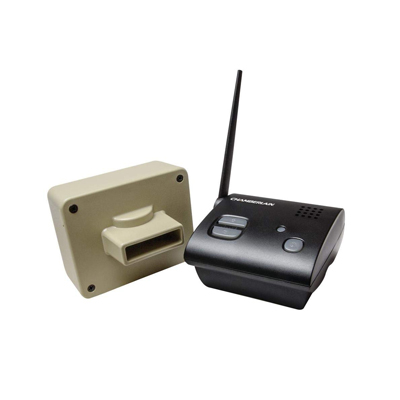 View on Amazon
Editor's Rating: 4.5/5.0
Our value pick comes from Chamberlain, a company best known for manufacturing quality garage door openers. This system has a communications range of a whopping half mile. It supports 4 sensors, each with a maximum range of 30 feet. The CWA2000 has almost as many features as our winner while costing half as much. If you want a reliable security solution to monitor a few strategic points on your property, this is it.
Overview of Features
The CWA2000's setup is straightforward. Secure the sensor to a fence a couple of inches off the ground with the included strap, pair it with the receiver, and you're done. There's a flange on the sensor's back that lets you adjust its angle slightly once it's secure. The sensor works on four AA batteries and has a range limit of 30 feet which can be decreased in four increments if it proves to be too sensitive.
The receiver has a 9V adapter and draws power from the grid only. It lets you choose an alarm for each of the 4 supported sensors to easily pinpoint which one was activated. It has double the transmission range of Guardline's model. It's not as resistant to interference from solid objects though, so you may need to experiment with ranges if there are more than a couple of trees between it and a sensor.
Are There Drawbacks?
The sensor is good at recognizing living things since its IR laser tracks warmth. Vehicles are harder to detect because their surface temperature is similar to that of the environment, especially in winter. You'll need to position the sensor so that it can track the heat from a car's exhaust. Even then, results are hit and miss.

Tech Specs
Sensor range: 30 feet
Transmission range: 1/2 mile
Sensor powered by: Batteries
Receiver powered by: Adapter
The Pros
Good value for the money
Easy to set up
Separate alarm sound for each sensor
The Cons
Bad at registering vehicles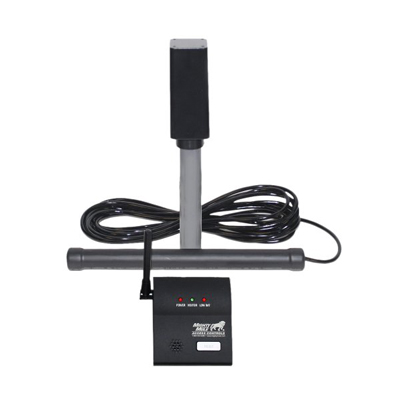 View on Amazon
Editor's Rating: 4.5/5.0
False positives are an everyday occurrence if your kids play out in the open a lot or you live in an area with lots of squirrels, mice etc. The best way of eliminating this kind of false positive is to change the focus of the alarm system you're using. Mighty Mule's driveway alarm is triggered only by passing vehicles, with excellent accuracy to boot. It's the perfect alarm to get if you're only concerned with vehicles entering your property.
Overview of Features
Mighty Mule's sensor works on a completely different principle than the IR lasers in other reviewed models. It's made up of a plastic pipe probe and a transmitter. The probe needs to be buried parallel to your driveway while the transmitter can be set up at ground level thanks to a spike. Once a vehicle passes by, the probe registers it without fail and communicates with the transmitter through a wire. The transmitter then sends a signal to its receiver at a maximum range of 400 feet.
Since there are no zones and only a single transmitter is supported, the receiver's interface is simple. You get to adjust the chime's volume and receive alerts when the transmitter's batteries are about to run out. Two AA batteries are required.
Are There Drawbacks?
Mighty Mule's communication range is short. This may be a problem for homeowners with large properties and long driveways. The electromagnetic sensor may not work correctly when placed near wire fences and other metal objects, so you'll need to consider an appropriate location before buying.

Tech Specs
Sensor range: 12 feet
Transmission range: 400feet
Sensor powered by: Batteries
Receiver powered by: Adapter, batteries
The Pros
No false positives
Low battery indicator
Adjustable volume control
The Cons
Short communication range
Accuracy affected by nearby metal objects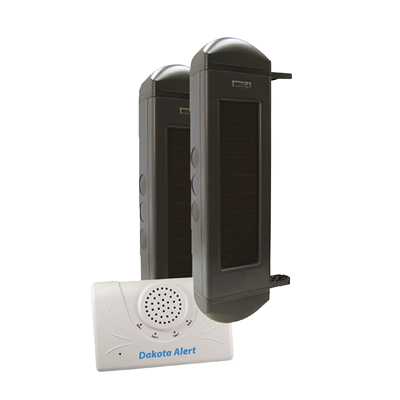 View on Amazon
Editor's Rating: 4.3/5.0
Mighty Mule's alarm is great at vehicle detection, but there are also IR models that are designed to keep false positives to a minimum. Dakota Alert's BBA-2500 tackles this problem with dual IR beam technology. Both beams need to be crossed to trigger its alarm, which drastically reduces the number of false positives. On top of that, this system has superior range and its sensors are on 24/7 thanks to solar power. If you don't mind spending extra on a sophisticated outdoor security solution, Dakota Alert should be your top pick.
Overview of Features
Unlike most driveway alarm starter packs, the BBA-2500 comes with two sensors. They have an exceptional range of 300 feet and are solar-powered, so battery replacements aren't an issue. If your property doesn't get a lot of sunlight, there's also a port on the sensor's back to which a power bank can be attached. This system is ideal if you want to cover every nook & cranny of a larger area as unlimited sensors are supported.
The receiver is stationed inside your home and can divide the perimeter into four zones, each with its own chime. Apart from communicating with its motion sensors, the receiver has a 12 VDC output that lets it connect to compatible security equipment like other alarm systems, floodlights, and security cameras. You can use this feature to direct a light beam at the source of the disturbance or turn on a camera that covers the area for even greater security.
The sensors are triggered only when both of their IR beams are crossed at the same time. This causes the receiver to sound an alarm whose duration you can set to 10 minutes or less. There's also a time delay function. This gives you 5 minutes to leave the perimeter before arming the sensors, perfect for avoiding false positives and waste of power.
What's Bad About It?
The steep price is the BBA-2500's only real drawback. The cost is acceptable provided the initial sensor pair is enough for your needs. If you want to expand the system, you'll need to purchase more sensor pairs which can quickly add up.

Tech Specs
Sensor range: 300 feet
Transmission range: 1/2 mile
Sensor powered by: Solar-powered Li-ion battery, power bank
Receiver powered by: Adapter
The Pros
Excellent sensor range
Minimum number of false positives
Solar-powered
Ties into other security equipment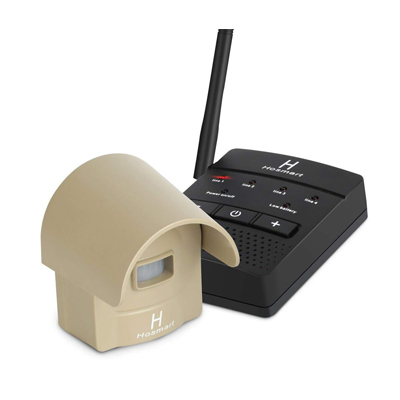 View on Amazon
Editor's Rating: 4.0/5.0
Most driveway alarm systems come with one or two sensors. As we've seen with the BBA-2500, buying more can become prohibitively expensive if the starter kit doesn't have enough of them. That's why Hosmart sells their expandable driveway alarms in different packages. Sensors and receivers can be bought separately or you can buy 1, 2, or 4 sensors to in a bundle. If you ever move or want to segment the covered area into smaller zones, it's both easy and affordable to upgrade the system one component at a time.
Overview of Features
Hosmart's sensors are affordable yet well-built. They have a strong PVC housing that's waterproof and protect their lens with a prominent sunshade. Since exposure to heat can trigger false positives, this measure makes the sensors more accurate. They're powered by Li-ion rechargeable batteries. A charge can last for a year with regular use. You don't even need to remove the batteries when there's no more charge – attaching a power bank via USB is enough.
The receiver is similar to those of other models. It has a selection of chimes you can assign to one of four zones. Once a trespasser is detected, the chimes will play and the corresponding zone's LED lights up. Some driveway alarm receivers have fixed loudness settings and can be either too quiet or too loud. Hosmart's receiver has volume adjustment buttons that lets you precisely adjust the alarm's loudness.
What's Bad About It?
Like our winner, Hosmart's alarm may go off if hit by a strong gust of wind. The batteries you get with its sensors vary in quality. Some will hold a charge well while others will get depleted after a short while. Hosmart is quick to send replacements in that case, but the wait is annoying.

Tech Specs
Sensor range: 30 feet
Transmission range: 1/4 mile
Sensor powered by: Li-ion battery, power bank
Receiver powered by: Batteries, adapter
The Pros
Easy to upgrade
Well-built sensors
Variable alarm loudness
The Cons
Strong wind causes false positives
Sensors occasionally arrive with bad batteries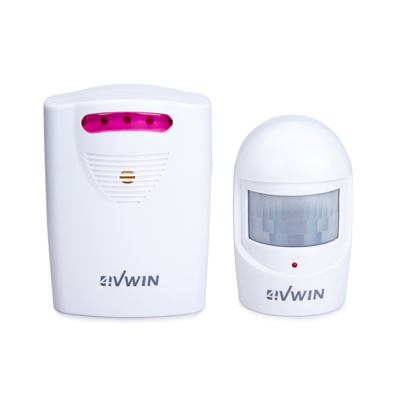 View on Amazon
Editor's Rating: 3.8/5.0
Are you looking for a basic yet trustworthy driveway alarm? At $20 or below, you'll start to see many low-quality models with poor detection and frequent false positives. There is an exception though – the driveway alarm made by 4vWin. You get two sensors and a receiver at an amazing price and can easily add more sensors later on at little cost. This system may be limited when compared to more expensive models, but there's no better option for beefing up driveway security on a tight budget.
Overview of Features
4vWin's sensors are covered in white plastic. This makes them both elegant to look at and lets would-be trespassers know that your home is protected. Once activated, a sensor will turn on a bright red LED, further adding to the warning. Sensors run on 9V batteries and operate for a long time before needing a replacement.
The receiver is small and has two functions – you can turn it on or off and toggle the alarm's loudness. It needs to be 300 feet or less from the sensors to register them. Once it does, a distinct chime starts to beep and three LEDs light up, so it's easy to notice that the alarm was triggered.
Are There Drawbacks?
The sensors are poorly constructed. They aren't waterproof and offer no protection from the elements, so you may get false positives if it's been in the sun too long or it's windy. There's also no way of adjusting the sensitivity – 25 feet is the maximum and only range.

Tech Specs
Sensor range: 25 feet
Transmission range: 300 feet
Sensor powered by: Battery
Receiver powered by: Batteries, adapter
The Pros
Affordable
Sensors have LED that shines on activation
Long battery life
The Cons
Short detection and transmission ranges
No sensitivity adjustment
Isn't weatherproof