Best Drone Backpacks
3D Insider is ad supported and earns money from clicks, commissions from sales, and other ways.
Some new drones come with a protective, purpose-made case and others don't. But drone enthusiasts—especially aerial photographers and video buffs—often need more than the stock bag offers. That includes more space, compartments, and protection. After all, many of us usually take more gear with us on a flying shoot than just the drone and its controller.
Not all Drone Backpacks Are Equal
A backpack that costs 25 dollars is all some people need for a toy-grade quad and a few accessories. It's not likely to offer much for those with expensive hobby-grade drones though. Those pilots want better quality materials and extra protection to care for their expensive multicopter. This no-nonsense guide looks at the various kinds of drone backpacks at all budget levels.
Some people make the mistake of buying a backpack based on appearance and spiel alone. You might get lucky and find the ideal product first time using that approach. But the best buying decisions are not those made in haste. You can make a much better choice if you think carefully about your needs and expectations. The purpose of this guide is to help you do just that.
Point to note: Size matters. You risk damaging a bag and its equipment if you overstuff or overload it.
Budget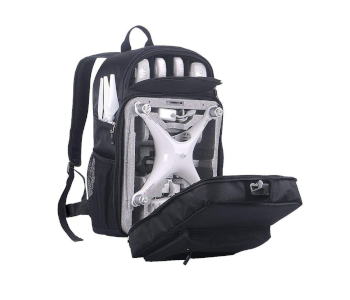 Smatree Phantom 4 Sling
4.8/5.0
Weight: 3.09 lbs.
Dimensions: 14.6 x 10.9 x 6.8″
Has spare battery and spare props storage compartments.
Check Amazon
Best Value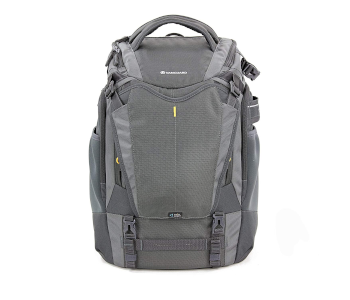 Vanguard Alta Sky 49 Backpack
4.4/5.0
Weight: 4.85 lbs.
Dimensions: 12.25 x 9.0 x 19.5″
Has dedicated pockets and sleeves for laptop/tablet and smartphone.
Check Amazon
Top Pick
Original Phantom Backpack
4.7/5.0
Weight: 4.39 lbs.
Dimensions: 18.1 x 13 x 10.6"
Made especially for DJI Phantom series quads & accessories.
Check Amazon
What to Look for in a Drone Backpack
There are several things to consider before you invest in a drone backpack. You want it to look good, but practicality must always take priority. The good news is that plenty of quality bags are both gorgeous and practical. Here's a quick list of what to look for (feel free to add to it as necessary).
Materials used
Build quality and stitching (the double or zigzag stitch is best)
Zips and locking/closing mechanisms
Bag size and configuration (often overlooked)
Carrying options, i.e., straps and handles
Weatherproofing if that's important to you
Compatibility, i.e., what drones and other items is it suitable for?
Some bags use good material but have single thin stitching. These are the ones most likely to come undone after some usage. Double stitching and robust zippers are the way to go. Single stitching doesn't always mean it's a bad bag, though. Just make sure the thread is thick and sewn in well.
When in doubt, ask the seller.
About Compatibility
Some drone backpacks target specific brands and models. That doesn't always mean they're incompatible with other types. Understanding the configuration of a quality bag is essential. You don't want your expensive quadcopter to flop around inside and break. Likewise, you don't want to buy a bag only to find that it doesn't fit properly. The bag's size may say YES, but its configuration says NO.
When in doubt, ask the seller.
Protection from the Elements
Maybe you need a decent outdoor bag but the one you like doesn't have weatherproofing. Well, most backpacks are not fully waterproof, but some are water-resistant. If not, there are a couple of options. One is to protect the bag with a quality waterproofing spray. The other—and my favorite—is to carry a simple, lightweight nylon waterproof rain cover. Rain covers for drone backpacks start at around $8.
The seven points above may seem logical, yet they're often overlooked, hence this introduction. Keep mindful of these things and anything else that's important to you. Again, ask the seller if there's something you're not sure about. Merchants usually respond within 24 hours on sites like Amazon.
About My Guide
I have written this guide in simple, straightforward English. Each of these mini-reviews tells you all you need to know about a product and nothing you don't. Typical details include the style of bag, its dimensions, weight, practicality, drone compatibility, and any unique features it may have. I also list any pros and cons for the product at the end of each piece.
The table below shows the seven drone backpacks as they appear in this guide. The top three are Best Budget, Best Value, and Top pick in that order. These choices are the result of personal preference, the feedback from real users, and the opinions of industry experts.
Drone Backpacks Comparison Table
1. Smatree Phantom 4 Backpack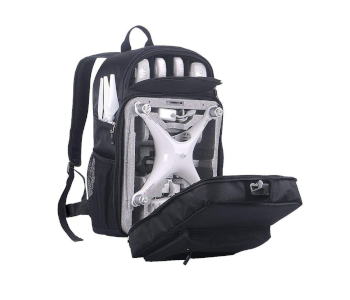 View on Amazon
Editor's Rating: 4.8/5
You can't go far wrong with the Smatree DP3000 if you own a DJI Phantom 4 drone. It's a perfect fit at an affordable price, and it offers much more than first meets the eye.
Best feature 1: Accommodates Phantom 4 original styrofoam case
Best feature 2: Extra storage for electronic devices and personal items
Plus points: Excellent travel bag, quality materials, spare battery, spare props storage
Minus points: Could use more pockets, no rain cover
The Smatree DP3000 fits a DJI Phantom 4 drone in its original polystyrene case like a glove. It has a few extra pockets and compartments for the drone accessories and personal items. At the top are protective compartments for up to four batteries. The backpack also has a compartment for carrying a tablet up to 9.7-inches, or other smart mobile devices and personal bits.
The exterior of the bag has pockets for carrying a few spare propellers. The overall build, materials, and stitching seem fit for purpose, though not all owners are happy (see below). The bag is water-resistant—not to be confused with waterproof.
The Not So Good
The problem with custom backpacks is that it's impossible to please everyone. This product is no exception. Reading the user reviews there are the usual—and often unavoidable—gripes. Folks complain that the bag's too small for their needs or that it doesn't have enough compartments. These things are legitimate complaints but ones that people could have avoided.
Another criticism is with loose stitching and the bag tearing in places. These are not widespread complaints, so it's possible those with space issues overload or over-stuff the bag (see intro).

Tech Specs
Brand: Smatree
Weight: 3.09 lbs.
Dimensions: 14.6 x 10.9 x 6.8″
Proofing: water-resistant
Compatibilities: DJI Phantom 4 quad, accessories, and extra items
The Pros
Affordable backpack
Accommodates Phantom 4 in its original Styrofoam case
Spare battery and spare props storage compartments
Extra storage for electronic devices and personal items
Excellent travel bag
Quality materials for the price
The Cons
Could use more pockets
Potential stitching issues
No rain cover included
2. Vanguard Alta Sky 49 Backpack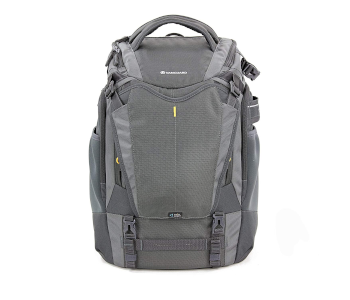 View on Amazon
Editor's Rating: 4.4/5
The Vanguard Alta Sky 49 is my Best Value pick for drone backpack. Its universal design makes it a good choice for camera setups as well as housing popular quadcopters.
Best feature 1: Excellent build quality
Best feature 2: Ergonomic comfort
Plus points: Breathable back panel, ergonomic harness, sternum strap, waist belt support
Minus points: No lower zip access, space issues
Vanguard designed this high-quality, versatile bag for carrying heavy loads. That alone tells us plenty about the build quality and what it's capable of. You can customize the interior so that it's a 100% gear-carrying backpack or a personal travel pack. Try not to let the simple, unassuming design trick you. It's a feature-packed product that offers lots of working solutions, including drone setups.
It's important to check the product specs as the backpack is not for a specific drone model. The large flexible pockets provide lots of extra space for personal stuff too. People like the secure zipper pockets for valuable essentials like wallets and keys, etc. There's also a dedicated phone pocket with a useful headphone extraction port and a sleeve for a 14" laptop or tablet.
You get many ways to arrange your load both inside and out. Vanguard looked at all kinds of load scenarios when they designed this versatile drone-carrying backpack.
The Focus on Comfort
Vanguard's Alta Sky 49 bag has several features to make it as comfortable as possible for the wearer. The breathable back panel is a blessing on long sweaty hikes as it allows the air to circulate freely. An ergonomic harness prevents strain and thus contributes to the carrying comfort. And the bag's sternum strap also plays a significant role by distributing some of the weight across the wearer's chest.
The waist belt support also adds to the comfort level. All these things combined add to the never-tire carrying experience. It's an excellent choice if it's within budget and has the space and storage capacity to match your needs. That last point is especially significant.
The Not So Good
The Vanguard Alta Sky 49 is a sturdy, versatile backpack with heavy-duty zippers. No one disagrees with that. The main problem for some is that there's no lower zip access. That's a disadvantage as lower zipper compartments make it quicker and easier to access buried items.
Other gripes derive from typical buying blunders. Some complain that the bag is far too big for their needs. Others say it doesn't have enough space for their drone setup. However, it clearly states in the description: "Please check to verify the best fit for your specific model size requirements."
Those who complain about the space issues must have skipped this advice.

Tech Specs
Bag Design: Drone/DSLR Backpack
Weight: 4.85 lbs.
Dimensions: 12.25 x 9.0 x 19.5″
Proofing: Vanguard rain cover
Compatibilities: Drone and DSLR Camera setups
Special feature: Ultimate versatility for gear or personal use
The Pros
Superb quality, heavy duty zippers
Multitude dividers & access points
Dedicated pockets and sleeves for laptop/tablet and smartphone
Headphone extraction port
Ergonomic comfort
Breathable back panel
Ergonomic harness
Sternum strap & waist belt support
The Cons
No lower zip access
Space issues (too much or too little) for some drone setups
3. Original Phantom Backpack for all DJIs
View on Amazon
Editor's Rating: 4.7/5
It makes sense to buy this Phantom backpack if you own a drone from the Phantom series. Being 'purpose made' means your quad and its accessories will fit this knapsack like a well-tailored glove.
Best feature 1: Use as a shoulder bag or backpack
Best feature 2: Made especially for DJI Phantom series
Plus points: Comfortable, efficient, practical, durable, large interior space, room for extras
Minus points: Shoulder bag padding issue, complicated layout, no guide
This Phantom Backpack isn't cheap, but then neither is the gear it stores and protects. DJI paired with the Italian camera and lighting company, Manfrotto. Together, they came up with a stylish, well-made multifunctional knapsack for Phantom drones. It checks all the essential boxes too. These include comfort, efficiency, practicality, and most importantly, a durable build.
The Phantom Backpack Storage capacity
Inside the bag are specially designed straps and padding to secure the Phantom during transit. There are specific compartments for the drone's accessories, spare batteries, and personal items. There shouldn't be any buying blunders here for pilots who buy this backpack for their Phantom model.
The interior of the Phantom backpack houses the following items:
A DJI Phantom drone (aerial system)
Dedicated remote controller (RC) plus range extender
Up to five DJI Phantom smart batteries
Four pairs of Phantom propellers
Dedicated DJI Phantom charger
One 15" laptop/tablet, cables, and other accessories
Other Features
Not everyone is comfortable carrying a backpack, and they've thought of that too. You can just as easily use this smart knapsack as a shoulder bag if that's your preference.
Other design features worth a mention are the six exterior pockets for added storage convenience. The fixed belt and tripod bag are others. A tear-resistant ultra-lightweight protective fabric withstands the rigors of everyday travel. This backpack is also water-resistant and comes with a protective rain cover.
The Not So Good
There are not too many complaints with this bag as it's everything it claims to be in the description. However, there are a few smaller gripes that some reviewers share. One is with the extra padding used for the shoulder straps. The problem is the filling affects the adjustment of the main backpack straps. It's an issue more so for people with smaller frames as they can't fully tighten the backpack straps.
Some people find it difficult to work out where everything fits inside. It's for this reason that many bag owners say a simple guide would be useful.

Tech Specs
Bag Design: DJI drone specific backpack/shoulder bag
Weight: 4.39 lbs
Dimensions: 18.1 x 13 x 10.6"
Proofing: Water-resistant (includes rain cover)
Compatibilities: DJI Phantom series drones, accessories, GoPro cameras, laptop/tablet, and extras
Special feature: two carrying options
The Pros
Smart looking DJI drone bag
Use as a shoulder bag or backpack
Made especially for DJI Phantom series quads & accessories
Comfortable to wear
Efficient and practical
Durable, lightweight, tear-resistant material
Weather-resistant, rain cover
Room for extras like phone, tablet/notebook, cables
The Cons
Shoulder bag padding may interfere with backpack straps
Complicated interior layout
No guide
4. Lowepro Slingshot Edge 250 AW Drone & DSLR Bag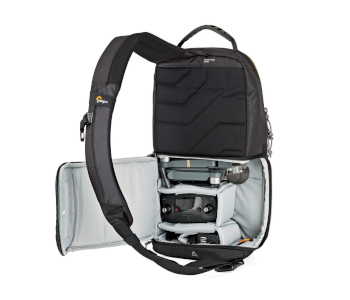 View on Amazon
Editor's Rating: 4.6/5
The Lowepro Slingshot Edge 250 AW is a purpose-design bag. This one is for the DJI Mavic Pro/Mavic Pro Platinum drones. It may also work for other brands so check the specs against your set up.
Best feature 1: Comfortable sling bag design
Best feature 2: Fast and full access to equipment
Plus points: Lots of extra storage for travel essentials, secure and compact, built-in AW cover
Minus points: Front compartment too deep and narrow, room for more pockets
A lot of people prefer sling bag designs these days for all kinds of reasons. The main attractions are the way you carry the bag and the fast access to everything inside. With backpacks—especially those with no lower zipper compartments—you must rummage around inside to access your stuff. The Lowepro Slingshot Edge is also an excellent choice for entry-level DSLR setups.
Instant Access, Better Security
Just rotate the sling bag to the front and unzip its pockets when you need fast access. There's no need to take it off and place it on the ground as you do with most backpack designs. Another feature to consider is content security. The main zipped compartment is bodyside, and deters opportunistic thieves when you're mobile. Inside the bag is a padded, fully adjustable divider system for your gear.
The bag also comes with two removable exterior straps with fast-release buckles. These are handy if you need to carry items that won't fit inside. A camera tripod or light raincoat are a couple of examples. Another nice touch is the built-in all-weather (AW) tethered rain cover to protect against the elements. The integrated cover means you never forget to pack it or get caught out in a storm.
The Slingshot Edge's Storage Potential
Sling bags usually carry more than people think. Despite this, never assume it has the storage capacity you need. Always, always, always check your equipment can fit before you make a buying decision.
Here's a guaranteed list of what the Lowepro Slingshot Edge can carry:
DJI Mavic Pro/Mavic Pro Platinum drones and accessories
Compact DSLR with an attached lens & accessories
Compact tripod or monopod
Quick-Stash for smartphone, headphones, and other small essential items
CradleFit pocket for tablet
It's a superb bag with a smart design that's ideal for many drone and photography enthusiasts. It makes full use of Lowepro technologies for ultimate comfort, security, and longevity.
The Not So Good
The Lowepro Slingshot Edge is a favorite bag among many and enjoys mostly positive reviews. There is some criticism, most of which is about what could be better. For example, not everyone's a fan of the front-most storage compartment. A few users say it's too narrow and too deep. Other gripes suggest there's room for extra pockets and that the bag is smaller than some thought it was.

Tech Specs
Bag Design: Compact sling bag
Weight: 1.76 lbs.
Dimensions: 10.51 x 6.14 x 18.90"
Proofing: Also includes a built-in rain cover
Compatibilities: DJI Mavic Pro/Mavic Pro Platinum drones, Compact DSLR set up
Special feature(s): 11 Lowepro comfort & security technologies
The Pros
Secure, compact sling bag design
Houses DJI Mavic drones or a DSLR camera set up
Fully adjustable divider system
Comfortable to carry
Quick, full access to equipment
Extra storage for essentials
Exterior straps w/ quick-release buckles
Built-in AW cover
The Cons
Front compartment unnecessarily deep and narrow
Space for more pockets
Restrictive size for some setups
5. Powerextra Hard Case Backpack for DJI Drones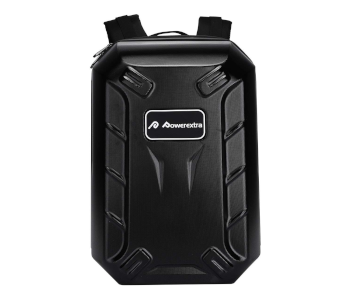 View on Amazon
Editor's Rating: 4.5/5
This is a waterproof hard case backpack for DJI Phantom 3 and 4-series drones and related accessories. It's for anyone who wants extra protection for their beloved quad at an affordable price.
Best feature 1: Hard shell design
Best feature 2: Purpose case for DJI Phantom 4 and Phantom 3 drones
Plus points: Durable, lightweight, EVA protection, water-resistant, carry-on aircraft luggage
Minus points: Hard to close the lid with a controller inside; foam deteriorates, no extra space
Don't let the hard-shell design put you off this lightweight, comfortable backpack. The rear of the case—the part that rests against your back—has a padded, breathable mesh. The cushioned support feels just like any other quality backpack. It's a smart looking case that's big enough for your DJI drone yet small enough to carry on any plane as hand luggage.
Inside are the molded high-density foam compartments for DJI Phantom series quadcopters. The double EVA protective adds further to the defensive quality of this durable case. The cutouts house the main drone body, remote controller, propellers, charger, and three batteries. It's also water-resistant, though I'd still buy a rain cover for full weather protection.
The Not So Good
There are some shared complaints about how fiddly it is to fit the controller inside and close the lid. It's possible, but it's not easy for the uninitiated. There's no quick guide either. Power Extra has since posted a diagram, so at least that's something. Another complaint is that the foam insert deteriorates over time. It's tough, but it's still only foam. It's going to last much longer if you treat it with care.
The final disadvantage is the space restriction. That's where it loses out to fabric backpacks and sling bags. It's just not practical to add exterior straps and extra pockets to the outside of a hard-shell.

Tech Specs
Bag Design: Waterproof hard case backpack
Weight: 3.95 lbs.
Dimensions: 18.1 x 12.6 x 10.2"
Proofing: Water-resistant
Compatibilities: DJI Phantom 3 and Phantom 4 series quadcopters
Special feature: Purpose made for DJI
The Pros
Hard shell design for ultimate drone protection
Purpose hard case for DJI specific quads and accessories
Durable build, lightweight
EVA protection
Highly water-resistant
Carry-on aircraft luggage
The Cons
Fiddly to close the lid with a controller inside
Foam deteriorates over time
No space for extras
6. Manfrotto MB BP-D1 DJI Drone Backpack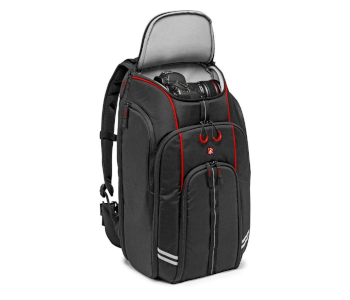 View on Amazon
Editor's Rating: 4.9/5
This is the Manfrotto MB BP-D1 DJI Professional Backpack. It's an excellent choice for carrying all configurations of the DJI Phantom series quadcopter drones. It also works for a DSLR setup.
Best feature 1: Ultra-protective drone pouch
Best feature 2: Flexible storage
Plus points: Purpose DJI Phantom case, exterior carrying ability, top handle, laptop sleeve
Minus points: No exterior water bottle holder, heavier than alternatives
There is a lot of interior and exterior storage potential with this drone backpack. It doesn't have the hard-shell of the previous pick, but it offers excellent protection for a fabric bag. It's versatile too, even though it sells as a DJI Phantom series product. It comfortably holds a Digital-SLR setup and a tripod. There's also a 17" laptop slot and a compartment for tablets and smartphones.
It can be a pain dismantling your drone and packing it away each time you change location. Well, with this backpack you don't have to. You can strap a fully-assembled Phantom to the outside when you're not ready to store it. Overall, it's a gorgeous looking, comfortable backpack with heaps of storage potential for its size. It also comes equipped with a protective rain cover as standard.
The Not So Good
There's no water bottle holder with this backpack. That's a shame because all they had to do was make one of the side pockets deeper and—Voilà! Another complaint is that it's heavier than some people thought it would be. An empty bag weighs 5lbs making it the heaviest in this guide.

Tech Specs
Brand: DJI Phantom drone and Camera backpack
Weight: 5 lbs.
Dimensions: 13.4 x 9 x 22″
Proofing: Included rain guard
Compatibilities: DJI Phantom drones, DSLR camera set up
Special feature: Dual carrying solution
The Pros
Smart, durable drone/camera backpack
Ultra-protective drone pouch
Flexible storage solutions
Purpose DJI Phantom case
Exterior storage, including assembled quadcopter
Convenient top handle
Laptop sleeve up to 17"
The Cons
No water bottle holder
Heavier than alternative bags
7. Lowepro DroneGuard BP 250 Drone Backpack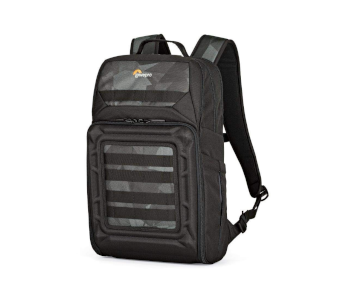 View on Amazon
Editor's Rating: 4.7/5
The Lowepro DroneGuard BP 250 is a rugged drone backpack. The company designed this bag to accommodate DJI Mavic Pro and Mavic Pro Platinum quadcopters, plus a few other essentials.
Best feature 1: Specific design for DJI Mavic Pro/Mavic Pro Platinum drone
Best feature 2: Compression-molded FormShell™
Plus points: Lightweight, rugged, CradleFit™ pockets, removable organization panels
Minus points: No tripod straps, restricted space
Drone enthusiasts designed and created Lowepro's DroneGuard BP 250. That's fantastic news as it means they haven't missed a trick with this drone-specific bag. All the intended gear fits in a way that makes it super easy to pack. It also provides the ultimate protection (see below).
Here's what you can expect to carry in a DroneGuard BP 250:
One DJI Mavic Pro or Pro Platinum drone
One dedicated DJI transmitter
Five DJI batteries plus charging cords
One laptop up to 15″ and a tablet up to 10″
Smartphone or phablet
Two GoPro cameras plus a mirrorless kit, or a DJI Osmo camcorder
Lightweight, Sturdy, Protective
Drones and electronic items are costly and precious. They can also be fragile, so it's vital to provide the best protection possible. Notebooks, chargers, and phones, etc., can add considerable weight to any drone bag setup. That's why it needs to be as lightweight as possible yet sturdy and protective. Lowepro's DroneGuard BP 250 checks all those boxes and not at the cost of comfort.
This purpose-built bag uses the latest technology to protect its contents. The Compression-molded FormShell™ is tough yet light and stands up well to accidental bangs and knocks. The overall defense systems provide abrasion, moisture, and impact resistance.
CradleFit™ protection is the ultimate system for safeguarding valuable laptops and tablets. It works by suspending the compartments to shield the devices from impact. There's also the PhoneZone shoulder strap pocket designed to hold a modern smartphone or phablet. The breathability factor of this backpack is also an excellent and a welcome feature. There's lots to like and plenty to explore.
The Not So Good
There isn't anywhere to carry a tripod on the exterior of the backpack. Tripod straps are useful for other things as well, so it's a definite negative. There are some complaints that the bag's smaller than some people expected. All I can add here is that it houses everything it claims. Anyone who wants to load extra gear should look for a multipurpose solution that has more of what they need.
The backpack is great value for money, though it's not a budget buy. It should have a separate or built-in rain cover at this price, but it doesn't. It's not a major issue but still a disappointment.

Tech Specs
Bag Design: Drone specific Backpack
Weight: 2.95 lbs.
Dimensions: 11.42 x 6.69 x 18.50"
Proofing: Some water resistance; invest in a rain cover (not included)
Compatibilities: DJI Mavic Pro, Pro Platinum drone, two GoPro cameras, mirrorless kit, DJI Osmo
Special feature: Hard front shell
The Pros
Excellent protection, hard FormShell™
Specific design for DJI Mavic Pro/Mavic Pro Platinum drones
Lightweight and comfortable
Rugged overall design
CradleFit™ pockets
Removable organization panels
The Cons
No external tripod straps
Restricted space due to custom drone-specific design
No rain cover