10 Best Drone Bundles of 2019
3D Insider is ad supported and earns money from clicks, commissions from sales, and other ways.
This page reviews 10 DJI drone bundles. They're popular because they can save money, time, and frustration. Best of all is that quadcopter kits, bundles, and Fly More combos vary to meet pilots wants and needs. They are convenient because buyers get to checkout with everything they need in one go. It's less frustrating than searching for items one by one hoping everything is in stock.
What to Look for in a Drone Bundle
Anyone familiar with my guides will know that I'm a huge fan of the checklist. It's the most straightforward approach for making better buying decisions. Your list of items has two sections. One column is for needs (must-haves) and the other for wants (would like). It's a simple approach that ensures you checkout with everything you need and some of what you want.
Here's an example of what a drone bundle shopping list might look like:
BUNDLE NEEDS (MUST HAVE)
BUNDLE WANTS (WOULD LIKE)
Quadcopter Drone w/ 4K camera
3-axis stabilizing gimbal
Remote controller
3 flight batteries
Battery charger
Extra set of props
USB adapter
12-month factory warranty
Hard carrying case
Car charger
MicroSD card
Done landing pad
There should be enough drone bundles to meet most if not all your needs. Your list may change as you start to review the options and that's normal. The point is to get something down so that you have a starting point. It's a guaranteed stress-free way to shop for your quadcopter and accessories.
Drone Companies that Offer Bundles
DJI is the most prominent company to offer drone kits, bundles and combos. That's because there are so many accessories to support its popular models. Smaller companies can also provide exclusive deals by offering extra items with their drones. These are not like the beefed-up DJI Fly More Combos, though. Smaller deals may include things like spare props, bonus batteries, and a carrying case, etc.
Careful what You Buy
Try not to let the hype suck you in with an impressive display of goodies. It can be tempting, I know. My advice is to pause for thought before you buy anything. If the items in the bundle didn't make your list (see above), do you need or even want them? There's nothing worse than paying for a bunch of stuff you never use. Most of us have done it to some degree, only to regret the decision later.
To summarize: a bundle is only excellent value if it meets the following criteria:
You WILL use most if not all the items it includes
Bundled items are the same price or cheaper than their individual costs
The perfect drone bundle has all that you demand and nothing you don't. But what if it has everything you need, most of what you want, and a few things you can't use? Well, it may still offer excellent value if the things you don't want or won't use are low-cost items. A cable of some kind or a landing pad are two examples. Again, stay as close to your list as possible.
Drone Buying Tips
OK, so you've listed all your bundle needs and wants. You're now ready to browse the options if you already know what drone to choose. If not, then here's a quick list of things to get you thinking:
Set a maximum budget
Size & design, e.g., big & stable, travel-friendly, foldable, pocketable?
Camera resolution and capability
Flight features and modes that meet your needs
Max flight time on a single charge
Battery charging times
Cost of extra batteries
Control range (distance)
Anything else you can think of
Don't overthink the finer details yet. Make a crude list to start with and modify it as you learn about the different drone options available.
About My 'Drone Bundles' Review Guide
I have researched the most popular bundles, kits, and combos available. However, new kits come onto the marketplace all the time, so it pays to be vigilant. Seasonal deals can sometimes offer exceptional value too. I'll update this page as and when there are other bundles worthy of review. I looked at the opinions of industry experts and user feedback as part of the selection process.
The format for each review is straightforward and easy to scan. There's a title followed by a short intro that covers a few drone highlights. Under the intros are lists of the bundled items. That's it. My first three choices are the Best Budget bundle, Best Value, and the Top Pick.
The table below shows the bundles, kits, and combos as they appear on the page:
1. DJI Spark Mini Drone Fly More Combo | Best Budget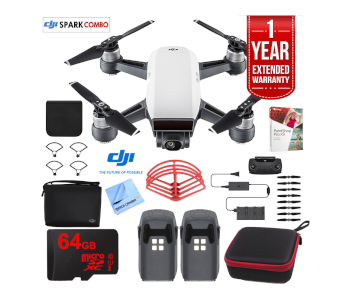 View on Amazon
Editor's Rating: 4.5/5
DJI's Spark is a portable mini-drone and a favorite among those who love to travel light. It takes only moments to get this puppy into the air. The Spark captures high-quality pics and vids with its excellent gimbal-stabilized camera. Pilot-friendly intelligent flight controls let users push the boundaries without trying. This popular quadcopter has 2 Follow Me modes, a decent range, and high-average flight time.
The affordable DJI Spark Mini Drone Fly More Combo included the following items:
DJI Spark camera quadcopter
Custom Hard Case
Extra flight battery (2 total)
Remote Control
Battery charger
Battery charging hub
Soft carrying case
64GB high-speed memory card
Corel PaintShop Pro X9
High Visibility prop guards
Power cable
Cleaning Cloth
1 year limited warranty
1 Year Warranty Extension


2. Autel Robotics EVO Rugged Bundle | Best Value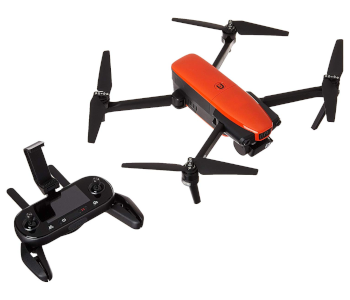 View on Amazon
Editor's Rating: 4.8/5
The Autel Robotics EVA joins the world of exciting, travel-friendly foldable drones. It's a compact 4K camera quadcopter that takes stunning 12MP aerial photos. EVO's buttery smooth video is close to cinematic quality. This attractive little craft has advanced obstacle avoidance technology and boasts a range of failsafe features. It's one of the newer drones to hit the market and well worth consideration.
Autel Robotics EVO Rugged Bundle comes with the following essentials:
Autel Robotics EVO camera quadcopter
Remote controller w/ 3.3" OLED screen
3 flight batteries (one on the drone)
Battery charger
Micro USB cable (to charge the controller)
Spare propellers
32 GB microSD card
OTG micro USB & OTG USB-C cables
Safety & quick start documents


3. DJI Mavic 2 Zoom Quad Fly More Combo | Top Pick
View on Amazon
Editor's Rating: 4.9/5
The DJI Mavic Zoom is an outstanding camera quadcopter that stands out from its rivals. It has 4x zoom, and 2x optical zoom (24–48mm) that takes aerial photography to a new and exciting level. Even entry-level pilots can capture cinematic quality video with this easy-to-fly and control drone. A few impressive features include its compact, folding design, obstacle avoidance, and long flight time.
The current DJI Mavic 2 Zoom Quad Fly More Combo includes the following items:
DJI Mavic 2 Zoom camera quadcopter
Remote Controller
Spare control sticks (Pair)
PGYTECH RC protector
Gimbal protector
Intelligent flight batteries (3)
Battery charger
Car charger
Charging hub
Battery to power bank adapter
Mavic 2 Zoom shoulder bag
Smatree water-resistant hard carrying case
Extra propellers
PGYTECH Propeller Holder
USB Adapter
USB 3.0 super speed portable card reader for MicroSD/SDHC
1 x 128GB Sandisk Extreme MicroSD w/ adapter
Power cable
RC cable (lighting connector)
RC cable (standard Micro USB connector)
RC cable (USB Type-C connector)
RC cable slider (large size)
Communication cable (USB 3.0 Type-C)
RC cable sliders (2 small size)
PGYTECH landing gear
75cm landing pad
Microfiber cleaning cloth


4. Ryze Tello HD Camera Quad Starter Travel Bundle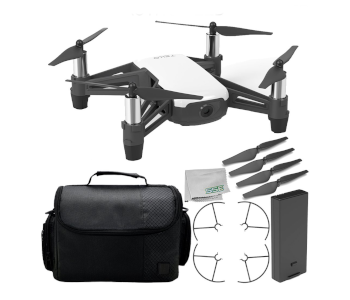 View on Amazon
Editor's Rating: 4.4/5
The Ryze Tello is a tiny camera quadcopter with a difference. They call it the 'interactive drone.' That's because it allows users to learn the coding and customize the way it functions. You can also fly it like any other quad and perform stunts, shoot aerial footage, and have fun. The Tello is an ideal first-time training drone. It's an affordable quad that's perfect for flying indoors or outside on windless days.
The Ryze Tello HD Camera Quad Starter Travel Bundle includes the following items:
Ryze Tech Tello camera quadcopter
Propellers
Propeller guards
Flight battery
Soft carrying Case
Microfiber cleaning cloth


5. DJI Mavic Air Camera Quad Max Flight Bundle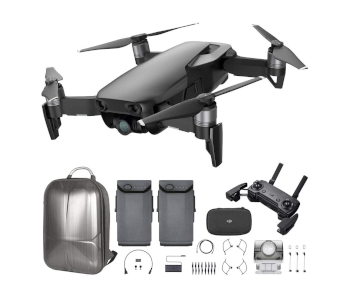 View on Amazon
Editor's Rating: 4.9/5
The Mavic Air is another travel-friendly drone by industry leaders, DJI. It's an ultra-portable gimbal-stabilized 4K camera quadcopter with a foldable design. The Air comes equipped with a range of high-end flight features that provide pilots with seamless performance. This bird is an incredible feat of engineering and sits comfortably between consumer and pro-grade models.
The DJI Mavic Air Max Flight Bundle includes the following items:
DJI Mavic Air 4K camera quadcopter
Remote control
Replacement control sticks
RC cable sliders (large and small)
Gimbal protector
Intelligent flight batteries (2)
Battery charger
Extra propellers
Propeller guards
RC-to-lightning cable
RC-to-Micro USB cable
RC-to-USB Type-C cable
Communication Cable
USB Adapter
Hardshell carrying case
1-year limited warranty


6. Parrot Anafi Foldable Drone Extended Pack
View on Amazon
Editor's Rating: 4.3/5
Parrot's ANAFI is an exceptional 4K HDR flying camera quadcopter. It has a travel-friendly, ultra-compact, foldable design. The ANAFI's camera comes equipped with a 180° tilt gimbal with 2.8X lossless zoom capability. It's a tough little bird too, and resistant to weather extremes. The embedded Artificial Intelligence gives pilots automated flight modes that make flying and filming a cinch.
The Parrot Anafi Foldable Drone Extended Pack includes the following items:
Parrot Anafi foldable camera drone
Remote control
Compact carrying case
Smart batteries (3 total)
USB-C cables (x3)
16 GB microSD card
Adobe Creative Suite Cloud (2 months' free access)


7. DJI Phantom 3 Professional Bundle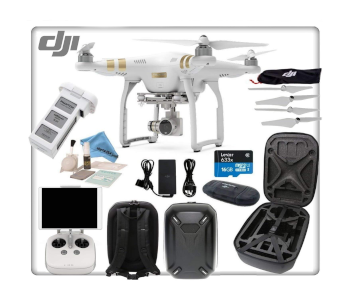 View on Amazon
Editor's Rating: 4.3/5
The DJI Phantom 3 Professional is an oldie but goodie and no longer in production. Don't let that put you off. It's still an exceptional 4K camera quadcopter that's so stable it almost bolts itself to the sky. This drone is an excellent choice for those serious about aerial photography and videography. Even pilots at the entry-level can produce exceptional aerial footage with minimal effort.
The DJI Phantom 3 Professional Bundle includes the following items:
DJI Phantom 3 Professional quadcopter
Hard shell carrying case
Remote controller
4K camera
Gimbal clamp
Intelligent flight battery
Battery charger (100W)
AC power cable for charger
9450 self-tightening propeller set (4)
Propeller wrench
Card reader
16GB MicroSD memory card
Micro-USB cable
Landing gear pads (4)
Drone stickers (5)
Brush blower
eDigitalUSA cleaning kit
eDigitalUSA microfiber cleaning cloth


8. DJI Phantom 4 Camera Quad Starter Bundle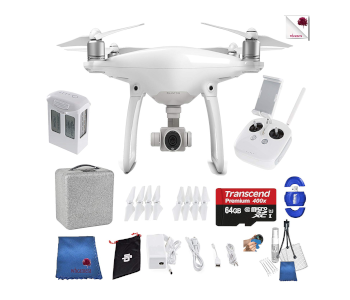 View on Amazon
Editor's Rating: 4.8/5
DJI's Phantom 4 is a remarkable flying robot with exceptional characteristics. It's easy to fly using the DJIgo4 app, even at the advanced-beginner level. The gimbal camera captures stunning 4K ultra-HD video at 30fps (frames per second). There are plenty of standout features that make the Phantom 4 shine. Some of these include obstacle avoidance, long flight time, and extended range.
The DJI Phantom 4 Camera Quadcopter Starter Bundle includes the following items:
DJI Phantom 4 quadcopter
DJI dedicated controller
DJI foam carrying case
Flight battery
Memory card reader
64 GB memory card
Professional drone cleaning kit
Woodland Hills cleaning cloth


9. DJI Mavic Pro Platinum Quad Fly More Combo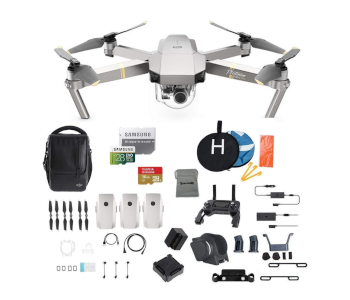 View on Amazon
Editor's Rating: 4.6/5
DJI's Mavic Pro Platinum is a remarkable 4K camera quadcopter that continues to sell well. Its foldable structure makes it easy to travel with and store when not in use. Even the dedicated controller has a unique, foldable design. Flight performance, video quality, and integrated safety functions add to the drone's appeal. This is an ultra-quiet model that can fly for up to 30 minutes on a single charge.
DJI Mavic Pro Platinum Quad Fly More Combo includes the following items:
DJI Mavic Pro Platinum foldable 4K camera quadcopter
Remote controller
Best4sale remote controller transmitter protector stick
Camera gimbal cover
Camera gimbal clamp
Intelligent flight batteries (3)
Battery charger
Power cable for charger
AC car charger
Charging hub (up to 4 batteries)
Power bank adapter (Converts batteries to power banks)
Gold tip propellers (2 pairs)
Platinum tip propellers (3 pairs)
Best4sale propeller holder
RC cable w/ Micro-USB connector
RC cable w/ USB Type-C connector
RC cable w/ lightning connector
16GB microSD card
Micro USB cable
Large RC cable slider (2)
Small RC cable slider (2)
Drone shoulder bag
Best4sale accessories bag
128GB Micro SDHC card w/ Adapter
Universal portable fast-fold landing pad
Best4sale lens hood
Best4sale landing gear height-extender kit stabilizers
Quick Start manuals


10. DJI Mavic 2 Pro Drone Ultimate Bundle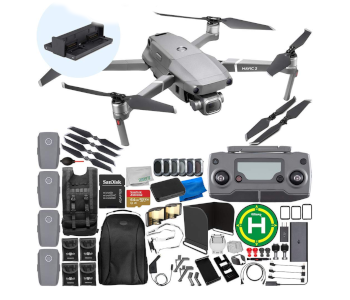 View on Amazon
Editor's Rating: 4.7/5
DJI's Mavic 2 Pro is one of the most popular high-tech drones around now. It's also the quietest due to its specially engineered low-noise reduction props. The Mavic 2 Pro is the first public drone to sport a high-quality Hasselblad camera. The image quality is nothing less than breathtaking. The foldable design, safety features, and long flight times are a few more of the quad's many highlights.
The DJI Mavic 2 Pro Ultimate Bundle includes the following items:
Mavic 2 Pro 4K camera quadcopter
Remote controller
Remote control bracket w/ lanyard
Remote control extender mount
Aluminum thumb rocker joysticks (2 pairs)
Remote sunshade
Gimbal clamp
Lens hood/gimbal guard
Lens cap/gimbal cover
Intelligent flight batteries (4)
Battery bags (4)
Deluxe backpack
Easy carry vest
8330 quick-release folding propellers (3 pairs)
Battery charger
AC power cable for charger
Car charger
16GB microSD Card
SanDisk 64GB Extreme UHS-I Micro SDXC memory card w/ SD adapter
Micro-USB Cable
RC cable for Mavic controller (lightning)
RC cable for Mavic controller (reverse Micro-SB)
RC cable slider (2)
Pro Range extender/booster
Landing gear stabilizer
Landing pad
Filter kit (8PC)
Dust blower
Lens cleaning pen
Microfiber cleaning cloth