What You Must Know Before Getting a Drone
3D Insider is ad supported and earns money from clicks and other ways.
Consumer drones have become something of a phenomenon in recent years. What we know about these amazing crafts is that they are here to stay. The most common drones are multirotor quadcopters which have four propellers. My drone buyers guide for beginner's looks at the different types, their use, and why you might want one.
Drones have all kinds of potential aside from being great fun to fly. There are even tiny toy drones with low-resolution cameras attached and First Person View (FPV) capability (more on this later).
These flying robots come in various shapes, sizes, and price tags. They can range from a few bucks to thousands of dollars and anything between. Most available beginner drones fall into three categories:
We'll look at the beginner choices for each category further down the page.
Where to Buy Your First Drone
If you are purchasing a DJI drone, I recommend purchasing it through their site. This is because it's easy to buy DJI Care Refresh insurance through their site, which is a cheap warranty to cover repairs even in the case of water damage. You have to purchase DJI Care Refresh within 48 hours of first registering your drone or the process of getting it becomes painful.
Another advantage of purchasing directly from DJI is that they include tax in the price. This can save you money compared to other sites.
You can also purchase drones on Amazon, which is usually the best option for most makes and models. Nothing beats fast 2 day shipping and the confidence that they will have your back with manufacturing issues.
Before You Buy Your Drone
There are a few things to consider before you choose your beginner-friendly drone. First, always buy any new product from a reputable source like Amazon or the maker's own website. Before you take to the skies make sure you know what the rules and regulations are. Prepare to crash your new flying robot a few times. Crashes are an inevitable part of the learning process.
There are some drones that are more crash-resistant than others. The better products will boast about this in the sales description. Another thing to remember is that not all drones are ready to fly (see below). And finally, not all drones are easy to fly so choose with care.
Terms Beginners Must Know About Drones
You'll have a much better idea of the kind of drone you need—and why—by the end of this short guide. First, there are a few things you must know. This isn't a technical guide so don't worry. There's no unnecessary jargon here, big words, or hard-to-follow content.
Here's a quick rundown of abbreviations you'll come across on sales pages:
Ready-to-fly (RTF): Minimal or no assembly; RTF pretty much out of the box
Almost-ready-to-fly (ARTF or ARF): Requires some basic assembly out of the box
Bind-n-fly (BNF): RTF models without a radio controller or RC (you have to buy separately)
Below are some simple terms for popular beginner-friendly modes to look out for:
First Person View (FPV): See what the camera sees on a screen or by wearing FPV goggles
Follow me: Drone auto-follows subject using a GPS signal from RC, smartphone, or beacon
Headless mode: Fly using RC controls without worrying about the craft's orientation
Return-to-home (RTH): Safety feature that automatically brings the drone back to its base
1-button takeoff/landing: Makes launch and landing simpler for first-time pilots
And here are some common terms you're likely to come across that describe physical parts:
UAV: Unmanned Aerial Vehicle
Remote controller (RC) or transmitter: Device used to operate the drone wirelessly
Brushless motor: Quieter, last longer and more efficient than brushed motors
Camera gimbal: Mechanical stabilization system helps to minimize camera shake
Toy drone: Typically budget-priced tiny (nano/micro ) quadcopters
Hobby or beginner drone: Mid-sized drones for novice pilots; usually with cameras
Selfie drone: Small easy-to-pack and operate, flying cameras. Some with gesture controls
Gesture control: Ability to fly the drone exclusively using hand gestures
Racing drones Fast agile multi-rotors with cameras that transmit real-time video
Professional drone: High-end copters with upgraded components and capabilities
There are others. But the terms and abbreviations above are the most important for beginners to learn. Print the list out and keep it somewhere handy if this is all new to you.
The Importance of Drone Safety
Something else you need to know before you fly your UAV outside is drone safety and laws. It's not possible to just open the box and take to the skies with all models. The little nano and micro-quads are exempt from registration at the time of writing. Still, laws change and you need to keep informed.
You have to register public drones online that weigh more than 0.55 lbs. You do this with the Federal Aviation Administration (FAA). Remember, the laws can change, so make sure you're up to speed.
For more on these issues read our piece: Before You Fly Your Drone.
Realistic Expectations
One of the first things newbie pilots complain about is the short battery life. The cheaper the drone the shorter the flight time is likely to be. We're talking in minutes here. You can expect 4-7 minute flights with most toy drones. Costlier drones use smarter batteries and more advanced technologies. Yet even expensive models will be lucky to get 20-30 minutes on a single charge. I always advise people to buy one or two spare batteries for drones that have an option to swap them over.
What to Look for in Your First Drone
I recommend buying a drone geared for beginner pilots. This is because crashing your drone is an inevitability as you learn. Some drones are more crash-resistant than others but most hold up pretty well to mild bangs and collisions. You can buy propeller guards for many models which will prevent most damage. That brings me on to my next point. Look for a drone that has easily obtainable and affordable spare parts.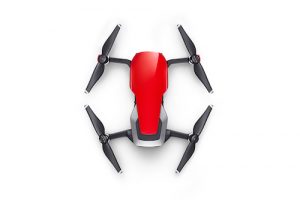 The best drone for the money right now is the Mavic Air. This is the drone to get if money is not a problem and you are unwilling to compromise on specs. Just make sure you get DJI's insurance for it when you checkout so that you can crash it without worry. For cheaper options, keep reading.
Don't be drawn in too much on style and appearance at this level. You want a craft that has user-friendly features and flight modes first and foremost. All my drone reviews on this site list the pros and cons of each model. Not all drones are equal and not all users have the same needs and expectations. This is why it's a good idea to list your prerequisites before you read through these reviews.
Here are a few of the most common items to think about:
Your maximum budget
How beginner-friendly is the model
Do you want to only fly only, record footage, or race?
Maximum flight time
Battery recharging time
Maximum flight range; distance the drone can fly from its controller
Camera type if applicable
Controller type: remote controller, smartphone, or hand gestures
Anything else you can think of
Now let's take a look at the three different types of beginner drones in a little more detail.
#1 Cheap Beginner Drones I Like
What type of drone you want will depend on your age and aspirations. Most new pilots just want to get a feel for their new craft and become familiar with flying. There are plenty of beginner drones that are perfect for flight practice. Some toy models come with little cameras that let you dip your toes into aerial photography and video. The quality won't take your breath away but they're fit for purpose.
Here are three affordable and very popular beginner drones: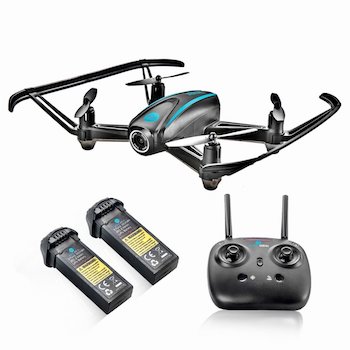 Altair Aerial AA108: This is a great little camera quadcopter for beginners, especially younger pilots. It's small and light enough to fly indoors which is handy when the weather's bad. Its key beginner-friendly features include 3-skill modes, one-button take-off/landing, altitude hold, and headless mode.
It even has a tiny 720p 120° wide-angle HD FPV camera. There are also two batteries which in effect double the flight time from 10 to 20 minutes. You can fly this puppy up to 328 ft. from its controller.
Force1 U45 HD: This is a an affordable little quadcopter at around 60 bucks at the time of writing. It's so easy to control and maneuver thanks to its headless mode. The U45 automatically hovers on takeoff at a set altitude as it waits for your next command. There's also a tiny 720P HD 2MP camera that gives you an introduction to aerial video and photography.
Potensic F181DH RC Quadcopter: This is another great RTF HD camera drone for beginners. It's also an FPV quadcopter that offers enough fun and functions for expert pilots to enjoy. You can use the stepless speed function (10%-100%) to challenge your developing skills. Beginner-friendly highlights include Altitude Hold, Headless Mode, and one button takeoff/landing.
#2 Camera Drones for Novice Aerial Photographers
The most common use of consumer drones is to shoot amazing aerial photographs and video footage. They've become the eye in the sky for adventurers, vacationists, and anyone who likes to record their lives. Some beginner drones come equipped with 2-axis and 3-axis gimbals. These do a great job at helping to stabilize movement in various flight conditions to keep the footage smooth and steady.
Group selfies from the air are fast becoming the new standard in team photos. Drones that follow people as they jog, cycle, and surf, etc., are recording life events like never before. Another advantage of camera drones is to explore places in FPV that you wouldn't otherwise have been able to access.
Here are three good examples of camera drones for the more serious beginner: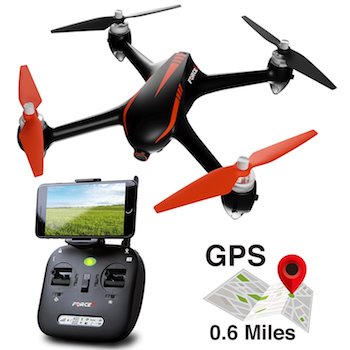 Force1 MJX B2W Bugs 2: This is an affordable and capable FPV beginner's camera quadcopter. It sports an HD 1080p camera with live video. The 1-Key lift/land feature, headless mode, and altitude hold make it easy to fly at any level. There are even three return-to-home modes that work up to 500m from the controller. If you want to experience First Person View (FPV) you've got that too.
UPair One Camera Gimbal Drone: It's easy to mistake this quality quad for the costlier DJI Phantom 3 at first glance. It's not a rip-off and it has certainly made a good name for itself in recent times not least because of the 19 minute flight time. There's a 2.7K, 7″, FPV monitor and live video feature for aerial videography. It's a great value camera drone that's pretty easy to fly at the entry-level.
Some of the beginner-friendly features of the UPair One includes position and altitude hold, headless mode, and 1-key return-to-home. It even has low-voltage and lost-contact return-to-home features.
Traxxas Aton Plus Quadcopter: This one's a little special in that it's incredibly fast—up to 50mph. It's still a capable camera drone for novice flyers. It doesn't come equipped with a camera but it does have a stabilized 2-axis gimbal platform. That means you get to choose what action camera you want to mount, like a GoPro, for example. The Aton Plus' beginner-friendly modes include effective air brakes, return-to-home feature, and dual-mode GPS.
#3 Rookie Racing Drones, the New Phenomenon
There's nothing to stop anyone racing any drone. But if you're serious about this up-and-coming sport then you'll want to consider a craft built for speed and with FPV capability. And yes, there are some pretty good Ready-To-Fly (RTF) racing drones at the entry level too.
Here are two racing drones best-suited for newbie racers: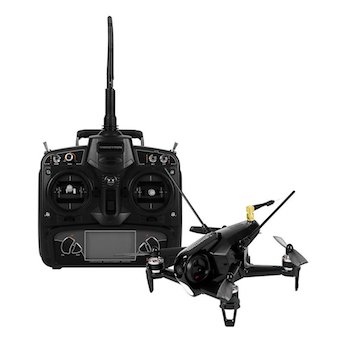 SWAGTRON SwagDrone: This is a great RTF model if you're new to racing quadcopters. It has zero-delay HD video capability for the ultimate transfer of real-time videos. The transmission range is an impressive 500m. The capable 600TVL camera gives you 110° field of view or FOV. Once you improve your skills you can switch from primary control up to mid and high-level flying modes.
Don't worry; there's a kill switch and failsafe feature if this flying robot ever runs away from you.
RISE Vusion 250 Extreme: This is a handsome beast and another RTF racer ready for FPV racing. Also included is an LCD video monitor and VR goggles. In other words, it has everything you need to start competing right out of the box. Although this puppy is perfect for beginner racers it's not the best choice if you've never flown a regular drone. It's fast, it's capable, but it does need some taming.
The Conclusion
If you've read this page from top to bottom you'll be in a good position to make better shopping choices. If you're still not sure what you want then read this simple guide again. It's quite normal to pick things up on a second read that get missed on the first. You might also want to print this page and keep a copy by your side if you need a recap of drone basic jargon and common abbreviations.