Which Drone Should You Get? A Complete Drone Buying Guide
3D Insider is ad supported and earns money from clicks, commissions from sales, and other ways.
Much like buying any piece of technology, buying a drone can be a pretty big decision for most people. Unlike computers and smartphones, however, not many people are familiar with how drones work or which models are most suitable for them. Since they are quite expensive, this level of uncertainty has resulted in many first-time drone buyers regretting their ill-informed decisions.
The key to getting a good drone is doing your research. The good news is that we've done all the research for you. No matter what reason you have for buying a drone, just check out our recommendations below for the best options.
Things to consider
Before we jump into the buying guide, let's preface it by listing down the most important factors to making your decision.
1. Budget
In terms of price, drones cover an extremely wide range – from less than $50 to more than $2000. As you would expect, how much you're willing to spend will determine how sophisticated your drone will be.
Anything that costs less than $100 is probably a toy drone meant for kids and beginners, while you can start to find beginner camera drones in the $100 to $500 range. Above $500, you should be able to find mid-range camera drones, particularly those with ultra-portable designs. At around $800 to $1300 are the "prosumer" drones, so-called because they have premium features and beginner-friendly controls. Above the $1300 price point
At this point, it's worth determining how much you're comfortable spending. Those who just want to fly for fun may opt for something a bit more budget-friendly, while those who aspire to eventually use their drones for profit may be more comfortable with something a bit pricier.
2. Level of experience
Not all drone models take kindly to beginners. Some models, particularly the high-end ones, have features that are far too complex for casual drone pilots or those who want to fly just for fun. Because these models are designed for advanced drone pilots, they usually do away with features that are meant to make them easy to learn, such as Beginner Mode and Headless Mode.
On the other end of the spectrum are the beginner drones with one-key take-off and landing, flips and tricks, camera gesture controls, and various learning modes. Some of these aren't exactly necessary but can be very appealing to those who have never flown a drone before. They also temper the learning curve of drone flight.
3. Camera quality
While it's true that not all drone pilots are after a good camera, it cannot be denied that the camera has become one of the most important components of a drone. It's the best way to show off what your drone can do. Taking aerial photos and videos is also one of the most fun things that you can do with your drone.
How much stock you put into the quality of the camera that comes with your drone comes down to your personal preference. Aside from the resolution of videos and images that you can capture, you might also want to think about how important a mechanical gimbal is to your purpose. Automatic camera modes can also be a great way to enrich your whole introduction to the world of drone photography.
What is certain is that a fancy camera drone will be a lot more expensive. Cheap drones typically have cameras that capture 720p or 1080p videos. Making the jump to 4K cameras can easily increase your budget requirement by $500 or more.
4. Drone flight laws
Drone use is so prevalent nowadays that the FAA has come up with unique drone-related laws. Among these laws is the requirement to register your drone with the FAA if it weighs anywhere between 0.55 and 55 pounds. This could be a wrinkle in your plans, especially if you were expecting to unbox a drone and fly it right away in your local park.
An acceptable way to subvert this requirement is to get a drone that weighs less than 0.55 pounds. There are several good options out there, even ones that come with onboard cameras. Take note that this rule only applies to recreational drone flight – all drones used commercially need to be registered, regardless of weight.
5. Accessories
The drone flight experience will never be complete with just the drone itself. You'll need a couple of accessories to enhance the capabilities of your drone, or simply to improve the quality of life when flying with the drone. These include spare batteries and propellers, multi-hub battery chargers, a carrying case, landing pad, sun hood, or a set of ND filters.
Some of these are more important than the others, but the point is that they may add a significant cost to your decision to buy a drone. Before you commit to a drone, it would be better to estimate how much you'll need to spend on accessories. They may be just as essential as the drone.
Drones for kids and beginners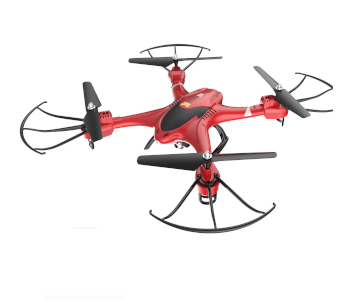 Holy Stone is a company that's well known for their line of entry-level drones. Their drones are budget-friendly, easy to use, and safe for beginners. Among their offerings, the HS200 is one of the more refined choices. It's not a particularly small drone but is portable enough to bring to the park for an afternoon of leisurely drone flight.
The HS200 comes with a 720p camera. The FPV capability means that the drone can transmit real-time images to your phone, which you can then use to frame your photos and videos. The camera isn't exactly amazing but it's good enough to capture media that you can share in social media. The controls of the drone are fairly intuitive, but you can activate Headless Mode if orientation proves to be difficult.
Although the HS200 sports fairly basic functions, it's not exactly small enough to be considered a mini-drone. This large form factor may appeal to those who want to learn how to fly standard-sized drones or to fly drones outdoors.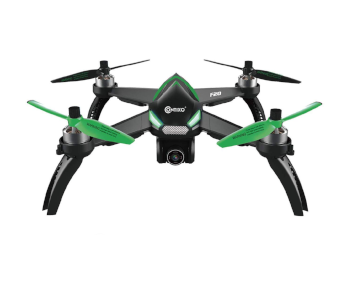 The F20 from Contixo may be considered pricey for a beginner drone, but it's a good of what you can expect from more premium models. Compact and fully assembled, the Contixo F20 is ready to fly right out of the box and is easy to pick up even for those who have no drone flight experience.
What makes the F20 distinct to other beginner drones is its versatile camera capabilities. The 1080p camera is nicely enhanced by an array of automatic camera modes including TapFly and Points of Interest. The beginner-friendly features are still there, plus a fail-safe return to home feature which should help prevent you from losing your drone.
The drone even has a "Follow Me" mode, which is unquestionably one of the most useful and fascinating camera modes in drones nowadays.
At close to $20, the Contixo F20 may seem a little too expensive for beginners. However, looking closely at what the drone offers seems to indicate good value for money. Contixo even throws in a carrying backpack with the drone. The drone may be expensive, but this isn't the kind of drone that you will outgrow quickly.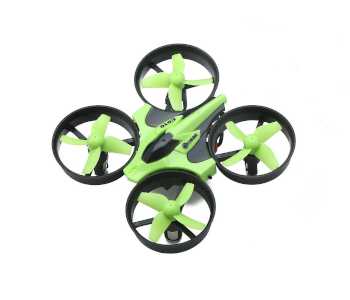 Safety will always be a concern when you hand over a drone to a kid, especially to one who is only coming to grasp the concept of hand-eye coordination. If this is a concern, then you may have to settle for a micro-drone such as this drone from EACHINE. Small enough to fit in the palm of your hand, this is the perfect way to safely introduce drones to kids.
This tiny drone comes with a dedicated remote controller and built-in propeller guards. Having to fly the drone with analog sticks feels much more intuitive and gives good practice for flying a full-sized equivalent. It has one-button flips and rolls and has a Compass Mode which automatically orients the drone relative to the location of the controller.
This drone doesn't have a camera, which is hardly surprising considering that it costs less than $30. Its battery also only lets it fly up to a maximum of five minutes, which could be frustratingly short. This drone is most certainly a toy and nothing else. It's fun and cheap, but even a kid would get tired of it after a while.
Drones that do not require FAA registration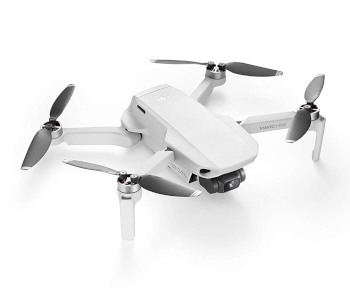 A drone that needs no FAA registration – that was the primary goal behind the design of the DJI Mavic Mini. This drone weighs just a hair below the 0.55-pound threshold, successfully avoiding the requirement while offering a good portion of the features we have come to expect from DJI drones.
The 2.7K camera mounted on a mechanical stabilizing gimbal is one of the biggest surprises in this mini-drone. The camera quality is top-notch and is miles ahead of any other mini-drone in the market today. The Mavic Mini even has all of the usual camera modes of other DJI Mavic drones, with a sole exception – the "Follow Me" mode. This is a pretty heavy omission, especially for aspiring drone photographers.
The fact remains that the Mavic Mini is easily the best drone if you want to fly under the FAA's registration requirements. With its excellent camera and the usual foldable Mavic design, the Mavic Mini is also a very good option for an entry-level drone that you can easily bring anywhere. It may be quite expensive but the value for money it offers is unquestionable.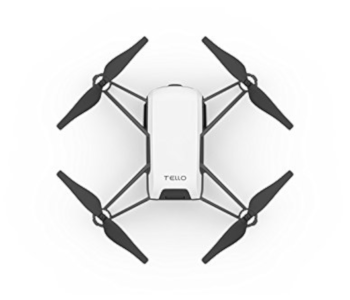 The Tello is a collaborative project of Ryze and DJI. If you're looking for the cheapest drone that bears the DJI brand, then this is exactly the one to get. This is one of the first few attempts of DJI to break into the beginner market and it turned out to be quite successful.
Despite the diminutive size of the Tello, it can be a fun drone for both kids and adults. Kids will love the throw and go feature, Bounce Mode, and the various tricks and flips that it can do. Adults can get a kick out of the Tello's 720p camera that can capture great shots using DJI's signature automatic camera modes. The Tello may not have a mechanical gimbal but it has an electronic image stabilization (EIS) sys to reduce jitter in videos.
The Tello has a dedicated SDK environment that allows for programmable functions using the Scratch platform. This elevates the Tello to being a STEM education tool particularly in the field of coding. For such a small and inexpensive drone, the Tello surely punches way above its weight category.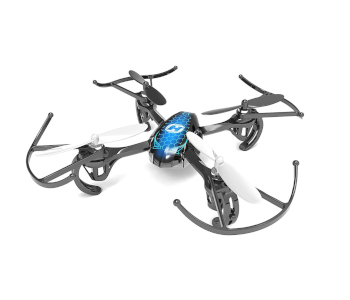 When going small means going all the way, then the HS170 mini-drone from Holy Stone is one of the more stylish options. The lightweight drone from Holy Stone isn't particularly exceptional but it does look good and can surely be used without needing to be registered with the FAA.
As with other beginner-friendly drones, the HS170 features a Headless Mode for easy learning. The six-axis gyro system provides good stabilization, especially when the Altitude Hold function is activated. The speed can be adjusted across three pre-set values to customize the complexity of drone flight according to your level of experience.
The HS170 costs less than $30, so it's no surprise that it doesn't have a camera. It really is nothing more than a toy. To make up for the lack of a camera, the HS170 odes have a set of LED lights that look great when you fly it at night. Kids should get a kick out of the HS170 Adults, on the other hand, might have to be on the lookout for something a little more challenging.
Mid-range camera drones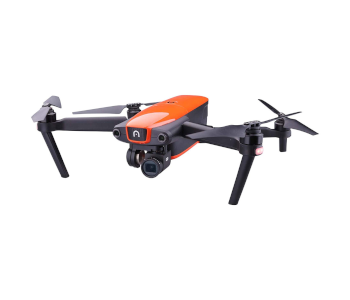 The Evo was created by Autel to rival DJI's Mavic line of ultra-portable drones. The effort gave the Evo a solid fighting chance with its 3-axis gimbal stabilization and a 4K camera that can record at 60 fps. It has redundant GPS and GLONASS modules, a remote controller with an integrated OLED screen, and better numbers than the Mavic Pro in flight time and maximum speed.
The Evo enjoys the same level of portability as the Mavic drones with its foldable propeller arms. Its bright orange color has since become iconic and has helped differentiate it from all other ultra-portable drones that have flooded the market in the last few years. In addition to its top-notch camera, the Evo offers an array of camera modes that should feel familiar to anyone who has ever used a DJI Mavic drone.
At less than $1000, the Autel Evo offers great value at a relatively budget-friendly price. Its specs may have since become outdated, but it is still inexpensive compared to other mid-range drone options.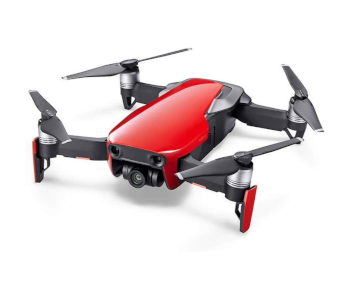 The Mavic Air has cemented its place as one of the most successful drones developed by DJI. It was the "little brother" of the DJI Mavic line back when it was released but boasted of superior specs than its more expensive predecessor, the Mavic Pro.
Before the Mavic Mini, the Mavic Air was the smallest, lightest, and cheapest of the Mavic drones. Despite this, the Mavic Air features a 4K camera that can record at 60 fps and can go slow-motion with 1080p at 120 fps. It was one of the few drones that allowed for Gesture Controls which went on to become a very popular way of taking drone selfies. It even has an advanced obstacle avoidance system that greatly augments its various autonomous camera modes.
Being small does have its price, namely the limited 21 minutes of maximum flight time and a relatively small transmission range of 2.5 miles. The Mavic Air is a little long in the tooth nowadays. Its price has dropped by a huge margin since it was launched, making it a compelling purchase even today.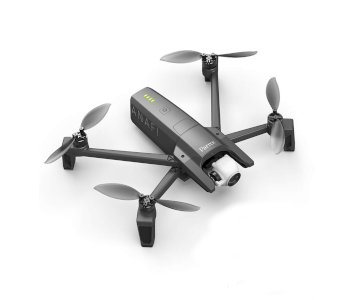 The Parrot Anafi is another twist to the usual ultra-portable drone design, changing it up a bit by mounting the camera in a manner that allows a full 180° vertical swivel. The camera itself can record 4K videos and even has an HDR mode for those challenging lighting conditions, all mounted on a 3-axis hybrid stabilizer.
The Anafi is an exceptionally lightweight entry into the ultra-portable drone market on account of its carbon fiber frame. This makes it a lot faster than most other ultra-portable drones and gives it an impressive flight time of 25 minutes. It has a smart Return to Home function that gets triggered if the drone loses communications signal or if its battery goes below a critical level. The Find My Drone function makes the drone act as a beacon so you can easily recover it even if it crashes.
The Anafi remains fairly expensive, which is sure to turn off some buyers. Still, it stands shoulder-to-shoulder with the two other entries for mid-range drones, offering a good balance of price, build quality and camera features. If you're looking for a drone that can your drone photography skills to the pro level, then the Anafi is a perfectly capable machine.
Pro-grade camera drones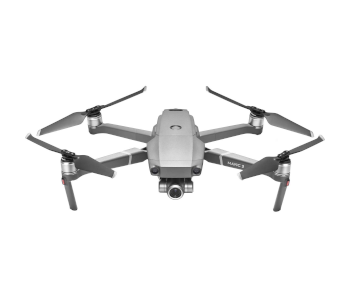 The Mavic 2 Pro was launched by DJI less than two years ago and was a huge step up in technology in their Mavic line of ultra-portable drones. Even today, the Mavic 2 Pro remains one of the best ultra-portable camera drones. Its Hasselblad camera with a 1-inch CMOS sensor is hard to beat, especially with its wide dynamic range and ability to capture 20 MP photos and 4K videos.
The Mavic 2 Pro was also the first DJI drone to come with an omnidirectional obstacle avoidance system, greatly enhancing the reliability of its suite of autonomous camera modes. The brand-new ActiveTrack 2.0 of the Mavic 2 Pro is a more intelligent version of the old "Follow Me" mode which uses optical recognition to identify a subject and predict its trajectory of motion.
The best thing about using the Mavic 2 Pro as a commercial camera drone is that it remains almost as portable as the older Mavic drones. It's certainly in the higher end of the price spectrum but its price has also dropped by a significant margin since it was launched.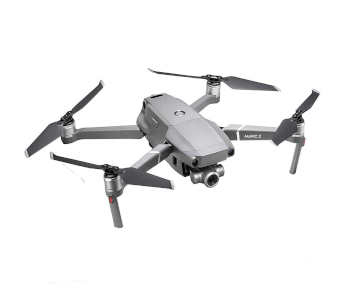 The Mavic 2 Zoom was launched alongside the Mavic 2 Pro. Instead of a large camera sensor, the Mavic 2 Zoom remained true to its name with a 2x optical zoom lens and 2x digital zoom. The total 4x lossless zoom capability made the Mavic 2 Zoom one of the most versatile ultra-portable camera drones in the market, even until today.
The camera of the Mavic 2 Zoom may not be as powerful as the one in its Pro counterpart, but it's nothing to sneeze at either. It can take videos at 4K resolution, has an HDR mode, and is capable of all the usual automatic camera modes. The Zoom has a couple of tricks that are unique to its skillset: the Dolly Zoom effect and the 48MP Super Resolution photo. These two features widen the possibilities of drone photography and are enough to justify investing in the Mavic 2 Zoom.
The Mavic 2 Zoom is a few hundred dollars cheaper than the Pro version. A professional-grade camera drone, the Mavic 2 Zoom has made it mark on the commercial drone market and has yet to be rivaled by anything similar.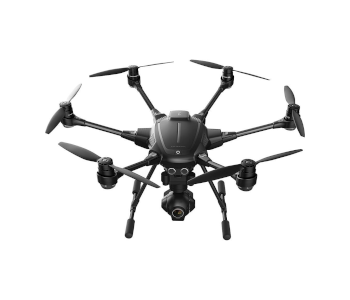 Let's leave the realm of ultra-portable drones for now and look into something much larger. The Yuneec Typhoon H Pro is a powerful hexacopter that immediately looks like it means business. Despite the intimidating build, the frame of the Typhoon H Pro is made with tough but lightweight carbon fiber to maintain its aerodynamics.
Located in the middle of this drone's retractable landing gear is the CGO3+ gimbal camera that can capture 4K videos and has 3-axis mechanical stabilization. The 360-degree range of motion can be very useful for drone filmmakers, more so because of the drone's sonar-based collision avoidance technology. With a suite of automatic camera modes to choose from, the photography and filmmaking potential of the Typhoon H Pro is virtually limitless.
As you can tell, this is an exceptionally huge drone. Bringing it around is made easier by its foldable arms, but it can still be quite a chore. It's entirely inappropriate for indoor flight and you certainly wouldn't want to carry it around for a long time. Still, the Yuneec Typhoon H Pro is a rare high-quality professional-grade drone that sells for less than $1500.
Final thoughts
Choosing which drone to buy can be overwhelming considering all the choices available nowadays. After all, a drone can be a sizable investment for most people. As with most matters, the choice of the best tool depends on what the job is.
Do you want to buy a drone to learn about drone flight or do you want to get one with the ultimate goal of being a drone photographer? This is the type of context that needs to drive your decision. We hope that we've helped narrow down your choices with our exhaustive buying guide.