8 Best Drone Christmas Gifts for 2019
3D Insider is ad supported and earns money from clicks, commissions from sales, and other ways.
It's almost Christmas again. Drones are high on the gift list this year, especially camera quadcopters. This short buyer's guide looks at some of the popular choices for 2019 and the reasons they're hot favorites. There are sure to be many first-timers here too, so keep reading. My candid reviews can help you avoid beginner buying-blunders and make better decisions.
What Drone Is Right for YOU?
Drones vary a lot between models, size, price, and skill levels. Young, novice users prefer small, lightweight quadcopters that are safe for indoor and outdoor use. Intermediate and advanced pilots are more interested in sophisticated flying cameras. These are the models that can produce cinematic-quality video. The reviews below focus on this year's best beginner and intermediate quads.
What to Look for in a Drone
Most drones share similar features, but they vary between models. First, set your budget. Some of the key buying considerations are the materials used, crash-resistance, and the availability of spare parts. After that, look at the flight times on a single charge, the cost of extra batteries, and battery charging times. Intermediated drone pilots should consider camera quality and capability along with tech specs.
Headless Mode Defined
Most drone features are self-explanatory. There is one, though, that I should explain if you're new, as it's less clear by the title. I'm talking about something called 'headless mode.' You can see this on most entry-level quadcopters. It lets new pilots focus solely on the drone's controller regardless of where its nose points. That means the craft always moves in the direction you send it from the remote.
About my Christmas Drone Guide
I have split these exceptional Christmas quadcopters into three categories. They are Beginner, Intermediate, and Advanced models. Moreover, I have arranged the products in each group by Best Budget Christmas Drone, Best Value, and the Top Pick.
—————————————————————————————————————-
3 Beginner Drones Under $100 for Christmas, 2019
The three entry-level drones below are firm favorites among novice pilots. Consider any of these models if you're buying a gift for a young child or a first-time user.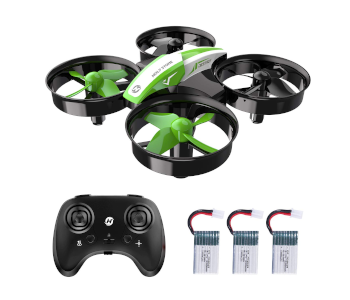 Editor's Rating: 4.6/5
Approximate Price: $25
The Holy Stone HS210 Mini is an affordable, beginner-friendly drone for first-time pilots. It's a tiny little quad that you can easily pack into a bag to take anywhere and fly anytime, indoors, or outside.
Main Attractions
It may be small, but the HS210 is big on features. This mini quad has all the beginner-friendly controls a novice could ask for. There's One-key Start/Stop, Altitude Hold for auto-hover, Headless Mode, and 3 Speed settings. It can even perform 3D flips in 4 directions, which adds to the fun. And if the newbie panics or the battery gets low, just hit the Emergency Stop button to bring the bird down.
The flight time is roughly 7 minutes, which is typical of small beginner drones. However, this puppy comes with two extra flight batteries (3 total). That gives you a combined flying time of 21 minutes. Always remember to let the tiny motors cool down between battery swaps, though.
Bottom Line
Holy Stone's HS210 Mini Quad makes an excellent stocking filler for Christmas. It's a perfect introduction to flying quads at any age. Best of all is that you can take it anywhere.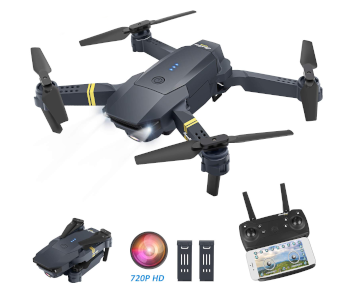 Editor's Rating: 4.8/5
Approximate Price: $53
The Best Value drone for under 100 dollars goes to the small ORRENTE 720p camera quadcopter. It's an ideal entry-level craft for budding aerial videographers with lots of attractive features.
Main Attractions
It's incredible how much the makers have packed into this drone at such a low cost. Foldable arms make it compact and safe to store when not in use. The built-in 120° angle 720p camera produces bright, sharp footage for a quad in its class. There's a clamp on the remote-control to accommodate a regular smartphone. You can then use the screen to view what the drone's camera sees in real-time.
First Person View (FPV) is not the only use for the smartphone. Download the free multi-function app to enjoy Voice Control, Gravity Control, and the Gesture Shoot. Beginner-friendly features include One-Key Takeoff/Landing, Altitude Hold, Headless Mode, and 3 Adjustable Speeds. And those who want a break from flying can enjoy performing 360° Flips, Rolls, and Aerobatic Spirals.
The flight time for the ORRENTE FPV drone is between 15+ minutes in calm conditions. It also comes with a bonus flight battery (2 total). Recharging is also fast at around 20 minutes.
Bottom Line
The ORRENTE is a small yet rugged, crash-resistant camera quad that comes ready to fly (RTF). It's lightweight, portable, and boasts features and functions usually found on more expensive models. You can fly it using only the controller, or unleash its extra features with a smartphone.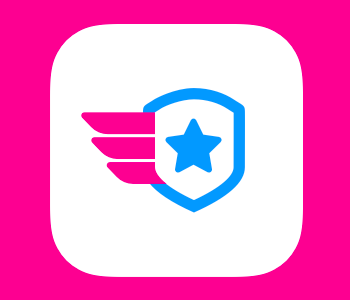 Here's a special, limited-time offer for anyone who wants to fast-track to a commercial drone pilot. The one-off fee gives subscribers lifetime access to the course and any updated material. You're free to fly your drone(s) commercially anywhere in the US once you pass the FAA Part 107 test. There are 3 practice exams to take, and 20 quizzes with over 250 questions. It's not as daunting as it sounds.
Here's a short breakdown of the course benefits and guarantees:
99.1% of all students pass this test
Guaranteed pass or you get a full refund
Over 4,100 students have already taken and passed this course
12.5 hours of short, easy to grasp instructional videos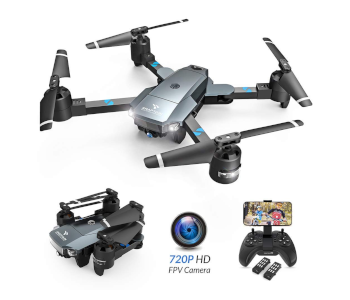 Editor's Rating: 4.7/5
Approximate Price: $89.99
My Top Pick for this year's Christmas drone under 100 dollars goes to the SNAPTAIN A15H. It's another travel-friendly, entry-level foldable camera quadcopter. Let's check it out.
Main Attractions
SNAPTAIN's A15H has many of the same features as the previous pick, plus some. Its built-in 720p camera has a 120° wide-angle adjustable lens. The remote controller has a smartphone clamp that lets you fly the quad in First Person View (FPV). Download the Snaptain Air App to enjoy extra controls like Voice Commands, Gravity Control, and Trajectory Flight.
Trajectory Flight is a fancy tern that means flight path. It lets you draw a simple route on the screen for the drone to follow. Beginner-friendly flight features include 1-Key Lift/Land, Headless Mode, Altitude Hold, and 3 Speeds. The fun modes are 360° flips—that look impressive yet are easy to do—and a Gravity Sensor Mode. The latter controls the drone by the direction you move the smartphone.
The flight time is around 7+ minutes per charge or 15 minutes with the bonus battery. However, the motors must have time to cool down between flights. Charging takes 1.5 hours (90 minutes).
Bottom Line
As an entry-level camera quadcopter, the SNAPTAIN A15H is hard to beat. It's a bestseller because it delivers on its promises and offers a lot of value. The A15H is well-built, feature-packed, and beginner-friendly to boot. It guarantees to put a smile on the face of anybody who gets one as a Christmas gift.
3 Drone's Under $500 for Christmas, 2019
Drones in this price category are a step up from the toy drones above. They offer a bit more of everything and are great quadcopters for teenagers and advanced beginners.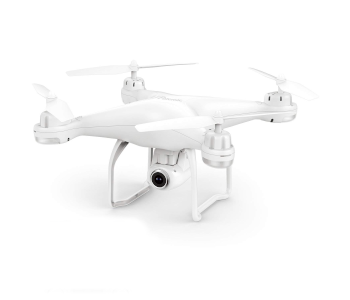 Editor's Rating: 4.6/5
Approximate Price: $180
Potensic T25 is a cost-effective step-up from the toy-grade quadcopters above. It's an excellent Christmas drone for older kids and adults keen to get into aerial videography.
Main Attractions
The drone has a built-in 1080P HD WiFi camera with a 120° field of view (FOV). The lens is also adjustable by 75° to give users more flexibility with shooting angles. It captures clear footage even at higher speeds. The T25 provides pilots with First Person View (FPV) via a smartphone screen.
This quad also supports Virtual Reality (VR) glasses for the ultimate FPV experience. Other features include a Follow Me mode, Custom Flight Path, and Auto Return to Home (RTH). The remote control is straightforward, accurate, and easy to manage. It has central touch-buttons and simple toggle-switch controls. The remote's smartphone clamp accommodates most of today's larger mobiles.
Flight time is a disappointing 8 minutes, but there's an extra battery to double the flying fun. The control range is around 980ft (299m), and charging only takes an hour or less.
Bottom Line
Potensic T25i is a popular budget-friendly camera quadcopter. That's because it's a fun and easy drone to fly and produces clear aerial stills and videos. It comes with a bunch of useful extras too. They include spare props, blade guards, landing gear, and a smart aluminum case to store it all.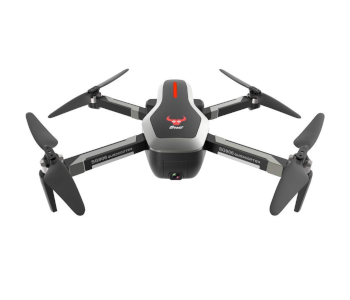 Editor's Rating: 4.6/5
Approximate Price: $230
Rabing's SG906 Beast dual-camera foldable drone makes the Best Value slot for under 500 dollars. It's a superb FPV quad that meets the sweet spot between toy-grade and intermediate models.
Main Attractions
This good-looking bird is well-made and rugged. Its unique dual-camera system captures stunning 2K photos and 4K video. GPS positioning brings it to an ultra-stable hover for aerial shooting. It works seamlessly with WiFi-enabled smartphones that open a plethora of much-loved features. There's a Follow Me & Film mode, Gesture Photography, Path Fly, Point of Interest (POI), and more.
The 1-button and Auto-Return to Home (RTH) features for lost signal and low battery are invaluable. These modes prevent accidental loss, accidents, and the dreaded flyaways. This quad uses powerful brushless motors that are quieter and longer-lasting than the brushed alternatives. The flight time is a respectable 23+ minutes, and the drone has a control distance of around 2,624ft (800m).
The biggest letdown is the extended 300 minutes (5 hours) battery charging time. Most new users will want one or two spare 7.4V 2800mAh batteries with their kit to avoid flight interruptions.
Bottom Line
Rabing is becoming a better-known brand as time goes by. It's SG906 Beast 4K camera quadcopter here has a plethora of amateur-level features that deliver semi-pro results. It's a perfect model for teens and adults who want to take their flying and aerial filming skills to the next level.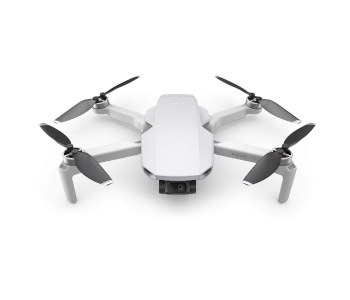 Editor's Rating: 4.8/5
Approximate Price: $469
The Top Pick for this category goes to the all-new DJI Mavic Mini FlyCam. It's been a long wait for sure, but it's here now. There are going to be some Happy Bunnies this Christmas.
Main Attractions
The Mavic Mini FlyCam is not much heavier than a regular smartphone, weighing just 8.8 ounces. It folds too, so it's small, lightweight, and travel-friendly. The 'cute' factor is also going to appeal to a lot of younger drone enthusiasts. I've chosen the Essential Bundle for the Christmas version. It comes with a smart DJI Backpack, a Deco Gear Drone Landing Pad, 64GB SDXC Card, and Editing software.
DJI's Mini has a 3-axis gimbal camera that captures 12MP stills and high-def 2.7k video. The included software makes light work of recording and editing for entry-level aerial videographers. This palm-sized drone is stable in the air for such a lightweight craft. It can fly for an impressive 30 minutes on a single charge, up to a range of 2.5 miles (4 km). It's a fast bird too, with a top speed of 29 mph.
Charging the Mavic Mini's Intelligent Flight Battery takes around 90 minutes on a quick charge. Most users will want to factor a spare battery into the price, which retails at about $49.
Bottom Line
The Mavic Mini FlyCam lacks some of the physical and shooting features found on larger models. That's the compromise for its small size. Still, this little guy isn't competing with the bigger quads. DJI promotes it as a high-quality, bag-friendly, flying camera quad, and for that, it checks all the boxes.
3 Drone's Over $1000 for Christmas, 2019
Many who shop for drones over 1000 dollars are experienced amateurs and professional pilots. These are all fantastic flying camera quads that produce outstanding aerial stills and video. All three camera drones below are exceptional quads that meet or exceed the expectations of those who fly them.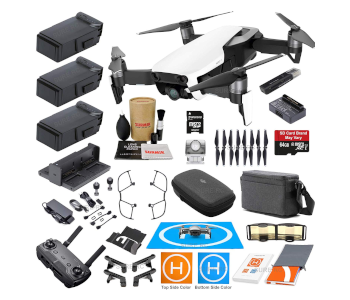 Editor's Rating: 4.7/5
Approximate Price: $1080
Anyone interested in the DJI Mavic Air already knows plenty about this incredible flying camera. The one I chose for this Christmas is the Artic White edition, Fly More Combo, Bundle Kit.
Mavic Air Fly More Combo Contents
This meat of this Mavic Air bundle includes a DJI remote controller, 3 flight batteries, a gimbal holder, a DJI travel bag, and a smart carrying case. The charging hub accommodates up to 4 batteries simultaneously and works together with the included charger.
The other manufacturer's accessories in this Fly More Combo include:
12 propellers (total of 6 pairs)
Set of protective propeller guards
AC cable for the DJI charger
DJI Power Bank Adapter (batteries as power banks)
Extra pair of remote control sticks
Various cables & adapters
DJI Quick Start manuals
And the bundle kit includes the following extras:
PGY-TECH 20" quick-fold landing pad
Landing gear Riser kit
Parabolic remote signal reflector
Sun hood for camera
64GB SD UHS card
USB 3.0 SD card reader
Surmik complete drone care kit
Feature Highlights
DJI created the Mavic Air as the drone for adventurers—a flying camera to go wherever life takes you. Its foldable, ultra-portable appeal, high-quality build, and superb flight performance make it stand out. A 3-axis mechanical-type gimbal guarantees buttery smooth movements and steady shots. The quad shoots stunning 4K video at 30fps (frames per second) and tack-sharp 12MP stills.
There are too many excellent features and functions to cover in this short review. Some of the standout ones include 3-Directional Environment Sensing, 32MP Sphere Panoramas, and Smart Capture. Others are the Enhanced WiFi Video Transmission and a fast top-speed of around 42.5mph (68.4km/hr.). Flight time is average at only 21 minutes max, but there are 3 batteries in the box.
Battery charging takes just under an hour, which is quick. The intuitive remote control is also worth mention. It has a 5.8GHz operating frequency and a control distance of up to 2 miles (3.2km).
Bottom Line
DJI's Mavic Air has been with us since January 2018 and continues to sell well. It's ideal for adventure travelers thanks to the rugged construction, compact design, foldable arms, and superb handling. This small, powerful drone has a decent obstacle avoidance system and a plethora of autonomous flight modes. The Mavic Air is a no-brainer if it checks enough boxes and is within budget.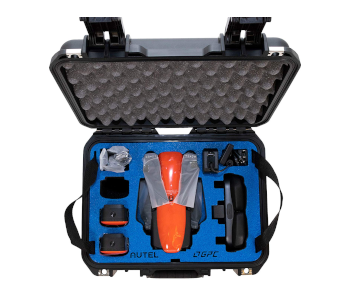 Editor's Rating: 4.8/5
Approximate Price: $1199
Autel Robotics EVO 4K camera quadcopter is a good-looking drone with a bright orange finish. It's a compact drone with foldable arms, making it another high-quality, travel-friendly flying camera.
Main Attractions
The EVO's closest rival is the DJI Mavic. This beautiful quad can produce superb cinematic quality footage with its 3-axis gimbal-stabilized camera. It films video in 4K at 60fps (frames per second) and shoots spectacular 12MP aerial stills. The controller is also unique in that it has a 3.3" OLED screen built-in. That means you don't need a smartphone to view vital flight data or for FPV.
However, users need to attach a mobile device to exploit Dynamic Track and various other shooting modes. The controller's OLED can display live feeds in 720p HD video. The remote also has one-touch action controls for easy handling. It's all there—camera control, auto takeoff/landing, and both manual and automatic Return to Home (RTH) functions.
Fly Further for Longer
The EVO comes with front and rear-facing obstacle detection and avoidance. Sensors on the bottom facilitate stable close-proximity flights and accurate landings. You can expect around 30 minutes of flying and filming on a single charge. That gives pilots plenty of time to reach their destinations and back. And the EVO's maximum control range is 4.3-mile (7km).
Bottom Line
Autel Robotics EVO is a 4K gimbal camera quadcopter that's feature-packed and fun to use. This bird folds, flies, and films precisely the way pilots expect it to. It's a solid drone that gives an extended battery life, an exceptional range, and obstacle avoidance. The ultra-bright orange color makes it easy to see in a cloudy sky when flying within the line of sight (LOS).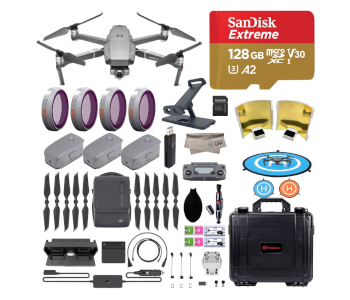 Editor's Rating: 4.9/5
Approximate Price: $1,890
Last on the Drone Christmas list is the popular DJI Mavic 2 Zoom. It's an incredible, lightweight, foldable quadcopter equipped with an awesome 2 x optical zoom lens. This set is the Fly More Combo that comes with a whole bunch of essential extras (see below).
Mavic 2 Zoom Fly More Combo Contents
This Mavic 2 Fly More Combo has everything you could possibly need to fly and maintain this drone. There's the dedicated DJI remote controller, 3 flight batteries, battery charger, charging hub, and a car charger. For storage, you get a smart DJI shoulder bag and a waterproof Smatree hard case.
Other accessories in this Mavic 2 Zoom Fly More Combo include:
Rugged gimbal protector
Replacement remote control sticks
PGYTECH ND filter
PGYTECH tablet holder
Power cable and various RC cables, i.e., Lightning, USB, etc.
Small and large RC cable sliders
USB adapter
Battery-to-power bank adapter
Drone 75cm landing pad
Spare Mavic 2 propellers
128GB SanDisc MicroSD card
MicroSD card reader, USB 3.0
Vancity UAV Drone care cleaning kit
The sales page has a detailed display of the entire kit and all its accessories.
Main Attractions
Zoom lenses are a relatively new concept for camera quads, but this one doesn't disappoint. The Mavic 2 has a fabulous 2x 28–48mm optical zoom lens and 2x lossless digital zoom. Its camera produces smooth 4K cinematic video and shoots sharp 12MP aerial photos. The zoom can get close to those otherwise hard-to-access areas. It also makes it safer to film fast-moving subjects from a distance.
The Mavic 2's build-quality is first-rate. It looks fantastic and feels like the precisely engineered model that it is. The drone has 8GB built-in storage and a MicroSD slot that supports cards up to 128GB. This beautiful bird has obstacle detection and avoidance systems to keep it safe in the sky. And the three Return-to-Home functions make sure the quad can always get back to base.
Mavic 2 Flight Performance
All the signature DJI Intelligent Flight Features are accessible via the intuitive DJI GO 4 app. DJI's Mavic 2 Zoom and Mavic 2 Pro don't disappoint on the performance front, either. Flight time on a single charge can last up to 32 minutes in optimal conditions. The flight range is an incredible 5mi (8km). And the top speed can reach around 44mph (70.8 km/hr.) in Sport Mode.
Bottom Line
The Mavic 2 Zoom is worth consideration whether you're a keen amateur or professional filmmaker. It's foldable, travel-friendly, easy to use, and excels in all the right areas. Long battery life, extended control range, and high speeds make this the ideal quad for exploring remote locations. The only boundaries are those limited by the user's imagination.
——————————————————————————————————————-
Experience Immersive First Person View
This final section looks at FPV goggles. First Person View headsets are the only way to put yourself in the virtual pilot's seat. The examples here are all popular products and make great Christmas gifts. Some key buying factors for FPV headsets are budget, comfort, batteries, charging, range, and resolution. Aim for 1080p whenever possible.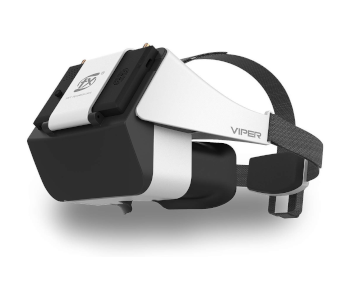 Editor's Rating: 4.7/5
Approximate Price: $179
The FXT VIPER V2.0 are superb FPV Goggles for advanced beginners. That typically means anyone who's experienced immersive FPV with cheaper headsets and are ready to move to the next level.
These goggles have a unique design that accommodates folks who wear eyeglasses. They use optical refraction to eliminate eye strain, even after extended wearing. The ergonomic design makes them comfortable and removes areas of stress, namely the eye area and across the nose. Other highlights include a detachable 5" monitor, built-in DVR recording, and easy-to-navigate menus.
Point to note: FXT VIPER V2.0 supports HDMI IN, 1920 x 1080 resolution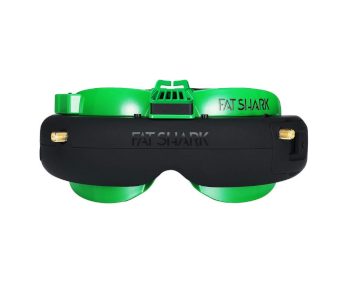 Editor's Rating: 4.8/5
Approximate Price: $309
The Attitude V5 headset is what Fat Shark refers to as the little brother of its Dominator HDO. This version is the limited machine green, which adds to its aesthetic appeal. The Attitude V5 feels comfortable as well as look sleek and hip. There are plenty of features too. The set comes with a DVR or digital video recorder and has a built-in 5.8GHz modular OLED dual-receiver.
Easy-to-navigate one-touch controls make light work of channel scanning and band change. The accessory set includes circular and patch antennas, plus battery and zipper cases.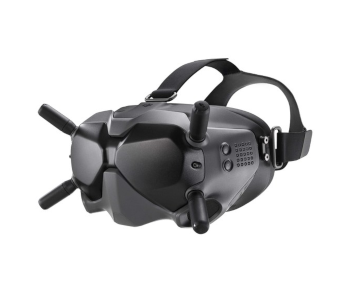 Editor's Rating: 4.7/5
Approximate Price: $529
These FPV goggles are for DJI products. They boast reliable anti-interference technology, low latency, and an extended transmission range. The headset looks bulky but is surprisingly comfortable for average sized heads. The total weight—including the antennas and headband—is 14.8 ounces. It's a long-lasting, rugged, and well-engineered product for FPV fans and drone racing enthusiasts.
The screen size is 2" x 2" with a resolution of 1440 x 810. Wearers can adjust the field of view (FOV) from 30 to 54-degrees. The image size can change from 50–100%. These high-quality DJI goggles come with foam padding, a headband, power cable, 4 antennas, 1 USB-C cable, and a bundle pocket.
Point to note: DJI dedicated goggles work with Air units and the latest DJI drones.
Immersive FPV on a Budget
Unsure whether FPV goggles are your thing, or not? Don't worry—there are plenty of cheaper products than the ones here if you want to experiment on a tighter budget.
FPV first-person view googles under 100 dollars.