How Much Do Drones Cost?
3D Insider is ad supported and earns money from clicks, commissions from sales, and other ways.
Have you ever wondered how much drones cost? Not military drones – as interesting as they are from a technological viewpoint. No, I'm talking about the growing range of legally operated civilian drones. If this is a topic that fascinates you, keep reading to discover your options.
Like all advancing technology consumer drones are getting better and cheaper all the time. You can find tiny drones starting for as little as $30. More professional quadcopters cost $1700+.
Before You Buy a Civilian Drone
Before we look at the types of drones and their price tags, let's step back for a moment. Here are six of the most frequently asked questions that I'll answer in some detail further down the page.
What are consumer drones?
What's all the fuss about quadcopters?
What kinds of drones can you easily buy?
Who makes civilian drones?
Can you buy drones equipped with cameras?
How reliable are drones?
You don't have to be a techie to appreciate drone technology. This is something that's capturing the attention of almost everyone. Unlike old remote controlled planes that have been popular for decades, drones are taking to the skies in a whole new way.
OK, let's now look at the answers to the drone-related FAQ
What Are Consumer Drones
The most simplistic description of a consumer drone is an unmanned aircraft. More technical terms go by the names of unmanned aircraft systems (UAS) or unmanned aerial vehicles (UAV). Whatever terminology you use, it all means the same basic thing: a flying robot!
There are four main features that make consumer drones so exciting:
You get to fly them, either by remote control or via software-controlled flight plans
You can take beautiful aerial videos
You can deliver stuff between friends
You can have drone races
The commercial applications of drones have no limits, but that's something for another article.
What's All the Fuss About Quadcopters?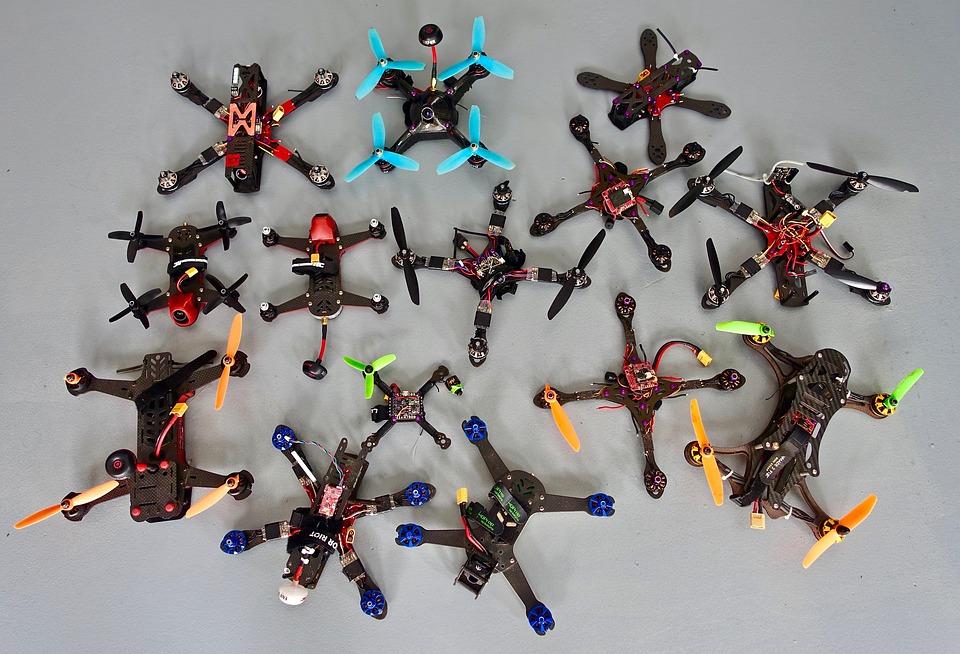 Quadcopters are the most sought after public drones. That doesn't mean you have to fork out a fortune to enjoy a quadcopter. It depends what you want yours to do. Let's look at your options.
There are four basic quadrotor categories to choose from:
Toy quads: $30-$100
FPV racing quads: $170-$900
Home built quads: $350-$1000+ with upgrades
Professional video drones: $370-$1,700
Toy quads are a great introduction to civilian drones. Some even come equipped with basic cameras for taking aerial snaps and short video. FPV racing quads are self-explanatory. Racing drones is either something you can't get enough of or it doesn't interest you at all.
Home built quads are for the serious hobbyist. These are people who are as interested in the workings of their drone as they are about flying it. And professional video drones are the most sought after of all. Search for 'drone aerial videos' on YouTube. Holiday snapshots will never look the same again.
Who Makes Consumer Drones?
Interest in drones is increasing competition among manufacturers. Consumers have never had so many options before. The most popular are easily quadcopters. If you're new to consumer drones, then a lot of these brands won't mean much to you. At the moment, the Chinese dominate the consumer drone market.
As with all consumer products, make sure you research your options before making a decision. Amazon is one of the best places for consumer reviews.
Although there are many drone brands not mentioned below, we have picked the best ones. I'll update this page every so often when new names establish a reputation for themselves:
Most popular Far Eastern consumer drone manufacturers:
Cheerson Hobby (Chinese)
DJI Innovations (Chinese)
Hubsan (China)
JJRC (Chinese)
Syma Toys (China)
UDI RC (Chinese)
Walkera (Chinese)
Yuneec (Chinese)
American civilian drone makers include:
3D Robotics (USA)
GoPro (USA)
Hobbico (USA)
Blade (USA)
Other public drone manufacturers:
Can You Buy Civilian Drones with Cameras?
Yes, you definitely can. Purpose-made video drones are much better than strapping a GoPro or other third-party camera to a drone. The photographic quality and shooting angles with some of these flying machines is nothing less than amazing. The reason why you want a speciality camera drone is because they often have special stabilization software to get clean shots.
Some of the better consumer drones don't stop at basic cameras either. They include other features that help you to capture your still and video footage in stunning detail.
The full range of camera drone optical features includes:
Integrated Camera
4K UHD Video
Image Stabilization (must-have feature)
Autofocus
Burst Mode
High Definition (HD)
Other popular built-in features are:
Built-In GPS
Rechargeable batteries
Built-in Wi-Fi
App-Controlled
Memory Card
AC Adapter Compatible
You probably won't find a camera drone that has all these features, but some will check a lot of boxes. Knowing what you want from your drone will certainly help in the decision making process.
There are too many camera drones to list here, but three worth checking out include:
DJI – Mavic Pro Quadcopter with Remote Controller: $999 | PRICE CHECK
GoPro Karma Drone with HERO5: $1,099.00 | PRICE CHECK
Parrot BeBop 2 Drone bundle: $500 | PRICE CHECK
How Reliable Are Civilian Drones?
The quality of electronics and better construction has made modern consumer drones much more robust. They're also a lot more reliable compared to the earlier models. Despite these improvements, public drones are still pretty much at the innovation stage. The more you use them, the more likely you are to run into maintenance issues.
Some drones are much more reliable than others. The marketplace is now becoming so crowded that there's a ton of useless machines on sale. As always, stick with brands and reputation whenever possible. Read user reviews and take your time before you make a decision.
Established brands might cost more at the checkout, but they'll save you in the longer term. Don't fear Chinese manufacturers as well. Many consumer products that came out of China used to be notorious for low quality. Today, however, the Chinese are much better at producing high-quality products like drones.