How Much Can I Earn as A Drone Pilot?
Drones started to become popular in the mainstream sense because they were fun to fly around. IN more recent years, another phenomenon has started to take over: the use of drones to do actual, productive jobs. The market for drone-based services continues to attract industries, companies, entrepreneurs, educational institutions, and aspiring professional drone pilots.
If you've ever considered ditching your job to be a commercial drone pilot (or even just doing it on the side), then you've probably wondered how much you can earn with this gig. We've done the research, so you don't have to. Check out the figures below.
How big is the market for professional drone-based services?
Bigger than ever. An upside of the Part 107 licensing requirements before any drone pilot can practice commercial drone flight is it has allowed the FAA to keep close tabs on the number of professional drone pilots in the US.
The Part 107 rules were set in place by mid-2016. By the end of 2017, the FAA had issued more than 73,000 remote pilot certificates. If the projections by the FAA hold true, this number could reach more than 300,000 by 2022. This rapid increase in licensed drone pilots is partly because of a low barrier to entry in acquiring the license – drone pilots only need to pass a 60-item multiple-choice knowledge test as the major requirement. To date, aspiring professional remote pilots have posted a 90% passing rate for the knowledge test.
In terms of drone registration, the FAA hit their millionth registration about April of last year. At this growth rate, the number of registered drones could hit 3.5 million by 2021.
Back in 2013 when the commercial drone service industry was still in its infancy, the Association for Unmanned Vehicle Systems International (AUVSI) estimated that in ten years, there would be around 100,000 new jobs that were borne out of drone technology. Five years after that prediction was made, there are already more than 70,000 jobs according to the FAA.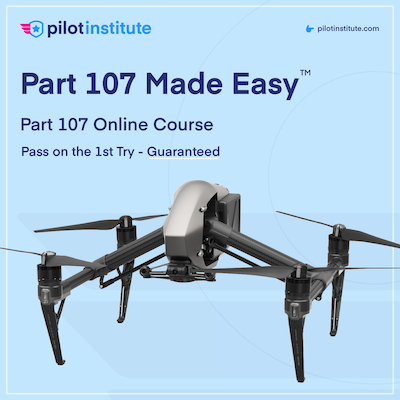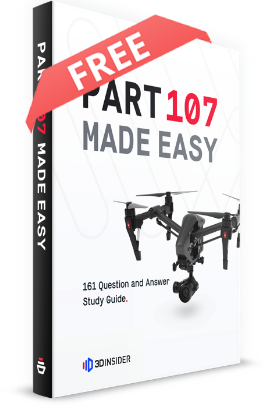 PART 107 Made Easy
161 Question and Answer Study Guide
105 pages of illustrated content
Covers all parts of the Part 107 test
$97 of value for free
Is the market saturated?
All these figures point to a few conclusions. The first is that the job market for drone services continues to thrive. With more companies starting to recognize how their businesses can be helped by drones, the opportunities for drone pilots are not just plentiful but have also become more diverse.
From the data, we can also see how eager drone pilots are to build a professional career out of drone flight. With the market being flooded by more and more commercial drone pilots, it is only a matter of time before the rates for drone-based services start to decrease due to an oversupply. We have already seen some evidence of this, as industrial drone inspection rates are said to have dropped to about a third of what they were just two years ago.
The good news is that, even with the lower rates, having a successful commercial drone pilot career is still very profitable. As drone technology becomes cheaper, the financial barrier to commercial drone flight has become lower than ever. You can probably get a high-end drone setup for $2000 to $3000. As we'll see later on, earning back this initial investment will prove to be very easy.
How much do drone pilots earn nowadays?
Now, this is a complicated question. The types of services that drone pilots vary across a huge range and these can greatly affect how much a drone pilot can earn. A drone pilot with specialized services such as industrial inspection or land surveying will inevitably demand a higher rate than a drone photographer. To set things equal, we will merely look at the AVERAGE amount that drone pilot can earn, regardless of specific services being offered.
Another factor that can affect the earnings of a drone pilot is experience. Naturally, a pilot with more than five years of experience can charge a premium compared to those who have just started their careers. Their reliability and successful job history count for something, after all. They are also typically tapped to take on more difficult and high-paying jobs.
Two resources were used to look up for the usual earnings of drone pilots: PayScale and Glassdoor. These sites rely on user contribution to gain insights on jobs, opportunities, and companies. Take note that these figures are averages – actual values can be distributed across a wide range.
1. PayScale
Searching for drone pilot jobs in PayScale, three official job titles seem relevant – Drone Pilot, Drone Operator, and UAV Pilot. PayScale provides estimates for the annual earnings of each job title, separated by tiers according to the level of experience. The earnings estimates from PayScale are summarized below.
Job title
Level of experience
1 to 4 years
5 to 9 years
10 to 19 years
Drone pilot
$50,565
$65,000
$87,000
Drone operator
$47,917
$67,249
NO DATA
UAV pilot
$55,000
$83,000
$95,000
As the data shows, it can be pretty tough to break into the industry. While you can easily earn back the initial investments you made for your drone setup within a year, the potential earnings for a beginner drone pilot aren't mind-blowingly good. The practice does start to pick up once you earn some experience.
2. GlassDoor
The database of GlassDoor for drone pilot salaries isn't quite as rich, probably because there are fewer contributions. There is also quite some diversity in the job titles that all pertain to being a drone pilot. From GlassDoor data, the following deductions can be gleaned:
A "Drone Pilot" can expect to earn an average of $47,752 annually. This figure comes from just a single contribution – a drone pilot from AUV Flight Services – so we wouldn't consider it as representative of the industry.
A "UAS Pilot" can earn a much higher figure – $63,742 per year. However, this figure seems to have been inflated by the salary of a UAS Pilot employed by Stark Aerospace, an aerospace and military defense company. This company is likely to be providing a higher rate than usual.
Lastly, a "UAV Operator" can earn around $46,336 annually. This figure appears to be the most reliable, as it is the average figure from almost 30 salary contributions to the site. There's a pretty wide range though, from some reporting annual earnings as low as $25,000 to others reporting as high as $90,000.
What does it take to succeed?
We know what you're thinking – the figures seem underwhelming, discouraging even. While there's certainly potential to build a successful career as a drone pilot, you most likely can't live on just your earnings as a professional drone pilot, at least for the first few years. The good news is that this is the usual story that successful drone pilots about how they began their careers.
Take the story of Andrew Dean, who invested not just in his drone equipment but also for a thermography training course. The first few years of his career were disappointing, with his first year even coming up to a loss. On his second year, he earned only $30,000. Slowly but surely, Dean gathered more experience and skills to get higher-profit jobs. As of 2018, Andrew Dean was on track to earn $200,000.
What this story emphasizes are the top two qualities for you to make your mark on the drone industry: experience and specialization. Drone pilots who earn top dollar offer services that not many drone pilots can offer. This can require investing a bit more. Thermal cameras, NDVI sensors, LiDAR sensors, RTK, and PPK modules – these types of equipment can cost even more than the drone itself.
Along with special (and expensive) equipment, you'll also need to invest in your skills. Not just anyone can do thermal imaging, and it's certainly not a skill you can learn on your own. Look for training courses, preferably those that offer formal certifications. Having finished these training courses will look great on your marketing materials.
Is being a professional drone pilot still a viable career option?
With more than 300,000 drone pilots bound to be competing in the drone service market by 2022, you'll need to go to great lengths to stand out. Thus, building a career as a professional drone pilot isn't an express train to success. As with any career or business venture, hard work and strategy play crucial roles.
Drone services are pretty specialized as it is, but that won't remain for long. As the market becomes saturated, specialization becomes even more important. As experts say, you have to offer services that are "a niche inside of a niche." Look for drone services that only a few people can offer in your area and start studying up on those. This will greatly increase your chances of success.
In response to the question, YES being a professional drone pilot is still a viable career option. There are no guarantees, though. As with any other line of work, you're going to have to be both smart and hardworking.
Final thoughts
If you were under the assumption that making the shift to being a commercial drone pilot is a certain way to success, then we're going to have to disappoint you. Just as with any business venture, not all aspiring drone pilots turn out to have successful careers. In the early years, you might earn enough to pay the bills but not much more.
In a field that gets more and more competitive every year, you'll need to stand out based on experience and skill. This takes a lot of investment in terms of time, effort, and money. If you are unsure whether a career in drone services is for you, then try doing it as a side hustle. This is a good way to build experience while you still have another day job.