How Do I Get a Job as a Commercial Drone Pilot?
3D Insider is ad supported and earns money from clicks, commissions from sales, and other ways.
The idea of a dream job is something that evolves with time and technology. Up until a few years ago, everyone wanted to be video game testers or to develop the next big mobile app. Nowadays, there seems to be a new candidate for this esteemed list of dream jobs: to be a drone pilot. With an increasing demand for various drone-based services, what started out as a hobby for most people could turn out to be a profitable venture.
If you are one of these dreamers who are looking to make it big in the drone industry, then read on as we cover all the essentials of being a successful drone pilot.
Know your market
The market for drone-based services was estimated to have a value of $705.3 million back in 2016, and experts have forecasted that this figure will grow to $18 billion by 2022.  Currently, the demand for aerial photography takes up the largest chunk of the drone-based service market. This is driven in large part by drone photography increasingly being typical or normal for special occasions, such as weddings or birthdays. It has also become a standard film-making technique.
Drone use for the infrastructure industry has been catching up to drone photography in terms of market share. Studies predict that this industry will see the highest growth in terms of drone use in the next couple of years. Drones have been used to monitor the progress of construction projects, to track and locate stockpiles, and to assess the safety conditions of critical areas.
This is the kind of information that you will need for when you decide to start a drone business. The first step in starting a profitable activity is identifying where the opportunity is. After all, there is now a huge variety of industries that have started to utilize drone technology. However, the drone industry is not just growing, but it is also expanding. What used to be smaller markets have started to expand, and perhaps it is in these expanding areas that you will find your place. After all, we can't all be drone photographers.
We recommend that you play up to your strengths. If you have a knack for the creative and you have experience in photography, then maybe drone photography is still your best option. If you are connected with the tourism or real estate industries, then perhaps you can explore doing advertising work for them. If you know someone who is doing drone work for more specialized industries such as agricultural monitoring or terrain mapping, then maybe you can suggest taking an apprentice role.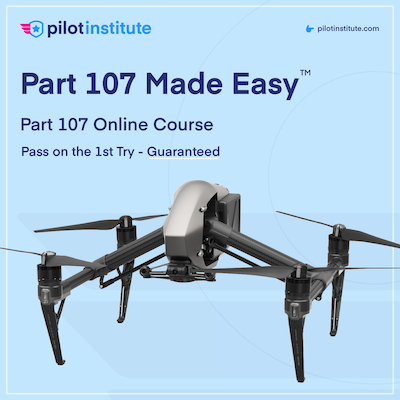 At this point, what matters is that you identify an industry that you are aiming to enter and focus all your efforts towards it. You may also use this time to build a network of contacts relevant to your industry – attend conferences, consult other entrepreneurs, ask around for potential clients.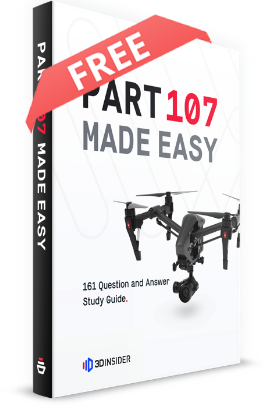 PART 107 Made Easy
161 Question and Answer Study Guide
105 pages of illustrated content
Covers all parts of the Part 107 test
$97 of value for free
Cover all the basics
With a clear target in mind, it is time for you to start gathering all the essentials of starting a drone business.
1. Get a Part 107 drone license
As of August 2016, all commercial drone pilots are required to get a Part 107 remote certificate, or drone license. Implemented by the FAA, the Part 107 regulations aim to establish a standard set of requirements and restrictions for all drone pilots.
One of the major requirements in getting a drone license is for the applicant to pass the Part 107 knowledge test. This is also probably the single hardest step to get through in the whole process. You are going to need to study for the test seriously. Fortunately, there is no shortage of free and paid training courses for the knowledge test online.
Once you have passed the test, you should be issued your drone license after a TSA background check. This makes you an official FAA-certified drone pilot who can fly for commercial purposes legally. Keep in mind that the license is only valid for 24 months, after which you will need to renew it.
Part 107 Course:
Use coupon code '3dinsider50' for $50 off
Pilot Institute
.
2. Buy a drone
In addition to the license, another bare minimum requirement to be a drone pilot is to buy your own drone. If you are still new to the whole drone flight experience, then we suggest getting one of the entry-level drones that are also high quality – perhaps a DJI Spark or a DJI Mavic Pro. These drones are intuitively easy to fly and have enough hardware in them to make them viable drones for commercial operations.
If you've already had experience flying entry level drones, then perhaps this is the best time for an upgrade. Higher end drone models, such as the Phantom or Inspire drones, may be more appropriate for applications that require extra speed or stability. They are also more expensive and technically demanding, so make sure that you are up to the challenge.
If you need special equipment to be mounted on your drone, such as thermal scanners or laser mapping equipment, then you will need a drone that has a good capacity payload. Examples of these are the DJI Matrice drones or the Yuneec Typhoon H920.
Having a drone is not enough. If you are going to be a successful drone pilot, you will need to be ready for unforeseen events in the field. To equip yourself for such events, you will need an array of drone accessories which should include extra batteries, extra propellers, extra SD cards, a car charger, a sunshade, and a host of other auxiliary items.
3. Get liability insurance
No matter how good of a drone pilot you turn out to be, there is no guarantee that you will not run into accidents. These accidents can snowball into bigger problems if you end up damaging some property or hurting a person. For this reason, it is vital that you protect yourself and your potential clients by getting an insurance plan with liability coverage.
Liability insurance is essential should your drone crash. This is such an important part of running a business that some clients may not even considering hiring a pilot without an insurance policy.
In deciding how much coverage you will be applying for, it is important to put it into the context of the specific drone application you will be doing. If there's inherent risk of high value property damage, then that's something you need to consider in estimating a coverage. Similarly, if you are carrying expensive equipment in your drone as part of your services, you need to make sure to be able to pay for the cost of that equipment should you run into an accident.
4. Specialize your skills
In such a competitive field, merely being able to pilot a drone will not longer cut it. If you are an aspiring drone photographer, you will need to have an excellent eye for capturing unique and beautiful shots. You will also need post-processing skills using third party software. If you are shooting videos or taking filmmaking gigs, you will need some video editing skills.
Applications of a more technical nature will need even more specialized skills. Terrain mapping surveys will require that you are able to process the raw data and convert it into highly accurate 3D maps. Mapping of agricultural fields uses a combination of image recognition technology and statistical processing to generate useful information about the abundance and location of crops within the survey area, and these are skills that you need to learn if this is a field you want to go into.
With drone technology continuously evolving to be more user-friendly, there will probably be no shortage of people who know how to fly drones. Expanding from this skill set prevents you from being a one-trick pony who can do only exactly what everyone else can do. You need to differentiate yourself from everyone else, and the way to do that is to find something you can be good at and strive to be the best at it.
5. Prepare a portfolio
As any freelance worker can tell you, the toughest part of starting off is getting that first client. After all, you have nothing to show off. It is going to be hard to market your service if you do not have a portfolio of the works that you have done. You might ask, how can you come up with a portfolio if you have not done any work yet? The solution is to just make a portfolio regardless.
If you want to be a professional drone photographer, then make sure to bring your drone along on your vacations and trips to nice places. Take several shots, process them, and turn them into pieces that you will be proud to show off. Consolidate them into an online portfolio, upload them on your social media accounts, and just put your work out there and let the quality of your work do the talking.
If your target is to do more specialized work, then practice on whatever data you can get your hands on. Drone mapping surveys involve a lot of post-survey data processing. This is the area you should be practicing. Use publicly available data or take an apprenticeship position so you can practice on real data. Be familiar with GIS applications or statistical programming, and you will surely stand out.
Put yourself out there
Having covered all the basics, it is now time to throw your name in the proverbial hat. You can start by offering your services to friends, or people you have touched base with prior.  You can offer them your services at much lower rates, and they will also be more forgiving if your work does not come out perfectly. Consider it your "soft opening". These contacts can also give you free word-of-mouth marketing, expanding your client network.
With enough experience, you can consider signing up to any of a number of online directories of drone pilots for hire. SkyTango has a very interesting open market model where clients can specify the requirements of their job, search the directory of pilots, and hire a drone pilot remotely. The entire transaction, including the payment, can be done online.
There are also other sites that act more as a collusion of drone pilots that offer flexible services to any client, including DroneMeisters, HireUAVPro, and Droners.io. We can't vouch for how many clients these sites normally get as we do not have any experience using them. In any case, there are dozens of similar sites out there, so you'll just have to try your luck.
Final thoughts
Drone technology is just part of an ever-changing business world, and in this world, only those who embrace changes in technology succeed. Fortune favors the brave, and if you have decided to take the leap into becoming a professional drone pilot, then we applaud your decision. Hopefully, the resources in our site will come in handy in your journey.
As anyone who has ever started a business or made a career change can tell you, starting again is extremely hard. You have to learn new things, connect to new people, and generally step out of your comfort zone. However, you can take comfort in the fact that it will get better once the clients start rolling in. Success begets more success, and you just need to get few small wins to get started.
The markets may seem pretty full, and there are admittedly hundreds of thousands of aspiring drone pilots out there. However, we also believe we have barely scratched the surface of what drones can do and that there will still be increasing demand for drone-based services.
This does not mean that clients will naturally gravitate towards you. You have to continue to learn, to churn out high-quality work, and to put your work out there for them to see. Quality of output and a good work ethic is all that clients really want.