Drone Prices Cut 30% on Amazon
3D Insider is ad supported and earns money from clicks and other ways.
Black Friday Deals Week has turned into Cyber Monday Deals Week on Amazon and to celebrate the site has lowered the price of select drones by 30%. Amazon has partnered with the popular drone company, Force 1, to offer their drones as the 'Deal of the Day'.
These deals are only valid until midnight tonight and quantities may be limited. These are entry-level drones so people looking for more advanced drones should check DJI's sale that is ongoing until Monday. They are selling the DJI Spark and DJI Mavic Pro for $100 off.
Beginner Friendly Drones
Force 1 is selling 7 models of their drones currently with the cheapest at just $62. This drone is their most popular model called the Force1 UDI U818A. The price has been lowered from $90 for the deal.
The Force1 UDI U818A is a beginner quadcopter with a 720P HD camera. The drone can do flips with just a click of a button. It also has beginner friendly flight modes to make it harder to crash. If you do crash the drone, it has a built in propeller guard to keep itself safe.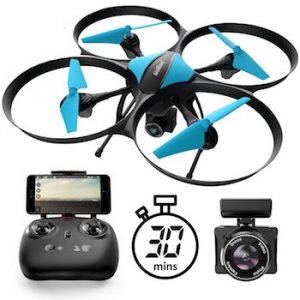 The highest price drone that is currently being sold is the Force1 U49W and the Force1 F100 Ghost Drone. Both of these drones are now selling for $125, down from around $180. These are both great entry-level drones with some higher end features.
We are fans of the Force1 U49W and have chosen it as the best drone under $200 and the best FPV drone for beginners. The drone has first person view (FPV) mode that allows you to fly using the drone's camera as your eyes through your smartphone screen.
The best part of this drone is that it comes with an extra battery, two extra motors, and spare propellers. Most drones do not come with this amount of extras. It also has a better than average flight time of up to 15 minutes on a single battery.
If camera quality is important to you then you might like the Force1 F100 Ghost Drone. The drone has a 1080p GoPro style action camera that can be detached from the aircraft. It also has upgraded brushless motors that have more power.
The color of the drone can easily be changed from white, blue or black. The F100 also has propeller guards that you can attach to help limit damage in the event of a crash landing. It comes with a spare battery like the U49W.
Force1 is selling several other models as part of their sale. You can browse their Amazon deal page to see what's on offer. These drones are a fantastic deal and you can get a quality beginner drone for a good price. These drones are also the perfect Christmas gift.