Evaluating the Total Cost of Ownership of a Drone
3D Insider is ad supported and earns money from clicks and other ways.
If you're a budding drone enthusiast looking to buy your very first drone, one of the questions you're probably asking is: How much will it cost me? You may even already be looking around for a drone that can fit your budget.
However, much like buying a new car, there are additional costs to owning a drone other than the purchase price. The drone package may not contain all the parts you want, and you may have to spend more for cameras or other accessories. Over time, you will have to replace parts of your drone as they break down. Read on to make sure that you don't break the bank with the expenses of owning your drone.
1. Purchase price
Naturally, the cost of purchasing the drone represents the bulk of the cost of its ownership. Cheap, small, and sturdy drones are recommended for beginners as they are very likely to crash while the pilot is still training. As a beginner, it also recommended to buy Ready-to-Fly (RTF) drones that do not require further assembly before you can fly them. Several models are highly recommended for those trying to save money:
Hubsan X4 H107L – At only $30, the Hubsan X4 Quadcopter is one of the cheapest drones available. The drone package is RTF, and comes with a high capacity Li-Po battery, a 2.4 GHz controller that can operate across 4 channels, a 6-axis gyro that enables stable and easy-to-learn flight, and a durable one-piece drone frame. A newer version, the Hubsan X4 H107L comes with LED lights and costs slightly more at $50. The new model's lights look great while flying at night and it comes pre-programmed to make acrobatic flips.
Syma X5C Quadcopter – The Syma X5C is a very popular model for beginners and only costs $40. This quadcopter comes pre-equipped with an HD camera which makes it a steal at such a low price. It also comes with 6-axis gyro stabilization, making it perfect for beginners that are just learning to fly. The package comes with a Li-Po battery that allows for about 7 minutes of flight time.
Inguity XR HexDrone– If you're looking for something with a little more novelty, then the world's smallest hexacopter is for you. The Inquity XR HexDrone retails for only $25, and provides a highly agile flying experience. The included Li-Po battery gives almost 10 minutes of flight time. The drone is made of high strength polymer, allowing it to survive crashes and collisions.
If you have a little more budget available, you can opt to purchase a model that looks better and has additional capabilities. For models in the mid-price range, the following models are recommended:
Cheerson CX20 Auto-Pathfinder FPV RC Quadcopter – The Cheerson CX20 quadcopter comes in an RTF package, and retails for about $330. This model comes with GPS technology and a failsafe capability, allowing to automatically return should radio communications fail. The drone also has a removable mount for cameras should you want to use the drone for photo or video capture. The 2.4 GHz ISM frequency allows control of the probe as far as 300m.
DJI Phantom 3 Standard Quadcopter Drone– The DJI Phantom 3 drone, priced at around $450, comes with an RTF package and a 12MP camera. The camera supports a First-Person View (FPV) function allowing you to view a live feed of the camera on your phone or tablet using the DJI Go mobile app. An onboard GPS allows for pre-programmed flights, with Follow Me, Waypoints, and Points of Interest modes. An intelligent battery system allows for up to 25 minutes of flight. Videos and photos can be stored in the included 8GB micro SD card. The DJI Phantom 3 line of drone products is one of the most popular among drone photography enthusiasts.
Parrot Bebop 2 Quadcopter – The Parrot Bebop 2 Quadcopter retails at around $300 comes with a 14MP camera with fish eye lens, allowing you to capture unique and high-quality photos and videos. A 2700mAh Li-Po battery gives you about 25 minutes of flight. Instead of a pre-packaged remote control, you control the Parrot Bebop 2 Quadcopter using your phone although separately purchased transmitters can also be used.
Drones above the $1000 price ceiling are generally not recommended for beginners. They require a huge initial investment, and are usually quite complicated to operate and maintain. The DJI T600 Inspire I is a complete RTF package that comes with a 4k video camera, a carbon fiber retractable landing gear, real-time video feed, an incorporated gimbal, and retails at about $2600.
Another high-end drone, the DJI Spreading Wings S1000+, retails at around $1500. The DJI Spreading Wings drone is an octocopter, allowing it to carry heavy loads such as DSLR cameras. The smoothness and stability of flight of the octocopter can hardly be paralleled, allowing you to take very high-quality photos and videos.
2. Accessories and spare parts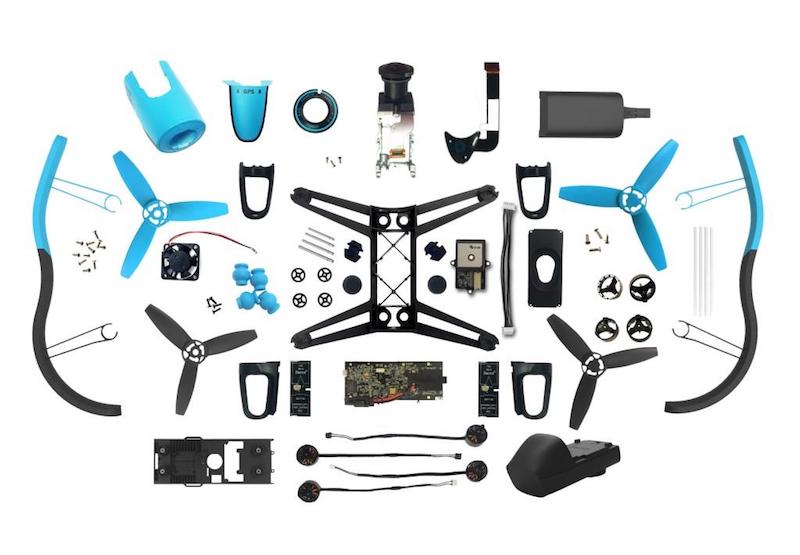 You may have noticed that some drones come packaged with accessories such as spare batteries, propellers, and even HD cameras. The pre-packaged accessories should be taken into consideration when purchasing a drone, as purchasing them separately can add up to the total costs very quickly. Listed below are the most essential accessories you will need to if you want to take care of your drone and to experience the full drone flight experience.
GoPro camera – Although many drones come pre-equipped with high-quality cameras, the GoPro line of cameras is still preferred for professional aerial photography. These popular high-end cameras can be readily mounted on your drone, and comes with superb features that will take your photo and video capture capabilities to a whole new level. The GoPro Hero 5 costs around $400, but cheaper and older models are also available.
FPV System – This package allows you to simulate being a pilot in your drone's cockpit. A full FPV package comes with and onboard camera, transmitter, receiver, and display goggles. A live feed from the camera is transmitted to your goggles, and some models even give you the capability of turning and rotating your camera with just your head movements. The peak immersive experience of FPV flying will set you back $150 to $500, depending on the brand.
Drone carrying case – Drone manufacturers often sell carrying cases customized to the drone you are buying. For about $30, you can purchase a cushioned case that protects your drone from impact, dirt, and moisture. It also provides you a convenient way to carry around your drone. Generic backpacks and hard plastic cases can are also available, such as the SSE Backpack for DJI Quadcopter Drones, Phantom 4 PRO, Phantom 4 Advanced that sells for $60.
Propeller guards – Having damaged propellers and having no spares on-hand is probably the worst nightmare of drone pilots. Installing propellers guards allows you to fly your drone free of worries that it will strike an object during flight. Some propeller guards can be permanently installed to your drone, while some can be installed or removed via a quick snap on mechanism Depending on the brand, propeller guards can set you back $4 to $20.
Extra propellers – When flying your drone, one thing is certain: you will lose or damage your propellers at some point. Due to the fragile nature of propellers, it is always prudent to have extra propellers on hand. Extra propellers are very cheap ($2 to $8 per set) so there is no excuse to not have a few ready.
Mobile device sun-shade – The best day to fly a drone is on a clear, crisp, sunny day. However, bright sunlight can lead to glare on the LED screen of your controller. Having a sun shade ensures that you enjoy full visibility of your drone video. Sun shades can vary greatly in price, from the $18 Hooshion Remote Controller Sun Hood to the $70 Hoodman Drone Aviator Hood Kit.
Extra batteries – Most drone batteries give only 6 to 8 minutes of flight, and will have to be charged for about 45 minutes to an hour. To avoid long periods where you are just waiting for your batteries to charge, it may be worthwhile to invest in extra batteries. Depending on the capacity and the brand, an extra battery can cost from $3 up to $20. Most drone manufacturers sell more powerful versions of their standard, pre-included battery packs.
Li-Po battery bag – Li-Po batteries can be notoriously fickle, and a certain degree of thermal or mechanical damage to them can result in a disastrous fire or explosion. A Li-Po bag, such as the $12 Apex Li-Po battery bag, protects your Li-Po batteries in a fire-proof containment. This investment ensures that any batter-related incident doesn't end up damaging all your drone accessories and other valuables.
Micro SD cards – If you're taking high quality videos or photos from your drone, then chances are you will fill up the pre-packaged SD card in your drone quickly. Having a handful of spare micro SD cards will ensure that you will always have space for your photos or videos. A 64GB micro SD card can set you back $30 to $40.
GPS tracker – Most advanced drones come with their own GPS capability, allowing you to track them and implement failsafe protocols. However, what happens when your drone crashes because of a dead battery? To prevent this, a small GPS tracker disk can be attached to the drone which will provide real-time GPS tracking even when your onboard GPS system fails. The XY Find It goes for $19, and will help you to never lose your drone.
Gimbal – Gimbals allow you to capture photo or video from a stable platform by counteracting the natural vibrations and movement of drone flight. Some drone models come with well-designed gimbals, but you may need to purchase and install your own for the other models. A gimbal can be purchased for as low as $10.
Lanyard – A lanyard that lets you hang your remote control from your neck or shoulders eliminates the inconvenience of looking for a spot where you can safely place your controller. This also allows you to use your hands for other tasks while your controller hangs safely from your body. The DJI Shoulder Neck Strap Belt Lanyard retails for only $8.
LED light kit – An LED light kit is far from being necessary for drone flight, but look very cool especially when flying at night. LED light kits are very lightweight and easy to install. They require very little power, and having an LED light kit has no noticeable effect on the battery life of the drone. A mere $8 can turn your drone into a mini light show.
Flight recorder – An onboard flight recorder allows you to view your flight path in 3D by a regular recording of GPS coordinates. Although not necessary, a $93 cost can make your drone flight a much more fun experience.
Antenna signal boosters – Adding a set of parabolic signal boosters to the antenna of your controller can significantly improve the quality of communication between your drone and transmitter. This can result to a clearer video feed, free of freezing, lagging, and fuzzy video signals. Signal boosters can be easily installed without any modification to your transmitter.
3. Maintenance
Maintaining a drone technically doesn't cost anything, except for the occasional changing of parts due to crashes or natural wear and tear. However, it is still worthwhile for drone pilots to implement a system of regular checkups of their drones. Some drone pilots use maintenance checklists that they tick off at every flight, or every 10 flights. These maintenance checks may include the following items:
Inspection of propellers (check for cracks)
Inspection of drone frame (check for cracks or skids)
Check that camera mounts are secure
No unusual noise or vibration when powered up'
Check tightness of motor retaining screws
Check that motors move freely when spun by hand
Check that motor shaft connections or couplings have no free play
Check condition of battery connector or data pins (no movement, clean)
Check batteries for physical damage (swelling)
Check that the number of cycles of the battery is below maximum
These maintenance checks can go a long way towards ensuring that your drone function optimally and does not suffer repeated and worsening damage. Small damages and defects will tend to propagate when left unchecked. Allowing your drone to go to a state of further disrepair can ultimately be more expensive for you.
4. Buy a drone or build your own?
Building your own drone sounds like a valid cost-saving measure. However, a good quality quadcopter frame kit can cost upwards of $100. In addition to that, you will need to buy motors, propellers, an Electronic Speed Controller (ESC), batteries, a flight controller, a transmitter and receiver set, and other electronic parts. Overall, building your own drone can cost you $350 to $500.
For beginners with very technical know-how, building your own drone is simply impractical and discouraged. It demands a certain level of technical expertise, and a lot of time and patience. At the end of the build process, there is no guarantee that the drone you built will fly.
For the more seasoned drone enthusiasts, building your own drone can give you a sense of self-achievement and an unprecedented level of understanding of how your drone works. Choosing and purchasing individual drone parts also allows you to customize your drone.
The Final Word
If you're thinking of buying a drone, you will have to anticipate expenses beyond just the purchase price. Buying expensive accessories and replacement parts can easily increase your total costs by up to 50%. Drones do not have maintenance costs, but periodic replacement of parts can add up over time. Conducting regular maintenance of parts can go a long way towards ensuring that any damage is identified immediately and does not worsen.
The total cost of ownership of a drone depends greatly on the purpose for its use. If you intend to use your drone for commercial purposes, then be prepared to spend more. Only you can truly determine how much you are willing to spend for your drone.