5 Best Drone Repair Tool Kits
3D Insider is ad supported and earns money from clicks, commissions from sales, and other ways.
Buying a drone means learning how to do DIY repairs on it. A lot of things can go wrong when you're out in the field, and you would hate to have to cancel that drone flight you've been looking forward to because of a loose piece of wire or the fact that the foot of your landing gear popped off after a hard landing.
Just as important as knowing how to do quick fixes on your drone is having the tools to do them properly. A tool kit isn't just an "accessory" for your drone – it's a necessity for any drone pilot. What are the tools you need to have in your kit? Are there any good pre-assembled kits that you can just buy instead?
What to have in your drone repair tool kit
You don't need to buy a pre-assembled drone repair tool kit at all since you can just build your own. If you'd like to go completely DIY, then here are the essentials tools for your kit.
1. Hex driver set
Since drone components are so small, they are mostly held together by hex screws. Having a complete set of these hex drivers or Allen wrenches on hand can help you tighten up screws and bolts that will naturally come loose because of the all the vibrations that your drone will experience.
2. Philips head screwdriver
The parts of your drone that need a more robust mounting are probably held together by the standards screws with a Philips head. You might notice this in your drone's gimbal or camera. A complete set of Philips screwdrivers may be a bit too heavy to carry around with you, so it would be better to just bring along the size that you need.
3. Long nose pliers
A pair of pliers is an all-around useful tool for cutting and bending of wires and other components in your drone. While there are a lot of types of pliers, we're partial to the long nose variant as these are more useful for handling small items and for reaching into those nooks and crannies in your drone without opening the whole thing up.
4. Adhesive tape
There are also all manners of adhesive tape that you can bring and having several kinds wouldn't hurt when you're out in the field. However, if you want to keep your tool kit lean, we suggest at least having a roll of electrical tape and another roll of double-sided mounting tape.
A strong mounting tape can be a quick way to attach accessories to your drone, such as a GPS tracker or another camera. Electrical tape is useful for covering up any exposed wires so you don't run into overheating problems due to a short circuit.
5. X-acto knife
Pliers are great for cutting off wires but sometimes you need a cutting tool that's a little more precise. An X-acto knife is a more versatile tool for cutting paper, stickers, and those stubborn plastic cases that batteries come in. You can even use an X-acto knife to engrave your name and registration number on the body of your drone. We suggest practicing on a piece of paper first.
6. Zip ties
Adhesive tape is great for stuff that you need to stick together and pull apart shortly after, but zip ties are more suitable if you need tie stuff together stronger and more permanently. Zip ties are pretty tough, so you can expect those lights or GPS trackers to stay in place even if your drone crashes hard.
The 5 best tool kits for drone repair
If you'd rather not go through the hassle of building your own repair kit, then you can certainly buy one that has been pre-assembled. The downside of this approach is that it's going to be tough to find a kit that offers a complete set of tools but doesn't also have a couple of tools that you won't need. You'll also want to buy a kit with a container that's small enough to be thrown in with the rest of your gear.
With those things in mind, here are a couple of drone repair tool kits that are worth considering: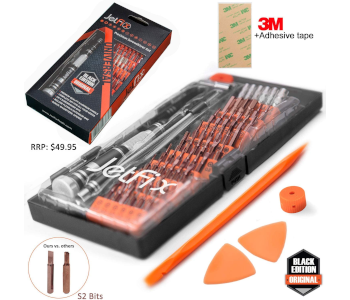 The best thing about this tool kit from Jetfix is that it doesn't go overboard with the tools, which keeps the kit and its hard plastic case. small enough to slip in your pocket.
The Jetfix kit has a comprehensive set of removable bits, including the hex and Philips bits that you'll most definitely need for your drone. All bits can be magnetically attached to a grip with a comfortable anti-slip handle. The kit also includes a flexible extension bar for reaching into those hard-to-access areas.
The plastic wedges and picks included in the kit are useful for dislodging components like batteries and screens. They aren't particularly essential for drones, but they're nice to have. The tweezers are also great for the handling of delicate electronics. What the kit doesn't have is any sort of cutting tool – no utility knife or pliers.
The kit does include a single strip of 3M double-sided mounting tape, which is useful but certainly insufficient. This kit is a good foundation for building your own, but you will need to augment it with a lot of other tools.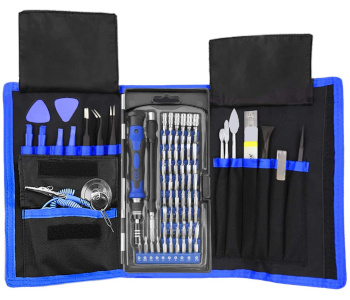 This set of repair tools was primarily made for small electronic devices like phones but should still provide an almost complete set of tools to do quick repairs on your drone. The centerpiece of this tool kit (as with most other tool kits) is the magnetic driver with 56 interchangeable bits. These include all the hex sizes you'll need plus an assortment of Philips, flathead, and Torx heads.
Working with small electrical components is made easier with different spudgers, provided in both metal and plastic. There's also a tweezer tool for extra delicate work and an anti-static wrist strap if you're worried about damaging sensitive electrical components with your excess static electricity. The included utility knife should be handy for all your cutting needs.
What this kit doesn't have is any sort of tools for sticking or mounting. While the tools are great for handling sensitive electronics, they aren't nearly enough for doing quick fixes that are robust enough for your drone's needs. While the carrying pouch is a nice touch, we suggest getting small rolls of adhesive tapes to go with this kit.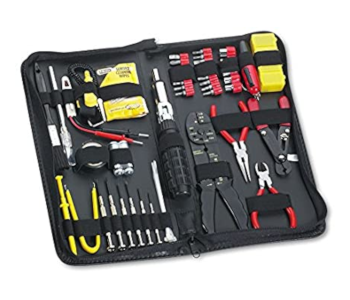 Buying a pre-assembled tool kit for your drone is really a choice between getting a kit that includes too much or one that doesn't include enough. This 55-piece tool kit from Fellowes is an example of the former – the crimping tool that sits front and center is enough to tell you that.
The saving grace of this kit is that it's probably the most complete set that you can get for your drone. It comes with a screwdriver kit, a penknife, diagonal and long nose pliers, cable ties, and a small roll of electrical tape. It even has a small flashlight and a few other tools that are less essential for drone repair but may still be useful in other circumstances.
All the tools are contained in a black vinyl case and each tool is secured in place with an elastic band. The strong suit of this tool kit is in the sheer number of tools that it offers. You might be paying for more than you need, but you might still be able to use this tool kit for more complex electronics projects.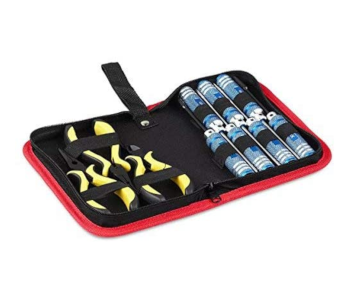 Finding a repair tool kit for drones that comes with pliers is quite difficult, so we were glad to see this unique tool kit from IFLYRC. Made for TC hobbyists, this set comes with three pliers – flat head, long nose, and bent.
The kit also provides a set of screwdrivers with hex, Allen, flathead, and Philips bits. Unfortunately, the bits aren't removable. Instead, each type of bit comes with its own grip. This makes the tool kit a bit less than ideal when it comes to portability.
Since the bits of the screwdrivers aren't removable, the selection of bit sizes included in the kit is also limited. The set only offers three sizes of hex bits, two sizes of Philips bits, and a single flat head screwdriver. If the bit size you need isn't in the included tools, then this tool kit probably won't be of much use to you.
An upside of the limited selection is that IFLYRC looks like they focused on the quality of the included tools. If you luck out and find that all the tools you need are included here, then this kit is certainly going to be one of the better options for you.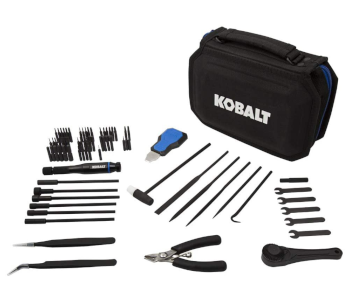 This 73-piece tool kit from Kobalt is probably the least portable one in this list. While providing a tool kit as comprehensive as possible is often a good thing, in this case, it may have resulted in a lack of focus on quality.
The Kobalt tool kit includes 50 bits (including the standard hex, Philips, and Torx bits that you're probably going to need), a ratcheting driver, tweezers, and a pair of diagonal pliers. All the tools come in a folding pouch with assigned slots to keep the tools neatly organized.
The selection of tools included in this kit may be impressive. Unfortunately, the quality isn't up to par. The fit of the bits to the fasteners isn't consistent, and the metal bits aren't as tough and corrosion-resistant as we would have preferred. The tools are still great if you don't plan on using them heavily, but you can expect them to get worn out quickly if you do a lot of maintenance.
Final thoughts
In the field of drone flight, it pays to be prepared. From spare batteries, spare propellers, sun hoods, and landing pads, drone pilots often have to carry a whole set of accessories so they can continue flying in the most challenging conditions.
Another example of an essential accessory for a drone pilot is a good repair tool kit. We've listed down the most important tools to have in case you want to build your own kit, but there are also pre-assembled kits that you can buy and modify according