What Every Drone Pilot Must Know Before They Fly in Australia
The Australian authorities call them Unmanned Aircraft Systems (UAS). You probably know them simply as drones or UAVs (unmanned aerial vehicles).
Civilian drones are no longer the toys of rich kids. Today, UAVs are smarter, better, cheaper, and more accessible. In fact, anyone can fly. It's the last point that's causing some problems for the authorities.
It's the job of Australia's Civil Aviation Safety Authority or CASA to be ahead of the technology and prevent accidents. They periodically revise and update the rules and regulations pertaining to UAVs.
It's the sole responsibility of drone owners to keep updated with current laws [1].
This guide gives you tips on how to stay safe while flying a drone. Always follow CASA rules while flying your drone and make sure that you obey local laws and regulations.
This guide will be updated on occasion with new content, images, and embedded videos. This document does not purport to provide you with legal advice. Always consult an attorney if you need legal advice. Refer to CASA's website for the most up-to-date information.
What Do You Know?
Read this simple, no-nonsense guide if you can't answer all or some of the points below:
The legalities of flying your particular type of drone
Knowing all of the new rules on the way, and where to find information on them
Flying drones and Australian privacy rights
The current rules & regulations
The dos and don'ts that every private done owner should know
Although a lot of the rules are common sense, there may be rules and regulations you're not familiar with. Offenders —intentional or not— can be prosecuted for violating Australian UAV laws with hefty fines.
Who Are CASA—Exactly?
The CASA (Civil Aviation Safety Authority) is the Australian national aviation body. It's the government's legislative authority in charge of the regulation of all matters relating to civil aviation.


CASA reports directly to the country's Minister for Transport and also the Regional Services. The same Civil Aviation Safety Authority is accountable to the Australian Parliament.
It is CASA that can and does prosecute drone owners who break the laws by violating and disrespecting current rules and regulations for flying UAVs [2], [3].
1
Chapter 1
Safe Responsible Flying

Flying drones is not only fun it's also a serious tool for capturing special moments from above. Anyone who takes a camera drone on vacation will never return to those regular snapshots.
But there's a problem in Australia. It's so easy for anyone to go out and buy and drone then take to the skies. A lack of knowledge and inexperience can result in unsafe and reckless practices. Unlike in some countries (such as the UK), drone owners in Australia don't need to be certified.
Australia does have an impressive private drone boot camp program going on. You can expect to see more of these springing up as the demand for consumer drones increase.
If you have a keen interest in flying drones, then any well-run boot camp and CASA-approved RPAS (remotely piloted aircraft) training school will serve you well [5], [6].
New drone pilots will get off to a much better start with a little professional training. There will be less risk of accidents, crashes, and the dreaded flyaway that so many inexperienced users suffer. After investing a lot of money in their drones, new pilots routinely damage or lose their drones after just a few flights.
What Every Australian Drone Pilot Needs to Know
If you want to fly your drone for fun you don't need any kind of official approval. You do, however, have to abide by Australian rules and regulations. Failure to comply can result in serious consequences.
Here's a quick rundown of the civilian drone rules for Australia:
Fly your drone in visual line-of-sight (see below)
Fly in visual meteorological conditions or VMC (avoid flying at night or in cloud & fog)
Visually see the craft with one's eyes (not FPV, binoculars or using telescopes)*
Keep a safe distance from all aerodromes including airports, small airfields, and heliports
Do not fly closer than 30m to uninvolved people
Do not fly over populated areas, e.g., parks, beaches, active sports, or other events
Do not fly in controlled airspace (includes most Australian towns and cities)
Do not fly at an altitude higher than 120m (400 ft.) above ground level
Do not fly in a manner that could endanger other aircraft in the area (AGL)
Do not fly any RPA in or over restricted or prohibited areas without official permission
* An exception to First person view (FPV) distance flying is when you operate your drone under the rules, guidance, and procedures, of an officially-approved model flying association. You can contact the Model Aeronautical Association of Australia (MAAA) for more details [7].
Restricted Airspace in Australia
There are tight restrictions on all UAV movements in Australia's restricted airspace. Some examples of restricted airspace include the following:
The airspace surrounding military controlled aerodromes or installations
Over Sydney Harbor
High-density flying operations
Airshows and any other large public events
Temporary airspace imposed by police, e.g., crime scenes, bushfires, etc.
You must apply for special permission if you want or need to fly in restricted airspace for any reason. Authorities may or may not grant permission but you have to apply in every case [8], [9].
If in doubt, never assume. Always do your research when flying in unfamiliar territory. Local Australian councils and officials of national parks will be able to give you the relevant information.
You can also make direct contact with the Australian RPAS team for anything related to flying drones. They've set up an online RPAS inquiry form specifically for drone pilot's convenience [10].
2
Chapter 2
Recreational Drone Operators
When it comes to flying UAVs in Australian airspace ignorance is not bliss. At best it could get you into trouble with the authorities. At worst, you could risk serious damage to property or harm to people.
The dos and don'ts are not always clear but much of it is good common sense. The only way to fly with complete confidence, though, is to make sure you have all the latest information.
Here are a few areas you may not be aware of:
Drones to deliver items
Flying over private land
Flying over aerodromes
Flying over sporting events and other populated areas
Taking photos or video of people in public spaces
Taking video and photos of neighbors
Can I make money (income) using my personal drone?
Delivery drones: You can legally use your drone to drop off a package or other item as long as the payload is safe. Also, the flight must not pose any kind of risk to other people, structures, or craft.
Flying over private land: Technically there's nothing to stop you as long as your UAV is high enough and out of harm's way. It's not straightforward yet as the "altitude" is not legally defined.
Flying over aerodromes: The current rule is that "commercially operated" drones MUST NOT fly within 5.5km of an airfield. The suggestion for recreational drones and airfields is "SHOULD NOT". If your drone weighs more than 100 grams, then you absolutely cannot fly within 5.5km of an airport.
However, this law will probably change soon as more private drone owners take to the skies. Common sense is the order of the day wherever there's potential for a catastrophe.
Flying over sporting events and other populated areas: At the time of writing this guide there are no legal restrictions but there is serious discouragement by CASA (watch this space for updates).
Photos or video of people in public spaces: You can take pics and record video in public spaces as you would with a ground camera. But you have to adhere to the 30m drone distance rule from people.
Video and photos of neighbors: This is a grey area. Even so, if it's obvious it can be intrusive and it may be possible to prosecute under "right to privacy" laws (watch this space for updates).
Making money from a public drone: It all depends. If you want to turn your hobby into a cash business you may need to register yourself as a commercial drone operator (more on this later).
POINT TO NOTE: THE CIVIL AVIATION SAFETY AUTHORITY (CASA) WILL PERIODICALLY UPDATE RULES AND REGULATIONS. IT IS YOUR RESPONSIBILITY TO STAY INFORMED AT ALL TIMES.
Drone Rules for Visitors in Australia
People don't travel with drones as much as they do cameras of course. All the same, there's a huge increase in tourists and visitors to Australia packing camera drones into their luggage.
There's good news for drone pilots visiting Australia. It's quite possible to bring your drone and record your trip from an amazing aerial perspective. However, there are regulations and restrictions.
It's up to visitors to become fully conversant with the rules that apply to them and their UAV. Not all craft and purposes for flying are equal. That means you have to abide by certain rules.
These rules are the same ones that apply to nationals.
A little knowledge will save you a lot of time and effort:
Recreational purposes
Commercial purposes
Flying over property you own in Australia
Once you've established the usage it's time to define your craft:
Micro size: 100g or less
Tiny size: 100g up to 2kg
Small size: 2kg up to 25kg
Medium size: 25kg up to 150kg
Large size: Above 150kg
First, know your purpose and drone size. You can then zoom-in and familiarize yourself with the specific rules that pertain to your circumstances.
Visitors cannot violate safe flying rules and plead ignorance as a defense. They have to be familiar with—and abide by—the appropriate set of rules. Note that rules can and do periodically change.
If you can't find what you're looking for on the casa.gov.au website try using their search tool [12].
3
Chapter 3
The Sky's Not the Limit
Back in the days of low-tech the thrill was to fly kites and the higher it got the more thrilling it was. Kite flying is still popular today but drones offer so much more freedom than just a flying experience.
However, it's not permissible to fly over the altitude restricted limit. Drone operators must adhere to height restrictions at all times. That's unless they have special permission to exceed the limit.
There are good reasons for altitude restrictions. Recreational drone pilots cannot fly higher than 400 ft. (120m) above ground level (AGL) in Australia. Some irresponsible UAV operators break these rules.
A lot of popular drones have restrictions written into the software to limit altitude and distance. The problem is that some tech-heads can hack the code and overwrite default settings.
The laws for drone altitude are in place for very good reasons. A UAV that's too high could potentially collide with a manned aircraft. It might also plummet uncontrollably to the ground if the battery dies.
There are a few reported incidences of irresponsible drone pilots in Australia. Violations of all kinds of drone laws are set to increase as more and more UAVs take to Australian skies [13], [14], [15], [16].
Amazon Delivery Drones and Altitude Restrictions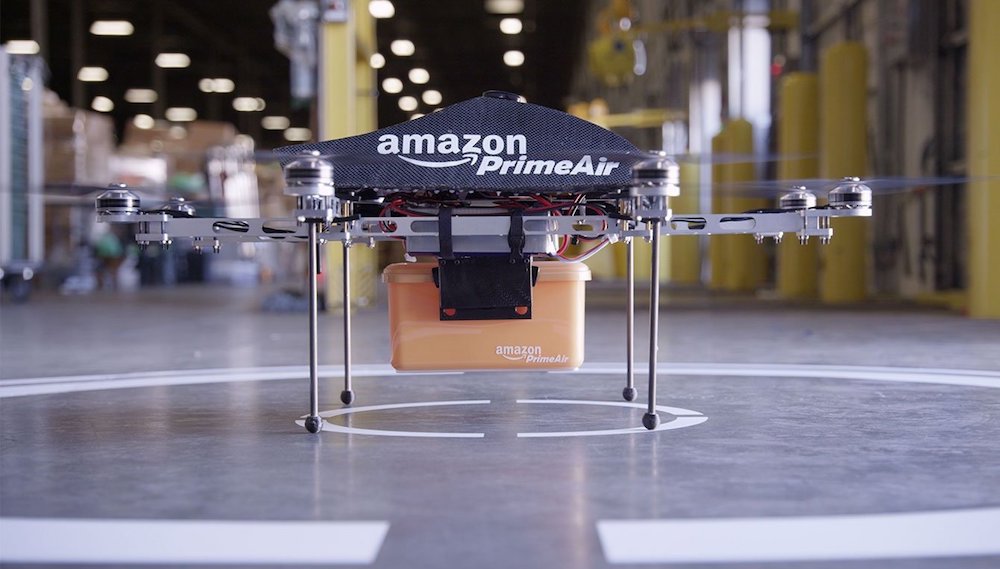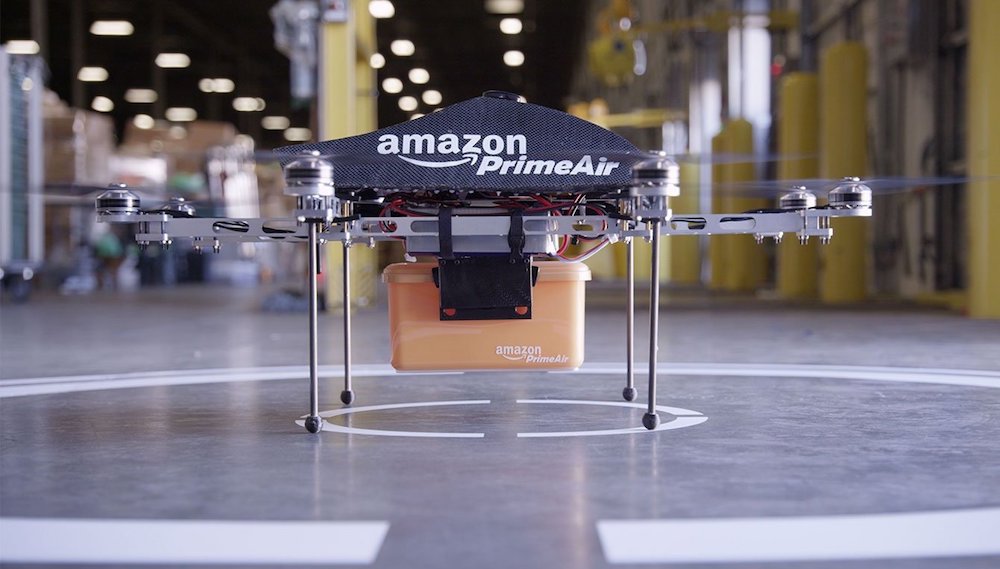 Amazon is one of the first companies to announce its plan for a drone delivery service. Successful test deliveries have already happened in the UK. Drone delivery testing is still under discussion in Australia.
Amazon has shown an interest and hopes to expand its e-commerce empire to Australian soil as part of its global ambitions. Expect to see test deliveries by autonomous drones quite soon [17], [18].
4
Chapter 4
Flying for Business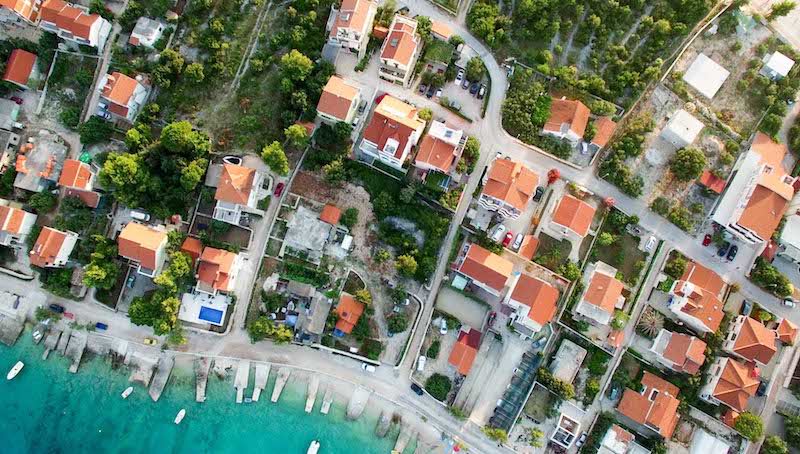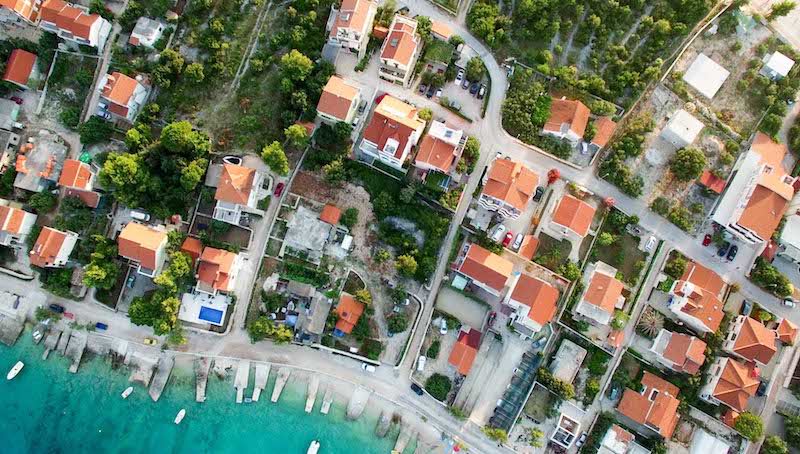 There's good news for UAV enthusiasts who want to fly their drones commercially with crafts not weighing more than 2kg. CASA reduced the entry requirements in September 2016 [19].
This means there are two things you no longer need to apply for:
RPA operator's certificate (ReOC)
Remote pilot license (RePL)
You must abide by all the standard operating conditions (SOCs) as a commercial pilot of a small drone. Pilots who operate in the excluded RPA category have to abide by all the current rules and regulations.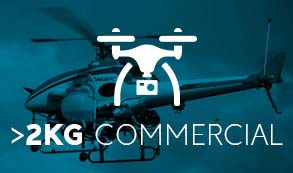 If your drone is over 2kg you must notify CASA at least five days prior to taking your first commercial flight. CASA will then give you a special ARN or aviation reference number [20].
Depending on your operations, small drones may not serve your commercial purpose. There could be some advantages of an RPA operator's certificate (ReOC) including some additional privileges.
Operate an RPA over 2kg
Operate within 30m (but no less than 15m) of a person
Fly at night time with night rating
Apply for exemptions to standard regulations
Apply for other extra approvals
Remember to check current rules and regulations before you fly your drone for commercial reasons.
Start Your Own Drone Business in Australia
Drone entrepreneurs are springing up all over Australasia. There's certainly lots of potential to start a drone business in all kinds of areas. Weddings, travel, real estate, and surveying, are just a few.
Keep reading if you'd love to turn your passion for UAVs into a lucrative business. There are lots of opportunities nowadays thanks to improved drone technology and changes to air safety regulations,
Australians are lucky in that the country has become something of a major hotbed for entrepreneurial start-ups—especially technology-based companies [21].
It's beyond the scope of this guide to look at all the openings and potential for drone-related businesses. There are three categories in particular that get drone entrepreneurs thinking:
Small business operations (limited only by imagination)
Education: building UAVs, repairs, maintenance, drone flight training schools, etc
Public safety: search & rescue, medical delivery in hard to reach places, and so on.
Look at 2017 and beyond as an ideal time to get involved in a drone business of some kind [22].
Australian Businesses Operating Drones
Australian businesses are already taking advantage of modern drone technology to assist with their business operations. Here are five industries of many that make use of drones:
Survey drones help to map areas with pinpoint accuracy
Inspections of mining infrastructure
Film & television
Create impressive video and stills of real estate from an aerial perspective
Drone parcel deliveries (potentially)
The possibilities are huge. It's why more industries use drones as a tool to improve their business [23].
5
Chapter 5
A Safe Space to Fly
The skies may not be as crowded as the roads but there's always the potential for accidents and incidents. And the more drones that take to the skies the higher the risk gets.
Just because sky looks open and safe to fly a drone that doesn't always mean it is. This is why ALL drone pilots MUST understand what it means to find safe spaces to fly.
Flying in safe spaces means keeping your UAV away from harm, be it other people, structures, and things. This includes all prohibited areas (forbidden for good reasons) and aerodromes.
There are literally hundreds or aerodromes around Australia. Many smaller airstrips with unpaved runways won't always be obvious, especially to visitors [24].
Don't worry; the authorities don't expect anyone to remember where all the airports, airstrips, and heliports are located. There's an easier way to find a safe place to fly in Australia (see below).
Meet the "CAN I FLY THERE?" Smartphone App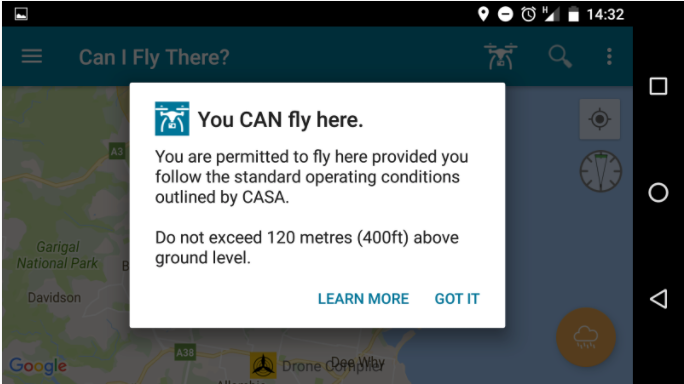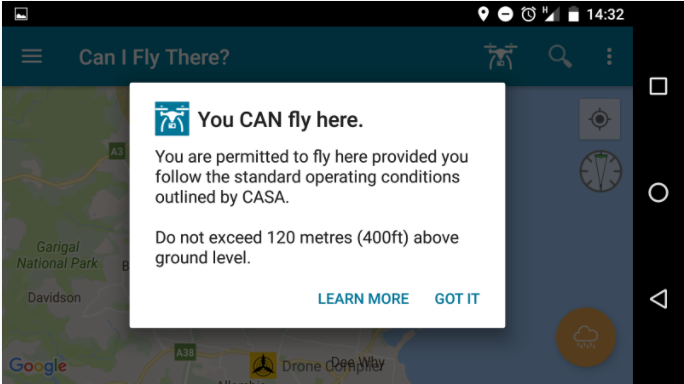 CASA has teamed up with a company called Drone Complier. Together they have come up with an easy-to-use smartphone app for Android, iOS, and webapp, called, "Can I Fly There?"
This smart little app is proving invaluable for sub-2kg commercial drone flyers. It also acts as a helpful tool for safety awareness and includes the current drone Standard Operating Conditions (SOC).
Here are three of its main features:
Highlights controlled airports and helicopter landing areas
Highlights restricted airspace
Highlights any danger areas
Armed with this little smartphone app makes it easy for anyone to plan their flight routes before taking to the skies. Best of all is that Can I Fly There? is 100% FREE at the time of writing [25], [26].
6
Chapter 6
Australian Drone Accidents and Incidents
Drone pilots get bad press about reckless flying practices. In truth, the vast majority of the country's drone users are responsible. Yes, there's an increase in incidents but they're not often user error.
Drone accidents are more often than not due to technical problems and not operator error says the research. And thankfully, there are no known collisions between drones and manned aircraft.
Faulty equipment or malfunctioning software still poses potential risks with consumer drones. This is why there are strict safety regulations in place. It's also why they're under constant review.
Here are some findings from the Australian Transport Safety Bureau (ATSB):
The number of drones is set to double by the end of 2017
50% of the 180 drone incidents from 2012 – 2016 were close encounters with manned aircraft
2016 saw around 60% of all UAV encounters during the five-year period
Drones have the potential to damage a manned craft to the point where it loses control
The authorities have fined some irresponsible drone operators for reckless flying in Australia. The good news is that irresponsible pilots are few and far between [27], [28].
Overall, though, Australia has a good record for responsible UAV operators.
The Conclusion
Unmanned aerial vehicles (UAVs) are an increasingly common sight in Australian skies. This is still a relatively new phenomenon nonetheless. In the years to come, drone populations are set to skyrocket.
Advancing technology, new pilots, and CASA, are forever adapting. Safe responsible flying is always the job of the drone operator. Enforcing public safety rules and regulations is down to CASA.
Keep up to date with all the current rules and requirements as they modify—as they surely will.
The last page of this guide lists some of the common acronyms and abbreviations found on CASA website and documents:
Resources