DJI Flight Simulator Review (and Alternatives)
3D Insider is ad supported and earns money from clicks, commissions from sales, and other ways.
They often say that mistakes give the best and most-lasting lessons. While this is often true, mistakes are not always something that people can afford to make. This is especially applicable to new drone pilots, particularly the ones who are making the transition to any of the high-end and pricey drone models. A bad crash from 50 feet up can damage your expensive drone beyond repair. Worse still, you can end up damaging your neighbor's car or roof.
With so many things that can go wrong, it would be great to be able to practice your drone flight skills in a risk-free environment. This is exactly what the DJI Flight Simulator offers – a realistic environment where drone pilots can practice safely using the actual equipment they will operate.
What is the DJI Flight Simulator?
Released in November 2018, the DJI Flight Simulator is DJI's very own drone flight simulator that allows you to use the remote controller of your DJI drone. The flight simulator was made primarily for DJI's enterprise-level drones such as the Phantom 4 Pro, Inspire 2, Matrice 210 RTK, and the newly-released Mavic 2 Enterprise. However, more casual owners do not have to be left out, as the DJI Flight Simulator is also compatible with the Spark, Mavic Pro, Mavic Air, and Mavic 2 Zoom.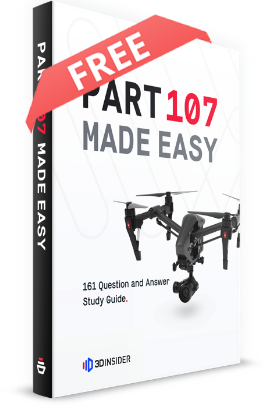 PART 107 Made Easy
161 Question and Answer Study Guide
105 pages of illustrated content
Covers all parts of the Part 107 test
$97 of value for free
Features and Flight Modes
DJI seems to have pulled out all the stops to create a training environment that simulates real-world conditions as close as possible. The following features are the reasons why the DJI Flight Simulator just might be the best drone flight simulator available today:
1. Amazing visuals
As soon as you start the DJI Flight Simulator, you will notice that the virtual environment just looks great. Simply flying over lush forests as the sun set over the horizon is a gorgeous and enchanting experience.
It's also very interesting to see how the environment changes and reacts to the presence of your drone and to changing conditions. Clouds move faster as wind speed picks up, individual blades of grass flutter as you hover near their surface – even bodies of water start to form small ripples due to the force of your drone's propellers. In fact, the graphics and the virtual environment of the DJI Flight Simulator would feel right at home in an open-world game in any of today's top gaming consoles.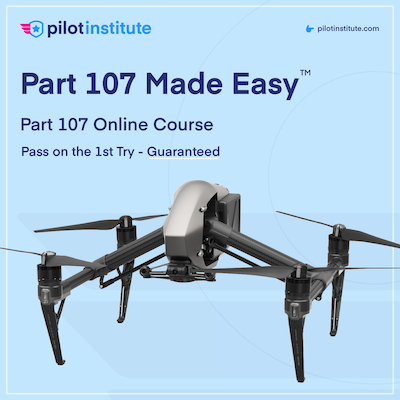 Clearly, DJI has taken the time and effort in making the giving pilots an enjoyable experience with the DJI Flight Simulator.  With such a beautiful environment, we could see ourselves and thousands of other drone pilots logging in several hours a day just flying around the simulator just to take in the visuals.
2. Sophisticated physics engine
The main objective of the DJI Flight Simulator is to provide pilots with a training environment that mirrors real-life conditions as closely as possible. For this reason, DJI has developed a sophisticated and comprehensive physics engine that can simulate the conditions that drone pilots will usually have to contend with. Users have the option to fly under day and night conditions, at different wind speeds, or during inclement weather.
It is also very interesting to see how different drones behave under the same set of weather conditions. Larger, more robust drones exhibit better stability at high wind speeds, while smaller drones are less stable but are easier to maneuver. With enough practice on the DJI Flight Simulator, you'll be ready for anything that the weather might throw your way.
3. Multiple POVs
To simulate all the ways that you could be flying your drone, DJI Flight Simulator offers 5 point-of-views: Pilot FPV, Remote Control View, Drone FPV, 3rd Person, and Drone Follow View. If you're serious about drone flight, you will likely find yourself flying in every one of these POVs. There are subtle differences in how to best control your drone in each POV, so it's worth your time to become familiar with the experience in all of them.
4. Three flight modes
For us, the best and most useful feature of the DJI Flight Simulator is the 3 flight modes that it offers. For beginners, the Skills Training mode offers basic piloting exercises such as taking off, landing, basic maneuvering, and flying along paths. This training module provides beginners a chance to form a solid foundation based on proper fundamentals. It's a vastly superior method compared to how most pilots learned by mere trial and error.
The Application Training mode is particularly useful for commercial pilots-in-training who have to train in particular work applications. The DJI Flight Simulator comes pre-loaded with exercises for industry-specific workflows such as search and rescue or powerline inspection. As more and more industries employ the use of drones, we can see the library of exercises of the Application Training mode continuing to expand in the coming years.
Finally, the DJI Flight Simulator has a Free Flight mode that offers exactly what its name implies. In Free Flight mode, pilots can log virtual flight hours exploring a variety of scenes to their heart's content. More than serving as a tool to make pilots more familiar with piloting their drones, the Free Flight mode also highlights the visual spectacle of the environments featured in the DJI Flight Simulator.
Why use a drone flight simulator?
The DJI Flight Simulator might look like a glorified video game, but it definitely serves a higher purpose. In the same way that aircraft pilots undergo training using flight simulators, a drone flight simulator can be a simple and effective tool for drone pilots-in-training.
1. Risk-free
The biggest reason for using a drone flight simulator is its zero-risk approach to drone flight training. In this simulated environment, a drone pilot does not need to worry about damaging the drone or the property around it. Harkening back to what they say about mistakes giving the best lessons, you can crash an unlimited number of times in the flight simulator so that you never have to crash in real life.
2. Low-cost training
Using a drone flight simulator for training also costs much less compared to going to an actual in-person drone flight school. A typical drone flight training course will cost upwards of $1000 for a single student. For about the same price, you can purchase a drone flight simulator that can be used for countless hours to train multiple pilots.
3. No battery limitations
One of the biggest limitations of actual flight training is the fact that you can only fly for as long as your drone's battery can last. Even if you had a handful of extra batteries, you can probably still only fly for a couple of hours in a day. There are also the added inconveniences of having to pack up your drone every time and look for an open and unpopulated space to practice.
With a flight simulator, you can fly your drones for hours on end without having to worry about battery limitations. You can also fly as far as you want in the simulator's virtual environment without having to worry about flying over people or beyond the line of sight.
How do I get the DJI Flight Simulator?
You can download the trial version of the DJI Flight Simulator for free in their website. The trial version does not include the Skills Training and Application Training modules, but it does feature compatibility with the Spark and Mavic Air on top of the professional-level drones. If you want to take your virtual drone out on a spin in Free Flight mode, then you can go ahead and download the free version.
DJI also offers Enterprise and Customized Version, which are designed for industrial applications. These versions include the aforementioned Skills Training and Application Training modules. You may contact DJI to come up with customized solutions for your business and training needs.
Are there any other alternatives?
Despite all the buzz surrounding the release of the DJI Flight Simulator, it is hardly the first drone flight simulator product that was developed. Drone flight simulators have gained popularity in the last couple of years, and below are some of our top picks:
The Drone Racing Simulator is the official simulator of the Drone Racing League. It has spent a long time in testing and development and is currently one of the most polished and feature-packed drone flight simulators you can get.
Being a racing-focused flight simulator, the Drone Racing Simulator features huge maps and racing courses modeled after their real-life counterparts. The physics engine performs really well, responding and giving feedback to ground and yaw effects. The Drone Racing Simulator also gives you a multitude of customization options for your drone.
The spirit of competition of the DRL is alive even in the Drone Racing Simulator. You can compete with thousands of other drone pilots and earn a place in the DRL's simulator leaderboard.
The droneSim Pro is a very affordable flight simulator that takes a back-to-basic approach to drone flight training. It doesn't come with all the flair of its more expensive counterparts – it features simple graphics and just a single drone model, the discontinued Phantom 2 Vision Plus. The choice of drone makes it very apparent that this drone flight simulator is a little long in the tooth.
However simple the droneSim Pro may be, it still does the job of providing a training platform for new drone pilots. You can roam freely on an open field, maneuver around an obstacle course, or take on a unique house fire scenario. The developers have made an effort to simulate realistic lighting conditions and geological features. You can also choose to fly from the POV of either the drone or the pilot.
Overall, the droneSim Pro is a very basic drone flight simulator that costs next to nothing. It's a good choice for beginners, but more advanced drone pilots have probably already outgrown the training modules that it can provide.
The Aerofly Flight Simulator remains one of the most popular drone flight simulators today, mainly due to their huge library of 170 drone models and 43 simulation scenarios. The options for drone models include not just quadcopters, but also helicopters, gliders, electric airplanes, gas-power airplanes, jets, and scale models. Popular models for quadcopters and hexacopters are included in the drone library.
The Aerofly Flight Simulator can recognize any USB-compatible remote controller, so you have the option your drone's controller or the optional IKARUS GameCommander. If you do not have a dedicated controller, you can simply fly with mouse controls.
The highlights of the Aerofly Flight Simulator include a sophisticated physics engine, Windows and Mac compatibility, and an exceptional FPV mode. In fact, the Aerofly Flight Simulator is an excellent training tool for FPV flight with its adjustable FPV camera tilt angle and fish-eye lens effect.
The Heli-X Flight Simulator is geared more towards training with the huge library of training scenarios that it offers. In addition to basic takeoff/landing and maneuverability modules, it includes scenarios for reaction training, hover training, and search and rescue situations. The flight simulator was mainly designed for helicopters, but their list of compatible drone models includes some of the more popular ones from DJI.
The Heli-X Flight Simulator is one of the most affordable drone flight simulators you can get, but you will need to have an existing remote controller to use it. The software works with any USB-compatible remote controller.
Liftoff is more of a game than a drone flight simulator, but there's no denying that several hours logged in this game can improve your drone flight skills. It is touted as a gateway to the quadcopter racing scene, giving both beginners and experienced pilots a fast-paced and fun environment to practice. It does offer a beginner's training course, but the focus of the game is undoubtedly in its competitive circuit.
The game provides support for a wide range of controllers, transmitters, and FPV goggles. It is fully available on Steam, and is regularly updated with new features, racetracks, and other content. If you want to experience the thrill of FPV racing in a simulation platform with a very supportive community of develops and players, then Liftoff is the perfect software for you.
Final thoughts
With more and more industries and companies recognizing the benefits of employing drones in their regular tasks, the demand for skilled drone pilots will continue to rise. The DJI Flight Simulator was made to bridge the gap between the growing demand for commercial drone services and the low number of qualified drone pilots. It is a very simple and easily available platform for both new and experienced drone pilots to sharpen their flight skills.
The release of the DJI Flight Simulator may have resulted in a lot of news coverage only because of the size and prominence of DJI as a company. However, drone flight simulators have already existed several years. Some of these alternatives even have a level of polish and quality that can rival the DJI Flight Simulator.
In any case, any drone flight simulator you choose will provide you a risk-free and low-cost virtual training environment. With drone flight simulators, mistakes need not be costly and practicing does not need to be as nerve-wracking.