Drones vs. Helicopters
3D Insider is ad supported and earns money from clicks and other ways.
Radio controlled or RC helicopters have been around a lot longer than drones. Helicopters—at the model level—don't create the same buzz though. So, have quadcopters taken over? Are the helicopter's obsolete—something to forget forever perhaps? I say not so fast. There's a place for each model and this piece explains the difference and appeal of both.
Few people know much about RC helicopters, yet everyone knows about drones. It's hardly surprising when you consider what they can do and how affordable they've become. Drones have caught the public's imagination that's for sure. They've created millions of enthusiastic UAV (unmanned aerial vehicle) pilots around the world. Some have become pro aerial photographers and videographers.
Why Choose an RC Helicopter?
RC helicopters still sell and have a loyal following, notably at the hobby-grade level. They're nowhere near as popular as drones, especially camera quadcopters. Most people think drones are everything a helicopter is plus some. That's a misconception. Yes, drones have attractions that choppers with two or more props don't, but the opposite is also true. There wouldn't be any point to this article otherwise.
Here are some reasons to consider an RC helicopter over a drone:
RC whirlybirds are less complicated with easier to maintain equipment
RC pilots are in complete control of the flight (no or few autonomous modes)
Easier to takeoff from uneven ground
Helis respond faster to commands like twist, turn, soar and hover
More enjoyable, hands-on flying experience because of the above
RC choppers generally have longer flight times, particularly at the higher end
What we can take from the above is that RC helicopters attract people who love to fly. It's a skill, and it takes longer to master than piloting drones. Many autonomous modes guide drones, and that suits most people (see next section). Lightweight helis tend to give better flight times than drones too. One of the major downsides to RC helicopters is that they're notoriously fragile and don't stand up to crashes too well. It's often cheaper to replace a broken model helicopter than it is to repair it.
Why Choose an RC Drone?
The most popular drones are quadcopters with four props or blades. People like to fly them, but it's not the main attraction. The biggest lure of consumer quadcopters is to take photos and video footage from above. They're lots of fun with cool features like follow-me modes. Some have gesture control and can launch from the palm of a hand. The better models have 4k cameras and gimbal stabilization.
Racing quads in First Person View (FPV) is about flying skills, but it's a niche hobby. FPV is an immersive experience where pilots get to see what the drone camera sees. They can do this by looking at a screen, but the ultimate experience is to wear FPV goggles. RC helicopters are less stable than drones and not ideal for carrying payloads. Bulky cameras and stabilizers can easily unbalance a heli.
Here's a summing up on the attractions of drones—quadcopters in particular:
Easy to fly (user-friendly) even at the entry-level
More stable and better suited for carrying payloads
Ideal for aerial photography and shooting cinematic quality video
Most popular drone parts are straightforward to repair or replace
Aerobatics stunts and tricks are simple to perform
Affordable prices and plenty of choices
RC helicopter owners are passionate about flying and many have experience with drones too. Drone enthusiasts focus more on the photo and video aspect and are less likely to fly helis.
The rest of this guide looks at capable crafts for both RC helicopters and RC drones. I include samples from the cheaper budget end, mid, and higher price ranges to give you a flavor of what's available.
1. Syma S107G 3 Channel RC Helicopter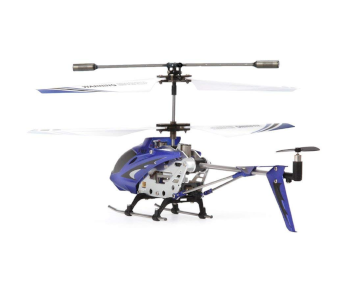 View on Amazon
Editor's Rating: 4.4/5
Toy-grade RC helicopters can't provide the ultimate experience of course. Even so, it's still an affordable way to dabble before making more serious decisions. The first pick is the popular Syma S107G. Don't let the low cost put you off. What we have here is an easy-to-fly, stable, durable, helicopter that sports a metal frame. That makes it pretty crash-resistant—for a model chopper.
Here are some of the key features and functions of the Syma S107G:
Ready to Fly (RTF) complete kit
Small size, lightweight
2 selectable frequencies
Gyro system helps with precision control
3-channel infrared remote control
Precision speed and auto stable
Nippy and agile
7-10-minute flight time
Fast, 20-minute charging time
The Not So Good
There are only a couple of negatives with this toy-grade heli. The infrared can be unpredictable around other devices, so be aware of that. Its tiny size and lightweight means no flying outdoors if it's windy.

2. Walkera Super CP 6CH 3D Helicopter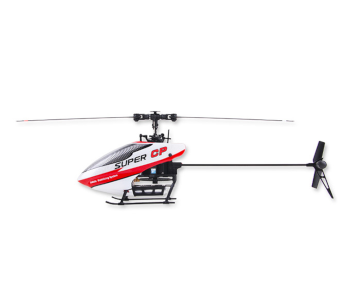 View on BangGood
Editor's Rating: 4.5/5
This is the ready-to-fly (RTF) Walkera Super CP 6CH 3D Helicopter with DEVO 7E. It's another tiny chopper but with excellent build and functionality. The agility and aerobatic performance of this small helicopter are remarkable. I mentioned in the introduction that RC helicopters tend to be fragile, and it's true—but not in this case. This puppy gives a whole new meaning to the term "crash-resistant."
Key features of the Walkera Super CP 6CH 3D Helicopter are:
Ready to Fly (RTF) straight out of the box
Compact size and ultra-lightweight, ideal for indoor/outdoor flying
Coreless motor supported by a high-performance 3.7v battery
Half the weight of a Devo 10
Low maintenance
Online upgrades via USB port
3-axis innovative flybarless system adds to safety, quality & performance
Devo 7E 2.4Ghz transmitter (programmable)
7–10-minute flight time (average for smaller RC helicopters)
The Not So Good
The only downside from what I can see is that it's not an easy model to learn within smaller indoor areas. It's not difficult to fly with a little practice, but the absence of Piro Compensation makes it awkward for newbies in tight spaces. Practice outdoors first if you're a novice pilot.

3. XFX 450 DFC 2 4G 9CH 3D Flybarless RC Helicopter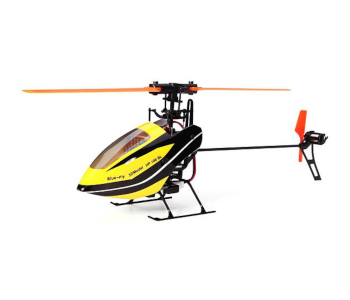 View on BangGood
Editor's Rating: 4.8/5
This is the XFX 450 DFC 2.4G 6CH 3D, and it's another flybarless (FBL) RC helicopter. FBL helicopters don't use flybars to stabilize them, and they provide a safer, more stable flight. This is a large model, and that alone takes the flying experience up to a whole new level. It's a gorgeous design that adds to the operator's joy. This RC helicopter comes fully assembled in a smart carry case. The robust build is exceptional and uses metal and carbon fiber parts. The electronics are also of high quality.
Key features of the XFX 450 DFC 2 4G 9CH 3D Flybarless RC Helicopter are:
FBL pros & cons linkage rod
All-metal swashplate servo mount
Metal tail rotor control-arm assembly
Main rotor head group DFC flybarless
Lengthened low center of gravity battery mount
3-axis gyro system for a more stable flight
15-minute flight time
The Not So Good
This 9CH 3D Flybarless RC Helicopter is what you might call a big boy's toy, so it's not for the faint-hearted. Don't buy this RC chopper unless you're at the right skill level and love to tinker. Newbies may find it hard to configure the gyro even with the manual to guide them. I'm not the only one to notice the default settings are out. Just make sure you check everything before the maiden flight.

The next section looks at three popular quadcopters at the beginner, mid, and higher end.
4. Holy Stone HS170 Predator Mini RC Drone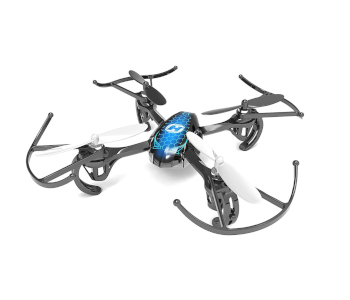 View on Amazon
Editor's Rating: 4.5/5
The Holy Stone HS170 Predator is an affordable mini drone. It's an excellent choice for beginners 14 years and up. The model is powerful, responsive, and easy to fly for an RC quadcopter in its class.
Key features of the HS170 Predator Mini RC quadcopter are:
Three different speed modes: Low, Medium, Expert
Headless mode: makes flying a lot easier for new pilots
Colorful LED lights: looks cool and keeps the aircraft visible at night
2.4GHz low-interference technology
6-Axis gyro stabilization: helps fast recovery after sudden maneuvers and stunts
Wind-resistant
6-8-minute flight time: average for a small drone
45-60-minute charging time
The Not So Good
This little quadcopter only weighs 15 ounces so don't fly it outdoors in windy conditions. Holy Stone say their HS170 Predator is wind-resistant, but it's not. The other gripe is the lack of clear markings on the controller. A few stickers would make it a lot easier and quicker to get familiar with.

5. Parrot Mambo FPV Beginner Racing Drone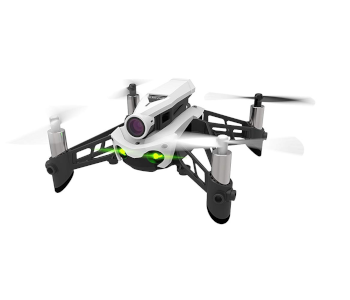 View on Amazon
Editor's Rating: 4.3/5
The Parrot Mambo FPV is a nifty little racing drone. It's easy to fly and responsive to commands. The safety features help learner pilots practice with more confidence. The most exciting thing is the Parrot Cockpit glasses (FPV goggles) that give you a truly immersive flight experience.
The key features of Parrot Mambo FPV Beginner Racing Drone include:
Advanced stabilization, easy to pilot
Fast flyer, rapid turning for its class
Flight modes
FPV camera included
Parrot Cockpit glasses
FreeFlight Mini app
10-minute flight time (8-minutes with camera attached)
90 minutes charging time
The Not So Good
Synchronizing the Mambo FPV Beginner Racing Drone with mobile devices is fiddly at best. It's great once everything connects, but prepare to play around all the same.

6. DJI Mavic Air Drone W/ 4K Wi-Fi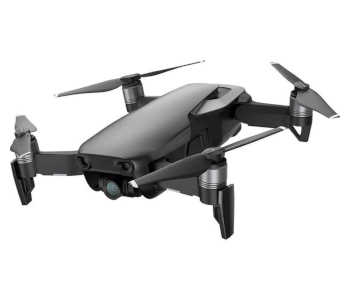 View on Amazon
Editor's Rating: 4.8/5
The DJI Mavic Air is a 4K quadcopter drone with a high rating. It's also foldable which means you can pack it up and take it anywhere you go. Best of all is that the Mavic Air can get to places you and a handheld camera could never reach. It's a high-quality 'consumer' camera drone that promises exceptional flight performance, amazing functionality, and limitless potential.
The key features of the DJI Mavic Air Drone, 4K Wi-Fi include:
Ultra-portable, foldable quadcopter the size of a smartphone
Excellent flight performance & flight modes
Hand gesture commands
32MP sphere panoramas
3-axis mechanical gimbal
4K U-HD 30 fps video, 12.0MP stills
3D Environment Sensing
8 GB of onboard storage
20-minute flight time
The Not So Good
Some users report losing the signal on occasions so they can no longer control the drone. Fortunately, the return-to-home feature still works when this happens. It still needs a mention though. The Mavic Air is only a tiny drone, but it does make a lot of noise for its size. The din doesn't affect its functionality of course. Even so, it can be annoying for travel videographers who like to be discrete.