8 Best Drones with Obstacle Avoidance in 2019
3D Insider is ad supported and earns money from clicks, commissions from sales, and other ways.
With the sophistication of technology found in drones nowadays, it feels short-sighted to even refer to them as toys. Modern drones are equipped with so many sensors and algorithms that allow them to perform complex flight maneuvers and fully autonomous flight missions for a variety of applications, both recreational and commercial.
One of the more sought-after features in high-end drones is an obstacle avoidance system. Not only does this make flying a drone so much easier, but it's practically a required feature for drones that need to fly autonomously or near any sensitive infrastructure. In this article, we take a look at the best drones in the market today that come with obstacle avoidance systems.
The top 8 best drones with obstacle avoidance technology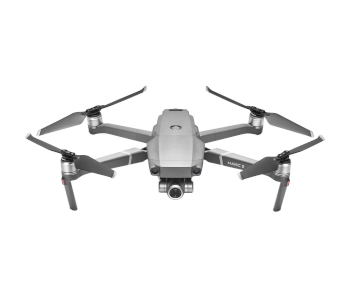 Our top pick is the latest in DJI's Mavic line of ultra-portable drones, the DJI Mavic 2 Pro. Despite being a small, foldable drone, the Mavic 2 Pro is recognized by many to be one of the best camera drones in the market. Its Hasselblad camera with a 1-inch CMOS sensor is yet unequalled in the field of ultra-portable drones.
The Mavic 2 Pro is the first drone from DJI to have an omnidirectional obstacle avoidance system. The system makes use of six sensors – infrared sensors at the top and underside, and vision sensors in the sides, forward, and backward directions. The bottom of the drone also has an auxiliary light that will help the downward sensor in detecting obstacles in low-light conditions.
All the information from the sensors is processed into DJI's Advanced Pilot Assistance System (APAS), which automatically helps the drone determine the best course of action. This system is instrumental in the drone's trajectory prediction feature that helps the drone continue to track subjects and targets even when it runs into an obstacle. Thus, the Mavic 2 Pro can be programmed to track a subject or follow a flight path, even when it has to maneuver around obstacles.
What makes the Mavic 2 Pro exceptionally impressive is the fact that DJI was able to fit all of this sensor and camera technology into a drone that is just about the size of a large water bottle when folded up. At less than $2000, the Mavic 2 Pro is also one of the most budget-friendly commercial-grade drones that come with an omnidirectional obstacle avoidance system. No other drone offers the same value as the Mavic 2 Pro – quite a feat considering that it's been in the market for about a year now.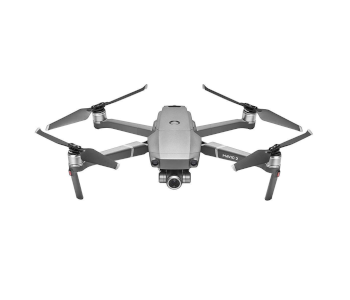 The twin brother of the Mavic 2 Pro, the Mavic 2 Zoom was released at the same time and trades in the Hasselblad camera for a camera with a 2x optical zoom lens. Coupled with 2x digital zoom, the Mavic 2 Zoom certainly lives up to its name and opens up a whole world of drone photography opportunities.
The obstacle avoidance technology of the Mavic 2 Zoom is identical to that of the Mavic 2 Pro, which is to say that it's pretty excellent. It comes with the same six-sensor array and the intelligent APAS system that can continue to carry out autonomous flight missions despite having to fly around multiple obstacles.
In the same way that the superior camera technology of the Mavic 2 Pro makes it stand out, the unequaled zoom capability of the Mavic 2 Zoom has also made it a very unique drone. DJI has also designed the Mavic 2 Zoom to maximize the use of its zoom lens with creative photo modes such as Dolly Zoom and the 48MP Super Resolution mode.
The Mavic 2 Zoom may not be as heavily preferred as the Mavic 2 Pro by professional drone photographers, but it's a great camera drone for those who want more unique drone photography features. It's also a little cheaper than the Mavic 2 Pro. Considering the omnidirectional avoidance system and the excellent zoom lens, the Mavic 2 Zoom still offers excellent value a year after its release.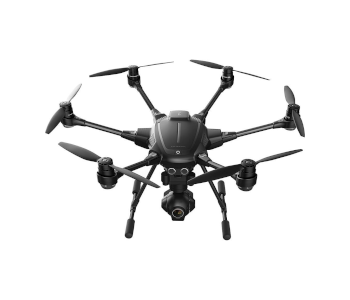 All-seeing obstacle avoidance technology isn't exclusive to DJI. Partnering with Intel, the Yuneec Typhoon H Pro is only one in a series of drones from Yuneec that come equipped with Intel RealSense technology. This technology takes a very different, but equally effective, approach to omnidirectional obstacle detection.
The Typhoon H Pro sports the same six-rotor design that has become the signature of the Yuneec Typhoon line. Along with the superior stability that this design offers, the retractable landing gear allows the camera of the Typhoon H Pro to freely rotate 360° for unrestricted drone photography and filmmaking.
The Intel RealSense technology isn't built into the base Yuneec Typhoon H Pro but is instead provided by the Intel RealSense R200 camera add-on. The Intel Atom-powered module uses stereo vision to build a 3D representation of its surroundings, thus identifying all potential obstacles.
Moreover, Intel RealSense uses GPS technology to remember the 3D environments that it has built. This means that the Typhoon H Pro can fly back to the same area and remember the obstacles that it has already avoided. By relying on vision sensors, the R200 camera can identify even the smallest and narrowest obstacles.
As a redundant measure, the Typhoon H Pro also has a front-facing intelligent sonar sensor that will make it stop short of any obstacle.
More than the obstacle avoidance technology, the Typhoon H Pro comes with the excellent CGO3+ camera with integrated gimbal that can capture 4K Ultra HD video and 12MP images.
In contrast to the first two entries in this list, the Typhoon H Pro is a huge drone. While not portable, this also means that the Typhoon H Pro is far more powerful. If you need a professional-grade drone that is a little hardier, then the Typhoon H Pro is an excellent go-to choice.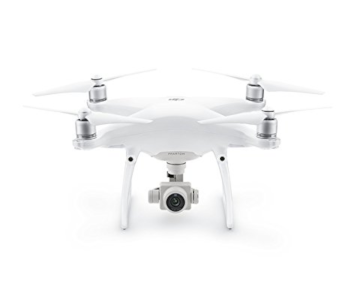 For many years, the Phantom 4 Pro has been considered as THE drone for commercial drone photography. It has a sleek and distinct design, flies beautifully, and has an excellent camera with a 1-inch CMOS sensor.
Despite its age, the obstacle avoidance technology of the Phantom 4 Pro is still considered one of the best in the business. Its array of sensors is as diverse as it is effective. In the forward and backward directions are stereo vision sensors that can detect obstacles up to 98 feet away. On either side of the drone are infrared sensors that are sensitive up to 23 feet away. Finally, there is a single infrared sensor at its underside to avoid landing on uneven ground.
The five-direction obstacle avoidance system of the Phantom 4 Pro was revolutionary at the time of its release and has only been recently topped by more modern drones. All of the information from the sensors is received and processed by the FlightAutonomy system, which directs the drone to sense and avoid these obstacles.
The stereo vision sensors of the Phantom 4 Pro do more than just help the drone avoid obstacles. DJI has designed these sensors to give the drone the ability to identify and track subjects, giving way to one of the best autonomous flight modes and videos with a great cinematic effect.
Although many new drones have surpassed the Phantom 4 Pro, it is still one of the best commercial-grade photography drones that you can get in 2019. The five-direction obstacle detection system isn't a huge downgrade from the omnidirectional systems that have become more common nowadays.
Since we're getting in the realm of professional-grade drones, then it would be remiss for us not to mention the DJI Inspire 2. The Inspire 2 is considered by many as the current benchmark when it comes to drone filmmaking. It's compatible with the DJI Zenmuse line of professional cameras and can capture videos at up to 6K resolution in CinemaDNG or RAW formats using the signature CineCore 2.1 technology.
The sense and avoid system of the inspire 2 makes use of a forward-facing stereo vision sensor, an infrared sensor at the top, and a combination of a stereo vision and ultrasonic sensors at the bottom. With this system in place, the Inspire 2 can detect obstacles up to 30 meters ahead and 16 meters above. According to DJI, this allows the Inspire 2 to fly safely at speeds of up to 34 miles per hour.
The Inspire 2 makes great use of the obstacle avoidance system in its autonomous photo modes, such as Point of Interest, Waypoints, and Spotlight Pro. Even when the drone loses communication with the transmitter, the Inspire 2 can make intelligent decisions on which route it needs to take as it activates the Return-to-Home feature.
However, it bears mentioning that the Inspire 2 does not have obstacle detection sensors at the sides and at the rear. This feels like an oversight for a drone that is already filled to the brim with sophisticated features. It's also one of the more expensive drones you can buy, so this small downgrade feels even more pronounced.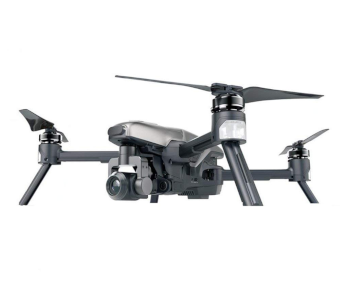 The Walkera Vitus is evidence that a drone doesn't need to be expensive or have the pedigree of DJI or Yuneec to have an effective obstacle avoidance system. Like the Mavic drones, the Vitus is an ultra-portable, lightweight drone that you can just throw into your backpack as you step out of the house.
The Vitus puts up a great fight in the ultra-portable drone market with its 4K camera and 3-axis gimbal stabilization. It even has a couple of nice photo modes such as the hand gesture feature which has become fairly popular in today's selfie-crazed era.
The Vitus takes a unique stab at the obstacle detection problem using infrared time-of-flight (TOF) sensors at the front and on both sides. A TOF sensor takes a quick "snapshot" of the drone's environment and measures the distance of potential obstacles by recording the time it takes for the incident light (or infrared light, in this case) to bounce back to the drone's sensor. With this technology, the Vitus can detect obstacles up 5 meters away in all three directions.
The TOF sensors of the Vitus are very fast, taking up to 50 "snapshots" per second. This allows for precise movement that can be suitable even for indoor flight. With the compact size of the Walkera Vitus, it may be one of the best drones for flying indoors.
Of course, there is the minor detail of the drone only having sensors in three directions. This does feel underwhelming when compared to the drones of today, but the Vitus is somewhat of a cheap drone. In this case, you just about get what you pay for.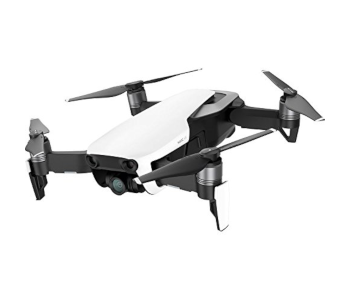 The Mavic Air is the runt of the litter of the Mavic line of ultra-portable drones. It is the smallest, lightest, and most affordable of the group, so it's no big surprise that it's one of the most popular DJI drones even today.
The Mavic Air is a modern marvel of engineering with its 4K camera, 3-axis gimbal stabilization, HDR capability, slow-motion video, and a host of photo modes that have made it a favorite among the casual drone community. It's a fun drone that is technically excellent and yet easy to fly.
What makes the Mavic Air even more impressive is that, despite its size, its obstacle avoidance system is still an upgrade over the previous generation of Mavic Pro and Mavic Pro Platinum drones. While the older (and more expensive) drones only had sensors in the forward and bottom directions, the Mavic Air has an added rear-facing sensor.
The Mavic Air uses vision sensors in all three directions. The bottom vision sensor is augmented with an infrared sensor, allowing the Mavic Air to hover safely above the ground even in low light conditions. The vision sensors can detect obstacles up to 20 meters away.
The data from the proximity sensors, as well as those from the camera and inertial sensors, form the foundation for the Mavic's Visual Inertial Odometry (VIO) system. The VIO is a system that takes over to determine the drone's position and orientation in case the satellite positioning signal fails.
Despite the emergence of more advanced drones in recent years, the popularity of the Mavic Air continues to persist. It's an excellent entry-level drone that is friendly on the pocket but has just enough of the features that will hook in beginner drone pilots.
If you're on a really tight budget, then you'll be glad to know that the DJI Spark also has a good obstacle avoidance system. At less than $500, the Spark is one of the cheapest ways to buy a drone from DJI. It's a small drone but does not come with the foldable propellers arms that make the Mavic drones exceptionally portable.
The Spark has a front-facing infrared sensor and a bottom array with a combination of infrared and vision sensors. This helps the Spark maintain a stable hover when flying near the ground, even without a GPS signal. However, the lack of side and rear-facing sensors certainly hurts the ranking of this drone in this particular list.
That's not to say that the Spark is a bad drone. For its price, the Spark is an exceptionally lightweight drone that zips around quickly and is just a joy to fly. While its camera is not 4K-capable, it can still record impressive videos at 1080p resolution and a 30-fps framerate. It was one of the first few drones to have the Hand Gesture feature, plus a few other fun flight modes such as TapFly, Waypoints, and ActiveTrack.
The Spark is certainly no professional-grade drone. We consider it a "gateway" drone – the type of drone that you buy when you're not yet sure if drone flight is a hobby that you're going to enjoy. However, the inclusion of an obstacle avoidance system, no matter how rudimentary, helps make the Spark much more beginner-friendly. It's also just really fun to fly around and take pictures with, safe in the knowledge that it will stop in its tracks before you can fly it into a tree or a wall.
How does a drone obstacle avoidance system work?
It's a bit of a misnomer to call this mechanism an obstacle AVOIDANCE system when, at their very essence, they are actually obstacle DETECTION system. What this means is that the system relies on a series of sensors that tell the drone when it is flying close to an obstacle and instruct the onboard flight controller on the best flight maneuver to take.
Obstacle avoidance systems are one of the new frontiers of competition between different drone brands. Thus, different brands, or even different drones under one brand, can have different methods of implementing an obstacle avoidance system. This can be in the form of different types or number of sensors, or different firmware algorithms.
Old drones used to only have a front-facing obstacle detection sensor. Nowadays, there are a few high-end models that have omnidirectional obstacle detection. This means that drone technology has advanced to the point that they can detect obstacles in all six directions – forward, backward, up, down, and on both sides.
There are also different sensors that help a drone identify its proximity to a potential obstacle. There are the basic ones like infrared and ultrasonic, while there are also more advanced methods that make use of stereo vision or LiDAR technology to recreate a 3D map of the drone's immediate environment. Naturally, more advanced sensors come at a cost, so you can expect these drones with sophisticated obstacle avoidance systems to fetch a pretty price.
Why get a drone with obstacle avoidance?
Given that drones with obstacle avoidance are going to be more expensive, is it really worth it to spend more for this feature? What can an average drone pilot gain by using a drone with obstacle avoidance technology?
1. Fewer chances of crashing
The most obvious answer is that it keeps your drone from crashing. Different drones have different ways of responding to an obstacle. Some of them stop in their tracks and hover in place. Other drones may encounter an obstacle through the course of their autonomous flight and will merely avoid the drones and continue flying towards their original goal. In any case, an obstacle avoidance system gives the drone pilot a bit more leeway to commit errors. This can be an even more important advantage for drone pilots who are just beginning.
2. May be needed for commercial applications
As bad as crashes can be when you are flying your drone for fun, the consequences can be several times more severe if you are flying your drone for profit. If you can't get your drone off the ground again after a crash, then you can pretty much kiss that paycheck goodbye. Can you imagine providing drone photography for a wedding and telling the couple in the middle of the event that you can no longer fly your drone?
Moreover, some commercial drone applications require you to fly close to some vital infrastructure. Drone-aided inspection of power lines, communications towers, and industrial equipment are just some of the more common examples. Crashing your drone into any of these structures may have financial consequences that far outweigh the cost of a high-end drone.
3. Lets you fly indoors
Not many people realize that one of the hardest jobs that a drone pilot can take is to fly their drone indoors. Without the aid of GPS positioning, holding a hover indoors can be very difficult for an inexperienced drone pilot. There's also the fact that any indoor environment naturally has a higher density of potential obstacles and that a crash indoors can easily result in personal injury. If you intend to use your drone for indoor flight, then an obstacle avoidance system is going to be a huge advantage.
One thing we need to make clear is that there is no obstacle avoidance system that is foolproof. While most proximity sensors can detect large, solid objects, even a very thin object can spell disaster for a drone. This might become less of a problem as sensors get more advanced, but for now, a good sense of environmental awareness is still the most valuable tool that a drone pilot can have to protect against crashes
Final thoughts
A few years ago, obstacle avoidance technology was still considered a novelty in drones. They were rare, not particularly reliable, and can only be found in more high-end models. Thankfully, they are much more common now. Moving forward, we expect drone avoidance technology to even become a standard feature in all casual and professional-grade drones in the market.
The importance of a good obstacle avoidance system has become even more important in today's social climate where drones aren't exactly looked favorably upon by the general public. Along with other safety tools such as geo-fencing, obstacle avoidance technology may pave the way for a new generation of drone safety features. Hopefully, the reduction in drone-related accidents brought about by these technologies can improve how the public perceives drones – not as flying instruments of danger, but as viable commercial and industrial tools.