6 Best Drones with Wheels of 2019
3D Insider is ad supported and earns money from clicks, commissions from sales, and other ways.
Do you love flying drones and wish your child could experience the thrill too? You wouldn't want to hand them the reigns of a sophisticated drone that costs hundreds of dollars before letting them learn the ropes. One option is to get them a cheap drone with inferior specs, or you could pick up a wheeled drone and let your kids graduate to bigger models once they're good & ready.
Drones with wheels are the perfect starter drones for children! Using them like you would an RC car lets the kids get comfortable with using the controller and 4-axis movement. From there, it's easy to take to the skies with a push of the toggle switch. All wheeled drones come with multiple speed settings, so it feels natural to progress from first flying lessons to vertigo-inducing maneuvers gradually. Some wheeled drones can drive on walls and ceilings while others let you record your aerial adventures on video!
Here are the six best drones with wheels for you and your kids to enjoy. They may look similar on the surface, but each has a unique combination of fight time, handling performance, and special features that make it stand out from the rest. Pick your favorite and make it the coolest present your kids have ever gotten!
Budget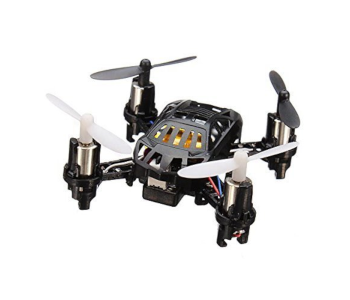 Top Race TR-MQ3
4.6/5.0
Flight time: 5 minutes
Max. range: 65 feet
Durable body and high impact resistance.
Check Amazon
Best Value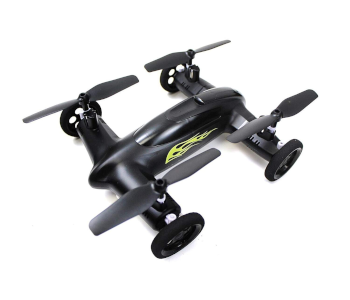 Syma X9 Flying QuadCopter EVO Car
4.6/5.0
Flight time: 8 minutes
Max. range: 160 feet
This handles well on land and in air.
Check Amazon
Top Pick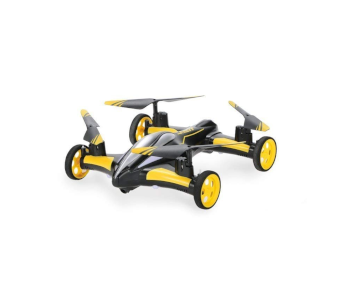 JJRC H23 Drone Car
4.7/5.0
Flight time: 7 minutes
Max. range: 450 feet
Can perform stunts and fly back to the remote.
Check Amazon
Drones with Wheels Comparison Table
1. Best Overall – JJRC H23 Drone Car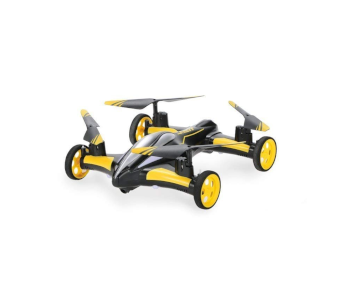 View on Amazon
Editor's Rating: 4.7/5
Want to get your kids into playing with drones in an exciting way? Then JJRC's H23 is the ideal present! This sleek speedster handles well both on the ground and in the air. Its controls are easy to grasp, long range allows for great freedom of movement, and it's popping in a spare battery once you've depleted the original is done in seconds. Prepare to have hours of fun with it, and do give the kids a go too.
Overview of Features
The H23 is a futuristic-looking hybrid between a standard RC racing car and a quadcopter. It is available in a glossy black finish with either yellow or blue trimmings and easy to keep track of once airborne. There's a large blue LED light on its tail end and sets of red & green ones under the axles, so you can fly at night without fear of losing it. The drone is powered by a rechargeable 750mAh Li-ion battery and has a flight time of 7 minutes.
The drone comes with a recharging cable, two spare propellers, a screwdriver, and a controller. You use the right analog stick to move in cardinal directions and steer it while in car mode. Activating the throttle on the left stick turns on the propellers and lifts the drone up into the air. You can choose between three speeds and should expect the flight time to decrease with each faster setting.
The H23 is a joy to handle! As a car, it behaves like other RC toys in its price range. Lift it up from the ground though, and the controls become smooth and completely responsive. The H23 can perform various tricks when you turn on 3D stunt mode while beginners will benefit from headless mode until they get their bearings. The drone's maximum range is 650 feet, and it has a return to home button you can use to retrieve it if the H23 eaves your line of sight.
What We Didn't Like
The H23 doesn't have propeller guards, which makes it unsuitable for smaller children who won't take safety precautions seriously. You'll want to check out videos online if you run into trouble as the 23.2 oz. has a poorly-translated and vague manual.
Tech Specs
Dimensions: 9.2 x 9.2 x 2.6 in.
Weight: 23 oz.
Battery capacity: 750mAh
Flight time: 7 minutes
Max. range: 450 feet
The Pros
Handles well in both modes
Lots of bright LEDs for night flying
Can perform stunts and fly back to the remote
Battery is easy to replace
The Cons
Poorly-translated manual
No propeller guards
2. Best Value – Syma X9 Flying QuadCopter EVO Car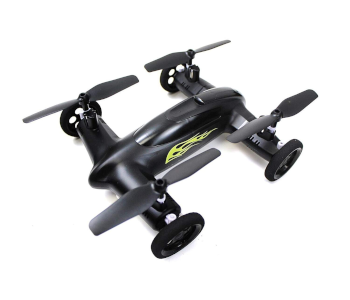 View on Amazon
Editor's Rating: 4.6/5
Creating a balanced drone with wheels is tricky – there are far too many models which perform well in the air but are a pain to drive and vice versa. That's why it's fantastic that the Syma X9, a drone that costs less than $40, is equally fun to fly and drive. Switching between modes is straightforward, the drone has a decent running time, and you get four propellers should any of the original ones break.
Overview of Features
The Syma X9 looks like a classic racing car that's been repurposed to become a zippy flyer. It is smaller than the H23 but not much lighter as each propeller is powered by its own servo motor. The drone is already assembled and ready to go, although it is recommended that you recharge the batteries first. You get two 600mAh batteries that take an hour and a half to recharge and provide enough power for 8 minutes of flight time or an extra minute in land mode.
Compatibility with other Syma drones is another point in the X9's favor. Its remote control, batteries, and charging cable all work with other models, so you get to have spares in case something breaks. Speaking of the controller, it functions on the same principle as that of the H23 – the right stick controls the X9 in land mode while engaging the throttle switches controls over to a standard drone configuration.
The best thing about the X9 is how smoothly it transitions from one mode to the other. Diving towards the ground is especially exciting since the drone switches to land mode as soon as it touches down on a flat surface! The drone's two speed settings behave the same in either mode. Handling in the air is flawless while driving takes some getting used to as steering left or right isn't incremental.
What's Bad About It?
We've already said that the X9 is heavy. This translates into sluggish performance when flying on the slow setting. Its engines aren't powerful enough to propel it forward smoothly at a lower rpm, so the drone isn't fun to fly unless you switch to high. While the X9's general build is decent for the price, the tires are not. They're made from foam rather than rubber and aren't suited for uneven terrain. You'll want to use the drone on asphalt or similar surfaces if you want to avoid damaging the tires.
Tech Specs
Dimensions: 6.9 x 6.5 x 2.4 in.
Weight: 21 oz.
Battery capacity: 600mAh
Flight time: 8 minutes
Max. range: 160 feet
The Pros
Excellent value for the money
Handles well on land and in air
Comes with lots of spares and parts that are interchangeable with other Syma models
Good flight time
The Cons
Foam tires wear out quickly and are damaged easily
Only fun to fly at higher speed setting
3. UDI U841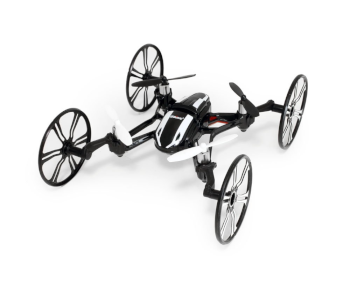 View on Amazon
Editor's Rating: 4.4/5
What's cooler than a drone that can fly and drive? One that can also climb walls and ride on the ceiling! UDI's U841 is a drone whose propeller guards turn into wheels that allow it to traverse any flat surface, be it horizontal or vertical. The drone has an excellent remote control with an informative screen and can even produce 720p videos thanks to a built-in camera!
Overview of Features
Unlike the previous two models, the U841 has landing struts instead of wheels. You need to take out its propeller guards to get the drone rolling. There are two sets of these – one consists of four smaller guards that act as an RC car's wheels and let it skim across the ground. The other set is made up of two larger wheels that climb up walls if you approach them with enough speed. Powering all of these moves is a 480mAh battery with enough juice for 7 minutes of flight time when operating in standard drone mode.
The camera is U841's standout feature. It records sharp videos in 720p! The footage it produces is of an exceptional quality given the drone's price, provided you film outdoors or with the lights on. The drone has an SD card slot that supports cards with 64GB capacity.
This model also has one of the best remote controls on review. The remote resembles a gaming joypad rather than a traditional RC controller and is comfortable to hold. You can toggle between three flying speeds and watch the U841 respond to each command instantaneously. The LCD is another great addition to the remote. It shows important info like battery and throttle levels, speed settings, and signal strength.
The drone's range is only 90 feet, so it's best to use it indoors or in your backyard. Range limitations aside, flying the U841 is a lot of fun, especially when it's zooming around at full speed or doing an impression of Spider Pig on the ceiling.
Are There Drawbacks?
The weak battery doesn't let you get much out of the U841if you're using its propeller guards and recording a video. Expect the battery to last just two minutes when using the drone this way. There is no dedicated land mode, so driving the U841 is tricky as it has a tendency to lift off the ground if it is going fast.
Tech Specs
Dimensions: 7 x 5.5 x 2.4 in.
Weight: 23 oz.
Battery capacity: 480mAh
Flight time: 7 minutes
Max. range: 95 feet
The Pros
Can turn into RC car and wall climber
Excellent video camera for the price
Ergonomic remote with informative LCD display
Good maneuverability
The Cons
Flight time goes down drastically the more features you use
Hard to handle when driving
4. SY X25 Car Quadcopter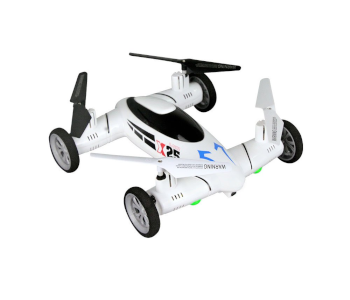 View on Amazon
Editor's Rating: 4.3/5
Do you like the concept behind the Syma X9 but want a drone with better range? The X25 is made by Chinese drone manufacturer SongYang and was inspired by our value pick, so much so that it's hard to tell them apart. However, there are differences in the way the X25 behaves in driving mode that have earned it the fourth place on our list.
Overview of Features
On the outside, the X25 is the spitting image of the x9, except with different decals and eye-catching white color. This model has a few advantages, though. It comes with color-changing LEDs that make it fun for kids to fly at nighttime. You can get the drone with either a 600mAh or a 750mAh battery. The latter enables it to fly or drive for 8 minutes. The USB cord you get with the drone plugs directly into the battery, so you don't need to remove it when charging.
The 2.4GHz wireless controller reacts to commands promptly and makes steering in both modes simple. You need to keep pressing the throttle stick forward to fly since leaving it in neutral enables driving mode controls on the right analog stick. Conversely, pressing the throttle instantly cuts ground controls so you can start maneuvering in the air the moment the X25 takes off.
This drone has a maximum range of 300 feet but can execute tight turns or complicated maneuvers you'd expect from drones intended for indoor use. For example, it needs minimal space and only a meter of altitude to perform thrilling 360-degree flips. Unlike the X9, you can summon the X25 back with the return home button if it flies out of communication range.
What We Didn't Like
The X25 is a poor performer on the ground. It has the same foam tires the X9 does and is harder to control. The remote is made from low-quality plastic and requires a gentle hand since pushing on the directional pads too hard can cause them to stop responding.
Tech Specs
Dimensions: 9.3 x 6.6 x 2.6 in.
Weight: 20 oz.
Battery capacity: 750mAh
Flight time: 8 minutes
Max. range: 300 feet
The Pros
Long flight time
Responsive and beginner-friendly
Battery can be recharged while still in drone
Performs impressive aerial acrobatics
The Cons
Hard to control in drive mode
Poorly-made remote
5. Protocol TerraCopter EVO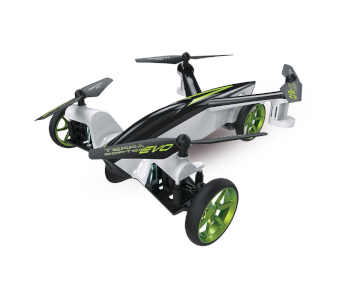 View on Amazon
Editor's Rating: 4.2/5
Flying a drone is an exhilarating experience, but getting to see what it sees is even better! The TerraCopter EVO comes with a camera and a remote control that has an attachment for your phone. You can wirelessly connect the phone with the TerraCopter EVO and view its live feed on the phone's screen. This drone is fast, easy to handle in the air, and can hover in place.
Overview of Features
The TerraCopter EVO is among the best looking wheeled drones with its smooth contours and a black & white color combo with bright green trim. It's also a drone meant for night flying as there's a large red LED in the back along with multiple green ones above the front wheels. Its propellers are screwed in from the top which ensures stability. You get four replacement blades if any of them should break along with a screwdriver, the manual, the controller, and a smartphone stand.
The drone's battery is small but energy efficient. Its capacity is 380mAh, yet it powers the TerraCopter EVO for 5 minutes even when you're using the camera. Speaking of which, the resolution is 640×480 and the colors are washed out. It's great for getting your bearings and admiring the view, but don't expect to be able to take high-quality aerial shots.
The physical controller behaves the same as the X9s. The major difference is the hold altitude button which forces the TerraCopter EVO to maintain its current position, which works apart from occasional dips. You can also control the TerraCopter EVO from its app. This requires you to download the app and pair your phone to the drone's Wi-Fi. Once they're connected, you get a live camera feed along with a mirror of the RC's controller scheme on the phone's screen.
The controller has a phone holder that makes using the phone easier. The TerraCopter EVO registers analog controls, so you can hide the app's control interface when using the remote. The app also lets you record videos, take pictures, and save them to either your phone's memory or an SD card.
We were impressed with how the TerraCopter EVO handles in the air. It will tip up to a high altitude in seconds, hover in place, or quickly change its yaw with the slightest button press. You can fly it both indoors and out as its maximum range is 300 feet.
What We Didn't Like
The TerraCopter EVO is not as fun to drive as it is to fly. Its hind wheels are placed close together and can't turn, which makes the drone less stable when driving. Steering isn't incremental either and requires an adjustment period before you stop overreaching. The drone's build quality is weaker than its price would suggest. You'll want to take care where you fly it and not switch to the higher speed indoors to avoid bumping into something and damaging the drone.
Tech Specs
Dimensions: 13.6 x 10.3 x 7.1 in.
Weight: 38 oz.
Battery capacity: 380mAh
Flight time: 5 minutes
Max. range: 300 feet
The Pros
Has real-time flight streaming
Can take pictures and record videos thanks to app
Excellent handling in the air
Can fly at night thanks to LED lighting
The Cons
Poor build quality
Hard to control when riding
6. Best Budget Option – Top Race TR-MQ3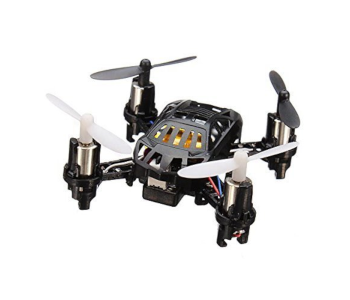 View on Amazon
Editor's Rating: 4.6/5
Our most affordable wheeled drone is also the smallest and best at performing a variety of tricks. Thanks to its large side wheels, Top Race's TR-MQ3 can perform funnels, drift, and tackle any smooth surface. The drone is a blast to control, has an exceptional battery, and will set you back less than $30!
Overview of Features
Top Race is a company that makes its products domestically, which is reflected in the TR-MQ3's build quality. The drone is made from high-grade plastic, and some of its parts are metal. This makes the TR-MQ3 highly resistant to impact damage and lets you fly indoors without worrying that a fall from celling height will damage it. You get replacements for all four blades, a well-written instruction manual, and a USB charging cable along with the drone.
The TR-MQ3 has the most energy-efficient battery on review. It has a capacity of 100mAh but can hold the drone in the air for 5-6 minutes because of its small weight and size. Best of all, the battery's low capacity means you can recharge it in less than 10 minutes! That's a huge plus since batteries in bigger drones last as long yet take upwards of an hour to recharge.
You can use the TR-MQ3 either on its own or attach a set of large wheels to turn it into a drifting, hopping, skipping car. You also get a single blade cover that protects both the blades and your furniture from damage.
Like the TR-MQ3, its 2.4 GHz remote is small yet well made. It has an adequate indoor range of 65 feet and two speed settings. Even the low setting makes the drone zip around swiftly, albeit with more control while high causes it to turn more abruptly and execute flips or side movements quickly.
Are There Drawbacks?
This drone isn't suitable for outdoor flying. It is small and painted black, so it's hard to spot in tall grass, and the four LEDs under its wings aren't visible enough unless the TR-MQ3 is hovering directly above you. Its propellers are connected to motors which are far too easy to pull out when you need to replace a broken propeller or get rid of tangled hair.
Tech Specs
Dimensions: 1.6 x 1.6 x 2.6 in.
Weight: 5.6 oz.
Battery capacity: 100mAh
Flight time: 5 minutes
Max. range: 65 feet
The Pros
Can perform all sorts of tricks on land and in the air
Durable body and high impact resistance
Excellent battery life and recharge time
Responsive controller
The Cons
For indoor use only
Motors can be damaged when removing propellers