Best DSLR Cameras Under $500
3D Insider is ad supported and earns money from clicks, commissions from sales, and other ways.
DSLR cameras are a fantastic way to document memories and capture special moments. They are a complex piece of technology with all sorts of features and options. Different photography projects call for different camera attributes. Therefore, not every photographer needs the same set of features.
A professional cameraman shooting for a popular magazine might need a DSLR with features that are very different from those desired by a traveler or a hobbyist photographer. As is the case with most products, the more top-end features that you want in your camera, the more you have to pay for such cameras. DSLRs can be purchased for as little as a few hundred dollars to as high as $3000 or $4000.
For beginners and budding photographers, who are still learning the tricks of the trade, purchasing a camera with a few basic features is enough to learn the fundamentals of photography. You can not only learn the basics, but also get your hands wet with intermediate-level techniques. There is no need to spend thousands of dollars on DSLRs with functions that you won't really use.
A DSLR under $500 can be pretty powerful. Buying cheap does not always mean settling for low-quality. The trick is to try and find value at a low price. We reviewed multiple DSLR cameras that are priced under $500 and made the following list of the best models available in the market.
We believe that these models offer the right balance between price and features. So, whether you are a beginner photographer or simply on a tight budget, the following camera models offer plenty of useful features.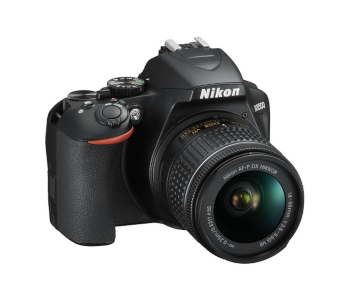 Nikon is among the top 2 camera brands in the world. They have a long history and heritage when it comes to making DSLR and other camera products. The D3500 is Nikon's entry-level DSLR. It has a23.5mm X 15.6mm sensor and can take pictures as large as 24.2 megapixels.
The image sensor on the D3500 is about 15 times larger than typical image sensors on smartphones. So, if you are wondering whether this camera is a decent upgrade on your smartphone camera, then the answer is a resounding yes.
The D5300 can record 1080p HD video at 60 frames per second, which is enough to add some smooth slow-motion drama to your footage. Recording video is very easy as all you have to do is flip the Live View lever and push the record button.
You can even shoot action shots or fast-moving persons/objects with a 5 frame-per-second continuous mode. The autofocus system has 11 autofocus points out of which 1 point is cross-type. The fastest shutter speed is 1/4000 seconds. Fast shutter speed is important if you like freezing your frames in time and get that perfect droplet of water which is just about to fall from the edge of the leaf.
The ISO range of the D3500 is 100 to 25600, which is plenty for daylight as well as night-time photography. The Nikon D3500 is Bluetooth enabled and also has snapbridge connectivity. Those who like to share their photos on-the-go will appreciate these features.
The body of this camera is quite compact. It measures 4.88 in X 2.76 in X 3.82 in. The camera weighs only 0.86 lbs. Overall, the camera has good image and video capability. You can learn how to use ISO, aperture, and shutter speed. For a price under $500, the features are pretty robust.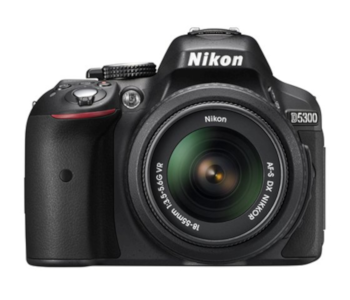 The Nikon D5300 is another entry-level camera from Nikon. However, it is one series higher than the D3500. Its official price is above $500, but you can find one for under that threshold if you shop around online.
For those who like sharing pictures and geotagging their pictures, the D5300 brings some good news. It has Wi-Fi as well as GPS functionalities. Connect this camera to your smartphone and operate the settings from your phone.
A 3.2 LCD screen makes viewing your pictures and setting the functions quite convenient. You can even use the LCD screen as a viewfinder. The screen moves across multiple angles. So, if you are in a tight spot or if you are vlogging, then you can adjust the angle of the LCD screen according to your requirement.
The autofocus system of the D5300 is on another level when compared to the D3500. It has 39 autofocus points with 9 cross-type points. The sensor size of the D5300 is 23.5mm X 15.6mm, the same as the sensor in the D3500. The number of megapixels is also the same at 24.2.
The maximum video resolution that this camera can record is 1920 X 1080 with a frame rate of 60 per second. You can capture smooth HD video using the highest settings. The ISO range is only 100 to 12800. But this range can be expanded to 25600.
Overall, the D5300 is very similar to the D3500. The major differences are a better autofocus system and a movable LCD screen. This is a seriously good camera for a price under $500. It is definitely our top pick if you are a Nikon fan.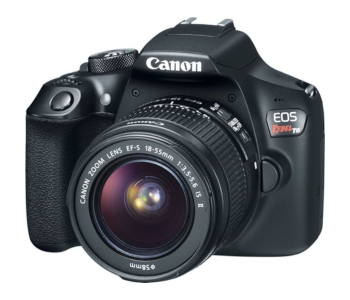 Canon is the other giant camera brand besides Nikon. It is also a household name and has a long history of making world-class camera products. Canon's entry-level DSLR is the Rebel T6 (also known as 1300D). Canon uses its APS-C image sensor on this model. The sensor measures 22.3mm X 14.9mm. The camera can take 18-megapixel images.
The ISO range is from 100 to 6400, which is significantly less than the entry-level cameras of rival Nikon. However, the ISO range is expandable to 12800. The Rebel T6 also has a decent autofocus system with 9 autofocus points. 1 of the 9 points is cross-type.
The Rebel T6 has Wi-Fi and NFC connectivity. There is no Bluetooth connectivity. However, sharing photos and connecting the camera to a smartphone is easy with Wi-Fi. You can even control your camera remotely using your phone.
The fastest shutter speed is 1/4000 seconds while the slowest is 30 seconds (plenty of long exposure shots). The Rebel T6 has a 3-inch LCD screen. It is not movable, but you do get the benefit of using the screen to tweak settings, review your pictures, or use it as a viewfinder.
The Canon Rebel T6 can shoot 1920 X 1080 video at 30 frames per second and 1280 X 720 video at 60 frames per second. Overall, you get a pretty decent beginner camera for a low price. There are enough settings and functions to allow your creative energy to experiment. You can build your photography fundamentals quite well with this Canon entry-level camera.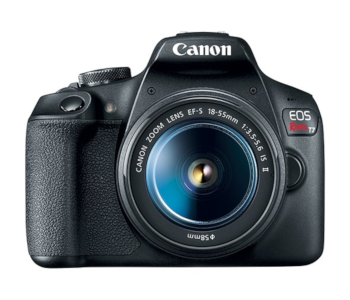 The Canon Rebel T7 is an upgrade on the T6. It was released about 2 years after the Rebel T6 model hit the market. The Rebel T7 (also known as 2000D) has an improved 24.1 megapixels. It still uses the same APS-C image sensor that the T6 uses. The image sensor measures 22.3mm X 14.9mm.
The Rebel T7 has a decent ISO range of 100 to 12800. A 3-inch LCD screen is great for viewing the frame, filming a video, and reviewing your pictures. The shutter speed range is from 1/4000 seconds to 30 seconds. This range is wide enough to take a variety of shots under different light intensities.
The camera body measures 129mm by 101mm and weighs about 1.05 pounds. Travelers or photographers who are concerned about lugging a DSLR camera around will find the Rebel T7 to be quite portable.
The Rebel T7 also has Wi-Fi and NFC connectivity. There is no Bluetooth connectivity. Wi-Fi allows for easy and convenient sharing of photos. Connecting the camera to a smartphone and operating it remotely using the phone is also possible.
Overall, the Canon EOS Rebel T7 is a more recent version of the Rebel T6. Most of the features are identical. The resolution (megapixels) and the ISO are the key differences when it comes to performance. As a beginner or a budget buyer, you cannot go wrong with the Rebel T7.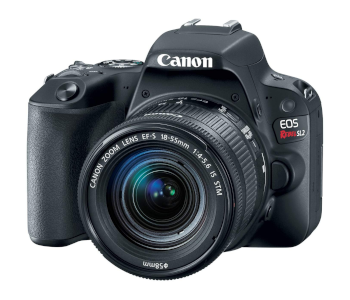 The Canon EOS Rebel SL2 has features that the T6 or the T7 might have missed. The SL2 has Bluetooth, NFC, and Wi-Fi. So connecting to other devices like a smartphone or sharing your pictures is easy and fast.
Secondly, the Rebel SL2 also has a variable angle 3-inch LCD screen. So, you can turn the screen whichever way you want. This is important if you are shooting from a tight spot or if you are filming yourself and want to see what the frame looks like. Selfie shots are also much easier when you can look at the screen just before your frame the shot.
The Rebel SL2 uses a more advanced DIGIC 7 image processor. This camera uses the standard Canon APS-C 22.3mm X 14.9mm sensor with 24.2 megapixels. The ISO range is an impressive 100 to 25600. For an entry-level camera, that is more than sufficient for some night time photography as well as day time shots.
Video resolution can go as high as 1920 X 1080 at 60 frames per second. The camera body weighs about 1 lb and measures 4.82 in X 3.65 in X 2.75 in.
The official price of the Rebel SL2 is above $600. But, you can buy one for less than $500 on Amazon. This camera is our top choice among the Canon models because it packs in performance and convenience. You get decent resolution, good ISO range, and reasonable shutter speed (1/4000 to 30 seconds). The LCD screen and connectivity options make the camera easy to use.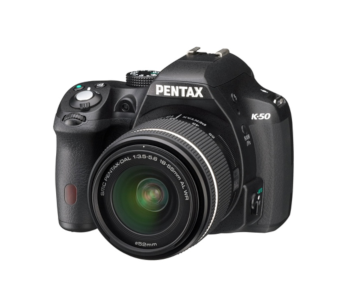 Pentax is another Japanese consumer electronics major known for its camera products. Its entry-level DSLR, the K-50, is priced under $500 and has some impressive features.
Firstly, it has a 23.7mm X 15.7mm APS-C sensor. The resolution is 16.28 megapixels. The body is a bit heavy at around 1.4 lbs. The dimensions are 5.07 in X 3.79 in X 2.75 in. So, the camera is a bit on the bulkier side as compared to the Canon and Nikon cameras that we have listed above.
However, the ISO range is 100 to 51200 which is impressive for an entry-level DSLR. The camera also has a 3-inch LCD screen. The autofocus system has 11 autofocus points out of which 9 are cross-type. That number is pretty much the best in class and comparable to the autofocus system of the Nikon D5300.
The shutter speed range is also quite impressive at 1/6000 seconds to 30 seconds. This range is the highest among all the cameras on this list.
The video capability is respectable as the Pentax K-50 can film 1920 X 1080 HD videos at 30 frames per second. If you want a higher frame rate, then you can set the video settings to 1280 X 720 at 60 frames per second.
For those who like to use their cameras in the outdoors, the Pentax K-50 has a weather-sealed body. So, using it in light rain or near a waterfall is no problem. Overall, there is plenty to like about the Pentax K-50 if you are willing to look beyond the megapixel number. Anyone who is looking for an alternative to a Canon or a Nikon will find the K-50 to be a decent proposition.