6 Best Dyson Vacuum Black Friday 2019 Deals
3D Insider is ad supported and earns money from clicks and other ways.
Dyson is a company that is known for its innovative household appliances. Their most popular products are their vacuums, which are more than just your usual cleaning tools as they are engineering marvels.
Finding the best vacuum cleaner for your needs is certainly not easy. You need one that ensures all the dust and dirt in your home is sucked clean. If you are on the hunt for the best vacuums, then it is an excellent thing that Black Friday is coming fast.
This year's deals are going to save you up to 50%. This is definitely the best time to get the best cleaning gadgets for your home. Dyson vacuum cleaners are certainly a premium brand, but getting them this Black Friday is going to save you a ton.
Here are some of the best deals you can find from Best Buy for Dyson vacuum cleaners: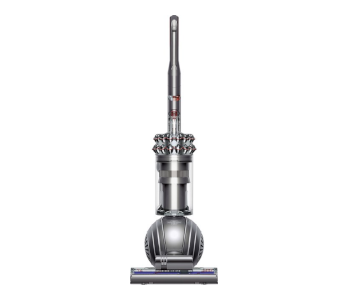 DYSON CINETIC BIG BALL ANIMAL + ALLERGY BAGLESS UPRIGHT VACUUM
Original Price: $699
Black Friday Price: $449
This vacuum will also be on sale at Best Buy.
The Cinetic Big Ball Animal + Allergy is undoubtedly a Dyson product. The company aimed to make this vacuum cleaner as maintenance-free as possible, and this is what they have achieved. For one, they got rid of the filter, so you do not have to devote your time to clean it.
Design and Build
You might think that Dyson's designs are over the top, they may look that way, but it usually does the job. The models of their vacuum cleaners are top-notch, and upon looking at this Cinetic Big Ball, you will instantly notice that it is a Dyson.
This vacuum, in particular, avoids the use of filters so you will not have to clean or replace them. The trick here is that they use smaller cyclones that work together so that it generates a high amount of centrifugal force that separates out dust and dirt. These then fall out into the collection bin, so all you need to do is dump them out.
The vacuum is equipped with a slide-out extension that allows you to use the accessories it comes within the box. This makes it easier for you to swap out different attachment heads, so you have the right fitting for specific cleaning jobs. You can use them to dust the drapes, go over couch cushions, clean the carpets, or maneuver under furniture.
Performance
Dyson vacuums are known for their designs, but the performance that they put out is similarly unparalleled. The consistency that they deliver in every single one of their products is what makes them an industry leader.
Dyson's latest technology innovations allow the Cinetic Big Ball Animal + Allergy vacuum to perform at optimum levels all the time. The filter-less design eliminates clogging or diminished suction power so you can clean your home without running into problems. It also comes with a HEPA-filtration mechanism that outputs significantly cleaner air compared to other similar machines. The single-button emptying capabilities allow those with allergic sensitivities to handle the vacuum without problems.
The Animal + Allergy also performs exceptionally well on pet hair as it efficiently sucks it without tangling or blocking the vacuum's airways.
The Dyson Cinetic Big Ball Animal + Allergy is one of their top-of-the-line cleaners. Its filter-free setup, which means it is maintenance-free, surely makes up for the expensive price tag. This Black Friday will be the perfect time for you to grab it and save up to 30%.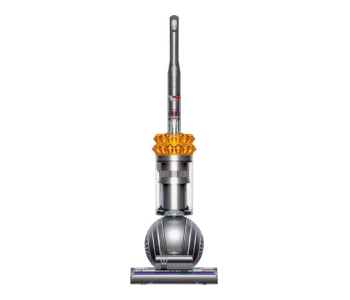 DYSON CINETIC BIG BALL TOTAL CLEAN BAGLESS UPRIGHT VACUUM
Original Price: $599
Black Friday Price: $299
The Dyson Cinetic Big Ball is an excellent vacuum. This Black Friday, you can mostly snap it up for less, making it a deal that matches what it can do. Similar to all of their products, this is way beyond a vacuum. It is a marvel of engineering and design that gives you consistent performance without the drawbacks.
Design and Build
One of the challenges of lugging a corded vacuum around as you clean your house is its tendency to tumble over. Dyson quickly solved this problem by creating a machine that is shaped like a ball and weighed down, so it naturally picks itself up. This way, you will not have to go back and pick it up every time.
The most innovative feature of the Big Ball Total Clean is its namesake, the "Big Ball." This is where Dyson packed their upgraded technology and fitted 19 cyclones, generating more centrifugal forces that catch dust and allergens, so they do not go back into your home. The ball also helps with maneuverability and stability so you can clean effortlessly.
Performance
The Cyclone technology that Dyson has equipped the Big Ball Total Clean, which allows it to separate microscopic dust particles without the help of a filter. This makes the vacuum more efficient and extremely easy to use since you will need minimal maintenance.
The vacuum also comes with a much longer wand, compared to previous models and other cleaners. It is extendable up to 1,250 cm, a meter and a quarter, so you can have access to hard to reach areas around your home.
The Dyson Cinetic Big Ball Total Clean's round design and powerful suction will make your life a lot easier. Couple that with its filter-less build, this is a natural vacuum to operate. It is also easy on the wrists and forearms, so cleaning your home is effortless.
This Black Friday here is one of the best deals you will get for a vacuum cleaner since you can easily save up to 50%.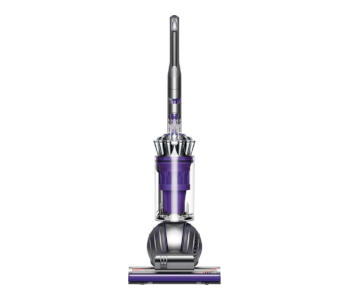 DYSON BALL ANIMAL 2 BAGLESS UPRIGHT VACUUM
Original Price: $499
Black Friday Price: $299
This vacuum will also be sold at Best Buy for Black Friday.
If you have pets that love to walk around your home, you will surely need the help of a powerful vacuum for their mess. The Dyson Ball Animal 2 is exactly the machine you are looking for. It is a high-tech vacuum cleaner that will do the job.
Design and Build
It is a fact that the Animal 2 is one heavy vacuum. Weighing about 7.34kg, it will surely feel like it when you are cleaning. Dyson makes up for this with its build quality. It is excellent, and the materials they use are deceptively strong. So, you can lug it around and not worry about its weight since you can be sure that everything will remain intact.
As with all of Dyson's other ball vacuums, the Animal 2 comes with it, which makes it easy for you to maneuver it around your home. It will help you turn corners so you can clean every inch of your home. It is not the best one to clean under beds and sofas.
The vacuum does come with a full set of accessories that will make cleaning a breeze. You will get smaller turbine clips that attach to an extendable hose so you can clean under furniture with ease. You also get a tangle-free turbine that is exceptionally efficient at removing pet hair from all types of surfaces.
Performance
One problem of the Animal 2 is that it's dust container and steering ball are too tall for shorter furniture like beds and coffee tables. This essentially makes the vacuum less efficient as you will need to swap out parts to transition from cleaning the floor to working on furniture.
However, it is still a powerful machine that can take care of your cleaning needs. If you are looking for an upright vacuum cleaner that can provide you excellent cleaning on every surface imaginable, then the Animal 2 is a safe bet.
The vacuum will suck up any type of debris from cornflakes, rice, sugar, and, most notably, pet hair. It does not have any problem getting these from any surface like carpets and wooden floors. It will also effortlessly suck up pet hair from the sofa, making it the perfect device if you have pets.
Similar to other Dyson machines, the Animal 2 does not have a bag. It does have a 1.8-liter bin that can collect a lot of dirt so you can vacuum a lot of rooms before emptying it. For you to do that, simply press the red button, and the bin unclips so you can empty quickly by releasing its bottom lid. That's it, you are done cleaning in no time.
The Dyson Ball Animal 2 is an excellent vacuum cleaner, and you will be able to save up to 40% when you get this from Best Buy on Black Friday. Indeed, a great deal for a cleaning tool that will make your life significantly easier.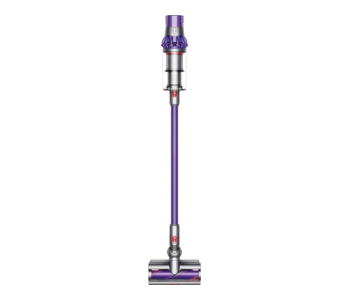 DYSON CYCLONE V10 ANIMAL CORD-FREE STICK VACUUM
Original Price: $549
Black Friday Price: $399
This vacuum is also on sale at Best Buy.
The Dyson Cyclone V10 is a different beast compared to previous models we have reviewed. For one, it is a stick vacuum, and cordless. This is the first product of Dyson's new dawn, where they eventually stopped developing corded models in favor of those similar to the V10.
Design and Build
The V10 Animal is an intelligent machine. The sensors that Dyson has put in can detect variables like altitude, air pressure, and temperature, so the vacuum knows how much power to produce, increasing its efficiency. Dyson even claims that it knows the difference between a table and a floor.
This model is very much similar to its predecessor, the V8, but it produces 20% more suction power with a motor that is only half the size. This makes the V10 Animal lighter but comes with more power, so it sucks more dirt and dust from your home.
The V10 Animal comes with a filter that is tremendously easy to remove. All you need to do is twist it counter-clockwise once to grab it for a quick wash. It even has its own LED indicator that will let you know if it is dirty enough that it warrants a cleaning.
Dyson is known for their attention to detail, and the filter for the V10 Animal is capable of capturing 99.97% of allergens. This makes it an excellent machine if you have family members that have specific sensitivities.
Performance
The V10 Animal has a lot of sucking power thanks to its digital motor and 14-cyclone array. It performs incredibly well, able to suck up larger debris such as cereals, pet kibbles, and more. It can also get rid of much smaller fragments with the help of various attachments.
The Mini Motorized Tool that the vacuum comes with is excellent for vacuuming stairs and upholstery, while the Rigid Crevice Tool is perfect for cleaning up the sides of sofas. There is also the Flexi Crevice Tool that has an extendable hose that makes it the ideal attachment for vacuuming car interiors.
The vacuum comes with three power settings, specifically low, medium, and maximum. You will often use medium mode, which gives you decent battery life and sucking power. Speaking of batteries, the V10 Animal comes with a more energy-dense battery that will provide you with energy for up to 60 minutes on the lowest power setting and about 30 minutes on the medium.
The Dyson Cyclone V10 Animal is one of the best stick vacuums on the market. Though it suffers from occasional blockages, it is still a beast that you want to help you clean your home,
If you are looking for a reliable and powerful vacuum cleaner to help you with cleaning, and have pets around, this is one of the best machines out there. This Black Friday, you will be able to save up to 27% when you get this vacuum for your home.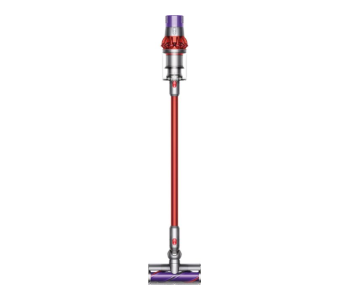 DYSON CYCLONE V10 MOTORHEAD CORD-FREE STICK VACUUM
Original Price: $499
Black Friday Price: $349
The Dyson Cyclone V10 Motorhead is similar to the earlier model that we reviewed, the V10 Animal. There are some slight differences, though. Functionally, they are very much alike. They use the same motor, battery, and have the same suction power. If you look at the specs, they are reasonably similar to both running Dyson's digital motor. They both have a run time of about 60 minutes on low power mode and weigh roughly the same.
V10 Motorhead vs V10 Animal
They do have some differences. One, in particular, is the size of their dust bins, with the V10 Animal winning out with a 0.76-liter bin, while the V10 Motorhead carries a much smaller one of about 0.53-liter. This smaller bin also makes the V10 Motorhead a bit lighter, just by 0.4 pounds.
The most notable difference between the two, however, is the number of accessories that are included out-of-the-box. The V10 Animal comes with almost all of the attachments that are available for the V10. These different tools make it easier for you to clean up your home.
The V10 Motorhead, on the other hand, comes with the most basic of accessories. It is still a powerful and handy vacuum cleaner, but you may be missing out on some attachments that are found on the V10 Animal. The accessories that are not available for the Motorhead are the Torque Drive Cleaning Head, Mini Dusting Brush, and Mini Motorized Brushroll.
You may not be totally missing out on these features, but they might come in handy for some use later in the future. However, if you are not keen on using these features, then the Dyson Cyclone V10 Motorhead is the perfect device for you. It is a reliable vacuum cleaner that will still fulfill all of your cleaning needs.
If you are looking for an excellent deal this Black Friday, you will be able to save up to 30% on the Dyson V10 Motorhead.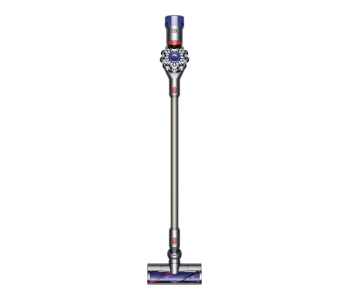 DYSON V8 ANIMAL CORD-FREE STICK VACUUM
Original Price: $399
Black Friday Price: $299
The Dyson V8 Animal cord-free stick vacuum is a powerful cleaner that can easily replace a corded device. It is the predecessor to the V10, which is why you will notice a lot of similarities between the two.
Design and Build
Dyson's Cyclone cordless vacuum line all carry similar designs, and the V8 Animal is no exception. It is a stick vacuum design that Dyson has perfected and turns into a handheld model when you detach the extension. These two designs make it a versatile machine since you will be able to pick one out, depending on your needs.
As a cordless vacuum cleaner, the V8 Animal is lightweight and extremely easy to carry around. Weighing only 2.61 kg, it is undoubtedly one of the lightest models in the market. It is comfortable to hold so you will not hurt your hands or wrists when you are out cleaning.
One downside of the V8 Animal is its significantly smaller dust bin, which Dyson has corrected with its V10 models. The previous version only carries a container of just 0.54 liters and is certainly not enough for a decent-sized home. You will be emptying it multiple times before you finish up cleaning.
Performance
The V8 Animal is a powerful vacuum, and with three power modes, it can match corded versions when it comes to suction power. It can handle a lot of different surfaces, especially carpets, hard floors, and even the stairs. Cleaning up pet hair is one of its specialties, where it quickly sucks them up without tangling and clogging the airways.
One of Dyson's signatures for their vacuums are the many accessories you can attach. The Direct-Drive Cleaner Head is a versatile attachment that can dig deep into carpet fibers, removing more dust and dirt. This is also the perfect accessory for removing pet hair on just about any soft surface, such as sofa fabrics.
As a cordless vacuum, it comes with its own power supply via a battery. The V8 Animal has a maximum run time of about 40 minutes. Still, this is a significant upgrade from the previous V6 model and a decent comparison to the latest V10. Using a different power mode, though, will significantly affect your battery levels since Max Mode only gives you about 7 minutes of run time.
The V8 comes with pre- and post-motor filters that prevent dust and other allergens from escaping. This makes it an excellent vacuum cleaner if you or anyone in your family have allergies.
If there is a more perfect time to get an older model, it is during Black Friday where you can grab them and enjoy significant savings. For the Dyson V8 Animal, in particular, you will be saving up to 25%, which is a lot for a high-quality vacuum.