Comparison of E-Readers: The Best Device for Digital Book Lovers
3D Insider is ad supported and earns money from clicks, commissions from sales, and other ways.
Gone are the days when you have to carry a bundle of books to accompany you during your travels. E-readers allow you to read your favorites on the go. They also come with add-on features, such as connectivity and sharing support, for convenience. Moreover, they make foreign language learning more accessible.
For self-proclaimed bookworms, these mobile electronic devices are godsent. They feature integrated dictionary apps that display the meaning of a word in one click. You can even save a few bucks downloading free e-books from the Internet. Plus, you don't have to go to the library to get or return them, saving you plenty of time.
E-Reader Comparison
There are a lot of e-reader brands and models in the market. Choosing between them can be a challenge, especially since they offer similar features. Here's a quick way to compare all these devices so you can figure out which one suits your reading needs.
Amazon
Kindle
Paperwhite
Kobo
Clara HD
Amazon
Kindle
Oasis
Kobo
Forma
Nook
Glowlight
3
Onyx Book
Max 3
Kobo
Libra H2O
Amazon
Kindle
Dimensions
6.6 x 4.6 x
0.3 inches
6.3 x 4.3 x
0.3 inches
6.3 x 5.6 x
0.3 inches
6.3 x 7.0 x
0.3 inches
6.9 x 5.0 x
0.4 inches
12.2 x 9.0 x
0.3 inches
6.3 x 5.6 x
0.3 inches
6.3 x 4.5 x
0.3 inches
Weight
191 grams
166 grams
188 grams
197 grams
190 grams
490 grams
192 grams
174 grams
Battery Life
Up to 6
weeks
Up to 4
weeks
Up to 6
weeks
Up to 6
weeks
Up to 6
weeks
Up to 4
weeks
Up to 4
weeks
Up to 4
weeks
Connectivity
Wi-Fi
Wi-Fi
Wi-Fi
Wi-Fi
Wi-Fi
Wi-Fi
Wi-Fi
Wi-Fi
Storage
Up to 32
GB
8 GB
Up to 32
GB
Up to 32
GB
8 GB
Up to 64
GB
8 GB
8 GB
Expandable
Storage
NONE
NONE
NONE
NONE
NONE
NONE
NONE
NONE
Cloud
Storage
YES
NONE
YES
NONE
YES
NONE
NONE
YES
Display
6-inch
Glare-Free
Display
6-inch
Display
7-inch
Glare-Free
Display
8-inch
Display
6-inch
Display
13.3-inch
Display
7-inch
Display
6-inch
Glare-Free
Display
Resolution
300 ppi
300 ppi
300 ppi
300 ppi
300 dpi
207 ppi
300 dpi
167 ppi
E-ink
Electronic
Paper
E-ink Carta
E-ink Carta
E-ink Carta
E-ink Carta
E-ink Carta
E-ink
Mobius
E-ink Carta
Amazon E-
ink Display
Touchscreen
YES
YES
YES
YES
YES
YES
YES
YES
Content
Formats
Kindle
Format,
TXT, PDF
EPUB,
PDF,
MOBI,
PDF, TXT
Kindle
Format,
TXT, PDF
EPUB,
PDF,
MOBI,
PDF, TXT
EPUB,
PDF, TXT
EPUB,
PDF,
MOBI,
PDF, TXT
EPUB,
PDF,
MOBI,
PDF, TXT
Kindle
Format,
TXT, PDF
Waterproof
IPX8 (2
meters for
60 minutes)
NONE
IPX8 (2
meters for
60 minutes)
IPX8 (2
meters for
60 minutes)
NONE
NONE
IPX8 (2
meters for
60 minutes)
NONE
Price
$129
CHECK PRICE
$119
CHECK PRICE
$249
CHECK PRICE
$329
CHECK PRICE
$139
CHECK PRICE
$859
CHECK PRICE
$185
CHECK PRICE
$89
CHECK
PRICE
Our Top Pick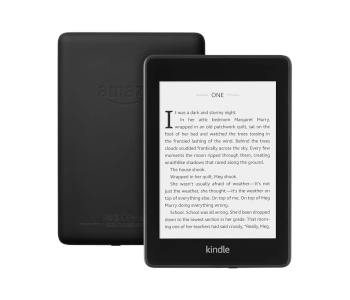 Retail Price: $129
The Amazon Kindle Paperwhite is the updated version of the 2018 model. It has several features added from the Oasis and Voyage lines, including support for Audible audiobooks and IPX8-rated waterproofing. It also provides you access to Amazon's vast library and lets you use the Kindle Unlimited rental service. Overall, it's the closest thing you get to real paper while enjoying all the benefits of an e-reader.
Design and Display
Design-wise, the Paperwhite is terrific. It has a flush front design with a soft, grippy back. It is also fully waterproof, like the high-end Kindle Oasis. Moreover, the device has built-in Bluetooth, allowing you to download audiobooks and listen to them with your wireless headphones.
The Paperwhite uses a 6-inch eInk display that boasts 300dpi and better contrast than the regular Kindle. The screen is glare-free and has incredibly sharp and dark text. You can also easily adjust the brightness through the on-screen menu. The advantage of brighter whites and deeper blacks make it the Kindle of choice.
Since it is 10% thinner and lighter than its previous version, the Amazon e-reader does not feel heavy or uncomfortable to use, even with a case. It also has a flat front, giving more space for your content. Moreover, the Paperwhite boasts a scratch and shatter-resistant plastic screen to put your mind at ease.
Features
You can get the Paperwhite in Wi-Fi or Wi-fi+3G. The latter costs a little more but has the advantage of keeping you connected wherever you are. Both allow you to adjust font sizes, line spacing, and page margins to enhance your reading experience. You can even save your
modification as themes.
On top of that, the Amazon Kindle e-reader lets you organize your collections. You can edit your homepage to feature some of your favorite e-books according to the genre. More impressively, its battery lasts for about six weeks on a single charge. Take note that this may vary depending on your reading habits and preferred screen brightness.
Finally, the default Kindle Paperwhite comes with 8gb of storage, twice as much as the previous version. There is also a 32gb Paperwhite if you want to download more graphic novels and audiobooks. With over four million e-books to choose from in the Amazon bookstore, you never have to worry about your device's storage capacity.
Why Get the Kindle Paperwhite
Highly water-resistant with an IPX8 rating
Sharper resolution at 300dpi
Glare-free screen and flush-front design
The battery lasts up to 6 weeks
Slimmer and lighter for more comfortable reading
Best Nighttime E-reader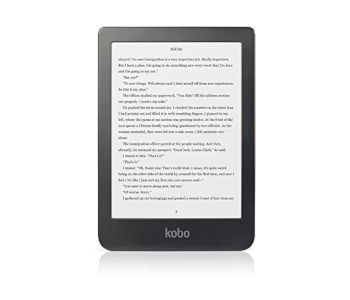 Retail Price: $119
The Kobo Clara HD is a solid e-reader for an affordable price. It is best for nighttime reading and suitable for outside reading in bright light. Almost pocket-sized, you can easily stow it away in small bags and even a large jacket pocket. It also boasts a long battery life and large storage capacity, making it perfect for short trips. Moreover, the portable e-reader supports 14 different file formats, including comics, images, documents, and e-books.
Design and Display
Given the competition and the quality of the device, the Kobo Clara HD does better than other eInk readers. It features a featherweight design that makes it portable but uncomfortable to hold for extended periods. The touchscreen is responsive. You can turn pages, adjust brightness or text size, and navigate to other menu options easily.
The Kobo e-reader has the same six-inch, 300ppi eInk Carta display as Amazon Kindle Paperwhite, which is slightly sharper than its last-generation devices. It also has a slightly tapered back with a stipple pattern for a comfortable grip. Additionally, Clara HD is easier on the eyes. You can read e-books clearly with zero distortion from any angle.
Features
The Kobo Clara HD features the ComfortLight PRO front lighting, allowing you to adjust the lighting in two ways. You can either touch the screen on the left side and adjust the brightness of the screen or use the icon on the top menu to increase or decrease the light intensity. There is also a Natural Light feature that reduces blue light throughout the day and at bedtime.
Just as there are options for lighting, you can adjust the font, text size, margins, and line spacing. The battery life is admirable, lasting up to 4 weeks for a 30-minute per day reading. You can also arrange your books into collections of related titles. Furthermore, you can borrow library books if your library uses Overdrive.
Why Get the Kobo Clara HD
Featherweight design for portability
ComfortLight PRO front lighting
Allows borrowing of library books through Overdrive
Supports 14 different file formats
Best Premium E-reader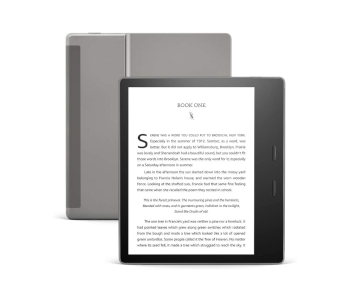 Retail Price: $249
Amazon Kindle Oasis is the most paper-like e-reader in the market. It is a touch faster to turn pages and more responsive to touch than the Paperwhite. More impressively, it has all the cutting-edge features that ensure the most premium reading experience. If you are willing to pay for the best Amazon Kindle e-reader, this is the device to consider.
Design and Display
There is a big difference between the Oasis and Paperwhite when it comes to durability, design, and display. The Oasis comes in graphite or champagne gold and boasts a svelte aluminum body with physical turn page buttons. With an IPX8 rating, you don't have to worry about splashes and rain. Additionally, the e-reader has a sharp 7-inch screen rated at 300ppi and uses LEDs to light up the screen.
Only the Amazon Kindle Oasis allows you to filter out blue light during the night for comfortable nighttime reading. You can turn on the warm glow to reduce eye strain. It also has a more lightweight design and improved back-lighting. More remarkably, you can schedule the screen warmth to adjust automatically with sunrise and sunset.
Features
The Oasis is a frivolously incredible choice of e-reader. It is an absolute delight to use with 25 LED lights that make its screen radiant. It also has a faster processor that allows you to turn the pages in a cinch. Furthermore, the aluminum design has a bump on the edge and physical buttons for turning pages, making it ideal for one-handed reading.
Investing in this Kindle has its perks. The light-up display looks natural. Plus, it adjusts the brightness automatically to enhance your reading experience. The e-reader also comes with plenty of storage space that allows you to save as many books as you need. Finally, it supports Bluetooth so that you can play Audible audiobooks to your headphones or speakers.
Why Get the Amazon Kindle Oasis
Faster and more responsive to touch
Filters blue light for comfortable nighttime reading
25 LED lights for a radiant screen
Bluetooth support for Audible streaming
Best Waterproof E-reader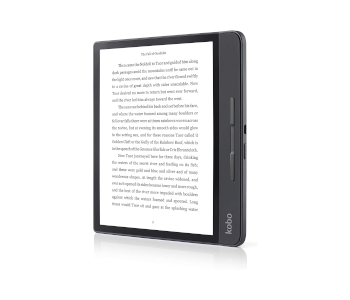 Retail Price: $329
While it can be expensive for a casual reader, the Kobo Forma is a worthwhile investment if you exclusively consume e-books. It boasts a class-leading screen size, desirable integrations, and file support flexibility. The almost perfect display and numerous reading options heighten the experience, making it a close match to Amazon's Kindle Oasis.
Design and Display
The Kobo Forma has an 8-inch display that stands out with a 1920×1440 resolution and 300ppi pixel density. Like other eInk readers, it is glare-free and has excellent visibility from every angle. The touchscreen page-turn is also incredibly responsive. You may want to switch with swiping motions only to prevent unintentional page-turning.
Slim and versatile, you can hold the Forma in one hand comfortably. It is and lightweight, creating no arm or hand strain. And, the rubberized texture on the back adds a bit of grip assurance. It also features the ComfortLight PRO front light that reduces blue light throughout the day. Additionally, you can set the Natural Light setting to automatic.
Features
If you are looking for the best waterproof e-reader, the Kobo Forma is ready to go with you to the beach or in the bath. It has an IPX8 rating, which can survive up to an hour under 6.5 feet of water. It is also quick and painless to set up, requiring minimal equipment to transfer files to the e-reader.
The Kobo e-reader comes with 8GB of storage to hold up to 6,000 e-books. It supports standard e-book files, as well as ten other file types for images. It also has a Dropbox integration that allows you to add content directly to the Kobo Forma. Additional notable integrations are with Pocket and Overdrive.
Why Get the Kobo Forma
Class-leading screen size with high-resolution
Dropbox, Pocket, and Overdrive integrations
IPX8 waterproof rating
Supports different file types
Best E-reader for Android Users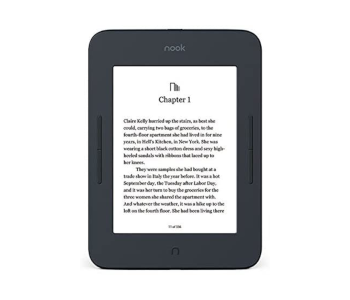 Retail Price: $139
Barnes and Noble NOOK GlowLight 3 is a solid e-reader. It features a color-changing front light and physical page-turn buttons so that you can use it comfortably at any time of day. The high-resolution screen and excellent battery life add nicely to the reading experience, too. Although it suffers from sluggish UI and limited book selection, the device is still functional.
Design and Display
Overall, the Nook GlowLight 3 has a comfortable design. The soft-touch finish allows you to grip and hold the device easily for hours at a time. It also has a dark gray matte body, a simple array of buttons, and the letter n elegantly engraved on the back. With a 6-inch screen, the e-reader is slightly bigger than a mass-market paperback but lightweight at 7.0 ounces.
The GlowLight 3 features a 300ppi display, putting it in par with current Kindle e-readers. Whatever font you use, the text looks crisp, clear, and readable. The device also boasts effortless navigation. The page-turning buttons enable you to access the books you love quickly. You can jump to the next chapter with a few clicks or fast-flip through the pages by holding down the buttons.
Features
Barnes and Noble's e-reader has a fair amount of features and content that make it excellent for Android users. It comes with GlowLight Illumination and Night Mode for comfortable bedtime reading. The GlowLight technology lets you enjoy an evenly dispersed light, while the Night Mode allows you to shift to warmer light quickly.
With long battery life, the Nook GlowLight 3 is perfect for extended trips. You can read for up to 50 days on a single charge. There is also the free NOOK Reading App™ that tables you to pick up where you left off. More impressively, you can make use of the Free Lifetime In-store Support2 for in-person support and the B&N Readouts™ for a quick read.
Why Get the Nook GlowLight 3
Comfortable to use any time of day
Easy to grip with a matte body and soft-touch finish
Effortless to navigate
GlowLight Illumination and Night Mode for bedtime reading
Best Large E-reader for Technical and Scientific Books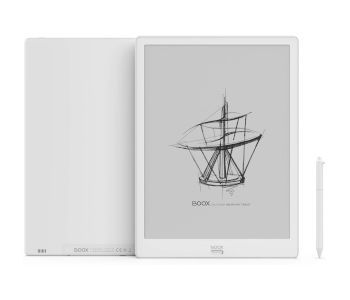 Retail Price: $859
The Onyx Book Max3 is the best large e-reader for technical and scientific books. Packed with great power, it can successfully run apps and play videos through the web browser. The device is an absolute beast in the specs department, too. If you have more money to spend, this slim but powerful e-reader is an excellent alternative to Amazon Kindle Paperwhite.
Design and Display
Slim but hefty, the Max3 has a well-thought-out industrial design. It has the home button at the bottom for a minimalist and refreshing look and a power button with built-in status indicator light. It also has a white matte finish from the bezel to the back, which doesn't collect fingerprints and makes it easier to hold. On the bottom, you will see a USB-C port and a mini HDMI that can act as a monitor extension.
The e-reader has a large display that mimics the feel of paper. It uses the eInk Mobius display panel, which is a whopper at 13.3 inches. It also offers 3.7 megapixels of detail or 207ppi in a resolution of 1650 x 2200. More impressively, the Onyx Book Max3 supports video, which is unusual for an e-reader. You can watch YouTube videos whensoever you want to take a break from reading.
Features
Plenty of customizations options are available in the Onyx Book Max3. You can change the exact look and spacing of texts in e-books, use split-screen, swap to landscape orientation, and many more. You can also download anything from Google Play Store, from e-books to PDFs. Plus, the device boasts a 64GB memory and runs Android 9.0 out of the box for a glorious e-reading experience.
Probably the most surprising feature of the Max3 is the eInk display's X-Mode, a fast refresh mode that makes it possible to watch videos from YouTube and other platforms. The e-reader also comes with a QR code system for wireless file transfer from a PC or other Android devices. Moreover, you can use the Wacom stylus for note-taking. There is no noticeable lag, allowing you to annotate PDFs brilliantly.
Why Get the Onyx Book Max3
Supports video
Large display at 13.3 inches
X-Mode for fast refresh
QR code system for wireless file transfer
Wacom stylus for note-taking
Best E-reader for Students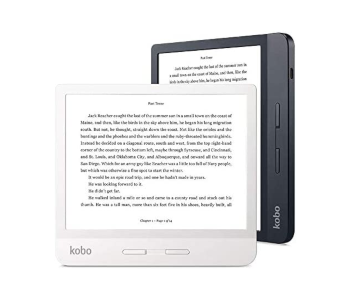 Retail Price: $185
While it looks like a stockier version of the Kobo Forma, the Libra H20 has a more responsive screen than its larger brother. It is also comfortable to use single-handedly and offers a broad file format support. Moreover, the Kobo e-reader boasts a refreshed user interface, Pocket and Dropbox integration, and waterproofing at a reasonably affordable price, making it the best choice for students.
Design and Display
The Kobo Libra H20s asymmetrical design resembles closely to the Kindle Oasis and Kobo Forma. However, it has a 7-inch screen that is a bit smaller than the 8-inch Forma and a plastic shell that doesn't feel as premium as the Oasis' metal body. Nevertheless, the e-reader is sturdy and has a jaw-dropping price tag. It is also one of the fastest and most responsive in the current market, thanks to the latest eInk technology.
Sharing the same screen resolution as the Oasis, the Libra H20 boasts 1,680 x 1,264, which translates to 300ppi and a beautifully sharp display. Add to that the refreshed user interface and sharper text that makes it easier to read on. Additionally, you can find a pair of physical buttons for page-turning and a micro USB charging port on the bezel.
Features
The Libra H20 has an IPX8 waterproof rating that allows it to survive a 60-minute dip in about 2 meters of water. The screen does not respond underwater, but you can still turn the pages through the physical buttons. The underlying hardware is pretty impressive, too. Moreover, the Kobo Libra H20 features the latest black-and-white eInk technology for an immediate and responsive feel.
On top of that, the e-reader uses a Freescale Solo Lite 1GHz processor, 512MB of RAM, and 8GB of internal storage to deliver an immersive reading experience. It comes with a 1200mAh battery, capable of powering weeks of constant use. There is also a gyroscope that can detect a full 360-degree movement, which means you can change between landscape and portrait orientation a lot quicker.
Why Get the Kobo Libra H20
Responsive screen and sharp display
Reasonably priced for students
Gyroscope to let you switch between orientations
Fast and responsive user interface
Best All-Around E-reader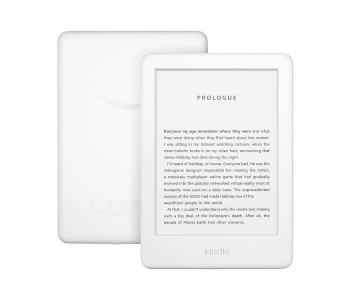 Retail Price: $89
If you are on a budget, the Amazon Kindle is the best all-around e-reader for you. It has an outstanding balance between price and features. At a bargain, you can get an adequate touchscreen display, long battery life, intuitive interface, and plenty of storage for all your digital tomes. The 2019 version also boasts an improved design with back-light to enhance your reading experience. Moreover, it is slim and light for a comfortable grip.
Design and Display
The base Kindle has a refined, compact design for one-handed reading. It comes with a glare-free screen that reads like paper, even in direct sunlight. You can also highlight passages, translate words, look up definitions, and adjust the text size for distraction-free reading. In several ways, it is comparable to the Paperwhite, except for the lack of waterproofing.
The latest Amazon Kindle improves night reading with its adjustable front light. On top of that, the 6-inch eInk capacitive display with 167ppi resolution provides better contrast and prevents accidental swipes. The illuminated screen and upgraded design make the device a valuable purchase for most readers.
Features
A nice upgrade over its predecessor, the Amazon Kindle 2019 includes 4GB of storage, plenty enough for thousands of e-books. It uses four LEDs, which is dimmer than the Paperwhite's five LEDs white light. The adjustable front light and glare-free screen allow you to read for hours, both indoors and outdoors.
The battery life can last for three to six weeks, depending on how much you read. The e-reader also features a VoiceView screen reader that enables you to navigate your device and read books with text-to-speech. Furthermore, it supports 14 file formats and provides font size, font face, line spacing, and margins customization.
Why Get the Amazon Kindle
Improved design with back-light
Slim and light for one-handed reading
Glare-free screen and adjustable front light
Affordable all-around reader
Features to Look for in an E-reader
Since the first Kindle hit the market in 2017, e-reader technology has come a long way. Companies like Amazon, Barnes and Noble, and Kobo invest a lot of money in research and development to deliver the ultimate reading experience. With hundreds of devices available, finding the right one for your needs can be quite challenging. Look for the following features to do your search as pain-free as possible.
Build Quality
When choosing an e-reader, you have to take a look at the build quality. Newer products are so slim and light you may forget you have them in your backpack. You shouldn't worry about knocking it off your bedside table. It's not that your device should be as sturdy as a tank, but it should be able to withstand casual abuse. To free your mind of worry and anxiety, you may get a high-quality case for extra protection.
Content
Premium e-readers connect you to a wide variety of reading material. The best devices allow you to top off from well-stocked online stores, such as Apple's bookstore, Amazon, and Kobo. They also support a wide array of file formats and enable you to draw from a limitless supply of free publications through libraries and other sources. Amazon's list of e-books is probably the largest of them all, which makes Kindle an excellent choice.
User Experience
Many factors affect a user's experience, but the most important is resolution. The higher the resolution, the better. Adjustable brightness, font size, back-light, and page margins also make the text optimal for your eyesight. Overall, a fine product is easy to navigate. It enables you to turn pages, purchase e-books, make annotations, and share passages with your friends effortlessly.
Connectivity
The latest e-readers are Wi-Fi enabled, allowing you to connect to your home Internet. The process is pretty straightforward. You don't need a computer and USB cable to download your favorite e-books. High-end products, on the other hand, features 3G connectivity that lets you download new books on the go.
Battery Life and Charging
Part of the appeal of eInk e-readers is the battery life. They can last between three and six weeks, depending on usage and screen brightness level. If you find a product that provides less than a couple of weeks of power, keep looking. You shouldn't have to cope with branded cables, charging docks, and AC adapters. Look for a device that recharges with your computer via micro USB.
On-device Storage
Typically, e-readers won't let you download files other than reading material. Some support audio content, but they don't require the expansive storage you would want with your audio players, smartphones, and tablets. A device with 3GB of internal storage can store thousands of e-books, magazines, and novel-length publications. But, you may want a product with expandable storage if you like reading PDFs and listening to audiobooks.
Other Features
To make reading more intuitive, look for products with a capacitive touchscreen, a dual-core processor, and extensive dictionary support. You may also want an e-reader with a microphone for voice commands and Bluetooth technology to plug in external speakers for your audiobooks. Moreover, you may take advantage of GPS technology to prevent theft.
Choosing the Right One for Your Reading Needs
Choosing the right e-reader does not have to be confusing if you know what you want and need. All do well with display text, but you need to consider a few more basic requirements like battery life, portability, and user interface. You do not want to waste your money on a device that doesn't work for you. So, weigh in factors carefully to make sure you make a sound decision.
Access to Content
Most e-book manufacturers have e-book stores, and size matters here. Amazon probably has the most extensive list of reading materials, which makes Kindle e-readers the best choice when it comes to content. You can browse through over four million publications. Kobo e-book readers, on the other hand, allows download from free libraries using Overdrive. The Onyx Book Max3 lets you download anything from its built-in app store.
Formats Supported
Almost all e-readers support JPG, MP3, Txt, and HTML. Amazon Kindle does not support ePub, but it uses the .azw format that contains DRM (Digital Rights Management) protection to prevent illegal viewing and copying. Kobo supports 14 different file formats, including comics, images, and documents. More impressively, the Onyx Book Max3 allows you to watch videos from YouTube and other sources.
Beyond E-books
Will you be using your e-reader for other purposes? If your answer is yes, the following products are right for you. The Onyx Book Max3 allows you to download anything from the Google Play Store and watch videos whenever you need a break from reading. Amazon Kindle has a wireless connection for basic web surfing and permits you to publish blogs. Finally, the Nook GlowLight3 features GlowLight Illumination and Night Mode for easy bedtime reading.
Price and Brand
Determining your budget is essential to choosing the right e-reader for you. In this recessionary economy, you want to get value for every dollar. The Onyx Book Max3, for instance, is attractive, but it is a bit steep. If you hope to save a few bucks, the Amazon Kindle Oasis is an excellent alternative. You can also take the Kobo Forma. But, the closest thing you'll get to real paper is the Paperwhite.
When choosing the right e-reader, don't rush your decision. Think through the purchase. Don't be swayed by your excitement and urgency of trends. Keep in mind that these gadgets are new and, therefore, subject to change. Before you fork out your hard-earned money, make sure your choice is suitable for your needs.
Wrap Up
If you absolutely love reading, these e-readers are going to make your life a lot easier. You will have access to thousands of books with just one device. Plus, you don't have to carry books whenever you travel.
So, before you get one, there are a few questions that you need to answer. Do you want to read on the beach or by the pool? If this sounds relaxing to you, then you should consider getting one with waterproof capabilities.
How many books do you want to keep? Storage can also be an issue as some do not carry that much compared to others. Some models come with 8 GB of storage, while others can go as high as 64 GB. So, if you're looking to keep a lot of books, go for the one with more storage.
You also want to look at other features, like if you can take notes on it or not. Some e-readers come with that capability, and if that's useful for you, then it's something to consider. The bottom line is these are all excellent e-readers that will allow you to read your favorite books.