Ecobee Thermostat Cyber Monday 2018 Deals
Ecobee is discounting their smart thermostats through Cyber Monday, including their current Ecobee4 model. You can save up to 20% when you get their smart thermostats during the sale. Not only can you save when you purchase it, but you can also continue to save for years after on your heating and cooling bills.
Ecobee4 Smart Thermostat
Black Friday Price: $199 Retail Price: $249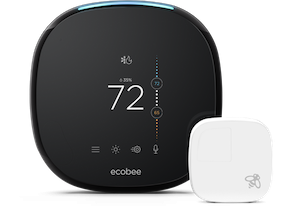 The Ecobee4 Smart Thermostat is a device that can help you save up to 23% on your heating and cooling bills. It's a smart device with excellent temperature control features that keep your home comfortable while helping you save energy at all times. The Ecobee4 is ENERGY STAR certified, which means that it has been constructed with energy savings in mind.
The Ecobee4 has a modern design that looks great anywhere. It is compatible with iOS and Android devices so you can integrate it with any smart home systems. You also have the option of controlling it manually using the touchscreen color LCD display.
The Ecobee4 helps you save energy by allowing you to set the temperature and create a cooling and heating profile. That means that you can configure it to turn your cooling or heating off when you're away from home and start up your systems when you get home from work. You can also use its geofencing feature where it will monitor your location and adjust heating and cooling cycles when it detects you're home.
The Ecobee4 also has a microphone and speaker embedded that allows you to access Amazon's Alexa or Google Assistant. The Alexa integration is particularly interesting since it allows you to integrate the device with other smart home systems. You can also use Alexa to command your thermostat to play music, read the news, and even order groceries.
The Ecobee4 comes with a detailed instruction guide that will help you install and set up the device. Installation is easy, but if you're not comfortable handling electric wiring, you can always employ the help of a professional to help you.
Ecobee3 Lite Smart Thermostat
Black Friday Price: $139 Retail Price: $169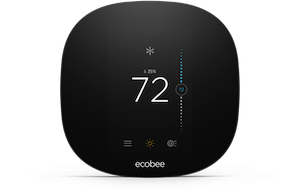 The Ecobee3 Lite Smart Thermostat is a budget option. It lacks some of the premium features of the Ecobee4 but it is a great choice for small apartments. Similar to the Ecobee4, you can integrate it with other smart home devices thanks to Alexa, Google Home, Apple Homekit, Samsung SmartThings, and IFTTT.
Changing the temperatures and setting up your schedules can be done with an iOS or an Android device. You can also use the 3.5-inch LCD touchscreen display to make manual changes.
The difference between the Ecobee3 Lite and the Ecobee4 is that the Ecobee4 comes with a separate room sensor. As for the Ecobee3 Lite, you can pair it with room sensors, but you'll need to purchase them first. If you bought the Ecobee3 Lite to use in a small apartment, you might not even need a separate room sensor.
If you're looking for a reliable smart thermostat for your home or apartment, the Ecobee3 Lite is worth considering.
The Ecobee3 Lite and the Ecobee4 are currently on sale until Cyber Monday. You can save up to 20% until supplies last.