Ecobee Smart Thermostats Black Friday 2019 Deals
3D Insider is ad supported and earns money from clicks and other ways.
Home automation systems are getting more and more popular as each year passes by. More homeowners are installing connected devices in their homes to improve security, convenience, or energy consumption.
In the area of smart thermostats, Ecobee has been stepping up their game and creating the best ones in the market. This Black Friday, they are putting their top thermostats on sale, especially their latest model, the SmartThermostat with Voice Control. They have dropped their process, where you will be able to save up to 20% on their products.
Here are the best Ecobee deals this Black Friday season: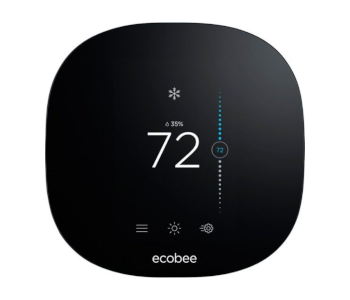 ECOBEE 3 LITE SMART THERMOSTAT
Original Price: $169
Black Friday Price: $139
The Ecobee 3 Lite can be considered the company's smart thermostat that is perfect for smaller homes. It is significantly more affordable compared to other Ecobee products, but they had to scrap some features to keep the price low. This model does not support room temperature sensors, making it difficult to maintain the temperature of multi-room multi-floor homes.
Setting up the device is quick and straightforward since all you need to do is download the Ecobee app. After you have finished the setup process, you can then integrate it with Amazon Alexa, Samsung SmartThings, Apple HomeKit, and IFTTT, making it an extremely versatile device. You can even use your voice to control it, so you do not have to stand to check your settings.
A smart feature of the Ecobee 3 Lite is that it learns your patterns over time and automatically controls the temperature in your home. It looks at what you do and adapts endlessly to give you superior comfort in hot or cold weather.
The Ecobee 3 Lite is an excellent smart thermostat, that is usually enough for a small home. The non-inclusion of remote sensors is not really a deal-breaker since you can always get them in the future. On its own, it can perform the job of cooling or heating your home to perfection so that you do not have to think about it.
If you think your home is not in any way overly large, then you can surely get the Ecobee 3 Lite and save $30 this Black Friday. It is an excellent deal for a reliable smart thermostat that will help you save on energy bills and keep you comfortable at all times.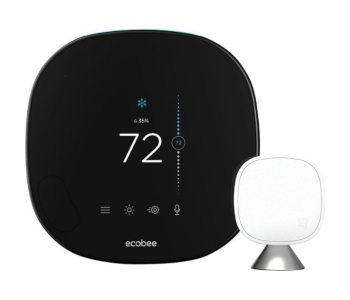 ECOBEE SMARTTHERMOSTAT WITH VOICE CONTROL
Original Price: $249
Black Friday Price: $199
The Ecobee 3 Lite and other versions do support voice control, and the latest device the company has launched comes with more advanced Alexa functionality. This version of the Ecobee smart thermostat is a perfect choice if you already have a well-connected smart home and want to include your HVAC systems.
The added controls that are supported by this thermostat include Alexa calling, messaging, and drop-in features, putting this at the same level as Echo devices. The thermostat also connects to both 2.4 GHz and 5 GHz Wi-Fi networks so you can take advantage of faster speeds for calling or music streaming.
After all of these added features, Ecobee continued to make the entire experience better by making the SmartThermostat a much more comfortable device to use. It is one of the quickest and most straightforward to set up and comes with intuitive controls, so making sure you are comfortable is a breeze. An essential feature of the SmartThermostat is your ability to control it remotely. Using the companion app, you will be able to adjust settings and even set up heating or cooling schedules.
The Ecobee SmartThermostat with Voice Control is definitely a 'smarter' thermostat compared with others in its price range. It is a useful addition to your highly connected smart home system, especially if you want Alexa capabilities hanging on the wall nearest to you.
This Black Friday, Ecobee is slashing the price of their SmartThermostat by up to 20%. This is the best time to get this device, add this to your home and save on your energy bills.