Eero vs Google WiFi: The Battle of the Mesh Networks
3D Insider is ad supported and earns money from clicks, commissions from sales, and other ways.
The days that only a handful of devices in your home that connects to the internet is over. It seems like just about anything needs some form of connection from light bulbs to refrigerators. As wireless technology improves and becomes easier to integrate with gadgets and appliances, your goal now is to make sure every part of your home gets reliable coverage.
This is where mesh networks come in. Instead of having a single router, you have multiple devices that broadcast the signal, so you essentially have internet anywhere in your home. This means that you can put any gadget that needs a connection anywhere without having to worry about line of sight or any other Wi-Fi concerns.
Mesh routers will help you increase the footprint of your WiFi coverage around your home. There are a lot of devices that provide this type of capability in the market. Now, the question is, which one is the best? How do you choose the right mesh networking system for your home?
Eero vs Google WiFi Comparison
Two competitors in this space are Eero and Google WiFi. They are excellent mesh network systems that are going to dramatically improve your connection throughout your home. These systems will also give you access to essential networking options that are not readily available with traditional routers. Not to mention that set up is significantly quicker and easier as you will only need their companion apps, anyone can install and configure these.
Let's take a closer look at the different mesh network routers that these companies offer. Eero has the premium Eero Pro and an entry-level option, the Eero. Google has its Google WiFi, so let's take a look at their similarities and what makes them different so you can make the choice on which one to get for your home.
Google WiFi
Eero
Eero Pro
Device Type
Expandable Mesh WiFi
Expandable Mesh WiFi
Expandable Mesh WiFi
Connectivity Type
Wired, Wireless
Wired, Wireless
Wired, Wireless
WiFi Connectivity
Simultaneous Dual
Band (2.4 GHz and 5
GHz)
Simultaneous Dual
Band (2.4 GHz and 5
GHz)
Simultaneous Tri Band
(2.4 GHz, 5.2 GHz, and
5.8 GHz)
WiFi Protocol
IEEE 802.11a/b/g/n/ac
IEEE 802.11a/b/g/n/ac
IEEE 802.11a/b/g/n/ac
Beamforming
Implicit and Explicit
YES
YES
Wired Connectivity
2 Gigabit ports for
WAN and LAN
2 Gigabit ports for
WAN and LAN
2 Gigabit ports for
WAN and LAN
Smart Home
Connectivity
Bluetooth Smart Ready
Amazon Alexa,
Bluetooth LE 5.0
Amazon Alexa,
Bluetooth LE 5.0
Smart Home
Compatibility
Google Home, Amazon
Alexa, Hue, IFTTT
Amazon Alexa, Hue,
Nest, Ring,
SmartThings, Wink
Amazon Alexa, Hue,
Nest, Ring,
SmartThings, Wink
Processor
710 MHz Quad-core
ARM CPU
700 MHz Quad-core
CPU
700 MHz Quad-core
CPU
Memory
512 MB
512 MB
512 MB
Storage
4 GB eMMC Flash
4 GB Flash
4 GB Flash
Security
WPA2-PSK Encryption
WPA2-PSK Encryption
WPA2-PSK Encryption
Coverage
Up to 1,500 sq. ft.
Up to 1,500 sq. ft.
Up to 1,750 sq. ft.
Dimensions
4.1 x 2.7 inches
3.9 x 3.9 x 2.4 inches
4.8 x 4.8 x 1.2
Design
When it comes to mesh network router designs, there is really nothing fancy to notice. They usually come in an unambiguous and minimalist form so as not to stand out. The designs are muted and are meant to simply blend in. Their primary function is, after all, not to make your house look good but to improve the connectivity around it.
The Eero mesh router is a small, white device with soft rounded corners that you can easily place on tabletops and shelves to increase Wi-Fi coverage around your home. They can either double as a signal extender or a standalone router, depending on how you configure it. This makes them extremely versatile since you only have to get a single type of device and not worry about whether they differ in function.
Although they did miss out on some fantastic opportunities with their design. They did not include speakers and microphones, so they can also act as voice command hubs for your smart home system.
The Eero also comes with two gigabit Ethernet ports, which definitely helps in their connectivity. You can either set them up and connect them to the internet wired or otherwise, giving you some form of control.
The Eero Pro, on the other hand, is the high-performance sibling that comes with a similar minimalist design. Their main difference is that the Pro has a much slimmer profile, so they are more unobtrusive to the eyes.
While the Eero devices have a rectangular look, the Google Wi-Fi is more on the cylindrical side. You can easily set them on top of tabletops and shelves to extend your connectivity throughout your home. Similar to the Eero, they look unassuming, so they will easily match design pieces on top of your tables and shelves.
Design is definitely not the strong suit of these mesh network devices, and admittedly so since their primary purpose is to make sure every inch of your home has reliable network connectivity. If you're looking at how these devices look, you can never go wrong picking any of these for your mesh network setup.
Our Pick: It's a Tie. All of these devices are extremely good at blending in
Performance
You might think that mesh network routers do not really have much in terms of performance. However, there are a few things that you need to look out for, like signal strength and interference to know which one of these devices is perfect for your home.
The Eero holds up well, especially when it comes to signal strength. It penetrates barriers and likes quickly without a lot of signal degradation. Wireless dual band connectivity absolutely helps in this regard since you have a choice whether to connect to either 2.4 GHz or 5 GHz. This feature ensures that even if you have a fast internet connection at home, the Eero can definitely handle it.
The main difference between the Eero and the Eero Pro is the coverage area. The Eero Pro does cover a much wider area of up to 1,750 sq. ft. compared to the Eero's 1,500 sq. ft. Also, the Eero Pro takes advantage of a third frequency, 5.8 GHz, that's mainly used for communicating with other Eero devices like the Beacon signal extender. This frees up the usual channels for faster bandwidth.
The Google WiFi mesh router system can match the performance of any of the Eero devices. It is capable of high-bandwidth connections, able to broadcast at high speeds coupled with better coverage. Streaming 4K video and playing demanding games should be no problem for the Google WiFi.
One of the neat features of the Google WiFi is traffic prioritization. You can essentially allocate critical bandwidth to usage that you choose. So, whether it's streaming on Netflix or playing games, your router can either give you the more substantial chunk of your home's bandwidth or less. Even though it does not have the extra Wi-Fi band of the Eero Pro, there is not a lot of issue in terms of speed and connectivity.
All three routers come with almost similar performance levels. The added Wi-Fi band on the Eero Pro does give it a slight advantage. Although the bump in performance may not be as noticeable, it does offer some future-proofing. You will be able to use this when the number of users increases, and the added frequency band will come in handy freeing up some bandwidth.
Our Pick: Eero Pro for its added 5.8 GHz band feature that can free up bandwidth
Features
These mesh routers are more than your usual network device. They come with brand new features that are relevant to today's users. Support for smart home networks is built-in, together with companion apps that allow you to change the configuration on the fly.
The Eero router is definitely one that comes with a lot of additional features that are going to make your life a lot easier. The app is undoubtedly one of the things to look out for as it's the hub for all these excellent features. With the Eero, you will be able to determine who is connected to your network and check the traffic that goes in and out. You can also share your network with guests and even pausing the internet when you want to.
You can also enjoy built-in Alexa integration allowing you to control your Wi-Fi and network with your voice. This is surely an excellent feature if you have other smart devices scattered around your house so you can change connection settings from anywhere in your home.
Both the Eero and Eero Pro also support beamforming technology, which can be extremely useful. The router will focus the signal on connected devices rather than broadcasting it around your home. This will surely improve the connectivity of every device in your home.
As for Google WiFi, it does come with similar features, as it comes with built-in support with Google Home. You will be able to connect your smart home hub to the router and enjoy controlling everything with your voice. It is undoubtedly an excellent feature that links all your systems seamlessly.
It also comes with advanced software that tracks your network activities in the background, where the system will instantly figure out the best connections and fastest channels for you. It will also check your network to make sure that everything is running smoothly and automatically fixes minor hitches, so you don't have to.
Similar to Eero routers, Google WiFi also supports beamforming technology. This feature will allow you to be able to enjoy targeted signals that will improve signal strength and speed for reliable connections.
All of these mesh routers come with state-of-the-art features for the modern world with a focus on smart home devices. Having these in your home will definitely make your life a lot easier, primarily if you rely on a lot of these smart devices.
Our Pick: Eero Pro for access to advanced app controls for the regular user
Setup and Configuration
Today's mesh network routers have increasingly become much easier to set up and install. Networking knowledge is not really a prerequisite since the entire process is quick and painless where you just follow a set of instructions.
The Eero systems make excellent use of this. The process is simple, and it only involves downloading the app on your smartphone and follow the instructions to set everything up. You should be able to get everything up and running in minutes and without any technical background.
As these systems are designed to increase your internet footprint and usage, security is certainly going to be an issue. Eero takes care of these with their subscription service that monitors content, ads, and threats to keep everyone using your network secure.
Now that you're done with the physical installation part of the setup let's look at the software side. Configuring the Eero devices may seem a bit cluttered, but it's actually straightforward. The great thing about this is that you only really need one app to help you with the entire process.
This is the part where you can set which Eero devices are linked to your main router component, and check if they are indeed connected. You can also set the network name and password so anyone can quickly connect no matter where they are. As a router, you can also set DNS and port forwarding depending on your needs.
Both the Eero and Eero Pro are excellent systems that will give you the freedom to set them up just the way you want it. Whether you set everything up automatically or if you have specific needs, these Eero devices can certainly handle it.
The Google WiFi router also comes with an installation process that is just as quick and easy. All you need to do is download its companion app, and it will guide you step-by-step on how to get it up and running.
One of the most significant differences between the Eero and Google WiFi is that configuring your internet settings will require another app download. Google still keeps everything as simple as possible. You can set the network name and password, just like any other router. Although, it does lack some advanced settings like static IP addresses and port forwarding. Not a lot will play around with these settings, but for those who have specific needs, this can be a possible dealbreaker.
These systems are as painless as possible when it comes to setting them up. Using them is also a lot easier so you can now enjoy a home without any dead spots so you can have access to the internet everywhere.
The Eero Pro system does give you a bit more in terms of advanced features and does take the crown in this category. While these settings are not a requirement for everyone, it is definitely crucial to those who want more control over their internet connection.
Our Pick: Eero Pro for its advanced configuration capabilities
Pricing
The prices for these mesh network routers are similar, except for the Eero Pro. It does come at a premium with its added features and capabilities. Starting at $199, it is a lot pricier compared to both the Google WiFi, and it's sibling, so you do have alternatives.
One good news regarding the pricing of Eero products it that they are now under Amazon's umbrella, so you can score significant discounts all year. It not only applies to the Eero Pro, but also to its more wallet-friendly version, and the Beacon. You can also save a few dollars when you get them in bundles. There is definitely a 3-pack Eero bundle, and one with the Pro and two Beacons.
The same goes for the Google WiFi, it is undoubtedly a lot more affordable than the Eero Pro, making it an excellent option to pick up if $200 is a bit too much for you. Always be on the lookout for sales and discounts as there is a lot to be saved there. Google also offers bundles, especially a three-pack one that will cover every inch of a mid-sized home at a much lower price.
Best Home Mesh Network System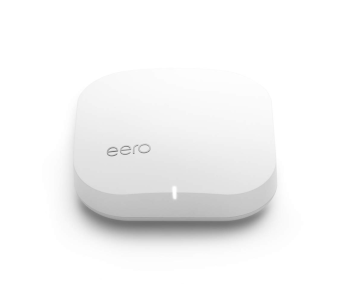 Retail Price: $199
The Eero Pro is an excellent Wi-Fi router on its own. However, it does shine when paired with other devices to form a mesh network for your home. Setup is quick and painless as the app will guide you through the entire process. It is also easy to maintain, so anyone, even those without any networking experience, can handle it. Its sleek and low-profile design, even though minimalistic, looks excellent compared to the ugly looks of modern routers.
It is undoubtedly a premium product that demands a top-tier price. That being said, it can be a little too much for some. However, if you are the type of user who wants full control of the internet connectivity around your home, this is the router for you.
The Eero Pro covers a wide area, and might not be the best router for a small apartment since you will not be able to make use of its mesh capabilities. However, if you do have a large home with multiple users and want granular control of your connectivity, it is an excellent router. If you do have a large home, that's more than the 1,750 sq. ft. that the Eero Pro can handle, you can get some Eero Beacons to help you extend your Wi-Fi coverage.
One of the advantages of the Eero Pro over other mesh routers is its additional capabilities. By subscribing to Eero Secure, you will get advanced tools that will help you monitor the different devices on your network. You also get access to parental controls so you can manage how your kids consume online content on their devices. There's also a network-level ad-blocking feature so you can be sure that no ads follow you wherever you go online.
The Eero Pro is definitely one of the more powerful mesh router systems in the market. The advanced capabilities with the Eero Secure package are a welcome addition, even though you'll need to pay a premium on top of the price. It will surely keep your online activities secure, which is something to consider.
Eero Pro Mesh WiFi Router
✔ Quick and easy setup
✔ Excellent network performance for all users
✔ Expanding your network is fast by adding Eero Beacons
✔ App has all the connectivity settings you want
The System That Offers the Best Value for Your Money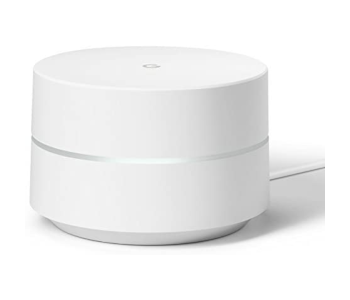 Retail Price: $99
One of the things that make the Google WiFi router one that offers the best value on the market is its number of mesh units. This gives it excellent network management, where you will be able to control every aspect of it with the app. Not to mention that it's incredibly quick and easy to set up, allowing you to use it in minutes.
Its minimalist design is appealing to most users as you will be able to fit it just about anywhere. If you are looking for a mesh router solution, this is surely going to be at the top of your list.
The Google WiFi mesh router is simple to use, and probably one of the more simple ones to set up and maintain. It is also relatively affordable compared to other options like the Eero Pro, where the price difference is significant.
It may lack some of the granular control that other more premium devices like the Eero Pro offers. Still, it has the basics that every home network needs. The Google WiFi has bandwidth priority control and network monitoring capabilities to give you a much easier time when it comes to maintaining your connections.
Bandwidth is excellent, even with more extensive mesh networks. You should be able to fully enjoy your high-speed internet connection without experiencing any loss. Whatever your needs are, the Google WiFi will be able to handle it.
Google WiFi Mesh Router
✔ Exceptional value for its price
✔ Minimalist design
✔ Super quick setup and installation process
A Mesh Router Worth Mentioning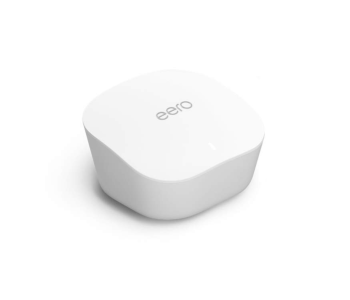 Retail Price: $99
Eero started the home mesh network revolution with their routers, and this one, in particular, really impresses. One of its advantages is its ease of use and its seamless way of integrating other devices to your network. It is an excellent way to make sure that every inch of your house has internet connectivity.
Its traffic management capabilities are excellent. Even if you have multiple devices connected to your system, you will not feel any performance and speed dips. This is extremely useful since most homes now have smart gadgets that need a constant connection to the internet.
As for security, it is also a simple setup where you can create guest networks and isolate your primary connection from others. This feature is also excellent to control your kid's use of the internet.
The Eero router is an absolutely great all-around system. There are certainly faster and better options out there like the Eero Pro, which comes with a lot more features and provides improved connection speeds. However, if you are looking for a stable and reliable router that will offer decent rates, this is one of the go-to home Wi-Fi systems to get.
The Alexa capabilities are undoubtedly a plus, primarily if you are already invested in their ecosystem. It is a more affordable option to the Eero Pro, and an excellent alternative to the Google WiFi.
Eero Mesh Router
✔ Fast and reliable Wi-Fi connectivity
✔ Polished app with excellent network control
✔ Affordable entry-level option
Wrap Up
You can never go wrong with these mesh router systems. They offer optimum network performance throughout your home and advanced configuration options that will undoubtedly make your life a lot easier.
Now that the need for 24/7 connectivity is at an all-time high, you will definitely need these routers in your home. The best part of these systems is that they are highly scalable, so growing the Wi-Fi footprint is straightforward. It is undoubtedly possible to build your own mesh network with any of these systems.
Of course, you might need to pay a premium for more advanced features and capabilities, like the Eero Pro. But, if you are only after a reliable connection for your smart home devices, the Google WiFi or the Eero mesh router are excellent alternatives.