7 Best Electric Longboards of 2019
3D Insider is ad supported and earns money from clicks, commissions from sales, and other ways.
Longboarding has always been a lot of fun, but making them electric brings it up a notch. You can cruise at speeds unattainable before and get to your destination faster. We take a look the best electric longboards that you can get in this guide.
Budget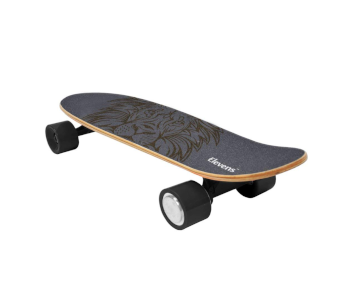 Elevens Longboard
4.8/5.0
Max Load: 265 lbs. (120kg)
Max Range: 7 miles (11.2 km)
Modular design and self-balancing technology.
Check Amazon
Best Value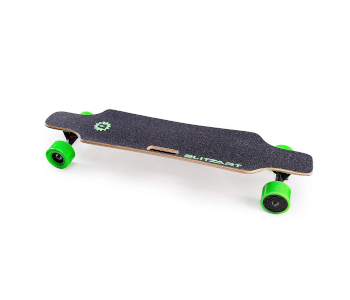 BLITZART Huracane
4.4/5.0
Max Load: 250 lbs. (113 kg)
Max Range: 10 miles (16km)
Ready to ride out of the box, excellent build quality.
Check Amazon
Top Pick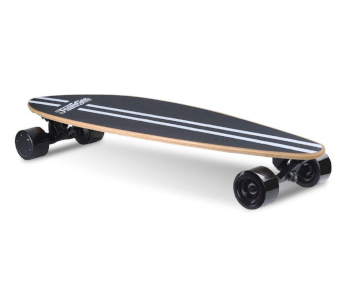 Teamgee H6 Longboard
4.9/5.0
Max Load: 220 lbs. (100kg)
Max Range: 10 miles (16km)
High-quality deck, two speed modes, and fast top speed.
Check Amazon
Longboarding is never dull whether you're off to school, commuting to work, or just out for a fun ride. But why might you want a longboard instead of the traditional skateboard? This introduction looks at the differences between the two. It also covers the things everyone should know before they decide. Let's start by looking at the reasons to choose a longboard over a skateboard.
Electric Longboard Vs. Electric Skateboard
Longboards are longer than skateboards, hence the name. A skateboard becomes a longboard once it reaches 36 inches in length. It's not an official measurement, but it's about right. Some makers advertise boards that are just over this length as skateboard and vice versa. A proper electric longboard can reach lengths of more than 4 feet, though most don't exceed 4.2 feet.
So, why would you want a board longer than a regular skateboard?
The answer is for distance riding or cruising. Conventional skateboarding is akin to surfing on land. Skateboarders like to perform complex tricks and stunts like leaps, flips, and tight turns, etc. They don't tend to travel far, though. Fancy moves are difficult to execute on a longboard because of the extra heft. The longboard's length makes them more comfortable and stable than skateboards.
Forget the Balancing Act
Longboards are easier to control than skateboards. They require less balancing skills too. That's because you can place your feet further apart to improve stability. Most longboards are also slightly wider than skateboards, which also adds to rider comfort. You can perform various tricks on longboards, but maneuvers are slower and less agile because of the board's size.
The bottom line is that you can have plenty of fun and practical use with an electric longboard. The biggest attraction, though, is being able to cruise for long distances in comfort. An extended journey on a conventional skateboard is not a relaxing experience. It requires much more effort and concentration. So, look to skateboards for stunts and tricks and longboards for commuting.
Deciding Factors for Electric Longboards
Here are the main buying considerations when choosing an electric longboard:
Power: higher wattage motors generally indicate a more powerful output
Maximum load: make sure the board can carry your weight
Speed & speed settings: top speeds and speed control
Range: the average distance the board can travel on a single charge
Charging time: the time it takes to recharge the battery
Longboard dimensions: what length, width, and height best suits you?
Style and design: there are many styles, shapes, and designs to choose from
About My Electric Longboard Guide
My reviews cover all seven points above. The style and design of an electric longboard are significant, but try not to make them the only factor. A beautiful board that falls short on the performance front is not going to deliver what you want.
This guide starts with the Best Budget, Best Value, and Top Pick longboards in that order. The boards below those are in price order from least to most expensive.
The electric longboards in this practical buyer's guide are the result of expert opinions, user feedback, and personal thoughts. I sum each review up with a simple table for the critical tech specs, the product's pros, and any cons it may have. There is sure to be something here to suit everyone.
The table here shows the electric longboards as they appear on this page:
Electric Longboards Comparison Table
1. Elevens Self-Balancing Electric Longboard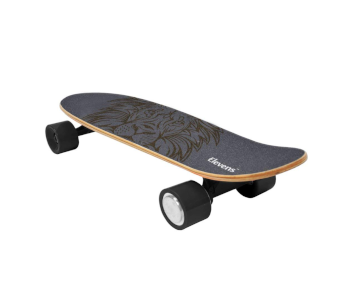 View on Amazon
Editor's Rating: 4.8/5
The Best Budget pick is the Elevens Self-Balancing Electric Longboard. It has a fresh, unassuming design that uses self-balancing technology to provide a smooth, comfortable ride.
Best feature 1: Removable battery
Best feature 2: Modular design
Plus points: Self-balancing technology, brushless motor, polyurethane wheels, decent speed
Minus points: Price, short for a longboard
This electric longboard uses strong and flexible Canadian 7-ply maple for the deck. The removable battery means you can swap the power supply for extended journeys. It's not the fastest board at just 10 mph, but it's still more than three times the average walking speed. The range is about seven miles on a full 36V 2.2A lithium-ion battery. The charging time is around 2 hours.
Another nice feature of this entry-level longboard is its modular design. Modules (separate pieces) make the board quick and easy to repair if you happen to break a specific part. The 400W brushless DC motor is tough and reliable and should last for a long time with average use. And the elastic polyurethane wheels provide a smooth riding experience across different road surfaces.
The Not So Good
This self-balancing no-thrills e-board is an excellent entry-level product. The price is about right for a longboard in its class. However, there are a few cheaper options out there that newbies may want to explore. It's also on the short side for a longboard and thus fits into the skateboard category too. Look for an alternative if you want a 100% electric longboard experience.

Tech Specs
Board Length: 28-inches
Product Weight: 7.7 lbs. (3.5kg)
Power: 400W
Maximum Speed: 10 mph (15 km/h)
Maximum load: 265 lbs. (120kg)
Range: 7 miles (11.2 km)
Battery: 36V 2.2A Lithium-ion
Charging time: 2 hours
Warranty: 12 months' system warranty, lifetime tech support
The Pros
Removable battery
Modular design
Self-balancing technology
Brushless 400W motor
Elastic polyurethane wheels
Decent cruising speed
Excellent support
The Cons
Short for a longboard
Price
2. BLITZART Huracane Electric Longboard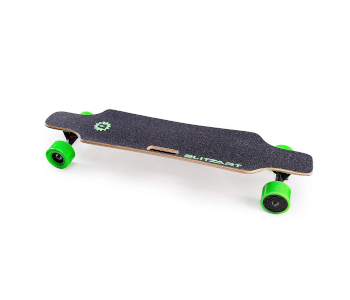 View on Amazon
Editor's Rating: 4.4/5
The BLITZART Huracane takes the Best Value slot and is an unmistakable longboard at 38 inches long. It's also customizable, and that means you can make the board unique to you and your style preference.
Best feature 1: Customization choices
Best feature 2: Ready to ride out of the box
Plus points: Excellent build, wireless remote, brushless motor, fast cruising speed, long range
Minus points: Single motor, heavy, inaccurate battery indicator
The Huracane cost around 100 bucks more than the first pick, but it offers more of everything. It's still an entry-level longboard, and that means it falls short in some areas (see below). The customization is a nice touch with various replaceable accessories available. There are also four colors to choose from at the buying stage, i.e., green, orange, red, or black.
The build is impressive and finished with a premium grip tape for a more secure foothold. The board has a 7-ply maple wood top and two layers of bamboo at the bottom. The only downside is that it's more sturdy than flexible, but it's still more than ok for an e-Board in its class.
Riding the Huracane Electric Longboard
This longboard is ready-to-ride (RTR) out of its box. That means no messing around with assembly. You drive the board using a comfortable handheld wireless controller. It comes with an ergonomic wrist strap, so there's no chance of dropping it accidentally. There are two modes, Beginner and Advanced. The slower acceleration and deceleration options are invaluable for newbies.
The board even has reverse capability that can prove handy in certain situations. A reliable 350W brushless single hub-motor powers this puppy and is much quieter than belt-driven alternatives. You can expect a fast cruising speed of around 17mph (27 km/hr.) under ideal conditions. The range is about 10 miles on a full battery for normal riding. Charging takes approximately three hours or less.
The Not So Good
Being a single hub motor as opposed to a dual has its weaknesses. It can prove a tad underpowered in certain situations when you need extra torque or more acceleration. This is more of an observation than a significant gripe considering the price tag. Still, power performance is a concern for those who ride across challenging terrains.
The board is quite heavy for younger riders as it weighs around 13 lbs (8kg). Weight is something to think about if you need to carry the board for any length of time during a commute. The final disadvantage is the inaccurate low battery indicator as reported by some users.

Tech Specs
Dimensions: 38 x 10 x 5.5″
Product Weight: 13 lbs. (6kg)
Power: 350W Brushless Motor
Maximum Speed: 17mph (27 km/h)
Maximum load: 250 lbs. (113 kg)
Range: 10 miles (16km)
Battery: 36V, 4.0Ah Lithium-Ion
Charging time: 3 hours
Warranty: 3 months
The Pros
Four colors available
Customization choices
Ready to ride out of the box
Excellent build quality
Wireless remote controller
Brushless 350W motor
Fast cruising speed
Long range
The Cons
Single motor
Heavy longboard
Inaccurate battery indicator
3. Teamgee H6 Electric Longboard Penny Board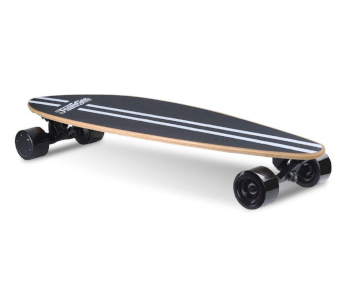 View on Amazon
Editor's Rating: 4.9/5
The Teamgee's awesome H6 Electric 37-inch Longboard makes the guide's Top Pick. It's a robust yet flexible product that's unique in several ways. Keep reading to see if it has what you want.
Best feature 1: Built-in (concealed) battery
Best feature 2: Dual motor design (350W each)
Plus points: High-quality deck, sleek design, two speed modes, fast top speed, fast charging
Minus points: Built-in battery, awkward breaking
The first thing new users notice is how this beautiful product looks like a regular longboard. That's because they've built the 36V lithium battery into the deck, so you don't even know it's there. It's a gorgeous looking longboard too, although style and design are subjective. Even so, few would doubt this is a sleek design with a unique appeal. The build consists of 11 layers of durable maple wood.
Riding the H6 Electric Longboard
The four polyurethane wheels guarantee a smooth ride for anyone up to 220 pounds (100kg). The longboard is flexible as well as solid—a balance many builders fail to strike. The controller is a cinch to use with buttons and dials to accelerate, decelerate, move backward, and break. There are also two rider levels Novice & Expert. The 1-year warranty against defects adds further to buyer's confidence.
A high-performance battery powers an equally high-performance 700W dual motor (350W each). There's a double rear wheel drivetrain that ensures smooth acceleration, fast 18+ mph top speed, and ample torque. Users can choose from two speed modes, high and low.
The low-speed mode caps at 11 mph and is useful for economy cruising and newbie riders. The range is an impressive 10 miles or 6+ hours of use depending which comes first. Battery charging time is an acceptable 2 hours. There's a lot to love with this longboard.
The Not So Good
The integrated battery is a major attraction with this board, but it's also a drawback. There's no way to swap batteries when one runs out of juice. That means you must ride the board manually or stop using it until the battery recharges in about two hours. Breaking is another issue. The brakes work fine, but it takes a while to master them compared to some other boards. Always start off in Novice mode.

Tech Specs
Dimensions: 37 x 8.9 x 5.3″
Product Weight: 14 lbs. (6.3kg)
Power: 700W Dual motor (350W each)
Maximum Speed: 18+ mph (29km/h)
Maximum load: 220 lbs. (100kg)
Range: 10 miles (16km)
Battery: 36V, 3.5Ah Lithium-Ion
Charging time: 2 hours
Warranty: Xxx
The Pros
Sleek design
Built-in (concealed) battery
Dual motor design (350W each)
High-quality deck
Two speed modes
Fast top speed
Fast charging
The Cons
Built-in battery
Brakes take some getting used to
4. Yuneec E-GO2 Electric Longboard Skateboard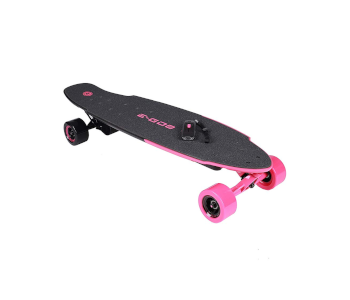 View on Amazon
Editor's Rating: 4.3/5
The Yuneec E-GO2 is a popular electric longboard and much cheaper now than it was before. It's a flexible yet durable entry-level board that has a lot to offer for a product in its price category.
Best feature 1: Variable speed control modes
Best feature 2: Kicktail design
Plus points: E-GO Cruiser App control, Smooth rider, long range, easy to ride
Minus points: Long charging time, heavy, slow top speed, fixed battery
This newest member of the E-GO series is an excellent place to start your longboarding adventures. The kicktail (upwards bent back) design makes light work of board control and steering. Another newbie attraction is the variable speed modes. The SPORTS mode has a high acceleration curve, and the FAST mode takes you to speeds of 12 mph or 20 km/h. The other two modes are ECO and SLOW.
The ECO mode has a slower acceleration curve. The SLOW (tortoise) mode is ideal for learners and caps at 8 mph or 13 km/h. It's all straightforward stuff managed by the remote controller of the E-GO Cruiser App control. The apps connect via Bluetooth to any Android or iOS smart device. Owners of this longboard talk favorably of the smooth ride, long 18 mile range, and super easy handling.
The Not So Good
The charging time is 3 – 5 hours depending on the power source. The range is long, though, so that at least gives most riders time to plan their charging with minimal disruption. The board is heavy at 14 pounds and a little awkward to carry. The heft is something that affects smaller, younger riders more so than adults. The slow top speed irritates some users, but for others, it's perfectly acceptable.

Tech Specs
Dimensions: 35.75 x 13 x 7″
Product Weight: 14 lbs. (6.3kg)
Power: 400W motor
Maximum Speed: 12 mph (19 km/h)
Maximum load: 220 lbs. (100kg)
Range: 18 miles (30km)
Battery: Not specified
Charging time: 3–5 hours
Warranty: Xxx
The Pros
Kicktail design assists better control and steering
Variable speed control modes for economy riding and skill level
E-GO Cruiser App control for Android and iOS devices
Smooth riding experience
long range, uninterrupted rides
Easy to handle at beginner level
The Cons
Long charging time
Heavy for some
Slow top speed
Fixed battery
5. Fitnessclub Dual Motorized Electric Longboard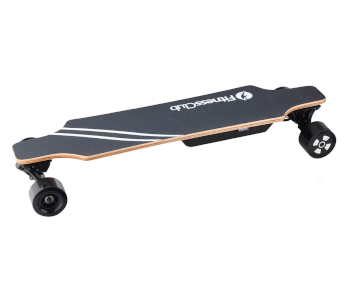 View on Amazon
Editor's Rating: 4.5/5
This electric longboard is by Fitnessclub. It is powered by a powerful 2 x 400W dual hub motor. Always opt for dual hub motors if budget allows as they usually provide a superior riding experience.
Best feature 1: Powerful 2 x 400W Hub motor
Best feature 2: Fast top speed
Plus points: Two speed modes, sturdy sound-absorbing deck, intuitive remote, price
Minus points: Not an easy ride for novices, suffers from wear and tear over time
Powerful longboards are attractive, but they're not the best option for all riders. This beauty can reach top speeds of up to 22 mph or 35 km/h. That's fast, and it takes skill to master a board at this speed. It does come with two speed modes, but even the slower option reaches 16 mph (26 km/h). It's a fantastic longboard for the more experienced rider.
The board's build uses quality 8-layer Canadian maple. It's a good-looking product that's tough, stable, flexible, and sound-absorbing. The remote controller has an intuitive design and is easy to use. The functions include speed switching, forward, brake, and a battery level indicator. The 9 – 12 miles travel range is average for a board with this much power. Charging time takes just 2 hours or less.
The Not So Good
It's a board that every novice wants but not one that every beginner should have. The 22 mph top speed is faster than it sounds and not a practical feature for novices. The faster you go, the more ability you need to maintain control. That's why it isn't an ideal entry-level choice.
Another drawback of this board is that it tends to suffer from wear and tear faster than some. The 3.5 inch polyester wheels do an excellent job, but the speed eventually takes it out of them.

Tech Specs
Dimensions: 34.6(L)" x 8.7 (W)"
Product Weight: 13.23 lbs. (6kg)
Power: Dual 400W hub motor
Maximum Speed: 22 mph (35km/h)
Maximum load: 220 lbs. (100 kg)
Range: 12.5 miles (20km)
Battery: 36V lithium-ion
Charging time: 2 hours
Warranty: Not specified
The Pros
Powerful 2 x 400W Hub motor
Fast top speed
Two speed modes
Sturdy sound-absorbing deck
Intuitive remote controller
Reasonable price
Comes with accessories
The Cons
Not an easy ride for novices
Suffers from wear and tear
6. Atom Electric B10 Longboard Skateboard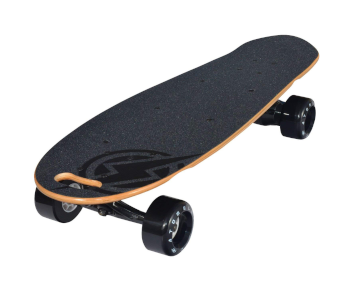 View on Amazon
Editor's Rating: 4.6/5
Atom's 30" Electric B10 Longboard is one handsome beast with tons of energy to boot. This is thanks to its powerful 1000W belt-driven brushless CC motor and Samsung 25R lithium-ion battery.
Best feature 1: Powerful 1000W belt-driven brushless DC motor
Best feature 2: Regenerative Braking
Plus points: Kicktail design, compact & lightweight, decent top speed, designed by riders
Minus points: Low average range, not easy to swap batteries, price
Skip this review if you're only interested in longer boards. The B10 is one of the shorter and lighter options, and weighs just 11 lbs. Keep reading if the size specs appeal to you as this is an excellent commuter choice. After all, travel—rather than tricks—is a critical longboard attraction.
Riding Atom's Electric B10 Longboard/Skateboard
This board is ideal for folks of average build or smaller for the reasons outlined above. It's compact and light for a longboard, but it's not short on power or features. One smart aspect is the regenerative braking. It works by adding charge to the battery each time the rider brakes, thus giving a bit extra mileage. The board's Kicktail design makes it easier to steer and improves maneuverability.
The highest cruising speed is 16 mph. That's almost 300% faster than the average walking pace, so it's a happy medium. One of the best things about Atom's short longboard is that experienced riders designed it. No one is better qualified to know what's important than real users, right?
The Not So Good
There are only three noticeable gripes with this board. One is the limited range of just 7 miles (11 km). That wouldn't be too bad if you could easily swap batteries over, but you can't. The B10 does function as a manual board when the battery dies, but that defeats the purpose. Charging is on the high side of average taking around 3 hours.
Some find the price tag too high because of the above disadvantages. Those on shorter commutes, though, tend to be happy and see the board as excellent value for what they need.

Tech Specs
Dimensions: 30 x 9 x 5.5″
Product Weight: 11 lbs. (5kg)
Power: 1000W Brushless DC motor
Maximum Speed: 16 mph (26 km/h)
Maximum load: 220 lbs. (100 kg)
Range: 7 miles (11km)
Battery: Samsung 25R lithium-ion
Charging time: 3 hours
Warranty: 30 days
The Pros
Unique Kicktail design, well-made longboard/skateboard
Reliable 1000W belt-driven brushless DC motor
Regenerative braking helps to conserve energy
Compact & lightweight makes it an ideal commuter board
Decent top speed
Designed by riders
The Cons
Low average range
Not easy to swap batteries
Price
7. SKATEBOLT Powerful S2 Tornado Electric Longboard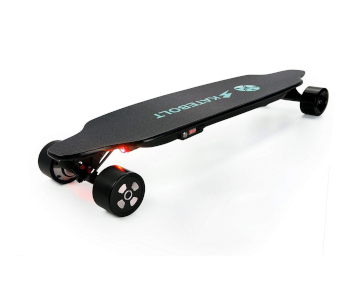 View on Amazon
Editor's Rating: 4.3/5
The final pick in this review guide is the incredible electric longboard by SKATEBOLT. It's also the most expensive on this page, but is the higher price justified?
Best feature 1: Powerful dual 500w hub motors
Best feature 2: Regenerative Braking
Plus points: Fast top speed, two rider modes, fantastic range, 6-months free maintenance
Minus points: No middle mode, heavy board, flimsy controller
The first thing to note is that the S2 Tornado is a powerful longboard. It uses dual 500w hub motors with a lithium LG 36v 6600 mAh battery. Also worth a mention is that the product has passed numerous quality authentications. These guarantee the safety of the longboard. The regenerative braking is effective at any speed, adding charge and extending battery endurance.
Riding the SKATEBOLT Electric Longboard
The board has the longest range and the fastest top speed of all the products on this page. This beauty can take you as far as 20 miles or 32 km on a full charge in ideal conditions. Its top speed can reach 25 mph (over 40 km/h) in Sports Mode. The board has torque too and can drive up slopes with 25% climbs. Learners have an option to ride in the less insane Normal Mode.
Normal mode is perfect for commuting around urban city streets and navigating slow moving traffic. The 14 mph (22 km/h) speed also keeps a safe pace while cruising among dense crowds. The load capacity is an impressive 280 pounds, which is much more than the other boards on this page.
The sturdy build consists of 8 layers of northeast maple that feels comfortable and stable underfoot. It's an easy board to master if you can respect its power. Although it's not cheap, it is well-made and should last for a long time with proper care. It's also a fast commuter longboard and sure to save time and travel costs. Those are serious considerations to factor in any buying decision.
SKATEBOLT provides new longboard owners with a full 6 month service & maintenance guarantee. That shows true confidence and commitment in their product, and that's good news for consumers.
The Not So Good
Going from Normal Mode to Sports Mode is night and day. Another speed mode between the two would have been useful for new riders. I just feel that the leap from 14 mph to 25 mph is a bit extreme. The longboard is also heavy—an inevitable consequence of all that power and performance. Even so, make sure you're okay with the 20-pound weight before it makes your shortlist.
The final gripe is with the flimsy remote controller (RC). There's no need for this in what is otherwise an excellent product. I haven't come across any issues with the controller malfunctioning, but it's still flimsy and feels as though it could break at any minute.

Tech Specs
Dimensions: 39 x 9.5 x 5.3″
Product Weight: 20 lbs. (9kg)
Power: Dual 500w hub motors
Maximum Speed: 25 mph (40km/h)
Maximum load: 280 lbs. (127 kg)
Maximum Range: 20 miles (32 km)
Battery: 36V 6600 mAh Lithium
Charging time: Not specified
Warranty: 6 months
The Pros
Powerful motors
Effective regenerative braking
Super-fast top speed
2 rider modes, Normal & Sport
Robust build
Exceeds typical payload
Bright, built-in LEDs
Amazing range
Smooth ride
6-months free maintenance and after-sales service
The Cons
No middle mode
Heavy board
Flimsy controller