Electric Toothbrush Cyber Monday 2019 Deals (Philips Sonicare and Oral-B)
3D Insider is ad supported and earns money from clicks, commissions from sales, and other ways.
Electric Toothbrushes are excellent for cleaning the teeth and the gums. Sometimes, with a regular brush, one might brush with more intensity than is necessary and lead to damage to the enamel. Sometimes, too much intensity while brushing can injure the gums as well.
With an electric toothbrush, you get a scientifically set intensity and your teeth are also cleaned the way they should be. Hence, an electric toothbrush is not a technological gadget that people buy. It actually offers some practical benefits as well.
This Cyber Monday, retailers are offering some slick discounts on electric toothbrushes. You can take advantage of these deals and save money (and maybe a trip to the dentist as well).
Philips Sonicare
Philips is one of the most recognized consumer electronics brands. It sells its electric toothbrushes under the Sonicare brand. Sonicare is, in fact, one of the best selling electric toothbrush brands in the market. So, you cannot go wrong with these crowd favorites. 
Both Best Buy and Kohls are offering discounts on Sonicare DiamondClean and Sonicare ProtectiveClean toothbrushes. The Sonicare ProtectiveClean toothbrush has a 2-minute interval timer which instructs you to move to the next quadrant of your mouth as the current one is clean.
The Sonicare DiamondClean 9700 is high-tech. It has sensors and interfaces with a smartphone app to give you pointers on how to get the most optimum brushing session. The toothbrush has 5 different brushing modes. The Sonicare DiamondClean on sale at Kohl's also has 5 brushing modes to choose from.
All Philips Sonicare toothbrushes, that are on sale, come with a 2-year manufacturer warranty. They all use a rechargeable lithium-ion battery. You are sure to have healthy teeth if you brush regularly with the below-mentioned Sonicare electric toothbrushes.
Oral-B Toothbrushes
Oral-B is a leading competitor to Philips Sonicare. Oral-B products are often a bit cheaper than Philips.
Waterpik Sonic Fusion
Original Price: $190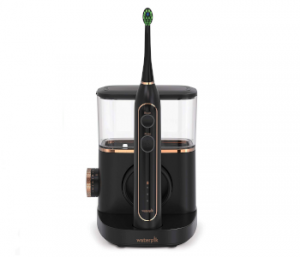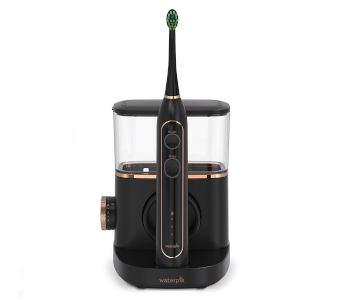 Cyber Monday Price: $82
Waterpik is the oral health brand of famous consumer products company Church & Dwight. Kohl's is offering a Cyber Monday special on the Waterpik Sonic Fusion toothbrush. You can get this deal for less than half the original price. Just pay $82 and purchase this well-reviewed electric toothbrush.
The Sonic Fusion allows you to brush and floss your teeth. It is a 2-in-1 toothbrush in that sense. You can control the pressure of the water for flossing from among 10 different setting-options. The brush comes with a water tank from which the water is drawn for the flossing function.
A motor pumps up the water and helps release it at high pressure for 60 seconds in one go. There is also a built-in timer which ensures that you brush for a minimum of 2 minutes. This combination of electric brushing and powerful water sprays ensure that every nook and cranny around your teeth (and in between the teeth) gets cleaned.
Waterpik claims that the Sonic Fusion toothbrush has been clinically proven to clean your teeth 2 times better than manual brushing and flossing.