6 Best Electric Water Shut-off Valves of 2019
3D Insider is ad supported and earns money from clicks, commissions from sales, and other ways.
Anyone who's had to live through the misfortune of a flooded house will testify how devastating water damage can be. Many of us forget to turn the main valve off before going on vacation, only to return to burst pipes and ruined homes. The good news is, thousands of dollars' worth of property damage can be avoided if you invest in an electric shut-off valve in time.
Electric shut-off valves are motors which shut the water supply off as soon as a connected leak sensor is triggered. Some of them require professional installation, but there are models which attach to existing valves and are a snap to set up as well. There are shut-off valves which can prevent leaks by measuring changes in flow and water pressure. The smartest valves even integrate into your automated home.
These are the six best electric shut-off valves you can get. They vary significantly in terms of price, sensor support, what exactly they detect, and the degree of smart home integration you can expect. All of them will prove instrumental in protecting your home from disastrous leaks, so pick the one that fits your budget and preferences the best.
Budget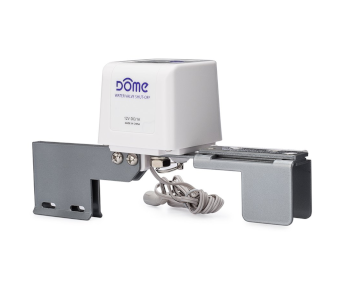 Dome Home Automation Water Shut-Off
3.9/5.0
Sensors: None
Supports 3rd-party smart devices: Yes
Can control boilers and radiators.
Check Amazon
Best Value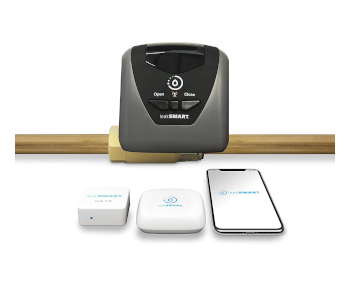 LeakSMART Water Leak Detection
4.5/5.0
Sensors: Leak, temperature
Supports 3rd-party smart devices: Yes
Compatible with Wink and SmartThings hubs.
Check Amazon
Top Pick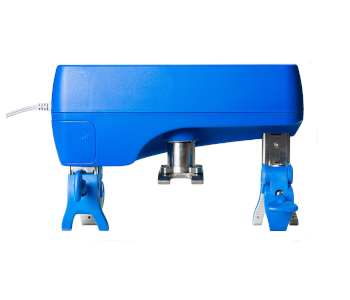 Guardian Leak Prevention System
4.7/5.0
Sensors: Leak, temperature
Supports 3rd-party smart devices: No
Comes with cleverly-designed leak sensors.
Check Amazon
Electric Water Shut-off Valves Comparison Table
1. Best Overall – Guardian Leak Prevention System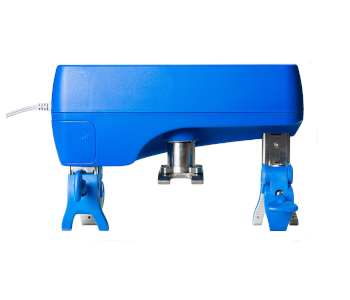 View on Amazon
Editor's Rating: 4.7/5
A water shut-off valve may be the best defense against water damage, but it alone won't warn you in advance if a leak sprung at the other end of your home. That's why the Guardian Leak Prevention System is a comprehensive package consisting of nut just the shut-off valve, but also remote leak sensors and probes. The valve itself is sturdy and silent, the leak sensors have a long range, and everything is connected to a simple yet effective mobile app.
Overview of Features
You can attach the Guardian shut-off valve onto any quarter-turn ball valve and no special tools or plumbing knowledge are required. The valve comes in a massive housing with two brackets that screw onto the pipe at either end and hold it firmly in place. This is one of the quietest shut-off valves on the market – you're barely able to hear the motor spring into action.
The system's value is increased further by the sensors you get. The two main sensors are ingeniously designed to detect water that's either pooling on the floor or dripping from above. They have diodes on the bottom as well as a sloped upper part. When water falls onto the sensor, it is pooled and directed towards the diodes! The probes, on the other hand, come with long cables that let you place one end under the washing machine and another near the toilet for maximum coverage. All sensors have batteries the manufacturer claims last for 15 years.
The system comes with an intuitive mobile app. This lets you check on the current status of the shut-off valve and leak sensors, look up the status of the backup battery if you bought the valve power pack, and view the current temperature. You'll promptly receive alerts in the event of a leak, and the valve will shut the water off in seconds. There's also a weather feature that keeps track of incoming storms and alerts you if these pose a flood risk. Finally, all of the system's activities are logged. You can access these logs from the app or export them for printing.
What's Bad About It?
The Guardian Leak Prevention System is self-contained. It works fine on its own but doesn't support IFTTT or any other protocol that would allow it to become part of your smart home. That means you have to have its app installed at all times and can't automate actions based on its sensor data. If something goes wrong, customer support either won't contact you or offer useful advice on resolving the issue.

Tech Specs
Sensors: Leak, temperature
Smart device support: No
The Pros
Easy to install
Comes with cleverly-designed leak sensors
Quiet operation
Excellent companion app
The Cons
Doesn't interact with any home automation platforms
Poor customer support
2. Best Value – LeakSMART Water Leak Detection Starter Kit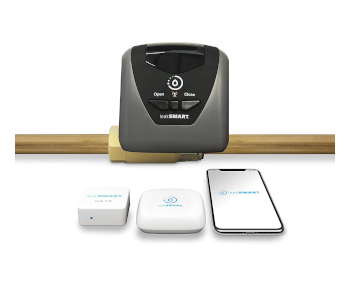 View on Amazon
Editor's Rating: 4.5/5
Guardian's only real drawback is a lack of smart home integration. That's why LeakSMART is the ideal alternative if you want a shut-off valve you can connect to other smart devices. It uses ZigBee to communicate with Wink or Samsung SmartThings hubs which lets you use your own leak sensors to shut the water off. The package we're reviewing contains everything you need to control the valve wirelessly. If you already have a compatible smart hub and leak sensors, consider buying just the valve for even better value.
Overview of Features
The LeakSMART valve is a bit trickier to install than the Guardian since it replaces part of the piping instead of fitting onto an existing valve. Still, you'll only need two fittings and basic plumbing knowledge to install it since the process is straightforward. The valve comes with an adapter that plugs into an outlet but also has a 9-volt battery which kicks in if there's a power outage. Shut-off operation is fast – it takes less than 5 seconds to shut the water off entirely once a sensor is triggered!
The starter kit contains the valve, a smart leak sensor, and a hub. The sensor is versatile since it also incorporates a thermometer and is completely waterproof, so a burst pipe won't render it useless. Its diodes cause the sensor to start beeping loudly as soon as they come into contact with water. The hub is there to facilitate communication between the valve and the sensor while connecting to your phone and keeping you apprised of their activity. You don't need the hub if you already have Wink or SmartThings, but if you don't, it's a godsend since it will keep the valve and sensor connected if there's a network issue. This means that the valve will do its job even when there's no internet!
The LeakSMART app is a textbook example of functionality. The few options it does have are logically laid out and easy to access. After you register an account and pair the valve, you can monitor the battery life and temperature shown by the sensor, adjust notification settings, or view activity logs.
Smart home integration makes LeakSMART's system even more useful. It allows you to use leak detection as a trigger for actions by other devices., You can set the lights to flash in a specific pattern or turn blue, set your smart speakers to play a warning sound, or unlock your smart lock so that your family can get out of the house faster as a response to leak detection.
What's Bad About It?
LeakSMART's leak sensor is prone to losing connection to its hub. This gets so bad that you may start receiving sensor offline warnings multiple times per day. If this happens, you can contact customer support and will get a replacement. The sensor is powered by three AAA batteries which are supposed to last for two years. They drain much more quickly though and will need replacing after six months or less.

Tech Specs
Sensors: Leak, temperature
Smart device support: Yes, through ZigBee
The Pros
Comes with waterproof sensor
Quickly turns water off
Compatible with Wink and SmartThings hubs
Shut-off valve has a cheaper standalone version
The Cons
Short sensor battery life
Sensor has connection issues
3. Sense Guard Smart Water Controller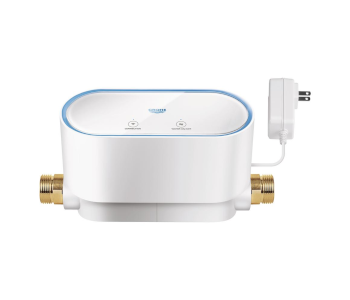 HomeDepot
Editor's Rating: 4.3/5
The shut-off valves we've discussed so far can't do much more than turn the water off. The Sense Guard does this too, but it is also equipped with sophisticated sensors which pick up on slight changes in water flow and can warn you of a potential leak before it even occurs! Such foresight comes at a steep price, but if you've dealt with water damage before, you know that it is a small price to pay in comparison with the aftermath of being unprotected.
Overview of Features
The Sense Guard is the most streamlined and futuristic-looking water shut-off valve in the guide. It has a white, pillbox-shaped casing and an LED that glows a soft blue while it is on or red if a leak is detected. Installing it is as straightforward as with the LeakSMART model, the only difference being that the Sense Guard comes with two male fittings instead of one male and one female. This model doesn't have battery backup.
What the Sense Guard does have is an array of diverse built-in sensors. These measure the strength of the water flow as well as humidity and temperature. They can sense irregularities and alert you to slowly leaking pipes even if the water hasn't done any damage yet. The valve is equipped with a frost prevention feature too – you're alerted via phone notification every time there's a risk of the pipes freezing so you can act ahead of time.
The Grohe Ondus app controls the Sense guard and the Sense, Grohe's version of a smart leak sensor. It has an eye-catching design but is ultimately sparse as features go. You set it up by pairing the valve, creating an account, and adding a home complete with your address and personal details. The dashboard lets you monitor humidity and temperature levels while the menu gives you access to notification settings, tutorials, and an online store where you can buy other Grohe products.
The Sense guard is a Works with Nest product. This means that it seamlessly connects to Nest thermostats and security cameras. The practical purpose of this is that you can set the valve to turn off automatically once your Nest products switch to Away mode. This is convenient since you'll be sure that there's no chance of a leak happening while you aren't home!
Are There Drawbacks?
This is by far the most expensive valve on the list. The basic package doesn't come with sensors either, so you'll need to invest at least $60 more if you want to monitor a place in your home with high leak risk. You'll need a strong Wi-Fi signal for the Sense Guard to work correctly.

Tech Specs
Sensors: Leak, temperature, humidity, water flow
Smart device support: Yes, through ZigBee
The Pros
Has advanced leak prevention sensors
Shuts water off quickly and sends notifications reliably
Has freeze protection
Works well with Nest products
The Cons
Very expensive
Needs strong Wi-Fi to work properly
4. Flo by Moen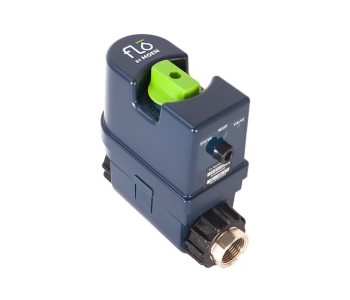 HomeDepot
Editor's Rating: 4.2/5
Water shut-off valves give us a sense of security, but what if they could help you save money as well? That's the idea behind Flo by Moen. This versatile valve can measure different metrics that contribute to the likelihood of a pipe bursting. Its unique feature though is the ability to set water consumption goals and show you a breakdown of which fixtures you're using the most. This model is as expensive as the Sense Guardian but has the potential to pay for itself with continued use.
Overview of Features
The Flo shut-off valve looks ordinary at first glance. It has a green plastic exterior and requires some plumbing knowledge to be installed. However, it is completely waterproof, meaning you can connect it to your yard's irrigation system and save hundreds of dollars in water from being absorbed by the soil.
Sensors inside the waterproof housing measure the water's temperature and pressure as well as how many gallons of it flow through the main per minute. The sensor can detect whether the pressure is too high or too low, both of which will trigger a push notification. Low pressure indicates that there's a leak while high pressure is a sign of clogs or frozen pipe sections which may burst if not dealt with in time.
Moen is dedicated to the Flo's maintenance & your safety. Each night the valve performs an automatic shutdown and re-initialization to make sure everything works as intended. Once a pattern of your water use is established, you'll receive automated calls from Moen if an abnormal quantity of water is used. You can dismiss this if you were washing your car or tending to the garden, but the feature is especially handy if you're away from home and there's nothing to indicate a leak.
Flo has the best-designed app on the list! Its dashboard consists of three gauges showing the pressure, temperature, and current water consumption. Setting the app up takes a while, but it's worth it!. You're asked questions about the number of people in the household, how many bathrooms you have, whether you have a pool, etc. Flo then comes up with your daily water consumption target and lets you know if you've reached it.
Moen offers an additional, subscription-based feature called FloProtect. For $5/month, this lets you see exactly how much water you've consumed by fixture, i.e. what portion was spent on showering, using the kitchen sink, and so on. This knowledge is invaluable in helping you cut back on unnecessary consumption and lowering the water bill.
What We Didn't Like
Flo's biggest drawback is a lack of external sensor support. It will detect that a leak happened but can't tell you in what room, whereas having a leak sensor would help narrow the search down quicker. Like the Guardian, it is also a self-contained system and doesn't work with other smart products.

Tech Specs
Sensors: Leak, temperature, water flow, water pressure
Smart device support: No
The Pros
Offers in-depth insight into water consumption and pipe health
Waterproof exterior
Excellent companion app
Nightly maintenance checks & automated calls when irregularities are detected
The Cons
Doesn't support external sensors
Doesn't support 3rd-party smart devices
5. WaterCop Z-Wave Smart Water Shut-Off Valve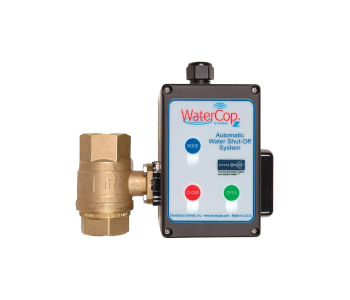 View on Amazon
Editor's Rating: 3.7/5
Z-wave is among the most popular & versatile smart home ecosystem since it lets thousands of devices that have nothing in common work together. If you own a Z-wave hub and don't mind spending an extra $20 on a compatible water leak sensor, the WaterCop is an affordable shut-off valve worth noting. It features straightforward controls, fits into the Z-Wave environment, and reliably cuts the water flow at the first sign of a leak.
Overview of Features
The WaterCop is actually based on an older model which didn't have Z-wave compatibility and retains the same design. It is shaped like a box and has three manual controls for turning it on or off and changing the mode. You can install it yourself since the process is the same as for other models that require the pipes to be cut. It might be a better idea to have a licensed plumber do it instead since this lets you claim an insurance discount.
Once installed, the WaterCop shows up automatically on your Z-Wave hub's app. Samsung SmartThings recognizes it as a water shut-off valve while other hubs treat the water cop as a switch with an on and off function. Now it is ready to be incorporated into your automation routines.
The simplest way of using the WaterCop would be to pair it with a leak sensor and have it shut the water off when the sensor is triggered. You can also set it to turn on or off on a timer to perform maintenance checks, have the hub's app send you notifications when it activates, and more.
What's Bad About It?
The WaterCop is bulky and its shape may be inconvenient if you're installing the valve in a tight spot. Since there's no app, you don't have access to detailed information about the WaterCop's performance or push notifications if you don't set them up yourself.

Tech Specs
Sensors: No internal sensors
Smart device support: Yes, through Z-Wave
The Pros
Inexpensive
Works with all well-known Z-wave hubs
Can be controlled manually
The Cons
Large and tricky to install
No dedicated app
6. Best Budget Option – Dome Home Automation Water Shut-Off Valve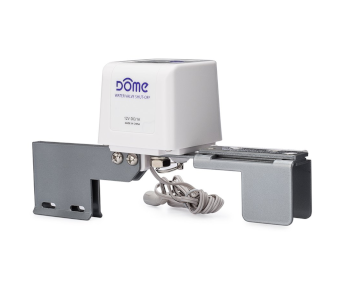 View on Amazon
Editor's Rating: 3.9/5
The Dome auto Shut-off valve is manufactured by Elexa, the company that also produces our overall winner. With the Dome, Elexa was going for affordability and accessibility rather than an abundance of accessories. The result is a valve that costs less than $100, yet performs its duty as well as the pricier Guardian. Pair the Dome with a smart hub and some sensors, and you'll enjoy affordable leak protection in no time.
Overview of Features
Ease of installation is the Dome's best quality. Rather than having to cut out sections of pipes, it installs onto existing quarter-turn valves. This makes it compatible not just with your main water valve, but with boilers, radiators, and other appliances whose access to water can be controlled with a valve. The Dome is small in size and comes with adjustable pipe clamps so it's easy to position and won't fall off.
You control the Dome through your Z-Wave hub's app where it shows up as a generic switch. You can also control it manually by pressing a small on/off button on its top. If there's ever a power outage, water can be shut off by pulling a ring which releases the Dome and gives you direct access to the valve.
Are There Drawbacks?
The Dome's motor is weak. It doesn't have the torque needed to turn stubborn valves, so you'll need to make sure that the valve you'll install it on is easy to operate. The device also suffers from connection issues since it has an older Z-Wave chip. It may not show up automatically when you look for new devices in the app and needs to be close to the hub due to range limitations.

Tech Specs
Sensors: No internal sensors
Smart device support: Yes, through Z-Wave
The Pros
Good value for the money
Easy to install
Can control boilers and radiators
Can be removed if the power goes out
The Cons
Motor can't handle valves that are hard to open
Suffers from connection issues