6 Best Emergency Radios of 2019
3D Insider is ad supported and earns money from clicks and other ways.
A thundering earthquake or devastating hurricane is all it takes to show just how frail civilization is. While you can do nothing to stop nature from bearing its teeth, there's plenty you are able to do to prepare in advance. Knowing how your local weather situation is developing should be at the top of your preparedness list, and an emergency radio is the most reliable tool at your disposal to stay one step ahead of a disaster.
Emergency radios can tune into National Oceanic and Atmospheric Administration or NOAA channels to receive frequent weather updates. They'll work even if cell tower service is down, making them indispensable for receiving information from the outside world in case of a major breakdown. To that end, they're equipped with cranks, solar panels, and rechargeable batteries so you always have a power source at hand. They're also useful survival tools since many models come with flashlights or emergency sirens.
We've rounded up the six best emergency radios available today. Read their reviews to get a better idea of what each radio can do or take a look at the table to see how they stack up against each other when it comes to battery life, survival features, and signal strength. We pray you'll never need to use one, but if you do, you'll be glad you went with a dependable emergency radio from our list.
Budget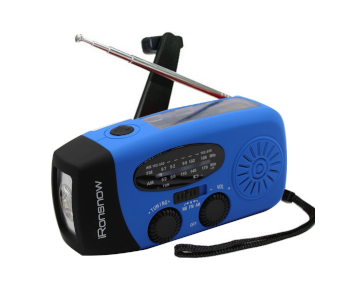 iRonsnow IS-088+
4.1/5.0
Dimensions: 5.0 x 2.4 x 1.8 in.
Weight: 10.6 oz.
Easy to find stations in spite of analog interface.
Check Amazon
Best Value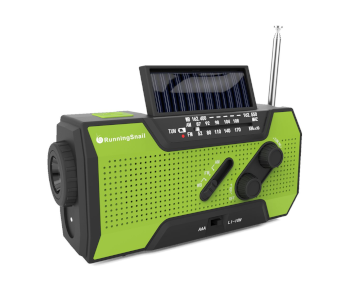 RunningSnail Solar Crank NOAA Weather Radio
4.6/5.0
Dimensions: 6.2 x 2.1 x 2.9 in.
Weight: 11 oz.
Has an abundance of distress features.
Check Amazon
Top Pick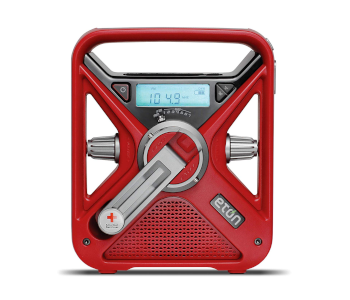 American Red Cross Eton FRX3
4.8/5.0
Dimensions: 6.9 x 5.8 x 2.6 in.
Weight: 15 oz.
Numerous survival and convenience features.
Check Amazon
Emergency Radios Comparison Table
1. Best Overall – American Red Cross Eton FRX3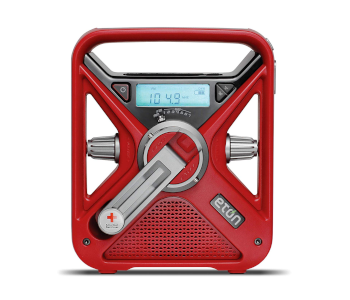 View on Amazon
Editor's Rating: 4.8/5
Whether you live in hurricane country or like adventuring in the outdoors, a capable emergency radio is an essential survival tool. Eton's FRX3 has all the survival features you could hope for and then some! This robust emergency radio is so good that the American Red Cross officially endorses it. It's easy to see why – the radio can be powered in multiple ways, it has access to many general and localized weather report stations, can send out distress signals, and so much more.
Overview of Features
The FRX3 won't be winning any design awards, but it is peerless when it comes to utility. The radio features a hefty crankshaft, an extendable antenna that's safely tucked away when not in use, and a large backlit digital display. It has an IP rating of4 and won't stop working if you get caught in a storm. There's also a clever fluorescent strip around its solar panel for easier location in the dark.
This is the loudest and at the same time most energy-efficient emergency radio we've tested! Turning its crank for just 2 minutes gives the FRX3 enough juice to broadcast more than 10 minutes at an impressive 90dB. Cranking also charges the built-in rechargeable batteries, albeit with less efficiency. Speaking of batteries, the FRX3 has its own NiMH batteries but supports AAA ones alongside them. Other recharging methods include AC and USB adapters as well as a solar panel.
The FRX3 is capable of receiving AM/FM broadcasts along with seven weather channels with excellent clarity. The weather channels include reports from NOAA along with SAME (Specific Area Message Encoding) broadcasts that apply to your local area. The digital display lets you tune into a station's precise frequency in seconds.
Another fantastic thing about the FRX3 is its connectivity. You can hook up your phone to it either through USB or Bluetooth and play some music to pass the time. You can do the same with a microphone, in which case the FRX3 will amplify your voice and drastically increase your chances of being found and rescued! Last but not least, there's an LED flashlight that can go for hours with minimal cranking, and a red flashing light perfect for broadcasting SOS signals.
What We Didn't Like
While you can recharge the radio from an outlet, an AC adapter isn't included. The LCD screen shows the current time when the radio isn't in use. This is a useful feature, but it's a shame you can't turn it off since the clock slowly drains the batteries.
Tech Specs
Dimensions: 6.9 x 5.8 x 2.6 in.
Weight: 15 oz.
Powered by: AC adapter, rechargeable & regular batteries, hand crank, solar cells, USB port
Interface: Digital
Survival features: Siren, flashlight, SOS light, voice amplifier, SAME
The Pros
Excellent reception and range
Has access to localized weather reports
Efficient crank and long-lasting batteries
Numerous survival and convenience features
The Cons
Doesn't come with AC adapter
Constant clock display drains battery
2. Best Value – RunningSnail Solar Crank NOAA Weather Radio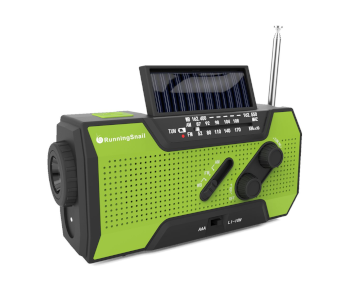 View on Amazon
Editor's Rating: 4.6/5
What do you do if you break your leg in the middle of nowhere and there's no living soul for miles around? If you were smart enough to pack RunningSnail's radio, you turn on one of its many distress features and brace yourself for rescue! This unassuming radio has a blaring emergency siren, a bright SOS light, and the ability to transmit a distress signal in Morse code that can be picked up by nearby walkie-talkie users. That's quite the bargain given the radio's sub-$30 price tag.
Overview of Features
RunningSnail's radio was built with portability in mind. While not as small as the C. Crane CC Pocket, it is compact enough to occupy little space in your bag. The radio comes with a hand strap for easier carrying and is a bright green color, so it's hard to miss. Its top features an analog display and a large pop-out solar panel. While this won't charge your phone like the radio's batteries, it will keep the radio itself active if you can't turn the crank.
You can use this radio to listen to the full spectrum of AM and FM stations and tune into NOAA alerts. The reception is fuzzier than that of more expensive models, but RunningSnail's radio has excellent range. Coupled with a loud speaker, this makes the radio an inexpensive yet vital tool for backcountry outings.
The radio comes with rechargeable batteries capable of storing 2,000 mAh of power! This lets it act as a sizeable power bank and recharge your smartphone in an emergency. The crank is no slouch either – turning it for two minutes nets you five minutes of radio play time at full volume or fifteen minutes of light. There are three lights to make use of – the red blinking SOS light, a 1W flashlight, and a 1W broad beam light useful for illuminating space in front of the radio.
What's Bad About It?
RunningSnail's radio has a small analog interface. This means that the frequencies are hard to see and makes tuning into one harder than with other models. The batteries the radio comes with stop holding their charge after you've depleted them a few times, leaving you with decreased working times and having to rely on the crank more.
Tech Specs
Dimensions: 6.2 x 2.1 x 2.9 in.
Weight: 11 oz.
Powered by: rechargeable batteries, hand crank, solar cells, USB port
Interface: Analog
Survival features: Siren, flashlight, SOS light, area light, Morse code transmitter
The Pros
Excellent value for the money
Abundance of distress features
Portable and light
Good range
The Cons
Interface makes it hard to find the right frequency
Batteries get worse over time
3. Sangean MMR-88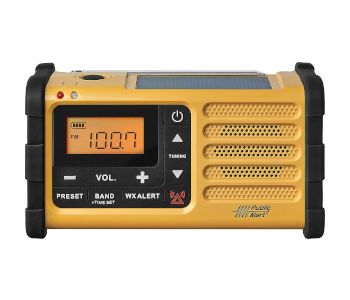 View on Amazon
Editor's Rating: 4.5/5
The problem with most solar-powered radios is that you can't rely on the sun as a viable power source. The solar panels help the battery last longer but don't usually do much good if the battery is depleted. Enter the Sangean MMR-88, an emergency radio with a highly effective solar panel! Let it spend a day under the scorching sun, and you can look forward to 10 hours of continuous use at a moderate volume. That's just its most prominent feature, however.
Overview of Features
The MMR-88 is the best-built radio on review. It is made from hard yellow plastic that's easy to spot in any environment. This combined with rubberized edges makes the MMR-88 resistant to shock damage, allowing it to work even after sustaining a fall. The digital interface is located on the side of the radio and features a large, easy-to-read screen along with big buttons with clear labels.
This is the best emergency radio as far as solar goes, but other charging methods are equally impressive. There's a robust crank in the back that produces enough power for the radio to run for five minutes per each minute of cranking. Connecting the radio to an outlet via USB adapter will recharge its battery in less than three hours and power it on for five and a half. An auto shut-off is built in to turn the radio off after 90 minutes of continuous use and conserve the battery further.
Reception strength is outstanding, as is the radio's performance in the FM range. There are 19 preset stations you can assign for FM, AM, and NOAA channels to have them within easy reach.
Lastly, the MMR-88 comes with an array of helpful survival features. You get a loud siren and Morse code beacon along with the standard flashlight and strobing/SOS light. The Morse code beacon is particularly useful since it lets you reach people farther out than any other alternative.
Are There Drawbacks?
Charging the MMR-88's battery through a USB port takes long. The battery will stop holding a charge well in time. To make matters worse, the battery's format is an uncommon one, so replacements are hard to come by.
Tech Specs
Dimensions: 6 x 2.7 x 3.3 in.
Weight: 13.8 oz.
Powered by: rechargeable batteries, hand crank, solar cells, USB port
Interface: Digital
Survival features: Siren, flashlight, SOS light, area light, Morse code transmitter
The Pros
Great solar panels and charging crank
Has Morse code beacon
Battery is quick to recharge from an outlet
Excellent reception in the FM spectrum
The Cons
Battery life becomes shorter over time and replacements are hard to find
4. C. Crane CC Pocket Radio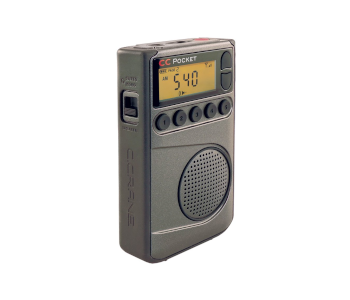 View on Amazon
Editor's Rating: 4.3/5
The emergency radios we've reviewed so far all had multiple power sources and have to be big enough to accommodate all of them. The C. Crane CC Pocket Radio forgoes multiple power sources in favor of size. True to its name, this radio fits inside any pocket and is so light you'll barely notice it. More importantly though, the CC Pocket offers exceptional battery life, signal strength, and frequency detection.
Overview of Features
The CC Pocket looks more like the Walkmans of yesteryear than a modern emergency radio. Don't let first appearances fool you though as this is one of the most versatile emergency radios you can buy today. You'll first experience this when taking a look at five identical buttons located underneath its backlit display. These let you memorize 55 stations and also act as controls for advanced operations like adjusting signal increments.
Another choice you can make is how to listen to the CC Pocket. You can use its external speaker or get a set of earphones. The latter prolongs the battery life significantly – a pair of AA batteries lets the radio run for a whopping 75 hours with the earphones on. Switching over to the speaker will still give you a respectable 25 hours of listening time if multiple people want to hear the news or NOAA reports. There's also the option of using the earphones as an antenna extension while listening to the broadcast through the speaker.
The CC Pocket excels in urban areas where the FM spectrum is brimming with stations. It features one of the most precise frequency searches we've seen, allowing you to fine-tune a station in small increments. This is also useful when you're trying to distinguish between two stations with close frequencies as there is no signal bleed or overlapping. Couple that with the memory function, and you can gain access to dozens of stations while having to search for them only once!
What We Didn't Like
The CC Pocket is an exceptional radio, but its emergency features fall short. The worst thing about it is that the radio becomes useless once the batteries run out, so keeping spares around becomes crucial. The radio offers no way of signaling for help – it has no flashlight or SOS light, no siren, and no distress beacon. This isn't a problem if your survival kit already contains items with these features, but it does make the CC Pocket a one-trick pony.
Tech Specs
Dimensions: 2.5 x 1 x 4.2in.
Weight: oz.
Powered by: AA batteries
Interface: Digital
The Pros
Outstanding battery life
Can be used with earphones
In-depth station selection and memorization features
Fits inside your pocket
The Cons
AA batteries are its only power source
No additional survival features
5. Kaito KA500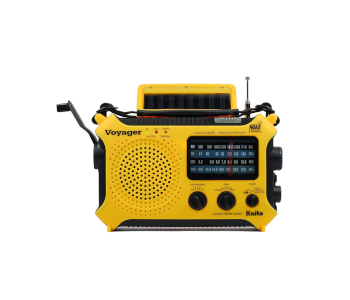 View on Amazon
Editor's Rating: 4.3/5
An emergency radio needs to be able to work no matter the circumstances. The Kaito KA500 is an excellent example of redundancy put to good use. It can be powered via a solar panel, with a crank, through a USB port, and with rechargeable batteries! On top of that, it offers a wide selection of reception options and is rugged yet portable. When push comes to shove, you'll be glad you picked this versatile radios over others.
Overview of Features
The KA500 packs a plethora of features, yet it is neither too bulky nor too large. You can easily transport the radio thanks to its carrying handle and make out which frequency you're tuning into on its analog interface. The radio has two LED lights. One has a concentrated beam and acts as a flashlight. The other emits a broader glow that's ideal for lighting up a workspace or helping you read.
The KA500 has an effective set of solar panels that will keep it working when all other power sources are depleted, provided you put the radio into direct sunlight. You also get a set of batteries that are best recharged through USB but which can also be topped off with the solar panels or crank in a pinch. Speaking of USB, the KA500 has a USB port meant for recharging your cellphone.
As for its capabilities as a radio, the KA500 excels at picking up frequencies in the AM/FM as well as shortwave spectrums. There's also the ability to tune into NOAA channels and receive up-to-date reports on weather changes in your area. The analog interface makes it easy to find the precise frequency you're looking for quickly. The radio does a fine job of distinguishing between frequencies, so one radio station won't interfere with another if their frequencies are close together.
What's Bad About It?
The KA500's overall build quality is good, but its crank is another matter. The crank might start to stall after heavy use and even snap off if you're using it too vigorously. The radio comes with a vague manual, forcing you to tinker with it on your own to figure out how everything works.
Tech Specs
Dimensions: 10.5 x 5.7 x 3.4 in.
Weight: 1.6 lbs.
Powered by: AC adapter, rechargeable batteries, hand crank, solar cells, USB port
Interface: Analog
Survival features: flashlight, SOS light, area light
The Pros
Many different ways of getting power
Multiple LED lights with different applications
Can charge your phone
Decent reception
The Cons
Poorly-made hand crank
Vague manual
6. Best Budget Option – iRonsnow IS-088+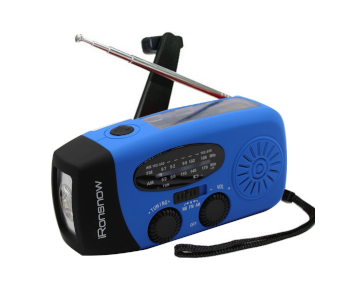 View on Amazon
Editor's Rating: 4.1/5
Last up is the iRonsnow IS-088+, a new and upgraded version of the IS-088. This enhanced model combines affordability with decent battery life, access to seven NOAA weather channels, as well as an emergency phone charger. It might not come with as many survival features as the competition, but the IS-088+ is still a worthwhile budget pick and an excellent backup option should your main emergency radio unexpectedly die.
Overview of Features
The IS-088+ looks almost exactly like its predecessor. It has a hard red plastic case featuring two dials used to search for frequencies and adjust the volume. A toggle above them switches from AM to FN and NOAA channels. The radio has an analog interface with a red indicator LED that lights up when the battery is low. The most noticeable difference is the flashlight – the regular IS-088 had three low-intensity LEDs while the plus has a single 1-Watt replacement that's much brighter.
Battery capacity has also seen an improvement and went from 300 mAh to 1,000. This is enough to give your phone some much-needed minutes of operation time in an emergency while still letting you use the flashlight or listen to the radio. The solar panel is nothing to write home about. On the other hand, the crank is efficient at turning motion into electricity, letting you listen to the radio for five minutes or use the light for half an hour for each minute you turn it.
Unlike some of its more expensive competitors, the IS-088+ holds a charge well. You can charge the battery and forget about the radio until you need it, even if that happens to be a year later! Its solar panel isn't the worst we've seen either and can provide three hours of radio time per day of exposure.
The IS-088+'s responsiveness in searching for stations is above average even though it has an analog interface. This is thanks to a sensitive search dial that offers resistance while rotating and minimizes the chances you'll overshoot a frequency. Reception is adequate, and the radio's range is suitable for urban areas. Most importantly, NOAA reports come in loud and clear.
Are There Drawbacks?
The IS-088+ isn't as versatile as other models. Its only survival feature is a flashlight, and you can't use ordinary batteries as backup. The speaker volume is low. This doesn't impact the radio's performance when you're in nature or a quiet shelter but may make it impossible to hear an announcement in noisy surroundings.
Tech Specs
Dimensions: 5 x 2.4 x 1.8 in.
Weight: 10.6 oz.
Powered by: Rechargeable batteries, hand crank, solar cells, USB port
Interface: Analog
Survival features: Flashlight
The Pros
Decent performance at a fair price
Bright flashlight
Easy to find stations in spite of analog interface
Good battery life
The Cons
Low speaker volume
Few survival features