6 Best Ergonomic Keyboards of 2020
3D Insider is ad supported and earns money from clicks and other ways.
Even though it's among the safest workplaces, a modern office environment isn't without its share of health hazards. Being hunched over a desk for hours on end has adverse consequences on several areas of our bodies we might not be aware of before it's too late. One of the less-talked-about ones are problems caused by prolonged typing.
It's scary to think that the basic keyboard design has remained mostly unchanged for more than a century. In the meantime, we've learned that prolonged typing can cause RSI or repetitive strain injuries, carpal tunnel, strained shoulders, and more. If you type or game on a PC a lot, you must invest in an ergonomic keyboard to decrease the likelihood of injury or make the effects more manageable if you're already suffering.
Here are the six best ergonomic keyboards you can buy to assuage your typing-related conditions. Some feature radical new designs while others improve conventional ones with welcome accessories. Find out what makes each of them special and do something positive for your long-term health.
Budget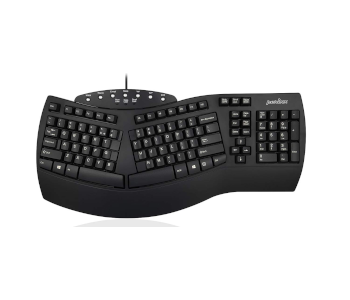 Perixx Periboard-512
4.0/5.0
RGB: No
Wireless: Optional
Solid ergonomics at an excellent price.
Check Amazon
Best Value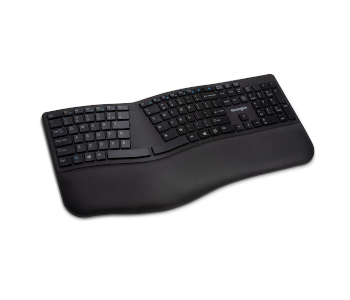 Kensington Pro Fit Ergonomic Wireless Keyboard
4.4/5.0
RGB: No
Wireless: Yes
This has quiet keys resistant to spills.
Check Amazon
Top Pick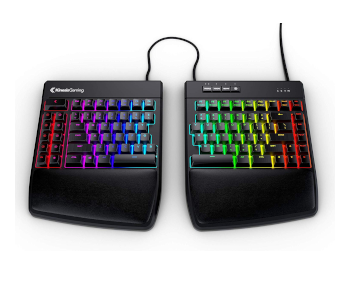 KINESIS Gaming Freestyle Edge RGB
4.8/5.0
RGB: Yes
Wireless: No
Quality build with genuine MX switches.
Check Amazon
Ergonomic Keyboards Comparison Table
1. Best Overall – KINESIS Gaming Freestyle Edge RGB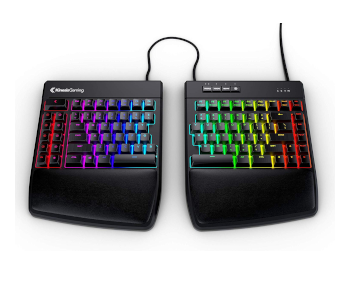 View on Amazon
Editor's Rating: 4.8/5
Do you want a peerless typing experience that's easy on your wrists without losing out on gaming functionality and aesthetics? The Gaming Freestyle Edge RGB by Kinesis sports a novel look and is made from two halves you can put close together or split for the most comfortable position. Its compact construction, vibrant lighting, and a plethora of customization options make this the number one ergonomic keyboard currently available.
Overview of Features
The Gaming Freestyle Edge RGB is a uniquely-shaped keyboard with two independent halves. They're connected with a 12-foot cable that you can extend to 20 feet if you need more space. Each part has a large and comfortable wrist rest too.
You can use the keyboard as is, but we strongly recommend you also purchase the lifter kit since it doesn't have feet. The kit consists of two attachments that angle the inner edges of each half upwards five, ten, or fifteen degrees. The result looks like a tent and takes getting used to, but your wrists feel more relaxed, and you can type for long stretches without experiencing pain or fatigue.
This is a tenkeyless model and has an unusual key arrangement. The left half houses the so-called Game Bank, a set of ten keys to the left of ESC you can program to act as any kind of keyboard or mouse input or to execute macros. The right half is more cramped, with the arrow keys in the bottom right corners and Home through Page Down arranged above them in a reverse L pattern. There is one Fn key per side, and each has a different set of functions. The left one controls macro and remapping management while the right one handles F7 through F12 and grants access to keyboard-specific commands.
Since it's intended for gaming, it's no wonder that the Freestyle Edge RGB comes with genuine MX Cherry switches. Blue switches are clicky, Red are silent and respond more quickly. Brown ones have the best tactile feel for typists, and Silver are akin to Red but have an even higher actuation point. Whichever switch you prefer, the keys respond to input promptly and have beautiful individual RGB capable of reproducing more than 16 million colors.
Kinesis takes a different approach to customization software as well. It's called SpeedSet and doesn't install any drivers onto your computer. You can use it on PC as well as Mac. SpeedSet is one of the most versatile configuration utilities we've ever seen. It lets you change the keyboard layout to established ones like Dvorak or remap every key. As there are two Fn keys, each remapped profile can have a primary and two additional, completely unique layers. You may also customize the lighting, either on a per-key basis, for different clusters like WASD, or across the keyboard. The changes are saved onto the keyboard itself on one of nine profiles.
What We Didn't Like
The Gaming Freestyle Edge RGB is expensive. Luckily, there's a more streamlined version that lacks RGB but costs considerably less. It's a shame that you can't separate the two halves. Being able to put the WASD portion closer to your mouse is a real game-changer, but the other half remains connected through the cable and clutters up your desk regardless.
Tech Specs
Dimensions: 15.5 x 10.3 x 1.3 in.
Weight: 2.5 lbs.
Type: Mechanical
Switch style choices: Cherry MX Blue, Red, Brown, Silver
RGB: Yes
Wireless: No
The Pros
Splits in two for optimum wrist positioning
Quality build with genuine MX switches
Vibrant lighting
Extensive customization options
The Cons
Expensive
Halves can't be separated completely
2. Best Value – Kensington Pro Fit Ergonomic Wireless Keyboard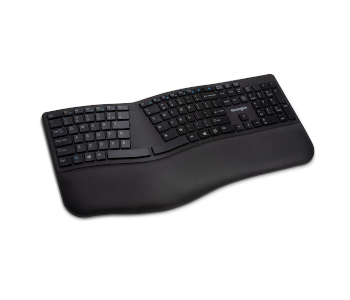 View on Amazon
Editor's Rating: 4.4/5
Do you travel a lot and need a familiar ergonomic keyboard that's ready to go in seconds wherever you are? In that case, Kensington's Pro Fit is the ideal choice. It's definitely not a space-saver, but the typing experience is quiet and enjoyable. Best of all, the keyboard is reasonably-priced while retaining high quality standards.
Overview of Features
The first thing that catches the eye when beholding the Pro Fit is its wavy shape. That's to ensure that its keys are at an angle that provides minimal wrist strain. Typists who are transitioning from a standard model will need to hunt for keys at first, but confusion and frustration quickly give way to increased productivity as you get used to it.
The wrist rest is another feature that improves ergonomics. Unlike other keyboards, the Pro fit has adjustable feet on the side with the wrist rest. That way, you can raise it and adjust the angles of your wrists more precisely.
The keyboard has a full complement of keys, including Fn used to access the function row's alternative controls like playback, email, etc. The chicklet-style keys are shallow and look like they've been plucked from a laptop. That's a good thing since they're easy to press and quiet even when you're reaching top writing speeds. They're also slightly indented. That's to make spilled liquid form tiny puddles that are easy to clean up if you ever have a spill.
One of the Pro Fit's major selling points is its wireless capability. You can choose between 2.4GHz Wi-Fi and Bluetooth 4.0 LTE by toggling a switch. Pairing is over in seconds, and both wireless modes are free from lag. The keyboard is powered by two AAA batteries and has a power-saving mode. Alternately, you can turn it off to prolong the batteries when you don't need it for a while.
What's Bad About It?
Users who haven't typed on a laptop-style keyboard before might have trouble adapting to this one. The keys are positioned close to one another, which might cause you to hit adjacent ones accidentally. The wireless connection isn't always reliable. You might experience intermittent lag and unresponsiveness, especially if there are other Bluetooth devices in the room. Reconnecting fixes the problem but can be annoying.
Tech Specs
Dimensions: 19 x 10 x 1.5 in.
Weight: 2.2 lbs.
Type: Membrane
RGB: No
Wireless: Yes
The Pros
Comfortable to type on once you're used to the layout
Adjustable wrist rest
Wireless
Quiet keys resistant to spills
The Cons
Close keys increase the likelihood of typos
Unreliable wireless connection
3. Microsoft Surface Ergonomic Keyboard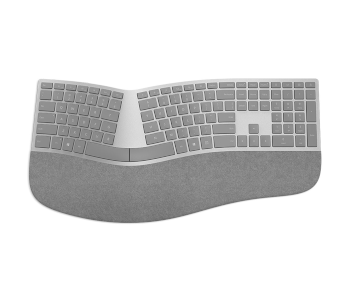 View on Amazon
Editor's Rating: 4.5/5
Microsoft has been at the forefront of ergonomic keyboard development for decades. It started with the Natural line and remained content with the futuristic-looking Sculpt for a long while. The Surface Ergonomic Keyboard might not be as aesthetically pleasing as its predecessor, but its layout and keys have been refined to near perfection. It's a pleasure to type on, whisper-quiet, and will leave your wrists feeling relaxed after a long day of code or article writing.
Overview of Features
Unlike the majority of keyboards, the Surface Ergonomic Keyboard is colored light gray to fit in with Microsoft's line of other Surface products. It isn't backlit, but the contrast of two gray shades is pronounced enough for letters and symbols to be easily discernible under natural or monitor light. The part that's been cut away from the Sculpt's middle has been replaced by plastic, and the Numpad is now part of the keyboard.
Microsoft has done an excellent job with material selection. The keyboard's main body is of high-quality plastic that feels durable and doesn't warp. Special attention was given to the broad wrist rest. It's made from a new material called Alcantara, a kind of foam that cradles your wrists but stops giving way at a certain point. The resulting feeling is one of pampered comfort coupled with support few models can match.
The keys are similar to the Pro Fit's in that they're flat and shallow. However, they travel considerably deeper and won't cause sore fingertips for heavy-handed typists. The divide between the keyboard's portions is also raised to lessen tension in your wrists and keep them in a more natural position. That alleviates strain put on your shoulders.
This is another wireless keyboard powered by two AAA batteries. Even though a rechargeable option would have been nice, Microsoft claims that a single pair of AAAs lasts for a year with constant use. There's no backlighting, so there's no reason not to take the statement at face value.
Are There Drawbacks?
Microsoft's keyboard doesn't remember previous Bluetooth connections. That's not a problem if you use it with one computer, but it does mean you'll have to go through the pairing process every time you connect it to another device. Alcantara is excellent for resting your wrists but quickly becomes dirty due to its light color. You'll have to step up your hand washing game to keep it clean longer.
Tech Specs
Dimensions: 18.1 x 9 x 1.4 in.
Weight: 2.2 lbs.
Type: Membrane
RGB: No
Wireless: Yes
The Pros
Stylish look with superb ergonomics
Made from quality materials
Alcantara rest provides excellent support
Long-lasting batteries
The Cons
Wrist rest gets dirty with use
Has to be paired anew each time you switch the Bluetooth connection
4. Logitech K350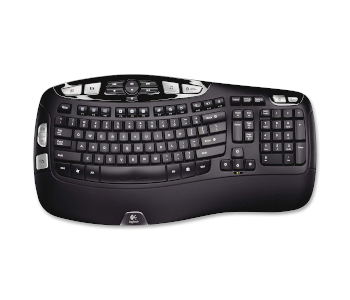 View on Amazon
Editor's Rating: 4.3/5
The keyboards we've reviewed so far all take a radical approach to key placement and force users to adapt to a new layout. Logitech's K350 meets you halfway since it keeps standard rows intact while introducing curves & contours to make typing less stressful. It's an aging model, as evidenced by the labels and positioning of the numerous multimedia keys. Still, the K350 is still worth a buy if you can't quite get yourself to embrace newer ergonomic solutions.
Overview of Features
The K350 is a big keyboard, so much so that we wouldn't recommend it if your desk is cramped. Its width is a whopping 10 inches, a necessity given the oversized top portion and large wrist rest. The rest is great, though. It's cushioned and responsive to changes in wrist angle. The feel isn't quite on Alcantara's level, but it's close enough. There are two feet you can prop up at two angles selecting the higher one raises the K350's height to almost 3 inches, a height many sliding trays won't support.
The key layout is the K350's most intriguing aspect. Rather than splitting the rows up, Logitech has enhanced the K350's ergonomics by introducing a curve that positions keys in the middle of a row slightly lower than those on the edges. Moreover, the keys in the middle are raised to accommodate varying finger lengths naturally. The result is a setup that's easier to get used to while providing better wrist support than standard models.
The K350 is another wireless keyboard. It's powered by two AA batteries Logitech says will last for three years if you use it moderately. Unlike Microsoft's Surface model, the K350 comes with a Unifying Receiver. You can use this dongle to connect six wireless Logitech devices to a single computer. Better yet, you may connect up to six Unifying Receivers to other computers and use the K350 with each instantly.
What We Didn't Like
The K350's multimedia keys are clunky and take up a lot of space. The setup made sense ten years ago when the K350 was released, but keyboard design has since moved on, as have users' needs. We were disappointed with the K350's build quality. The keycaps feel cheap and make a lot of noise for a non-mechanical keyboard.
Tech Specs
Dimensions: 18.9 x 2.9 x 9.9 in.
Weight: 3 lbs.
Type: Membrane
RGB: No
Wireless: Yes
The Pros
Easier to get used to than other ergonomic models
Can easily switch between multiple computers with plugged-in Unifying Receivers
Exceptional battery life
The Cons
Outdated media control placement
Low-quality keycaps
5. Razer Ornata Chroma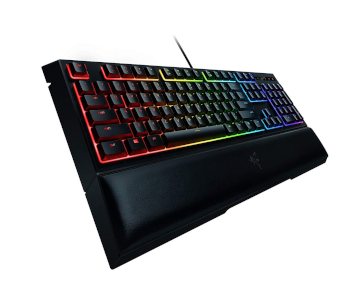 View on Amazon
Editor's Rating: 4.2/5
The K350 takes ergonomics into a more manageable direction for hesitant buyers, but what if you want a comfy keyboard with no layout changes? There aren't many of those out there, but the one that stands out is Razer's Ornata Chroma. It's a normal-looking keyboard that comes with a fantastic wrist rest. Plus, it has unique hybrid switches that make for a pleasant yet different feel while typing.
Overview of Features
At first glance, the Ornata Chroma looks like any other office keyboard, especially if the LEDs are off. There are no additional function or macro keys – alternative functions are handled by pressing Fn. There's your standard smattering of multimedia controls along with brightness adjustment, macro creation, and gaming mode. You can set the brightness to one of twenty levels or record macros without accessing Razer Synapse. Turning gaming mode is useful when you're concentrating on ramping up kills and don't want to accidentally press the Windows key or tab out of the game.
Comfort-wise, the star of the show is the Ornata's detachable wrist rest. It's made from a supple, rubbery material with the right amount of give. The top layer is faux leather and gives your wrists a slightly textured yet great-feeling surface to rest on. The rest holds onto the Ornata Chroma with the help of magnets. These do a great job of keeping it glued in place as not even intense gaming sessions will make the hand rest budge. Both the keyboard and rest have small feet for extra stability, while the Ornata Chroma also has a pair of extendable ones that place it at an angle.
The Ornata Chroma has made waves because of its unique hybrid keys. Their base contains Razer's proprietary mechanical
switches that are then topped off with rubber domes. The resulting keys aren't as loud as true mechanical ones yet retain their tactile feel and a difference between bottoming out and reaching their actuation point. This works well in practice as the keys are responsive and react to slight pressure. The keyboard has 10-key rollover, so you can execute challenging combinations or type as fast as you can without worrying that a keypress won't be registered.
What's Bad About It?
The Ornata Chroma uses Razer Synapse for key remapping, sophisticated macro creation, and lighting management. You have to create an account and be connected to the internet to save profiles to the cloud. Not running Synapse in the background will cause the Ornata Chroma to go back to its original settings. The RGB lighting is colorful and vibrant but may be a distraction for serious work. It isn't confined to individual keys but runs around them as well. This makes the lighting overly bright for when you need to concentrate.
Tech Specs
Dimensions: 18.2 x 6.7 x 1.3 in.
Weight: 2.1 lbs.
Type: hybrid
RGB: Yes
Wireless: Yes
The Pros
Hybrid switches make for an interesting typing experience
Detachable wrist rest with luxurious finish
Has onboard macro creation and game mode
Strong, colorful RGB
The Cons
Razer Synapse is a hassle to use
RGB can be distracting
6. Best Budget Option – Perixx Periboard-512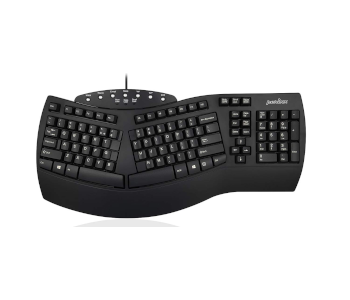 View on Amazon
Editor's Rating: 4/5
The last keyboard on our list is intended for office users who see hands and shoulders could use a break. The Perixx Pweriboard.512 is a no-frills ergonomic model that does wonders for pain while costing next to nothing. It's satisfying to type on, has an assortment of media keys, and you can choose between wired and wireless alternatives too.
Overview of Features
The Periboard-512 sports the now standard ergo look made famous by Microsoft's keyboards in the 90s. If you were around back then and loved the old-timely keyboards' feel, you'll quickly get used to it. The significant difference is in the Periboard's multimedia keys. There are seven of them spaced out equally above the function row. They cover everything from faster typing in of internet addresses to adjusting the volume.
There are a few design quirks, though, arrow placement being the most notable one. Perixx wanted to cut down on the length, so the arrow keys along with Insert through Page Down are squished into two rows. Gamers who use the arrows might find this too big of an adjustment, but typists likely won't care. You'll find the lights that denote Caps, Scroll, and Num Lock statuses under the multimedia keys.
The keyboard's ergonomics are sound. The wrist rest isn't detachable and is made from plastic, but it's large and angles upwards in a gentle slope. Along with the raised middle portion, it provides welcome relief from pain. You'll notice the difference shortly after switching. There is an adjustment period, though, so don't feel discouraged if your WPM goes down temporarily.
Even though the keys have rubber domes, typing on the Periboard-512 feels similar to using the Ornata Chroma. On the one hand, they have shorter travel times that increase your WPM. On the other, keypresses are accompanied by "thumping" noises that are more subtle than mechanical clicks but provide feedback you'll appreciate.
Are There Drawbacks?
Some keys tend to stock if pressed at an angle. The Spacebar is particularly guilty of this and needs to be pushed straight down to work. This is another keyboard with cramped keys. The design choice is understandable since Perixx had to balance the middle break with limited width. Still, you might experience an elevated typo rate if you're used to models with wider spacing.
Tech Specs
Dimensions: 19.1 x 9.3 x 1.3 in.
Weight: 3.1 lbs.
Type: Membrane
RGB: No
Wireless: Optional
The Pros
Solid ergonomics at an excellent price
Tactile keys with short travel time
Dedicated multimedia keys
The Cons
Bigger keys tend to stick
Tight grouping increases chance of typos