5 Best Fall Detection Wearables: What They Are and Who Needs Them
3D Insider is ad supported and earns money from clicks and other ways.
Old people, or those with other physical conditions, are always at an increased risk of getting injured. If they slip or fall, they might end up in a situation where they cannot call for help by themselves. Having another person care for them 24/7 isn't always an option, but you can settle for the next best thing – harness modern technology to keep them safe.
Wearable fall detection devices aren't anything and have been integrated into most medical alert systems. If you're considering getting a fall detection device for your loved ones, then this guide we have prepared should help you understand how they work. We have also compiled a list of the best fall detection and medical alert devices in the market today.
Why use fall detection wearables?
While medical alert devices are already fairly common nowadays, most of them require the user to press a button to call for help. In a worst-case scenario, this may not be possible. When a person falls, they could end up unconscious, incapacitated, or in too much pain to make an effort to trigger an emergency call.
Seniors have particularly special circumstances, as their lack of coordination or deteriorating physical conditions put them at a higher risk of slipping or falling. According to a study, one in four seniors aged 65 and above fall each year. People with physical disabilities may be in a similar situation.
Fall detection devices automatically detect when the user falls and places a call for help to the pre-programmed emergency contacts. Most of these devices also come with a GPS module that broadcasts the device's location to the first responders.
They don't provide a 100% guarantee, though. In fact, fall detection devices that cannot detect 100% of falls are some of the most controversial in the field of wearable medical devices. With this in mind, it becomes even more important for you to choose the best fall detection wearables to keep your loved ones safe.
How do they work?
The technology behind fall detection isn't much different from the technology that allows your smartphone to detect when you rotate your screen or when it's being rapidly moved up and down. This type of sensor is called an accelerometer, typically made with piezometric crystals that generate a very small amount of current when put under stress.
The good thing about piezometric accelerators is that they can detect how fast or how sudden the movements are. As the crystals undergo more stress, they generate a stronger current. By fine-tuning the threshold for the generated current, fall detection devices can be calibrated to avoid false alarms. After all, you'd hate to have an ambulance outside the house just because you sat down on the couch too quickly.
The feature that detects the output current of the crystals and determines if a fall has happened. It then initiates a call an emergency response center which has already been programmed into the device before use.
Who needs fall detection wearables?
A fall detection wearable device is usually always a good idea if you feel that your loved one is in danger of getting into an accident and cannot call for help on their own. There are a lot of situations that can be classified as such, even without you recognizing them. If you know someone whose living conditions sound like any of the following, then you should consider getting them a wearable fall detection device.
Elderly loved ones
People who live alone
People who live in houses with stairs and other uneven surfaces
People who live in areas with slippery ice in winter
People with conditions that make them prone to fainting
People who have suffered broken hips in the past
The best fall detection wearables available today
As you can imagine, picking a reliable, high-quality fall detection device is extremely important. While there's a huge selection of devices in the market, they are not all equal in terms of reliability and response. For the sake of your loved ones, you need to take the time to consider which ones to get. To help you out, here is our shortlist of the best fall detection devices or medical alarm devices with integrated fall detection features.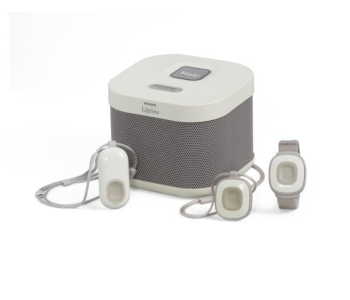 The Philips Lifeline is one of the most popular today, and for several good reasons. Backed by several decades worth of experience under the Philips brand, the Lifeline system offers a full range of medical response services and has been frequently cited for their excellent customer service. It's no wonder that the Philips Lifeline has earned a customer base of 30,000 monthly users in 2016 – and it's a number that continues to grow.
The hardware for the Lifeline designed for home use is called the HomeSafe system. This medical alert system consists of a base unit and a wearable pendant. The pendant is outfitted with a series of accelerometers and barometric sensors that can detect high acceleration forces and sudden changes in barometric pressure – both indicative of a fall. To avoid false alarms, it also has a finely tuned algorithm to detect true falls.
If a fall is detected, the AutoAlert system connects the user to the Response Center. The pendant has two-way voice communication capabilities so the user can speak to the responder who will then assess the situation and dispatch help if needed. If the user falls unconscious and the phone responded cannot establish contact, emergency services will be immediately dispatched.
The pendant itself is quite tough with its long-lasting battery and water-resistant construction. It's not just a fall detection device – it can be used as an all-around two-way communication device for all types of medical emergencies.
The quality of service from the 24/7 response centers and the flexibility of payment plans have made the Philips Lifeline very popular. They have received stellar reviews from their users and hundreds of recommendations.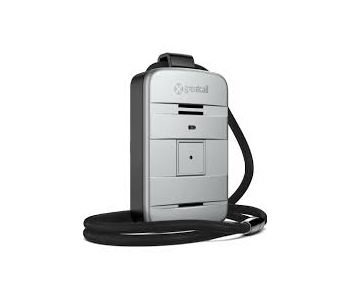 GreatCall is a company that has already received some renown with their Jitterbug cellphone, a phone specially designed to be senior-friendly. With the Lively Mobile, they have taken the features of the Jitterbug and modified them to create an equally excellent medical alert device.
The Lively Mobile is basically a medical alert device that works on the Verizon cellular network. It's a bit too chunky to be considered a wearable, but it can be carried around as easily as any cellphone. In any case, it comes with a lanyard and an accessory clip so the user can attach it to practically anything.
The emergency services provided by Lively Mobile are based on a monthly subscription plan. While the first 30 days are free, you'll eventually have to choose a plan from the three options offered by GreatCall. If you want your device to come with fall detection features, you'll need to sign up for the most expensive option – the Ultimate plan, which goes for $39.99 monthly. The monthly plans can be cancelled anytime, and GreatCall does not charge any cancellation fee.
When the fall detection alarm gets triggered by unusual movement, the device automatically makes a call to the emergency response center. The Urgent Care facility provides 24/7 access to doctors and nurses and can also dispatch emergency responders if needed.
While the service of GreatCall is impeccable, the device itself can be problematic. It takes some time to get used to wearing it, and its battery can only last for about a day. Having to charge the device daily seems tedious, especially since similar devices can hold their charge for three to five days.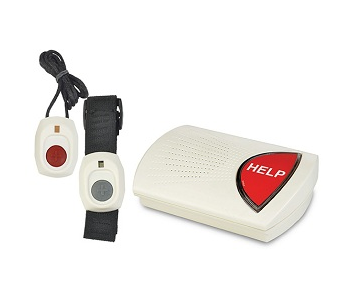 With almost 70 years of experience in medical response, Bay Alarm Medical is a company that certainly knows what it's doing. Their In-Home Medical Alert System is composed of a base station, and both a wearable pendant and wristband. The package also has a medical information magnet for first responders.
The base station acts as a communication device that will put you in touch of their emergency response team using a high-output speaker and ultra-sensitive microphone. It can be connected to any standard landline port or a 4G-LTE network. The system uses an AT&T cellular service.
Both pendant and wristband emergency buttons are 100% waterproof and can connect to the base station within a 1000-foot range. The neckband of the pendant has breakaway magnetic clasps for added safety. The automatic fall detection feature is an upgrade, though, so you'll need to pay a little extra to get it.
The Bay Alarm Medical System also offers another way to trigger emergency services when the user is in another part of the house away from the base station. The package comes with several wireless HELP buttons that can be installed in different parts of the house. Pressing these buttons is treated the same as pressing the wearable emergency buttons. This is a great feature for when you want to provide an emergency alert system for more than one person.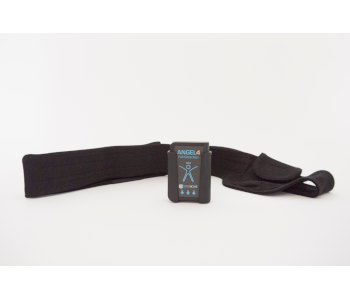 Sense4Care is a relatively young company, but their medical alert and fall detection devices have quickly captured a good level of attention. Their fall detection system, the Angel4, keeps things simple. It's a single, wearable device – it has no base station or any other accessories. The small sensor merely clips to the waist like an old-fashioned pager or can be worn around the waist with a comfortable, specially designed belt.
When the Angel4 detects a fall, it starts a countdown that can be interrupted by the user if they do not require medical assistance. After the countdown, the Angel4 sends an emergency call and a series of SMS messages to pre-determined contacts. The message includes an accurate GPS location of the device. The device also has a built-in emergency button which the user can press in case of an emergency.
What sets the Angel4 apart is that it's not just a medical alert device. It comes integrated with several fitness features such as gait assessment, activity level assessment, and recognition and correction of postures. The Angel4 works just as well as a fitness device that you can bring on your hiking and cycling trips. Think of it as a fitness tracker with a built-in emergency button.
The Sense4Care Angel4 medical alert device is still quite new to the scene and does not have a set of features as comprehensive as other, more established medical alert devices. However, it also has a few functions that are unique.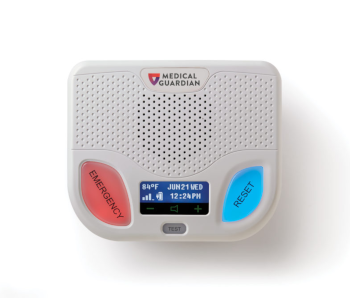 The Medical Guardian device has been around for more than a decade, so it's one of the most reliable medical devices you can get. With tens of thousands of clients worldwide, their emergency response team has experienced just about any scenario.
Medical Guardian offers three plans for their In-Home package, all of which can be arranged for monthly, quarterly, or annual payouts. The basic system consists of a base station and several emergency buttons, with both pendant and wristwatch options. For connectivity, the system relies on an AT&T cellular network. The most expensive plan, the Family Guardian, allows you to place multiple sensors inside the house to monitor the activity of all family members. A fall detection will set you back with an additional $10 per month on top the regular plans.
The effective range of the base stations expands with more expensive plans, but even the basic plan offers a range of 600 feet, which should be enough for most homes. Each emergency button is water-resistant and provides two-way communication. The Medical Guardian system is one of the easiest to set up and should only take you a few minutes.
To top it all off, the Medical Guardian subscription plans are priced competitively. The devices for the basic system are already integrated into the price of the plans, but you have the option to pay extra for additional components such as extra emergency buttons, and wall-mounted buttons.
Final thoughts
Peace of mind is priceless, and no premium can equal the knowledge that our loved ones are safe and sound. With today's medical alert and fall detection devices, we can rest assured that our elderly or physically limited loved ones are doing well, even when we are not around. On the side of the actual users, it helps them feel more independent and less of a burden on other people.
When shopping for fall detection devices, keep in mind that reliability is the number one priority. Aside from being able to accurately detect falls, the device also needs to be able to get through to emergency contacts without fail. Convenience and comfort, although not critical, will also go a long way towards ensuring that these fall detection devices will be used as intended.