Fastest 3D Printers in 2019
3D Insider is ad supported and earns money from clicks, commissions from sales, and other ways.
There's a lot more to a 3D printer's speed than the listed print speed in the brochure. There are different factors that can directly affect how fast a 3D printer can complete a 3D model. For example, a high-resolution 3D model will always drag down the print speed because thinner layers translate to more layers, which, in turn, means more work for the print head.
Here's another: Different materials have different behaviors or properties. Some materials are easier to process while others are way more difficult. In general, the more demanding the material, the slower the print speed. There's also the case with the actual printing technology being used. It's unfair to compare an SLA 3D printer's speed with that of an FDM 3D printer.
This article is about the fastest 3D printers that are actually available or will soon be available on the market. The first half is composed of desktop 3D printers that are affordable enough for regular consumers and professionals. The second half is all about industrial 3D printers that only large companies will use.
Note that we didn't list the products according to which is the best. It doesn't make sense to compare two products that use drastically different printing technologies. The products in each section are listed in alphabetical order.
FASTEST 3D PRINTERS FOR CONSUMERS AND PROFESSIONALS
The fastest 3D printers in the world are not normally accessible to regular consumers because they are extremely expensive and are not meant for home use. They are massive machines designed specifically for industrial use. The good news is there are also desktop 3D printers that can print way faster than your average desktop 3D printers. Here are three of the fastest 3D printers for consumers and professionals.
1. Delta WASP 20×40 Turbo 2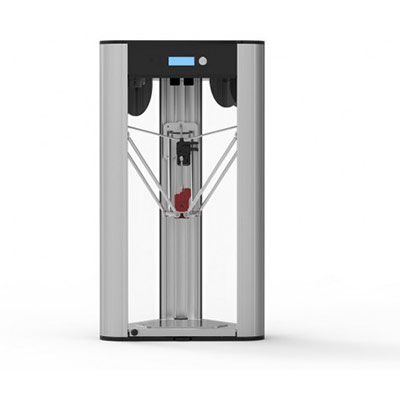 View on Amazon
The Delta WASP 20×40 Turbo 2 is one of the fastest delta 3D printers on the market. It was launched in 2017 by World's Advanced Saving Project (WASP), an Italian company. It is the direct successor to the Delta WASP 20×40 and is available in two configurations: one with a Spitfire Red Extruder setup and one with a ZEN Dual Extruder setup.
The Turbo 2 has a maximum print speed of 500 millimeters per second, with a maximum travel speed of 1,000 millimeters per second – both numbers easily dwarf the speed specs of most commercial FFF/FDM 3D printers on the market. And with a maximum (or minimum, depending on how you look at it) layer resolution of 50 microns, the Turbo 2 is not only incredibly fast, it can also produce highly detailed objects faster than other delta 3D printers.
A fully assembled 3D printer, the Turbo 2 can print with different types of materials, including ABS, Nylon, and PETG, and is compatible with filaments from third-party manufacturers, courtesy of its open filament system. It can connect through USB and Wi-Fi and supports standalone printing through an SD card. It is equipped with a filament sensor and the ability to recover from a power failure.
Most 3D printers with fast print speeds sit on the extremely expensive side of the fence, making them inaccessible to regular consumers. The Turbo 2 sits on the other side. It is affordable enough for regular consumers and is actually cheaper than some high-end 3D printers.
For comparison, the Ultimaker 3, one of the best 3D printers today, is only $500 cheaper, while the BCN3D Sigmax, a massive 3D printer with an independent dual extruder system, is around $400 more expensive than the Turbo 2.


2. Dynamo 3D D3D.One-Pro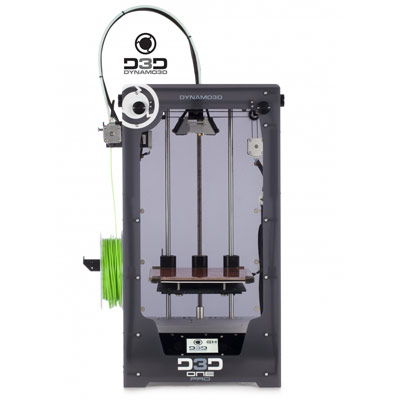 View Details
The D3D.One-Pro is another fast 3D printer that consumers can afford. Well, at least the ones that can afford to spend over $2,000 on a 3D printer. The D3D.One-Pro's speed specs are nearly identical to the Delta WASP 20×40 Turbo 2's. It's got a maximum print speed of 450 millimeters per second and a travel speed ceiling of 900 millimeters per second.
In fact, the D3D.One-Pro shares many similarities with the Turbo 2. It's also made in Italy and comes with a sturdy frame that can easily shake off vibrations. It is equipped with a heated print bed, which allows you to print with more exotic materials, and comes with a filament sensor and a power loss resume capability.
Moreover, the D3D.One-Pro can also print high-resolution models, so it's more than just a fast 3D printer that can get the job done faster than most commercial 3D printers on the market. It's got a maximum layer resolution of 20 microns, which translates to prettier results. The D3D.One-Pro also comes with a massive build volume, making it one of the largest AND fastest 3D printers you can get for less than $10,000.
The D3D.One-Pro isn't a complicated machine to use. It comes with a 3.5-inch touchscreen interface with straightforward options and offers three connectivity options: USB, Wi-Fi, and SD card. If you're not a fan of delta 3D printers but want something close to Turbo 2's speed, get the D3D.One-Pro. It's one of the fastest non-industrial 3D printers you can get today.


3. Uniz Slash+ (UDP)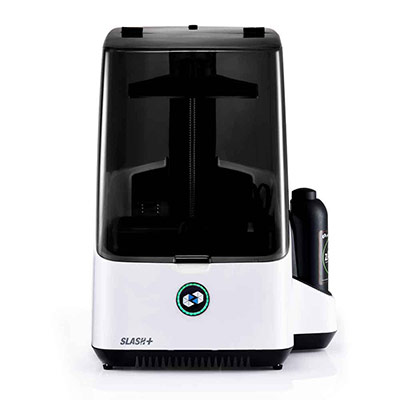 View on Amazon
A couple of years ago, Uniz Technology blew everyone's minds with the Uniz Slash, which was marketed as one of the fastest consumer-level desktop SLA 3D printers in the world. It got over $500,000 in funding on Kickstarter and became a huge success.
Fast-forward to today, the San Diego-based manufacturer is once again set to make a mark in the 3D printing world with a new line of products equipped with Uni-Directional Peeling (UDP) technology. The project just ended its Kickstarter campaign last February, getting over $200,000 in funding in 30 days.
As of this writing, only one of the products in the lineup is currently listed on the manufacturer's official store: the new Slash+. Sadly, units bought off the Uniz official store won't arrive until August 2018, so it'll be a while before you can actually get your hands on it.
A product designed with designers and artists in mind, the new Slash+ is a desktop SLA 3D printer that won't cost you an arm and a leg to get. It's right up there with D3D.One-Pro and the Delta WASP 20×40 Turbo 2 in regard to accessibility to regular consumers. It's got a speed of 1,000 cubic centimeters per hour, making it one of the fastest desktop SLA 3D printers.
Like other SLA 3D printers, the new Slash+ is built to produce high-resolution 3D models. It can go up to 10 microns in layer thickness and comes with a relatively large build size for an SLA 3D printer, which means you're not severely limited in what you can print.
Since the new Slash+ is not yet available, it's impossible to see just how fast it can go in the hands of a regular consumer. But based on the original Slash and Uniz's reputation, we shouldn't worry too much about whether the new Slash+ will deliver on its promise once it's out in the wild.


FASTEST INDUSTRIAL 3D PRINTERS
Now, let's move on to the big ones. The next set is composed of industrial 3D printers that you can't just buy off online stores. These are the products that make the above-mentioned desktop 3D printers look like cheap toys.
4. Big Area Additive Manufacturing (BAAM) 3D Printer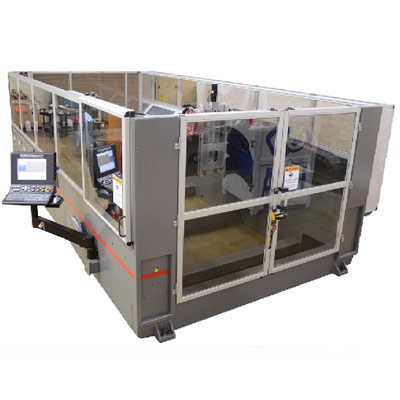 View Details
The BAAM is a massive industrial 3D printer known for its ability to print life-sized objects at an incredibly fast rate. It's got a feed rate or deposit rate of 80 pounds per hour and is compatible with common plastic materials such as ABS, PLA, and PPS, which means the cost of using the BAAM is still relatively low.
Housed in a steel-plated frame, the BAAM has an impressive portfolio of printed objects. The BAAM's portfolio includes a replica of the F-22 Raptor, a kayak, and an excavator cab, among others. In 2014, the BAAM made headlines when it successfully printed the Strati, the world's first 3D-printed electric car.
The Strati project only took 44 hours to complete, which is beyond impressive. Objects that you normally print on desktop 3D printers would probably take just a few minutes on the BAAM. Of course, if you had the BAAM, why would you settle for small trinkets when you can build a damn car?


5. Carbon M2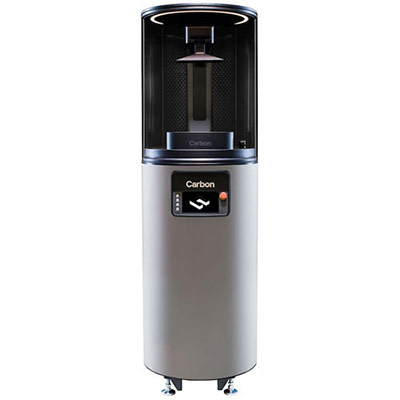 View Details
The Carbon M2 is a small-scale industrial 3D printer that uses a proprietary technology – called the Continuous Liquid Interface Production (CLIP) – to rapidly create high-resolution objects. It is the big brother of the Carbon M1, featuring twice the build volume and improved performance across the board.
In the words of Carbon, CLIP works by "projecting light through an oxygen-permeable window into a reservoir of UV-curable resin." Using this process, the M2 can print continuously, which translates to more consistent print quality and, more importantly, faster print speeds. In addition, objects produced by the M2 are a lot less fragile than those created by regular desktop 3D printers.
The M2 comes with a fully enclosed frame, an onboard touchscreen interface, and the ability to connect wirelessly. Even though the M2 looks like a regular desktop 3D printer, it isn't priced like one. It is one of the most expensive small-scale industrial 3D printers on the market.
Unlike other products, the M2 is being offered in a unique business model. It runs on a subscription-based pricing model, with an annual subscription of $50,000 (minimum of three years). In addition to the annual subscription fee, Carbon also offers a number of add-on services, including a package that offers on-site installation and initial training. If you need extra parts, you need to cough up extra cash for those, too.
In all, the costs of using the M2 will easily add up to over $100,000, which is right in line with the other large-scale industrial 3D printers listed here.


6. HP Jet Fusion 3D 4200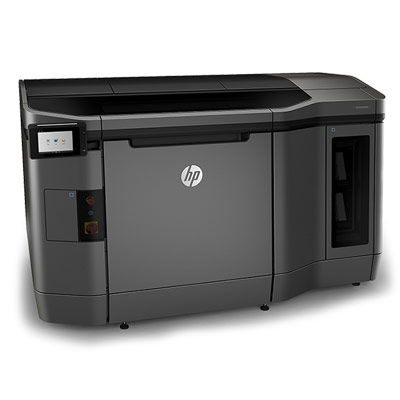 View on HP
Hewlett-Packard isn't the first name you will think of when talking about 3D printers. After all, the US-based company is best known for its computer services and IT-related products, and that includes printers (the normal, office variety).
But HP has shown that it also knows a thing or two about 3D printing. The ultimate proof is in the form of the HP Jet Fusion 3D 4200, one of the fastest 3D printers on the market today. The 4200 is a fully assembled 3D printer with a large build volume, though nowhere near the maximum build volumes of the BAAM and the Massivit 1800.
The 4200's actual build unit is a lot smaller than the entire 3D printer itself, which explains the discrepancy between the 3D printer's physical dimensions and the maximum build size. The 4200 is a powder-based 3D printer. It uses the Multi Jet Fusion technology, which allows it to produce objects with an extremely smooth print quality.
The 4200 has a maximum print speed of 4500 cubic centimeters per hour and is best used for the rapid creation of prototypes and other functional objects. Companies should expect to cough up around $200,000 to get their hands on the 4200.


7. Massivit 1800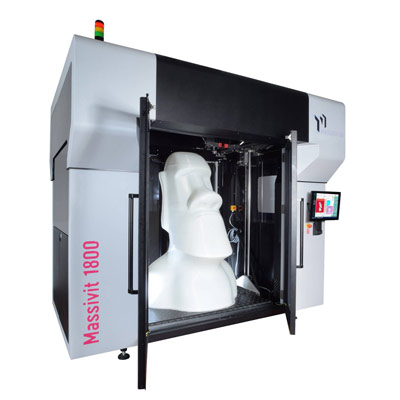 View on Amazon
The Massivit 1800 is a large-scale 3D printer that can produce massive objects at a speed not normally seen even among industrial 3D printers. It is one of the fastest large-scale 3D printers on the market, boasting a maximum print speed of 1,000 millimeters per second. It can be converted into a dual extruder setup, which means it can print two different objects at the same time at an incredible pace.
Created by an Israeli company, the Massivit 1800 uses a proprietary technology in order to make that ultra-fast print speed possible. The technology is called Gel Dispensing Printing (GDP), which is kind of similar to the Fused Filament Fabrication (FFF) technology used by many desktop 3D printers. Using the GDP technology, the Massivit 1800 extrudes a gel material that immediately solidifies, courtesy of a UV source on the print head.
The Massivit 1800 includes an enormous build volume that allows it to print large props and other functional objects. It was designed specifically for visual communication or marketing. The Massivit 1800 actually has a more "affordable" counterpart in the form of the Massivit 1500.
The Massivit 1500 is locked into a single extruder setup and, as the model name suggests, comes with a smaller build volume compared to the Massivit 1800. It is also significantly slower than the Massivit 1800. In regard to pricing, both models will cost no less than $100,000.


Warning; 3D printers should never be left unattended. They can pose a firesafety hazard.