Fastest Electric Skateboards
3D Insider is ad supported and earns money from clicks and other ways.
Speed is one of the most important factors a rider should consider when buying electric skateboards. Some boards can be as fast as 25 miles per hour. Others may feature variable speed controls to give you full control over how fast you're traveling. Here is a list of the fastest electric skateboards you can buy today.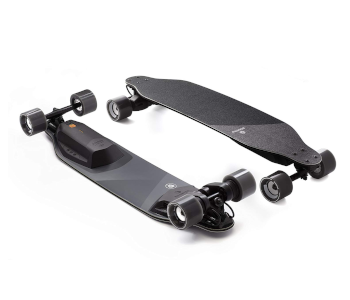 Retail Price: $1599
The Stealth is Boosted Board's fastest and most expensive model. Its design and features are similar to their other boards. It is just as heavy as the Boosted Plus at 17 lbs. It also has a regenerative braking system to recharge the battery when you brake.
The main difference is "Hyper," a riding mode that exposes the board's true potential. This speed mode allows you to hit the 24 mph top speed. The Boosted Stratus 85mm wheels deliver the highest roll speed of any Boosted boards to date. The Stealth has a powerful 2100W motor that maintains its high performance even when the battery levels are low. It requires less trigger-pulling to reach higher speeds and climb inclines up to 25 degrees.
The electric skateboard can maintain its top speed for up to 14 miles between charges through its removable extended-range battery. The battery fully charges in 1 hour and 45 minutes, which is very impressive. Compared to other electric skateboards, it is more accessible and user-friendly to new riders. Inexperienced riders can still buy this board and learn the ropes with it like other Boosted models. It also has one of the best-designed decks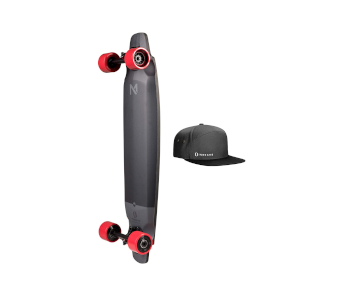 Retail Price: $999
The Inboard M1 is a premium electric skateboard that can make any hill climb look easy. Its 1600W power output gives it a top speed of about 24 mph. Its high speed is matched with maximum stability so you won't feel jerks or wobbles when you are riding it. It offers optimum power in a portable form with its easy-swap PowerShift battery that fully charges in just 90 minutes. You can travel 7 miles on a single charge, depending on your weight and riding style.
The M1 has a custom-designed deck that combines an inverted 3D Poplar wood core which is fully sandwiched in polyurethane side walls. It is light and durable due to a fiberglass top sheet. It also has a very sophisticated design with a red and black color scheme. The pair of LED headlights are a nice touch if you find yourself riding at night.
Overall, the Inboard M1 is a very good option. It maintains a good performance with hills and heavier riders. It has an IP54 rating so damp streets are not a problem when riding this board. It also features a RFLX™ remote that allows you to control acceleration and braking. You can effortlessly hold the remote with your hand or attach it to your board so you can focus on enjoying the ride.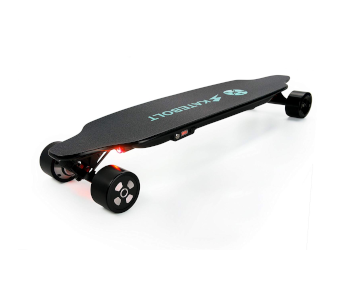 Retail Price: $599
The Skatebolt Tornado is a high-performance electric skateboard with a remarkable 25 mph top speed. It has dual brushless hub motors with 1000W power output to deliver maximum speed and reach a very impressive hill climb of up to 25-30 degrees. It is extremely well-built with a sturdy deck made out of 9 layers of maple wood so it can hold up to 280 lbs. of weight.
Under the deck is a 36V, 6600 mAh lithium-ion battery that allows the board to travel up to 18 miles on a single charge. There are indicator lights on the remote to help you monitor the current battery level. The controls are easy to use with only two speed modes and a switch for forward s and backwards. It also features a built-in LED light that provides an extra level of safety.
Overall, the Skatebolt Tornado is a very impressive electric skateboard. Its top speed is one of the best in the market. It also has some very nice additional features such as weather-proofing and regenerative braking. You won't have to worry about drizzles or odd puddles. Plus, you can save energy while braking.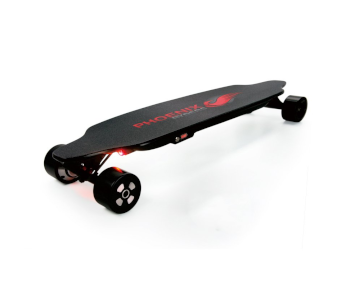 Retail Price: $589
The Phoenix Ryders Dragon is a simple yet high-performance electric skateboard. It has a dual 500W motor to help reach top speeds of 25 mph. Like the Skatebolt Tornado, this board can also climb hills with a 25 degree incline. It also comes with an LG V6, 6600 mAh battery to help it reach a maximum range of 18.6 miles on a single charge of 2-4 hours.
Eight layers of northeast maple make up the deck of the skateboard. It is very durable and it can accommodate riders of up to 275 lbs.
Overall, the Phoenix Ryders Dragon is a solid option for a very fast electric skateboard. It has a striking design. The black and red color schemes work very well. It also features a red tail LED light so other motorists can see you in the dark.
Before you decide to buy an electric skateboard, spend some time assessing its speed. We hope that this gives you an idea of what to expect from some of the fastest boards in the market today.