10 Best Fight Sticks (PC, XBox, and PS4 Arcade Sticks)
3D Insider is ad supported and earns money from clicks, commissions from sales, and other ways.
Game arcades have gotten out of style recently, but that did not stop fighting games from falling out of favor from the gaming public. Stock console gamepads are usually enough for most games. But for fighting games, it just does not cut it. The keyboard and mouse on the PC are an excellent game controller, but pair it with your favorite fighting game, and you will instantly regret that decision.
For these types of games, the best way to play it is with an arcade-style fight stick. These will give you the right number of buttons to mash in the correct arrangement, and they can take a lot more punishment compared to console controllers.
Fight sticks come with joysticks, and who does not love them. Using these arcade-style controllers will give you more precision so you can readily execute quick movements coupled with rapid button presses for your combos.
Perfect Hardware for the Genre
Have you ever wondered why pros in tournaments do not use Xbox One or PS4 controllers when they play? Fight sticks are tailor-made to maximize your virtual fighting experience. They are clearly superior to other types of controllers and are undoubtedly much more comfortable to use.
Now, if you have decided to get an arcade-style stick so you can fully enjoy your favorite game, here are some of the best in the market that you can get.
Our Top Picks
Best Arcade Fight Stick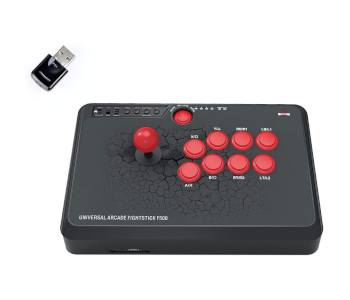 Retail Price: $95
There is a reason why a lot of pros and enthusiasts consider the Mayflash F500 the best overall arcade fight stick. It is an affordable device that works on just about any platform you plug it in. You will have no trouble connecting this to your PC, PS4, PS3, Xbox One, Nintendo Switch, Android, and even NeoGeo.
Insane Compatilibity
It is basically a universal arcade stick with insane compatibility that you can quickly plug on any device and start playing your favorite fighting game. Even though it is considered a great starter stick, it is fully customizable, making it a favorite of pros and enthusiasts.
The F500 is solidly built, and it comes with a sturdy base and eight buttons so you can use it on just about any game. These buttons are designed for smashing and will last you quite a bit. It also comes with an acrylic top panel so you can customize it with a design that you want and make this arcade stick your own.
Button Customizability
You can also quickly modify the buttons and swap in Sanwa Denshi joysticks and buttons so you can build the stick according to your liking. This is going to cost you a little extra, but definitely, something hardcore gamers are willing to spend to extract the best performance from the F500.
The F500 comes with a headphone jack so you can enjoy background music as you play. You can even listen to chat sounds on your PS4 and Xbox, so you know if someone sent you a message while you are playing.
The Mayflash F500 arcade fight stick is one of the most affordable controllers in the market. The best part about it is its compatibility, where you can plug it into just about any game device and start playing your favorite fighting game.
PROS
Insane cross-platform compatibility
Solid build with adequate buttons
Affordable price
Support for Sanwa buttons for easy modding
CONS
Has a quirk with the Xbox One where you need to connect a controller to your console so you can use the arcade stick
Best Fight Stick for PC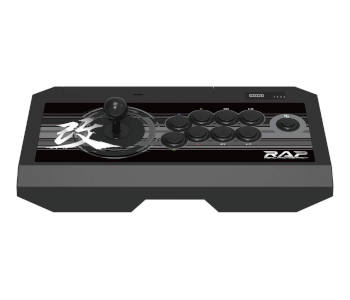 Retail Price: $149
If you think fighting games are only for arcades and consoles, then you might want to reconsider that notion. There are now a lot of fighting games that you can run on your PC, and the community has been steadily flourishing. If you are looking for a control stick that will help you conquer the next generation of games, then the HORI Real Arcade Pro.V Kai is the hardware that you are looking for.
Sleek Design
The Pro.V Kai arcade stick comes in a sleek package that features a sturdy chassis, a faceplate with metallic accents, just like popular Japanese machines. It is not only the looks, but the hardware is all original HORI Hayabusa joysticks and buttons that provide you excellent performance for all your favorite fighting games.
Unparalleled Performance
One of the most prominent features of the arcade stick is the Hayabusa joystick that increases the response time and cuts down on input lag. This ensures that whenever you perform a motion, it will translate it instantly so you can fight effortlessly without blaming the hardware for your losses.
Quick Switch
The Pro.V Kai fighting stick is one of the best and is compatible with your PC. Apart from that, it is also compatible with consoles such as the Xbox One and Xbox 360. You can quickly switch between platforms by merely flipping a switch. The best part is that the arcade stick is plug and play, so you do not need to install anything to make it work with your machine.
The HORI Real Arcade Pro.V Kai Fighting Stick is a solid choice. Its excellent design and responsive controls make it a superb arcade stick for tournaments or just for your daily dose of competitive fun.
PROS
PC and Xbox compatible
Extremely responsive joystick and buttons
Professional level features that is perfect for tournaments
CONS
Limited modding capabilities
Best Fight Stick for the PS4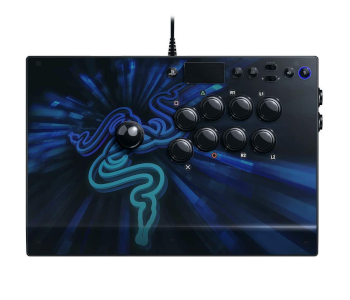 Retail Price: $199
There are a lot of fighting games on the PS4, and if you are wondering about a way to improve your experience, then the Razer Panthera Evo Tournament Arcade Stick is for you. The DualShock 4 is a great controller, but it just lacks the ergonomics of a fight stick when it comes to fighting games.
The Panthera Evo is one of the best arcade sticks in the market for the PS4. It has even reached legendary status as some of the best professional players use this model when they compete.
Premium Components
The arcade stick is made using premium Sanwa components, which include eight extremely responsive buttons and an 8-way joystick. These parts will allow you to play your favorite fighting games at the highest level, even joining tournaments because of their near real-time responsiveness.
Fully Mod-Capable
One feature that fighting game enthusiasts really love with their arcade sticks is their capability to be modded. The Panthera Evo is fully customizable from the joystick to the buttons to suit your play style. You can quickly swap out components to see which ones feel more comfortable with you. Razer even throws in a screwdriver that's hidden in the compartment.
The Razer Panthera Evo is definitely a classic in the competitive scene. It even comes with a tournament gaming mode that deactivates the rest of the buttons, so you do not accidentally ruin matches. It also comes with extensive compatibility options since even though it is designed for the PS4, it also works on PC and Xbox.
PROS
Excellent build quality
Tournament grade design and components
Designed to make modding a lot easier
CONS
May be a little too expensive for those starting out in the fighting game scene
Best Fight Stick for the Xbox One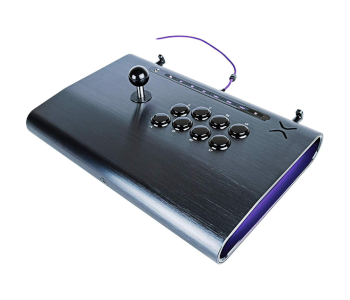 Retail Price: $349
There are not a lot of arcade sticks that are compatible with the Xbox One, but the Victrix Pro FS seems to be the perfect one for your console. It is one of the very few fight sticks that has been designed specifically for the Xbox One and does it perform.
Quality Build and Performance
At first glance, you will instantly notice its full metal enclosure, and it screams first-class craftsmanship. Made with aircraft-grade aluminum, it looks fantastic and enjoys a bit of robustness without the added heft.
It is not just the metal chassis, the Victrix Pro also comes with Sanwa joysticks and buttons, which add to the premium feel of the entire package. These parts enable it to deliver lightning-quick response times of less than 5ms so the arcade stick can translate your quick reflexes into the game.
Superior Comfort
It is not just the design, but the Victrix Pro is designed to provide maximum comfort so you can continue to play your favorite fighting game for hours. The angle of the slope allows your wrist to rest as you mash the buttons. Its non-slip pads perfectly placed, so they rest against your knees without adding too much strain on your legs. It also comes with an attachable shoulder strap so you can quickly carry it around to tournaments or to practice your skills against opponents from different places.
The Victrix Pro FS is a fight stick that you will keep grabbing to play your favorite fighting games. The premium build, responsive performance, and comfort it provides is unparalleled so you can continue to fight in style.
PROS
Premium all-metal chassis
Compatible with high-performance Sanwa joysticks and buttons
Easy modding access with a large hatch to swap and update components
CONS
Not suitable for beginners as it is on the expensive side
Best Entry-Level Option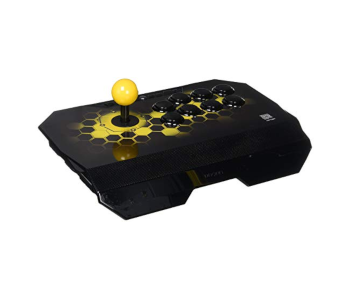 Retail Price: $77
Arcade sticks do not need to be expensive, so they can provide you with decent gaming performance. If you are looking for one that is affordable and can still give you the experience that you are looking for, then the Qanba Drone fight stick is the perfect device for you.
Lightweight and Durable
Engineered to be both lightweight and durable, the Drone is a transportable arcade stick that you can carry with you wherever you go. It is the best one to get if you are a first-time buyer looking for an entry-level option.
Cost-Effective with High-End Performance
It is one of the few arcade sticks that will not break the bank but is able to deliver premium performance. Enthusiasts and fighting game veterans swear by its performance. It uses Qanba's own arcade joystick and buttons to ensure tournament-ready performance every time you fire it up and use it.
The Qanba Drone is an excellent budget fight stick that will enable you to enjoy your favorite games without worrying if you have invested in the right device. You can consider it as a stepping stone, and get a more specialized arcade stick after you have honed your skills.
PROS
Extremely competitive pricing
Genuine arcade feel with the design
Modding friendly package
CONS
Tends to be on the small side when compared with other fight sticks
Best Premium Fight Stick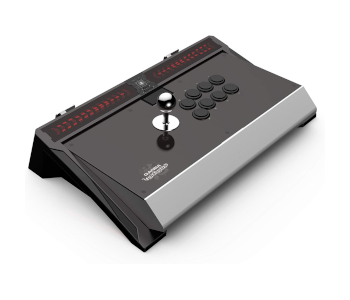 Retail Price: $275
The Qanba Dragon is a fight stick that you have to get if you are looking for the best one that money can buy. This is a device that is going to warrant a second look after you quickly give it a quick glance. This arcade stick is all about the hardcore players of fighting games. The Dragon is a machine that is synonymous with style and performance, and professional fighting game athletes know that all too well.
Top of the Line Components
As a fight stick with this price tag, it needs to come with premium parts, and the Dragon does not disappoint. It uses the best joystick and buttons in the form of Sanwa's Denshi line that not only provides you unparalleled responsiveness but an authentic Japanese-style arcade experience. The buttons allow you to perform at the highest level every time, that is why these are the chosen equipment used in a lot of fighting game tournaments.
Quick Modding Capabilities
If there is a feature that enthusiasts and pros love for their fight sticks is its modding capabilities. The Dragon comes with its own one-touch modding feature that allows the top panel to open up with a single switch. You can now quickly and effortlessly switch out components and replace them to your liking.
The Qanba Dragon is all about style and looking good while you play. Even though it is designed to look good, they do not skimp on performance, allowing you to play at the highest level every time.
PROS
Looks and feels like the premium product it is
Strong, sturdy, and built like a tank
Excellent modding capabilities that is perfect for enthusiasts
CONS
Tends to be on the larger and heavier side
Honorable Mentions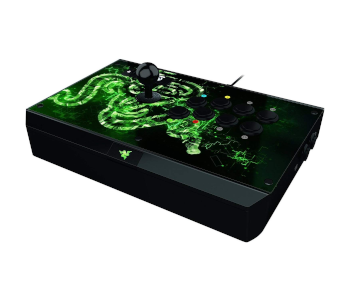 Retail Price: $199
The Razer Atrox may not have cracked our top picks, but it is still one of the arcade sticks that is worth mentioning. This is a tournament-grade stick for your Xbox One that will take your gaming skills up the next rung on the ladder.
Premium Hardware
Featuring the best components fighting game hardware has to offer, the Atrox comes with Sanwa buttons and a precision joystick that allows you to perform at the highest level whether you are in a tournament or playing for fun. Its remappable controls also give it the right amount of flexibility so you can use it in just about any fighting game you can think of.
Easy Modding
Fight stick modding enthusiasts love the Atrox for its design. Its mod-capable construction allows you to change the buttons and joystick to suit your playstyle. The top panel can also be adjusted to reflect your own personality. Every nook and cranny is accessible on the Atrox, and the best part about it is that you will not void the warranty when you mod it.
Storage Compartments
The Atrox is one of those machines that have been carefully thought out during the design process. Razer has clearly made a product that can be transported easily with the help of internal storage compartments that hold different parts and components that usually come with the setup. You can store a detachable cable, a bat-top joystick, a screwdriver, and space for spare buttons. This makes it the perfect controller to bring on long tournament trips since everything you need is within the machine.
The Razer Atrox is an excellent arcade fighting stick if you are looking for an upgrade to your Xbox controller. It is also a machine that will help you hone your skills to get your competitive juices flowing.
PROS
Sturdy and looks awesome
Quick mod system is perfect for enthusiasts and those who want to customize their fight sticks
Stock components are tournament-grade out of the box
CONS
A little pricey, but definitely a purchase that is worth it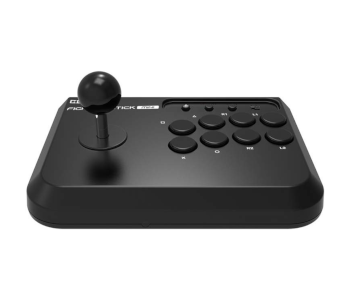 Retail Price: $48
The HORI Mini 4 is an arcade stick that is designed to be compact and portable. Do not let its small size fool you though, it still comes with an arcade-style eight-button layout that will always give you the experience of playing on a machine.
Small and Easy to Store
Everything is minified with the Mini 4. It can feel a little cramped if you have big hands, but still, it is better than playing on your controller. However, it is designed to provide you with better comfort by allowing ample room to rest your wrist as you play. At the bottom, the arcade stick comes with rubberized feet so it tightly grips on top of tables and will not bother you while you play.
PlayStation Compatibility
The Mini 4 is compatible with the PlayStation 4 and PlayStation 3. It is only compatible with those consoles, but there are still fighting titles to choose from where you will be able to utilize the arcade stick.
The HORI Mini 4 is one of those arcade sticks that you can bring anywhere so you can have loads of fun with your friends. It may not be the stick that you will carry with you to tournaments, but it is definitely one that you will bring on to a gaming LAN party.
PROS
Small size makes it easy to carry around with you
Surprisingly comfortable to use even with its small size
Traditional arcade layout so you still enjoy your favorite fighting game the way you are supposed to
CONS
Only compatible with the PlayStation 4 and PlayStation 3
May seem a little small, but does have enough room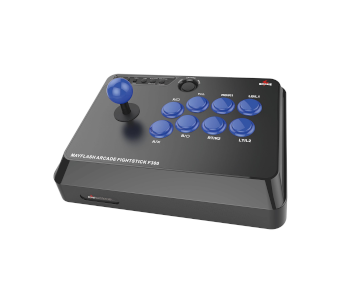 Retail Price: $52
Mayflash arcade sticks are known for their insane compatibility, and the F300 arcade fight stick is no different. If you are looking for one that is affordable and needs to link with your other devices, then this is probably the best one.
Compatible with Any Device
The F300 is compatible with the PS4, PS3, Xbox One, PC, Android, and even the Nintendo Switch. These platforms support a lot of fighting games and will give you countless hours of use with your arcade stick.
Mod and Upgrade Friendly Design
The F300 is definitely a budget arcade stick. However, if you want to get better control and responsiveness from it, you might want to upgrade some of its components. The good news is that this fight stick supports Sanwa Denshi buttons and joystick so you can swap them out for improved performance.
Designed with the same layout as traditional arcade machines, this will surely grant you that experience that you are looking for when playing your favorite fighting game.
The Mayflash F300 is an affordable option that you can get. The great thing about it is you are not locked in with the hardware since as your skill level grows, you will surely want better performance. You can remedy that by modding and getting a superior joystick and buttons.
PROS
Works on just about any platform
Excellent entry-level arcade stick for beginners
Easily upgradeable parts as you yearn for better performance
CONS
Not really for seasoned arcade players, until you mod it
Retail Price: $219
The Mad Catz Street Fighter V arcade fight stick is a tournament-ready device that is considered a legend among enthusiasts. This is the perfect one if you love fighting games such as Mortal Kombat, Tekken, and of course, Street Fighter.
Genuine Arcade Layout
The Mad Catz stick follows the traditional Japanese arcade cabinet layouts that will give you the most genuine experience. On top of that, it already uses Sanwa Denshi parts, so you do not have to look for upgrades. This is definitely going to make you a better fighter as you hone your skills every time you play.
Internal Access for Modding
The fight stick comes with internal access for storage and modding purposes. There are dedicated storage compartments that give you extra space for tools and spare parts. The Mad Catz comes with a dedicated screwdriver with interchangeable heads, so you do not have to worry about how to change up your parts. As for its mod capability, you can quickly swap the front panel artwork with one that matches your personality.
Tournament-Level Performance
This arcade stick is definitely not a large plastic toy. It comes with a metal base that gives it a solid base, so it secures firmly on your lap as you go for the kill. If you are active in the competitive scene, the Mad Catz arcade stick also comes with a tournament mode that disables the other buttons so that you do not run into trouble during your matches.
The Mad Catz Street Fighter V arcade stick is not exclusive to the game. You can use this to play just about any fighting game. It is definitely an arcade stick that you will enjoy playing with and bringing with you to tournaments.
PROS
Premium, tournament-grade components out of the box
Chassis hinges open for easy modding
Extremely responsive joystick and buttons for better gaming
Swappable top panel
CONS
A bit large for some players
Choosing the Fight Stick That is Right for You
There are certainly a lot of different fight sticks to choose from. There are also a lot of various categories and price ranges, that is why choosing the right one for you is crucial. The device that you will buy will eventually depend on the machine that you are using to play with, your experience with using arcade sticks, and, ultimately, its modding capabilities.
Here are some tips on how to choose the fight stick that is perfect for your needs:
Experience
The first thing that you really need to take into account is your experience with using fight sticks. Whether you are a seasoned arcade player, a total newbie, or a competitive gamer, there is definitely one that will suit your needs.
If you are a beginner and have minimal experience in using these devices but enjoy fighting games on your console, then we recommend getting one of the entry-level or budget options to try and figure things out. As your skill level improves and you start to demand better performance from your arcade stick, then you can upgrade to other more premium models. Remember that the more performance you expect from your fight stick, the more expensive it gets.
Premium models will give you top-notch performance that you can rely on if you are using it competitively.
Compatibility
Another factor that you need to take into account is compatibility. Now, there are a lot of platforms where you can play fighting games from consoles to even PCs. One thing to note, though, is that different arcade stick models do not support all platforms. Some sticks are exclusive to the PS4 or Xbox, and others come with excellent compatibility.
The great thing about these sticks is that apart from fighting games, you can also use them on arcade-style genres such as Puzzle Fighter or Metal Slug. So, getting one means, you have to be wary of the gaming platform that you use since it is easy to get one without realizing that it is not compatible with your gaming machine.
Size and Weight
One of the features that you need to take a close look at is the fight stick's size and weight. Your hands may be smaller or larger than usual, so getting the right one is crucial. There is also a matter of playstyle. Do you put it on your lap or on top of the table? Knowing these will inevitably influence your decision whether you want to get a heftier stick or not.
As you move to more premium brands and models, these fight sticks usually follow traditional arcade cabinet layouts. That means that buttons and joystick spacing are constant, and their overall sizes are similar. However, some models come with internal compartments that may affect the weight of your arcade stick.
Modding
This may be the last on the list, but for some, especially enthusiasts, this is one of the most essential features that they consider when buying a fight stick. If a model is modding capable, this simply means that you can quickly swap and replace buttons and joysticks in the future.
Modding may sound intimidating, but it is actually quite simple. You only really need a screwdriver, and the most mod-friendly arcade sticks come with their own tool. This allows you to customize every aspect of your device to suit how you play. This also comes in handy if you are into the competitive scene so you can change parts to maximize your performance.
You might think that even with the most expensive model, you have the best components installed. Well, the truth is, there are a lot of better parts in the market. Couple that with yearly hardware updates, and you get incrementally better performance for every iteration of the component. So, newly released joysticks and buttons can have better tactile feedback or response times that you can use to play better.
Modding also allows you to replace your stock components with superior parts from trusted brands like Sanwa, Hori, and Seimitsu. It also makes it possible for you to replace parts more quickly if you mash them too much and unexpectedly break them.
Most premium brands are usually mod-friendly, but Razer takes it to the next level by not voiding your device's warranty when you open it up and replace parts. You do not really need to mod your arcade stick, but if you want significantly better performance, then you might want to explore the world of modifying your arcade stick.
Optimize Your Fighting Game Performance
Ideally, you want to get a premium quality fight stick since it is the one that is going to give you the best performance, and it is going to last you for a long time. However, if this is your first time to get one, then you can consider a more budget-friendly option, but do keep in mind that if you really like playing on one, then you might want to get something that is more high-quality in the future.