What to Consider When Choosing Between 1.75 and 3.00-mm Filaments
3D Insider is ad supported and earns money from clicks, commissions from sales, and other ways.
When you're just starting out in FDM-based 3D printing, the sheer variety of available filaments can seem overwhelming. From the standard ABS and PLA filaments to fancy ones that glow in the dark, there's a seemingly endless range of choices that vary based on appearance, thermal stability, and mechanical properties.
However, there's one question you need to answer before you pick a filament style – are you getting a 1.75-mm. filament or a 3.00-mm. filament? With only two choices, this should be a relatively simple decision to make. Let's look at the factors you need to consider and the questions you need to ask before making your choice.
A tale of two diameters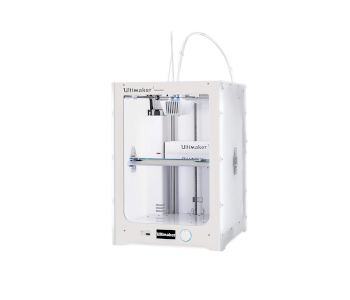 Depending on who you ask, different people may claim that either 1.75-mm or 3.00-mm diameter filaments were on the 3D printing scene first. As far as actual FDM printers are concerned, the first commercial models rolled out by Stratasys in the late 1980s were designed to work with 1.75-mm diameter filaments.
However, 3.00-mm filaments have been around even before commercial FDM printers were manufactured. Obviously, they weren't used for 3D printing. Rather, these thick plastic filaments were used as welding rods to bond together two or more pieces of thermoplastics. By melting the filaments using heated air, it can act as a bridge that binds together separate pieces of plastics at the molecular level.
Since 3.00-mm filaments already existed, there really was no reason why they cannot be repurposed for 3D printing. This was probably what drove Makerbot to release the Makerbot Cupcake CNC in 2009, which was one of the first FDM printers designed for 3.00-mm filaments. Ultimaker followed suit in just a few years with the Ultimaker Original.
Since then, 1.75-mm and 3.00-mm filaments have become practically interchangeable options in FDM-based 3D printing. With FDM printer components that can be purchased separately and swapped in to an existing model, FDM printers designed solely for either 1.75-mm and 3.00-mm filaments have become a thing of the past. Nowadays, just about every single filament material is available in both diameter options.
Pros and cons of 1.75 mm filaments
The original filament diameter maintains a huge following is still preferred by most users. However, the few drawbacks that it presents has paved the way for the sustained relevance of the alternative 3.00-mm filament size.
PROS
More compatible with stock nozzles
Most FDM printers come with a stock nozzle with an opening that measures 0.4 mm. across. As far as nozzle sizes go, this is quite small – there are much larger alternatives available. The reduction of the filament size from 1.75 to 0.4 mm allows a 3D printer to extrude the filament in a manner that is highly controlled, thus creating more accurate representations of a 3D model.
However, there is also a downside to inducing pressure by squeezing filament into a small nozzle. Compressing the material through a small opening creates a lot of pressure for the extruder gears, potentially maximizing their capacity.
This is a danger posed by using a large-diameter (3.00 mm) filament with a narrow nozzle. If you want to use a 3.00-mm filament, then it would be best to swap the stock nozzle for something with a wider opening.
There are a lot of untoward consequences that may result from excess pressure on the extruder gears. The gears may strip the filament, which means that some of the filament material can get stuck on the gear teeth. The filament can buckle under the pressure, thus deforming inside the extruder assembly resulting in uncontrolled extrusion.
Suitable for detailed models
In the same way that you can swap in wider nozzles for your stock nozzle, you can also go the other way and use nozzles with smaller openings. These nozzles can measure as small as 0.2 mm across and allow for the printing of models at higher levels of resolution.
When you're switching to a smaller nozzle, it would be best to use a filament that is as narrow as possible. Filaments with 1.75-mm diameter certainly fit the bill. Take note that printing at such a small nozzle opening introduces a lot of added pressure to the extruder. You might need to tweak your extruder speed and printing temperature settings to ensure that you don't end up with a stripped extruder gear or a jammed nozzle.
CONS
More flexible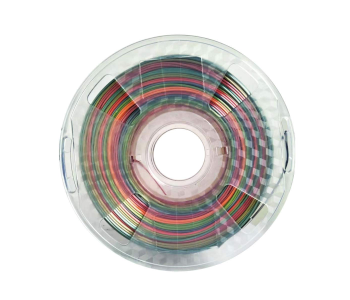 Flexibility is usually a desired characteristic in most things, but it can be disadvantageous for 3D printing filaments. Although flexible filaments can withstand a healthy level of bending without snapping, they can also get easily deformed inside the extruder assembly if they go through excessive pressure.
This phenomenon is exceptionally problematic in flexible materials like TPE but can also be observed in standard filaments like PLA or Nylon. The use of a Bowden extruder also adds to the problem, as it provides a longer path where the filament can get deformed.
As you might expect, the smaller 1.75-mm filament is a little more flexible than its bulkier counterpart. While this isn't necessarily a problem if you can fine-tune your extruder settings, the choice between narrow and thick filaments might be critical if you're working with flexible filament materials.
Pros and cons of 3.00 mm filaments
The introduction of 3.00-mm filaments didn't exactly make a splash in the world of 3D printing, but that's likely because the field was still so young back then. Nowadays, the availability of this thicker filament is something we seemingly take for granted. Although it cannot be denied that 3.00-mm filaments are not as widely used as their narrower counterpart, they can still be useful in certain situations.
PROS
Allows for thicker layer heights
A thicker filament coupled with a nozzle with a larger opening is the perfect combination for printing at higher layer thickness settings. This may seem like a counter-intuitive strategy if you're a 3D printing professional who is focused on making your finished prints as detailed as possible.
Yes, some fine details may be impossible to recreate with thick layers. However, thick layers also make for stronger prints. If you're making large containers such as pottery or vases for plants, then printing with a thicker nozzle can get you better results faster.
Printing with thick layers is also a viable strategy if you want your prints to be as clear or transparent as possible. This is possible because there are few layer-to-layer interfaces which can cause internal reflection of light. This technique is no assurance that you can make completely clear prints. A lot of other factors come into play such as the quality of the filament and how you plan on post-processing the print to create a perfectly smooth outer surface.
Less sensitive to size variations
No matter which brand you buy from, no spool of filament is measured precisely from one tip to the other. There is an acceptable level of variations in diameter and a respectable brand should include these figures in the product selling page or in its packaging. The error is typically within the range of 0.05 mm, but some brands commit to a margin of as low as 0.03 mm.
Although some level of diameter variation is expected, you must be careful in making sure that the filament you are using is fairly consistent within reasonable levels. Huge diameter variations will mean that there will be an inconsistent amount of material entering the extruder. This can mess up your printer speed settings, resulting in uneven layers, overworked extruders, and jammed nozzles.
This imperfection is a natural consequence of the process for manufacturing filaments. The range of error is usually the same, regardless of whether you're dealing with filaments that measure 1.75 mm or 3.00 mm across.
This means that the effects of size variations are much less pronounced when you're working with a thicker filament. If you're concerned about the consistency of the filament you're buying, then going with a 3.00-mm version is a safer option.
CONS
Takes longer to heat up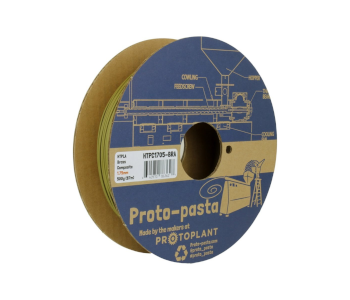 Plastic is naturally a very bad conductor. Compared to the thermal conductivity of stainless steel which is at 15 W/mK, the conductivity of plastic like PLA is a measly 0.11 W/mK. This emphasizes the important role that the heating element in the extruder assembly plays to rapidly heat the filament as it passes through.
As the filament passes through the heating element, it absorbs the heat from its surroundings from the outside and inwards. To achieve the full melting of the filament, it needs to absorb enough heat so that even the center of the filament requires the material's melting temperature. What this means is that a thicker filament will need to spend more time with the heating element or receive a greater amount of heat to achieve full melting.
This typically doesn't pose much of a problem if you're working with filaments that melt at low temperatures. However, high-temperature filaments like Polycarbonate and Nylon may have to be handled with more care, especially if the 3.00-mm versions are used.
You must also keep in mind that the heating element of most 3D printers are designed at a fixed power output. This puts a hard limit on how quickly they can ramp up the temperature of the filament as it passes through. If you're working with a thick filament that needs to be printed at high temperatures, you might have no choice but to print at lower speeds.
Prints at a lower resolution
We have already gleaned how the narrow filaments are more appropriate for detailed models, but it bears repeating here – 3.00-mm filaments are a poor choice if you want your finished prints to have a lot of fine details.
Whenever you print with 3.00-mm filaments, you'll have to manage your expectations. They are great for basic models and may even let you finish your prints faster when they are coupled with larger nozzles. However, they simply do not help you achieve any conceivably high levels of resolution.
Final thoughts
It's safe to say both 1.75-mm and 3.00-mm diameters have proven to be valuable enough to the 3D printing world to make sure that they are here to stay. Both these options have pros and cons, and their strengths are highlighted when they are used under the appropriate circumstances.
Right now, many users still consider the 1.75-mm filament to be the "default" option. This seems valid – they're reasonably easy to work with, can be useful for detailed prints, and is compatible with the 0.4-mm stock nozzle that comes pre-installed in most FDM printers.
The 3.00-mm filament is considered the "alternative" option. This does not diminish its usefulness. Thicker filaments are the more optimal option if you want to print big objects that concentrate on turnover time, mechanical integrity, and optical properties. The extra bulk of 3.00-mm filaments also makes flexible materials like TPE easier to handle.
Warning; 3D printers should never be left unattended. They can pose a firesafety hazard.