Drones and Firefighting: A Life-Saving Combination
3D Insider is ad supported and earns money from clicks, commissions from sales, and other ways.
There are few applications of drone technology that are nobler than firefighting. Drones have become very popular tools for firefighters and first responders, with a majority of fire departments in the US reporting that they have at least one drone in their arsenal. Why are drones such a perfect fit for firefighting? How are they used and which drones work best?
How are drones used in firefighting operations?
1. Assessment of hazards
Within minutes of arrival, drones can be deployed by firefighting teams to survey the scene. By using the bird's eye view that drones can provide, firefighters can assess the extent of the fire, anticipate how the surrounding areas can be affected, or search for people that need to be rescued. Even if an area has become heavily obscured by smoke, drones can be equipped with thermal cameras to identify hotspots or monitor the movement of the firefighting crew.
2. Ground crew management
Since drones have a 360-degree view of the scene, they provide an unequaled level of situational awareness for field commanders. By providing more information to mission control, firefighters will know exactly where they are needed. They are also kept safe, as the drone can monitor for potential hazards such as weakened structures or a rapidly spreading wildfire.
3. Identification of hot spots
One of the reasons why some fires take so long to put out is that smoldering flames or embers may be difficult to see but can eventually grow into another full-blown fire. These small flames can be hidden beneath piles of rubble or ash, and firefighters often cannot spot them before it's too late. Through the use of thermal cameras, drones can identify these 'hotspots' that are invisible to the naked eye. Firefighters can then move in and put out these flames before they grow.
4. Illumination
Responding to disasters can be particularly difficult in poor lighting conditions. Not only do operations become slower and more inefficient, but they also become more dangerous for the firefighting crew. Drones can be mounted with powerful, ultra-bright lights and can be used mobile light sources.
5. Search and rescue
Even when a fire has been put out, visibility may be a problem. In an area full of smoke and ash, even the brightest light cannot help firefighters look for people who need rescuing. Again, this is where drone-mounted thermal cameras come in. Thermal cameras are sensitive to the infrared radiation that all objects emit. Hot objects, such as humans, generate a high contrast with their surroundings. Time is of the essence for these survivors, and drones can help firefighters find them much faster.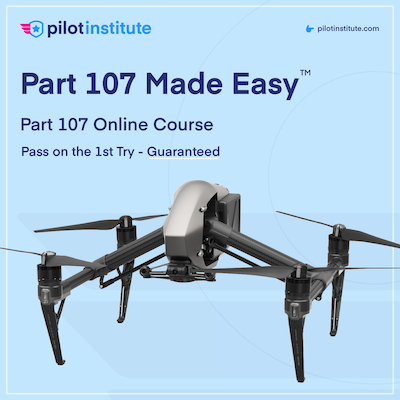 6. Payload drop-off
In the same way that drones have been used by retailers for parcel delivery, firefighting teams can also take advantage of drones with flexible payload capabilities. While a standard drone probably does not have enough lifting power for actual firefighting, they are strong enough to ferry supplies to stranded survivors. For these survivors, a little bit of food, water, or respiratory protection can make the difference between life and death.
Advantages of using drones for firefighting
Drones are just one of the many advanced technologies that modern fire departments regularly use to improve their operations, both in terms of speed of response and in minimizing the hazard exposure of their firefighters.
1. Quick to deploy
In wildfires and large structural fires, firefighters typically benefit from having an "eye in the sky" to assess the extent and severity of the ongoing fire. With this information, firefighters can assess the situation and come up with the best plan of approach. Before drones came along, getting a perspective from up high can only be done by flying a helicopter. Between getting a flight clearance and going through the pre-flight checklist, launching a helicopter can take quite a bit of time. When a fire has already started to spread, time is a luxury.
Drones don't have to go through such a tedious and time-consuming process before they can take off. Any fire response team can bring their own drones and get them off the ground in just a few minutes. Even a fleet of drones can be on the air before a single helicopter can be deployed.
2. Reduces risk
Drones are equipped with high-resolution cameras that can stream real-time videos to the drone operators. This allows firefighters to assess how bad the fire is and the extent of hazard they are up against. Best of all, they get all of this information without risking their own welfare.
While firefighting operations are underway, having a fleet of drones monitor ground operations keeps people safe by watching out for nearby hazards. Drones armed with spotlights have also been used to provide illumination for ground crew, helping them do their jobs safely and thoroughly.
3. Helps keep firefighting efficient
Drones aren't made just to capture photos or provide lighting. They can also be equipped with advanced technology such as thermal cameras. These cameras can detect hotspots in areas where there may still be smoldering fires that are not visible to the naked eye. This allows firefighters to swoop in and finish the job.
Thermal imaging is also one of the most reliable methods for search and rescue. In areas clouded with smoke and without light, searching for people who need to be rescued can be difficult for firefighters. With thermal cameras, the heat signatures of people can be monitored even in otherwise invisible conditions.
What are the best drones for firefighting?
As we've emphasized above, a drone with flexible payload options is best for firefighting. You can switch out a high-resolution RGB camera with a thermal camera, as the situation dictates. It's also important for a firefighting drone to have some level of water-resistance. After all, it's practically unavoidable for a firefighting drone to catch some of the water while the fires are getting put out.
Flight stability is another important characteristic. Hot air from flames can create drafts which can knock a drone off-course. When responding to a fire, you simply cannot afford to have your drone crash. If it does, then it's most probably out of the game, and you might not even have anything much left to recover. All these factors considered, here are some of the best drones that firefighting groups have been using around the world.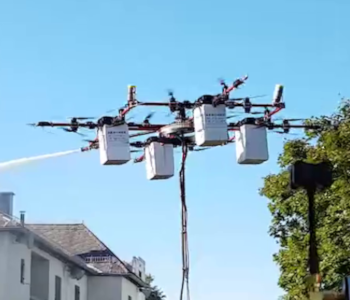 Naturally, there is no better firefighting drone than one that was designed specifically for it. Aerones, a Latvian-based drone company, has come up with a drone that not only provides an "eye in the sky" but can actually help put out fires. This drone is staggeringly powerful: the Fast version comes with 28 propellers, while the Super-Fast version has 36 propellers.
The drones can carry up to 661 pounds of payload, which will likely include a power tether that allows the drone to fly indefinitely. A hose connected to a water supply can also be attached to an onboard spray system. Of course, these power and water supply lines limit how far away an Aerones drone can go.
In terms of raw firefighting ability, then there is probably no other drone that can rival the Aerones. However, its use is limited to small fires, such as a house or building fire. The Aerones won't be much help in a huge wildfire. In this situation, you're better off getting a drone that can fly faster and further.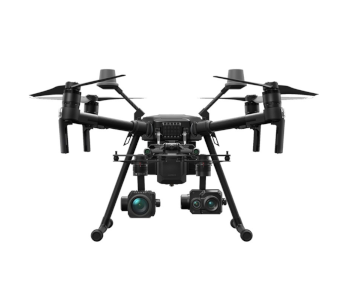 Another favorite of firefighting teams, the Matrice 210 is compatible with all the premium Zenmuse cameras. If you're assessing the damage on the ground, then the Z30 with its 30x zoom can give you a really detailed picture. If the smoke hasn't quite cleared up yet, then the XT2 thermal camera might be a better alternative.
With its IP43 rating, the Matrice 210 can withstand constant water sprays with no problem. It's also powerful and stable enough to fly in windy conditions. The Matrice 210 is a highly customizable drone with SDK compatibility, so you can come up with all the automatic flight modes that you need.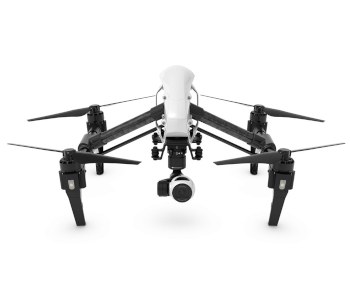 The Inspire 1 is another model from DJI that features payload flexibility. Like the Matrice 210, you can choose between the range of premium Zenmuse cameras including the XT for thermal imaging. A signature characteristic of the Inspire 1 is its retractable landing gear that allows for a full 360-degree view that is free of obstacles.
The Inspire 1 is large and robust enough to withstand the rough flight conditions near a fire. It uses a combination of GPS technology, visual sensors, and sonar to keep it oriented and stable, no matter the surroundings. However, it's still apparent that the Inspire 1 was designed to be used for filmmaking, and not something as rugged as firefighting. Compared to the Inspire 1, the body of the Matrice 210 is more robust and rigid.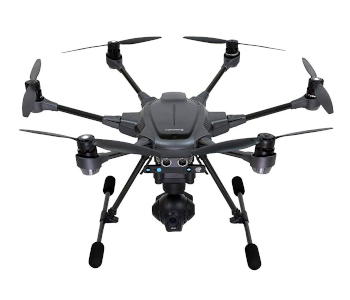 The Typhoon H may not have a swappable payload feature, but it does come with the CGO3+ camera that can record 4K videos and 12MP stills. It's good enough for general surveillance and assessment, but that's about it – you can't use it for thermal imaging or for payload delivery.
What the Typhoon H lacks in versatility, it makes up for in reliability. The Typhoon H flies remarkably stable because of its signature hexacopter design. The Typhoon H doesn't even need all six rotors – even if one rotor fails, the five rotors can still function well enough to get the drone back safely.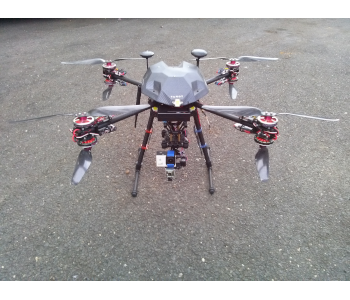 The first thing you need to know about the Flybycopters X8 is that it costs a small fortune. This drone simply isn't for fire departments who are working on a budget or are willing to cut a few corners. With this drone, you are going all in. On the plus side, it's a very powerful drone that will not disappoint.
As its name implies, the X8 is equipped with an FLIR Vue thermal camera with a radiometric sensor. This provides extremely high-resolution thermal imaging, more than a standard thermal camera is capable of. It also comes with a 4K UHD camera so you can capture both thermal and visual images. Using the drone's integrated GPS module, all images are geotagged for better documentation.
Aside from its advanced thermal imaging features, the X8 is an incredibly reliable drone. While it only needs four motors to fly, it has an additional four motors for redundancy. Powerful motors, a long flight time, and an ability to withstand strong winds round out this all-around professional-grade emergency response drone.
What kind of license does a drone operator need for firefighting?
If you intend to integrate drone use with your fire department's operations, you'll need to get the proper certifications. Drone use for search and rescue or emergency response falls under the realm of commercial drone use, which the FAA regulates. You can choose to get either of two licenses:
1. Part 107 license
The Part 107 license is the basic license that the FAA grants for all commercial drone pilots. It's also the easiest license to get. All you need to do is to pass a knowledge test and get vetted by the TSA. However, having a Part 107 license does not give you complete authority to fly over disaster areas like forest fires or structural fires.
Disaster areas are considered no-fly zones, as per FAA rules. By default, Part 107-licensed pilots cannot operate over these no-fly zones. However, the FAA has recently implemented a system by which a waiver to fly under restricted conditions can be secured at any time and within just a few minutes. This means that you will need to get FAA approval before you can legally fly your drone for firefighting.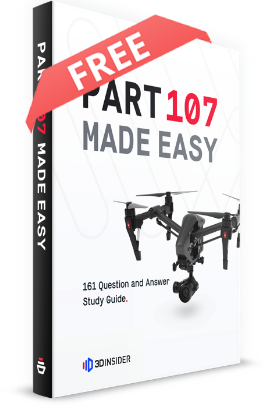 PART 107 Made Easy
161 Question and Answer Study Guide
105 pages of illustrated content
Covers all parts of the Part 107 test
$97 of value for free
2. FAA Blanket COA
An FAA Blanket COA takes bit more work to secure but provides blanket authorization to fly under declared conditions, such as over disaster areas. It is only granted to certain government agencies, as well as to first responders, law enforcers, and firefighters. Even if you apply as a representative of a fire department, the process of getting a blanket COA can be long and tedious.
The agency involved needs to send a formal declaration letter to the FAA detailing the intention of drone use, the type of drone, the pilot who will fly the drone, and the procedures that will be followed during drone operations. According to agencies who have secured a blanket COA in the past, the approval process can take between 60 to 120 days.
The effort and time involved in getting the blanket COA are all worth it in the end, as you won't need to go through the waiver approval process repeatedly.
Drone licensing requirements are a bit bothersome, but being involved in emergency response does not mean that you will be exempted from national airspace rules. Our recommendation? Get both a Part 107 license and a blanket COA. The Part 107 license is easy enough to get and can tide you over while you wait for the blanket COA to get approved.
Final thoughts
It's a great boost to the public image of drones that they aren't just being used by commercial drone pilot to generate profits, but also to help save lives. In various realms of emergency response, drones have been heavily used because they can respond quickly, provide valuable vantage points, and easily collect large amounts of data. Aside from speeding up emergency response, they also help ensure the safety of first responders, law enforcers, and firefighters.
When choosing a drone for firefighting, payload versatility, and the overall reliability of the drone must be prioritized. Of course, you also need to get the proper FAA certification to fly a drone for firefighting. Getting a blanket COA might take a long time and have more requirements, but it's a much better option in the long run.