Fitbit Alta HR vs Fitbit Charge 2: The All-Around Fitness Tracker for You
3D Insider is ad supported and earns money from clicks, commissions from sales, and other ways.
If there are two of Fitbit's fitness trackers that look eerily alike, it is the Alta HR and the Charge 2. Deciding which one to get between them can get a bit tricky since their design and feature sets are very much similar.
Both these trackers are an excellent all-around device that is capable of providing you with more information than your entry-level ones. They are packed with added sensors and support from the Fitbit app and comes with sleep tracking technology that performs pretty close to dedicated ones.
All-Around Tracking
These are some of Fitbit's more advanced wearables. Design and build quality are excellent, and they packed more sensors in such a small device, enabling you to monitor more of your health. They do come with a lot more capabilities than regular trackers, and their screens can also become extensions of your smartphone thanks to their notification support.
The main difference between these two and other fitness trackers in the market is that these support sleep tracking, which is definitely a plus compared to other similar devices. Their prices are also identical with only a few dollars separating them, which makes choosing one that much harder.
Fitbit Alta HR vs Fitbit Charge 2
Here is our breakdown between these two amazing devices. Let's see how they compare in terms of design, build, comfort, feature, tracking capabilities, and many more.
Design and Build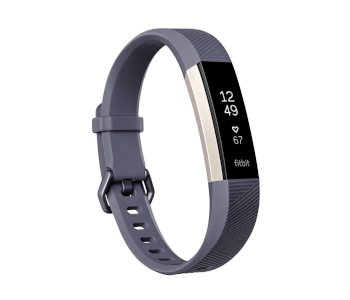 At first glance, you will instantly notice how the Fitbit Alta HR and the Charge 2 look alike. Looking at the two carefully, though, the Alta HR comes with a slimmer profile, which might appeal to a lot more users compared to the Charge 2. The much thinner outline makes the Alta HR more suitable to wear with dressier outfits beside your wrist or smartwatch.
The Alta HR is 25% slimmer than the Charge 2 at 15mm wide. Overall, they look comparably similar, and they are both equipped with an OLED display, elegant silver body, and textured straps that you can change up with a variety of different styles and materials.
One thing to note that a lot of uses are saying is that the Alta HR is a stylish accessory for women because of its slim profile. However, you can take advantage of the various third-party support from band makers to customize your tracker's looks.
Due to the size difference, the Charge 2 has a much larger screen making it easier for you to see what is on display. There is also a difference in terms of controls since the Charge 2 comes with a side button making navigation a bit straightforward. As for the Alta HR, interaction is all about tapping and swiping on the touchscreen.
The displays on both these devices show more than just the current time. They also display activity stats like steps taken and other health data that you set as these can be quickly customized.
Between these two devices, it really depends on whether you want more screen real estate or a slim and sleek fitness tracker. They are excellent devices that will help you keep your fitness goals.
Fitbit Alta HR
Fitbit Charge 2
Type
Fitness Monitor
Fitness Monitor
Dimensions
40 15 x 13 mm
48 x 22.8 x 12.7 mm
Weight
23 g
36.8 g
Display
YES
YES
Display Size
1.4 inches
1.5 inches
Display Type
OLED Touchscreen
OLED Touchscreen
Strap Size
140 – 180 mm (small)
180 – 220 mm (large)
140 – 180 mm (small)
180 – 220 mm (large)
Interchangeable Straps
YES
YES
Wireless
NO
NO
Fitness Tracking
YES
YES
Our Pick: Fitbit Alta HR for its much sleeker look that you can match with any outfit
Features
Both the Fitbit Alta HR and the Fitbit Charge 2 are fitness monitors, and they pretty come with the usual suspects of features that come with being such a device. They can track steps, calories burned, and distance traveled. Since they come with large enough screens for other information, they also display various notifications from your phone like text messages, incoming calls, and calendar alerts.
These two wearables now come with continuous heart rate tracking, which is now possible thanks to Fitbit's new chip that reduces the size of the device by 25%. Now, its Pure Pulse technology is available on the Fitbit Alta HR.
One sought after feature of all Fitbit devices is its automatic exercise detection. You will find this on both the Alta HR and Charge 2, which logs it in the Fitbit app so you will be able to review it and monitor your health and fitness levels.
An added feature of the Charge 2 is that you will be able to start a workout manually so you can track it accurately, especially if you are looking to hit a specific heart rate zone. This feature allows you to optimize your workout sessions and choose between fat burning, fitness boost, or performance.
Fitbit also introduced new sleep features on both the Alta HR and Charge 2. You can now track how much you spend in each sleep stage from light, deep, and REM phases every night. This brand new feature will allow you to understand why you continue to feel tired, even if you are getting enough hours of sleep. The app also crunches your sleep data and will offer your ways on how you can improve the quality of your nightly slumber. All you need to do is wear your tracker of choice to bed.
Both these wearables are similar in a lot of ways. Some features are present in one but not in the other. One of these features is the Cardio Fitness Level that is only the Charge 2. This mode takes advantage of the Charge 2's connected GPS and records maps of your routes and calculates VO2 values. It compares your stats with those from the same age and gender, so you have an idea of your overall cardio fitness level.
There is one other feature that you can only find on the Charge 2, and that is the Guided Breathing sessions. If you are looking for an exercise that helps you calm your mind and body, this is the mode you are looking for.
Now, both these devices are fitness trackers, and they do not pretend to be smartwatches. However, they do come with some basic smartwatch features like notifications and even third-party apps like WhatsApp and Facebook Messenger.
| | Fitbit Alta HR | Fitbit Charge 2 |
| --- | --- | --- |
| App | Fitbit App | Fitbit App |
| Compatibility | iOS, Android | iOS, Android |
| Payment System | NO | NO |
| Voice Command | NO | NO |
| Find My Phone | YES | YES |
| Text Message Notification | YES | YES |
| Incoming Call Alert | YES | YES |
| Email Alert | YES | YES |
| Calendar Reminder | YES | YES |
| Third-Party Apps | YES, Limited | YES, Limited |
| Audio | NO | NO |
| Bluetooth Music | NO | NO |
| Loudspeaker | NO | NO |
| Microphone | NO | NO |
Our Pick: Fitbit Charge 2 for its extra features such as stair climbing and cardio fitness
Fitness Tracking
Fitness and activity tracking for both these devices are reasonably accurate, and they should give you a clear picture of your health. You can surely use these on a daily basis and trust the data that they pick up. Fitbit is known for its tracking accuracy, and these two devices prove that.
The Fitbit Charge 2 does have some additional tracking features that are not found on the Alta HR like stair climbing and Cardio Fitness Level. These are excellent features that fitness buffs might be looking for in their trackers.
The Charge 2 also has SmartTrack, which automatically recognizes the type of workout you are doing, so you do not have to start it manually. It is reliable, so you can be confident that as long as you have it strapped on, it will record your activities accurately.
The device also tracks your heart rate with PurePulse. It's resting numbers are incredibly accurate, make sure that you have the sensor on your for at least 10 minutes for it to be reliable. Heart rate data from steady runs are also useful if you are monitoring that.
As for the Fitbit Alta HR, it does the same things as the Charge 2, except for those features that are not present in this device. This is more for casual users rather than health aficionados, as some of those modes contain crucial fitness data.
Sleep Tracking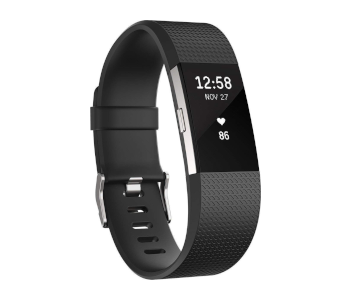 Both the Alta HR and the Charge 2 comes with sleep tracking thanks to the suite of sensors that they have. Since this is a relatively new technology, it is not the most reliable, but should be enough for those wanting to know the basics of how they sleep. There are dedicated sleep trackers that will surely do a much better job, but if you are not doing it professionally, then having an idea of your sleep quality can be comforting.
These two devices have Sleep Stages, which combines the heart rate sensor and the accelerometer to determine whether you are in light, deep, or REM sleep. The companion Fitbit App also gives you Sleep Insights that you can check out to know more about how your rest went. It also offers tips on how you can improve your sleeping habits.
In terms of tracking and accuracy, the Fitbit Charge 2 is overall the superior device. The Cardio Fitness Level and stair climbing feature are especially useful for those who closely monitor their activity levels and a complete picture of their health.
| | Fitbit Alta HR | Fitbit Charge 2 |
| --- | --- | --- |
| Blood Oxygen | YES | YES |
| Blood Pressure | NO | NO |
| Calories | YES | YES |
| Distance | YES, Estimated | YES, Phone GPS |
| Fitness Level | YES | YES |
| Heart Rate | YES | YES |
| Sleep Tracking | YES | YES |
| Steps | YES | YES |
| Floors Climbed | NO | YES |
| Fall Detection | NO | NO |
| Menstrual Cycle | NO | NO |
| VO2 Max | NO | NO |
| Swim Tracking | NO | NO |
| On-Screen Workout | NO | NO |
| Sport Modes | 15 | 15 |
Sensors
| | Fitbit Alta HR | Fitbit Charge 2 |
| --- | --- | --- |
| Accelerometer | YES | YES |
| Altimeter | NO | YES |
| Ambient Light | YES | YES |
| Gyroscope | NO | YES |
| Heart Rate Monitor | YES | YES |
| Pulse Oximeter | YES | YES |
| Thermometer | NO | NO |
| Sleep Analysis | YES | YES |
Our Pick: Fitbit Charge 2 for its better tracking feature and GPS support
Connectivity
As with a lot of other fitness trackers, they usually need to be tethered to your smartphone so they can store all your data in a companion app. In the case of the Fitbit Alta HR and Charge 2, they connect via Bluetooth. One of the reasons why these devices offer impressive battery life is they use low energy Bluetooth technology.
One feature that the Charge has that the Alta HR does not come with is GPS support when tethered to your phone. Now, both of these devices do not have GPS sensors, but the Charge 2, when paired with your phone, can access its location data to determine the distance you traveled on your runs accurately. You will need to have both the tracker and your phone with you at all times, but for fitness buffs, this is definitely an impressive feature to have.
Admittedly, the Fitbit Charge 2 takes the cake in this category as the GPS support, even though it piggybacks on your phone's sensor. It simply makes your data more accurate and reliable so that you can have a complete picture of your overall health and fitness levels.
| | Fitbit Alta HR | Fitbit Charge 2 |
| --- | --- | --- |
| Bluetooth | Bluetooth 4.0 LE | Bluetooth 4.0 LE |
| Bluetooth Calling | NO | NO |
| GPS | NO | NO |
| Connected GPS | NO | YES |
| NFC | NO | NO |
| Wi-Fi | NO | NO |
Our Pick: Fitbit Charge 2 for its connected GPS for more accurate tracking data
Battery Life
Wearables with a smaller footprint, especially those with tinier screens, have more battery life. The Alta HR can last up to seven days before it uses up all its juice, while the Charge 2 five days. These are all impressive numbers, especially since both these devices come with continuous heart rate monitoring.
Recharging these should be straightforward since all you need to do is plug the charging cable into a USB port and your tracker. It should fill it up with power in about 2 hours and will allow you to use them for about a week before doing it all again.
Five and seven days of battery life is undoubtedly enough for devices of this class. This is going to give you a lot of fitness and health tracking accuracy since it will always be strapped on to your wrist most of the time.
| | Fitbit Alta HR | Fitbit Charge 2 |
| --- | --- | --- |
| Rechargeable Battery | YES | YES |
| Battery Life | Up to 7 days | Up to 5 days |
| Battery Type | Lithium polymer | Lithium polymer |
| Recharge Time | 2 hours | 2 hours |
Our Pick: It's a Tie. Battery life of about a week is impressive
Durability
Waterproofing seems to be where wearables are heading nowadays, and it inevitably comes in handy for swim workout tracking. However, Fitbit is a bit behind with both the Fitbit Alta HR and Charge 2, as they are not rated to be water-resistant. If you rely on swimming as your workout of choice or an avid swimmer, then these might not be the devices that are right for you. There are undoubtedly other Fitbit wearables in the market that offers this feature.
For both the Alta HR and the Charge 2, they are only splash proof and sweat resistant. It may not be the full water resistance, but it should be enough for most users since these features easily keep your device safe as you use it during your workouts.
Apart from these, both the Alta HR and the Charge 2 are durable devices and should be fine with your daily wear and tear, especially when you do intense workouts.
| | Fitbit Alta HR | Fitbit Charge 2 |
| --- | --- | --- |
| Water Resistance | NO | NO |
| Sweat Resistance | YES | YES |
| Splash Proof | YES | YES |
| Max Depth | N/A | N/A |
| Protection | N/A | N/A |
Our Pick: It's a Tie. Not precisely water-resistant, but splash-proof is an excellent alternative
The Better Fitness Tracker
Choosing between the Fitbit Alta HR and the Charge 2 is all about form factor. On paper, these are very similar devices, but they do satisfy different types of users. For one, the Alta HR, although it comes with a comparable set of features to the Charge 2 suits casual users more. Its slimmer profile allows it to look great on your wrist together with your watch. It is basically a lifestyle tracker that will give you deep insights into your general activity like steps, sleep, and heart health.
The Charge 2, on the other hand, is more suited for fitness buffs. If you are the type of who consistently goes to the gym before or after work, and your idea of a relaxed weekend is a long jog on park trails, then this is undoubtedly the device for you. The reason for this is that the Charge 2 offers a bit more in terms of hardware and features like GPS support and stair climbing. It is for those who want to keep a much closer eye on their health and fitness levels.
Although the feature set of the Charge 2 may not be for everyone, its added in-depth fitness features make it the better option over the Alta HR. It's not to say that the Alta HR is not an excellent tracker, but it does fall short when compared side by side with the Charge 2.
The Wearable that Offers the Most Value
Not everyone is a health buff and want super detailed graphs and data about their activity. You can surely get the Fitbit Alta HR and be satisfied with its offerings. In fact, they are not far off in terms of their capabilities. It is just that the Charge 2 goes into the weeds of what you are doing.
Looking at the prices of both these trackers, the Alta HR at a reasonable level compared to the Charge 2. So, unless you are after the extra features of the Charge 2, then getting it may not offer you the most value.
Not everyone will want to a much closer eye on their fitness and activity levels. For most, the capabilities of the Alta HR are enough. Getting the heart rate monitoring technology, was surely a step in the right direction, which makes the tracker a better buy than the Charge 2.
However, if you are a fitness buff and want to record every possible step and stair climb, then spending a few dollars on the Charge 2 should be fine. Overall, the Alta HR is the better purchase even though it comes with fewer features.
The Perfect One for You
If you are looking for a slim and sleek fitness tracker that looks good on your wrists and are not particularly keen on getting insanely detailed information about your activities and fitness, the Fitbit Alta HR is the perfect device for you. It is a device that can last for a week before you charge it, and if offers tracking that is detailed enough for the casual user. The sleep tracking feature is an absolute plus, which definitely bumps up its value.
The Fitbit Charge 2 is for users who are not satisfied with what the Alta HR offers. Fitness buffs will lean towards this tracker because of its added features like stair climbing and cardio fitness.
Final Thoughts
These are two impressive devices that can track a lot of fitness data that others cannot. It is amazing how these can get smaller and still collect the same amount of information as to their larger cousins. Sleep tracking, even if it needs a little bit more polishing, is outstanding for a device that you slap on to your wrists.
If you are looking for a fitness and activity tracker that can do it all, including giving you updates from your phone, these are the devices for you. These are lightweight, sleek, and slim wearables that you can easily camouflage no matter what you are wearing.
If you are looking for devices that will help you be accountable for your health and are stylish at the same time, then all you need to do is choose between the Fitbit Alta HR and the Charge 2.