The Best Fitbit for Kids – Fitness Trackers
3D Insider is ad supported and earns money from clicks, commissions from sales, and other ways.
Fitbit was notoriously against the idea of a kid's smartwatch when the concept was first thought up. However, in recent years, the company's stance has changed dramatically, with the brand now offering a number of options for children, as well as adults.
As it stands, Fitbit currently has two models that are deemed suitable for children, both of which we will be taking a look at in this guide. These devices share a lot of similarities compared to some of Fitbit's other products. However, both trackers target slightly different age groups, which is evident in both their approach and appearance. This means that regardless of your child's age, at least one of the options below should suit their needs.
1. Fitbit Ace 2 – The best option for younger children
Editor's Rating: 4.6/5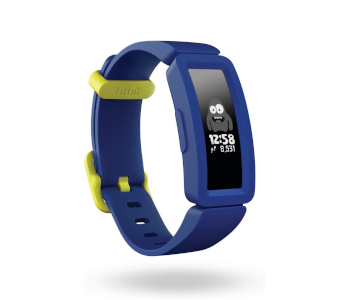 The Fitbit Ace 2 is, without a doubt, the number one Fitbit option for children right now. Not only does the device comes with a number of child-friendly features, but it also has a rugged design and an impressive battery life. This allows it to tick almost every box in terms of what a child will want from the device, making it an excellent all-rounder.
Design
The Ace 2 has a colorful design featuring a small fitness module that sits inside a flexible casing. It isn't the most premium looking device Fitbit has come out with, but for children, it's fun and friendly design works well.
The display on the device is a grayscale OLED panel, which is somewhat disappointing to see, considering the device is aimed at children. Everything displayed on the panel is sharp and easy to read, but the fact that there is no color is a real shame. The panel is touchscreen though, making it easy to interact with.
The fitness module is made from plastic and has a pebble-like shape, giving it a rather sleek form factor. A metal version would have been preferred to help ease any durability concerns, but as long as the module is kept predominantly inside the strap, it shouldn't encounter much damage.
The strap is made from silicone, giving it a soft feel that will provide plenty of comfort. Silicone is also a rather durable material with a lot of flexibility, meaning your child will have a tough time trying to break it.
One of the best aspects of the strap is the fact that it surrounds the edges of the module, forming an outer casing. This design not only provides a lot of protection to the internals, but it also makes the device very easy to clean, as you can pop the module out of the casing whenever you need to.
The Ace 2 is also water-resistant up to 50 meters, making it perfectly suitable for your child to swim and shower with. This is an excellent addition to the device from a design perspective, as the chances of a child getting the device wet from time to time are very likely.
Features
Kid's fitness trackers are usually burdened with a lack of features compared to their more mature counterparts. However, on the Ace 2, Fitbit has made a point of including some extra functionality designed specifically for children.
The device's main features include activity tracking, sleep tracking, virtual badges, Kid View, challenges, and messaging. You also get access to a feature-rich companion app, full of useful and interactive options designed to keep your child active.
The activity tracker works well and can keep track of your child's steps taken, distance traveled, and calories burned. This isn't particularly advanced functionality by today's standards, but for a child, it is more than enough. After all, this device isn't trying to turn your child into an athlete, it is simply trying to help them stay active.
The sleep tracker is also fairly basic, but it does at least let you know what time your child is falling asleep and waking up. This isn't much information in the grand scheme of things, but it could be useful if you feel that you need to change their nighttime routine.
Kid View is a special mode that allows your child to use the mobile app to view their data. In this mode, your child will also have access to the more interactive features of the software, such as virtual badges and avatars.
When using the app yourself, you are going to want to switch it to Parent View. This mode lets you do a number of different things, but some of its best features include the ability to view your child's fitness data, as well as approve any connections for the messaging feature.
One notable issue users have had with this device is that it can be quite confusing to set up. The reason for this is because if you pair the device with the app before creating a child account, the device will register as your device, rather than your child's. For this reason, it is important to ensure that you have set up the child account first, to avoid potentially sending the device back because it seems faulty.
There is also no heart rate sensor, which is disappointing to see. However, there is a strong argument to be made that you don't need to be checking your child's heart health at such a young age. Unless, of course, they have a pre-existing condition.
Battery life
The Ace 2 can last up to 5 days on a single charge, which is rather impressive for a fitness tracker with this many features. The device also takes just 2 hours to fully charge from 0-100%, meaning your child shouldn't have to take the tracker off for too long between uses.
This device doesn't quite compare to some of Fitbit's more premium models, but for children, it is a fantastic option. All of its features work well, and its design is both child-friendly and durable. The device also doesn't have a cheap feel to it, which is often an issue with a lot of other child-focused trackers.
Tech Specs
Construction: Module: plastic
Strap: silicone
Features: Activity tracking, sleep tracking, virtual badges, Kid View, challenges, messaging
Battery life: Up to 5 days
The Pros
Relatively durable
Silicone casing protects the internals well
Comfortable strap
Very feature-rich for a kids fitness tracker
Includes a number of interactive features
Excellent companion app
Excellent battery life
Only takes 2 hours to fully charge
The Cons
A metal module would have been preferred
No heart rate sensor
No SOS feature
2. Fitbit Inspire HR – The best option for older children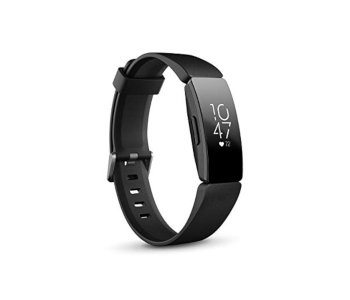 Editor's Rating: 4.8/5
As good as the Ace 2 is, it might not be a particularly great option for older children, due to its emphasis on younger themes. Fortunately, however, the Inspire HR offers an excellent solution to this issue, positioning itself as somewhat of a go-to option in Fitbits product line for older children, as well as teens.
Design
The device has a sleek, elegant design that offers a rather minimalistic appearance compared to the Ace 2. This design might make the Inspire HR somewhat prone to damage, but from an aesthetic perspective, it's a good choice.
The display on the device is much the same as on the Ace 2. This is because aside from the addition of a heart rate sensor and a few software changes, the fitness module is essentially the same. A full-color display, again, would have been preferred, but it is less of an issue with this device, as it isn't trying to grab the attention of younger children.
The module, as you would expect, is made from plastic, which is more of an issue on this device, as there is no protective layer surrounding it. This means there is a chance the module could get damaged if it encounters any substantial impacts.
For this reason, a metal casing would have been a better option. However, considering the price point of this device, it isn't surprising not to see one being used.
The strap is made from silicone and has a notably slim form factor, reducing its footprint. The strap will also provide plenty of comfort and durability due to the flexibility and natural soft-touch silicone has.
The Inspire HR is also water-resistant up to 50 meters, making it suitable to use for a variety of water-related activities. One activity your child should avoid with the device, however, is diving, as the module is only water-resistant, not waterproof.
Features
The Inspire HR has a more mature feature set compared to the Ace 2, which includes activity tracking, sleep tracking, heart rate monitoring, SmartTrack, and one-way notifications. This makes the Inspire HR a slightly more capable device than the Ace 2 from a fitness perspective. Although its lack of child-friendly features makes it a less desirable option for younger children.
Both the activity tracker and the sleep tracker work in much the same way as they do on the Ace 2. This means that both features offer reliable tracking. However, their performance is relatively limited compared to more advanced trackers.
The inclusion of a heart rate monitor is a huge selling point for the Inspire HR, as it allows the device to offer far more tracking capabilities compared to the Ace 2. This feature is arguably the most noticeable difference between the two devices, which makes the Inspire HR the option to go for if you feel your child would benefit from tracking their heart health.
The SmartTrack feature lets your child track specific activities such as walking, swimming, or cycling. This allows the device to tailor its feedback, giving your child a slightly more detailed breakdown of information than what is possible with the standard activity tracker. Whether or not your child will find this feature useful depends on the activities they take part in, but it could be handy if they enjoy certain sports.
The Inspire HR is also capable of receiving notifications, provided it is paired with a smartphone. Depending on the age of your child, you might want to keep this feature switched off. However, it could be a nice addition if you recently bought them their first smartphone.
Battery life
The Inspire HR has the same battery life as the Ace 2, meaning your child will get up to 5 days out of the device between charges. This seems logical, considering both devices use the same module. However, the addition of a heart rate sensor usually has an impact on battery performance.
The Inspire HR is an excellent fitness tracker offering decent tracking performance and plenty of other useful features. Its design could be improved from a durability perspective, but other than that, this is arguably the perfect Fitbit for older children and teenagers.
Tech Specs
Construction: Module: plastic
Strap: silicone
Features: Activity tracking, sleep tracking, heart rate monitoring, SmartTrack, one-way notifications
Battery life: Up to 5 days
The Pros
Relatively durable
Comfortable strap
Includes a heart rate sensor
Includes a notification system
Excellent companion app
Excellent battery life
Only takes 2 hours to fully charge
The Cons
A metal module would have been preferred
No SOS feature